by Janis on 11th November 2022 / 0 comments
Here are a few perfect horticultural gifts for you and your friends
These excellent gardening gift ideas are ideal for your friends and family. Still, you may also find that perfect present just for you. Go on, treat yourself.

If you're struggling for that perfect gift for the cherished gardener in your life, take a peek at what we've selected.

So often, simple things can make the whole gardening experience more relaxed and pleasurable; who doesn't like an easy life?

I'm constantly using some of these items, and others are a little fun and quirky. To be perfectly honest, the books are just a lovely addition to have.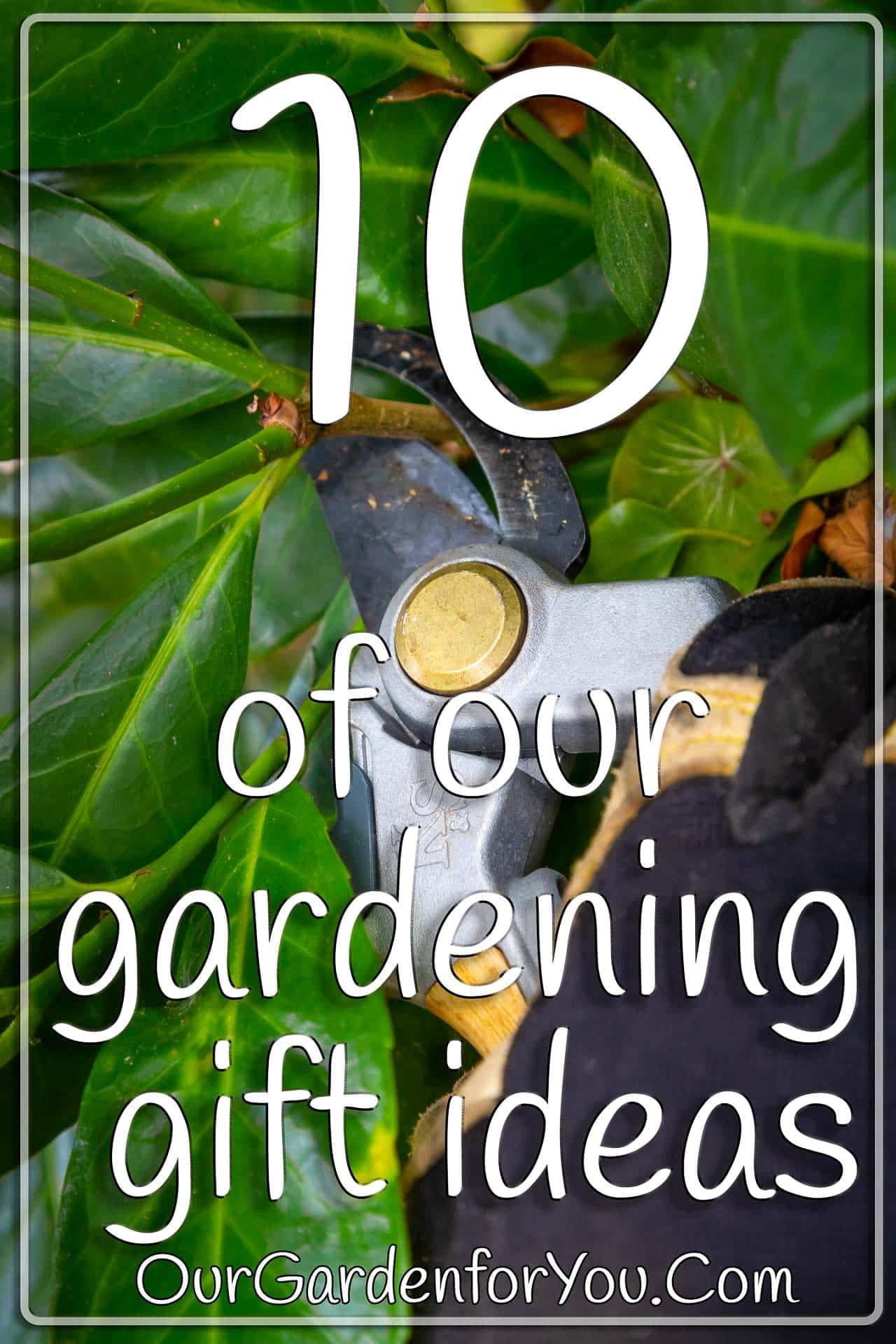 Why not Pin it for later?
RHS Gardening through the Year
The perfect book for everyone
Whether new to gardening or an 'old hand,' this delightful book will always brighten up your bookshelf.
The 'RHS Gardening through the Year' book is perfect for giving you in-depth knowledge through your gardening year. Whether you need guidance on your window boxes, keeping your lawn lush green or discovering the ideal time for pruning your roses, this comprehensive book will guide you along the way.
Grab a cup of tea and take a browse.
---
Leaf grabber set
I can't live without them
Now, I don't care how sad I sound here, but these leaf grabbers are perfect for picking up mountains of leaves, grass, and cuttings. One scoop and you've collected a huge number of leaves; they are lightweight and time savers.

Surely these are a win, win and pretty reasonably priced; I call them my 'big hands'.
---
Memory foam garden kneeler
Worth the investment
I was a little sceptical about this memory foam garden kneeler at first; I thought it may be slightly gimmicky; however, it actually works.
It's comfortable on your knees and does bounce back into shape. I've used it many times now, and other than it being a little grubby on the underneath, it is still in excellent shape. I personally find it better than the strap-on individual kneeling pads.
---
Kent and Stowe bypass secateurs
They haven't failed me yet
These lovely Kent and Stowe bypass secateurs may be a little on the expensive side; however, they have been pretty reliable. Whether it's the carbon steel blades or the Eversharp technology, I'm not too sure, but so far, so good.

The wooden handle ensures they are comfortable to hold and are perfect for left and right-handed people. They are also adjustable depending on your hand size.
---
Gold Leaf Soft Touch gardening gloves
I love these gloves
And no, it's not just because they are yellow. Although being yellow does make it easier to spot them around the garden.

I discovered these Gold Leaf Soft Touch leather gardening gloves when I found it quite difficult to find a pair of gloves I really liked that was nice and comfortable to wear.

I must admit I do prefer leather gardening gloves as they quite quickly mould to the shape of your hands. With the Gold Leaf Soft Touch, they are stretchy on the back of the hands and let air through, and I found them quite protective of thorns too.
---
RHS Grow your Own Veg & Fruit Bible
including environmentally friendly tips
I appreciate that I've chosen another gardening book by the RHS; however, this is written by one of my favourite gardeners, Carol Klein; I love watching her on the TV.

This RHS Grow your Own Veg & Fruit Bible is a comprehensive and in-depth book. It's full of so many practical tips for nurturing your fruit and veg patch and flourishing allotments. It's easy to follow and also includes environmentally friendly methods for gardening.

This book, I'm sure, will help you all, from the rookie novice to the avid gardener, and to be perfectly honest, it's just a pleasurable book to flick through.
---
A small, recycled Gorilla Tubtrug
Perfect for those little tasks
I just want to let you know that I do already have a larger tubtrug which I find extremely handy. However, there have been quite a few occasions where I would have liked a trug a little smaller, especially if I am working on the patio.
So, I had a little search around and found this shallow 15-litre tubtrug which is sturdy and 100% recycled. They are also available in two larger sizes. Still, I wanted a small one for deadheading plants, picking fruit and vegetables, and splitting and transferring plants from one home to another.
This tubtrug is perfect for the job.
---
Hanging bird seed feeder
The heavy-duty variety
There is something so pleasurable in watching beautiful birds eating from a feeder in your garden. We love it; we have so many different feeders for different types of seeds we're aiming to please all our flying wildlife.

This heavy-duty seed feeder from Gardman is made of metal, so it will hopefully withstand the elements that are thrown at it. It's easy to refill and can hold up to 600g of seed mix. It also disassembles easily for cleaning.
---
Spear and Jackson, garden dibber
Let's get planting those bulbs
Well, this Spear and Jackson garden dibber does precisely what it says on the tin.

As you would expect from Spear and Jackson, this dibber is well-made, sturdy and does the job. The T-handle is made of lacquered Ashwood, and the base is made from epoxy-coated metal. Which will hopefully make the task of planting numerous bulbs a lot easier.
---
Double-walled vacuum flask
Hot or cold, the choice is yours
One of the most important things to do whilst working in the garden is to keep yourself hydrated, whether with a refreshing hot tea or a chilled flask of water. Either way, this convenient Jumkeet double-walled vacuum flask will cover both of these tasks.
The stainless steel Jumkeet flask holds up to 500ml of liquid and will keep your tea or coffee warm for up to 12 hours and your water chilled for 12 hours.
The other handy aspect of this flask is that it can easily be opened with one hand by releasing and pressing the button.
---
If you do follow any of the links on this page, we'll earn a little commission from your purchase at no extra cost to you.
* This post may contain links to affiliated sites where we earn a small commission at no additional charge to you.