by Janis on 17th March 2023 / 0 comments
Perfect horticultural books for you and your friends
With spring just around the corner, is there a better time to treat yourself to a new glossy gardening book?

Who doesn't love a gardening book? To me, they are like browsing through travel magazines; you're lured into endless possibilities of adventure and fun.

These excellent gardening books are perfect for your friends and family. Although, you may also find that perfect present just for you. Go on, treat yourself.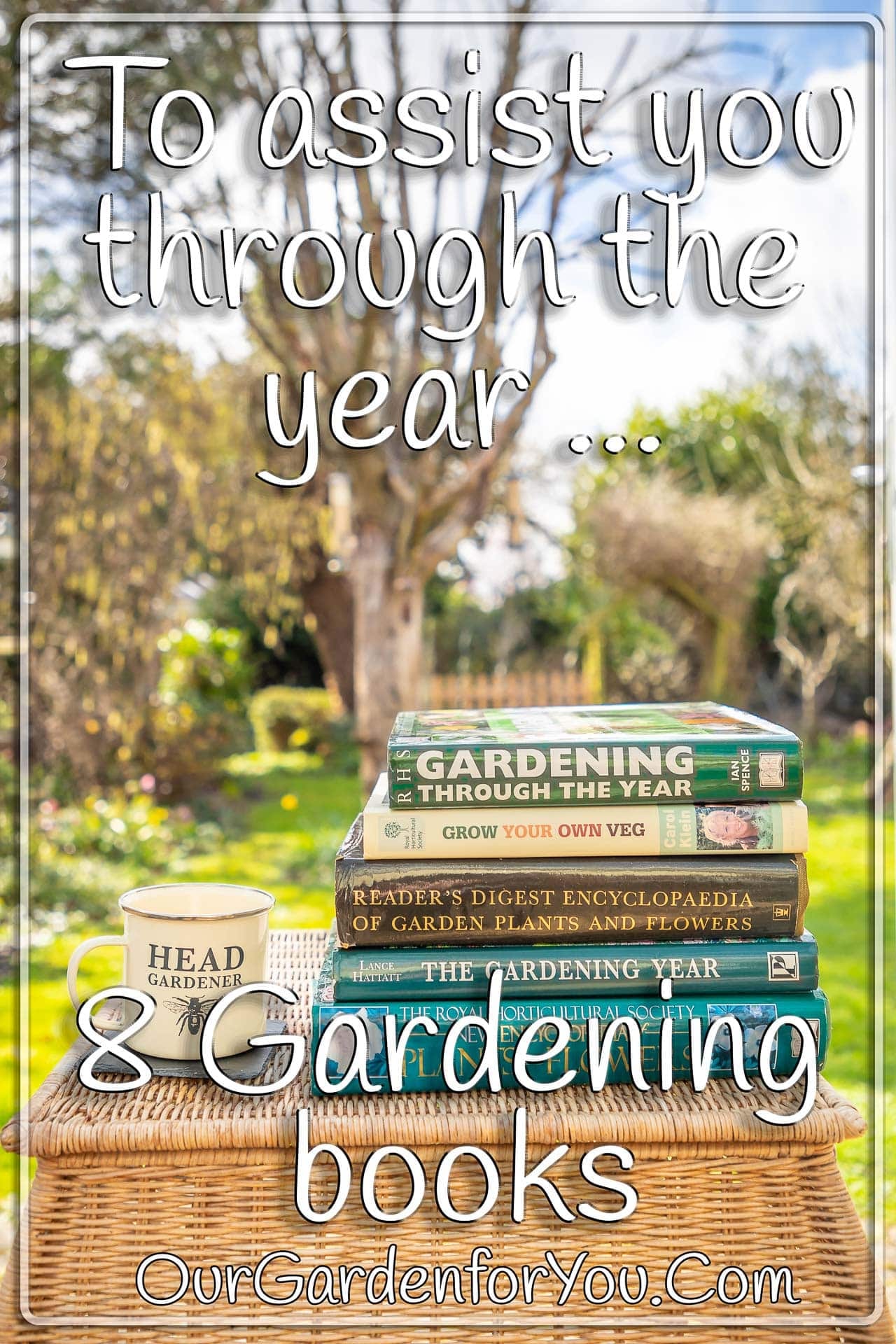 Why not Pin it for later?
RHS Gardening through the Year
The perfect book for everyone
Whether new to gardening or an 'old hand,' this delightful book will always brighten up your bookshelf.
The 'RHS Gardening through the Year' book is perfect for giving you in-depth knowledge through your gardening year. Whether you need guidance on your window boxes, keeping your lawn lush green or discovering the ideal time for pruning your roses, this comprehensive book will guide you along the way.
Grab a cup of tea and take a browse.
---
How to Attract Wildlife to Your Garden
Sharing your garden with nature
The DK book, 'How to Attract Wildlife to Your Garden', is new and hot off the press. Written by Dan Rouse, this delightful book will give you expert hints and tips on attracting wildlife to your much-loved garden.

Whether your welcoming plot is big or small, this book has so many exciting ideas, from choosing plants that our vibrant butterflies adore to the enticing little critters to your pond.

I'll bet you'll also be making a bee hotel for our beautiful bumblebees; I can hear pallets being broken up now and hammers and nails to the ready.
---
RHS Grow your Own Veg & Fruit Bible
Including environmentally friendly tips
I appreciate that I've chosen another gardening book by the RHS; however, this is written by one of my favourite gardeners, Carol Klein; I love watching her on the TV.

This RHS Grow your Own Veg & Fruit Bible is a comprehensive and in-depth book. It's full of so many practical tips for nurturing your fruit and veg patch and flourishing allotments. It's easy to follow and also includes environmentally friendly methods for gardening.

This book, I'm sure, will help you all, from the rookie novice to the avid gardener, and to be perfectly honest, it's just a pleasurable book to flick through.
---
Alan Titchmarsh How to Garden: Small Gardens
Inspiration for us all
There's so much pleasure to be had in any size garden, so don't be put off if you only have a small outdoor space to work with. It's amazing how much inspiration you can gain and so many creative ideas from your fellow gardeners.

I mean, surely Alan Titchmarsh knows a thing or two about gardening on many levels. Take a peek at 'Alan Titchmarsh How to Garden: Small Gardens'. With the tiniest of space, it's all about maximising your boundaries and enjoying your own little patch.

So, whether it's a balcony, passageway, windowsill, or courtyard, you can grow your own herbs, plant out your pots with fruit and veg or nurture beautifully scented plants; your options are endless.
---
Indoor Kitchen Gardening Handbook
Projects & Inspiration to Grow Food Year-Round
This inspiring handbook will keep your windowsills occupied all year-round with amazing ideas on how to grow and maintain vegetables, herbs, and fruit indoors.

The Indoor Kitchen Gardening Handbook will guide you through the seasons, sowing, growing, and cropping your tomatoes, chillies, microgreens and mushrooms from plant to plate.

There's so much more to kitchen gardening than nurturing mustard and cress on paper towels.

What could be better than homegrown produce at your fingertips?
---
Glorious Shade
Transforming your shady plot
There's no reason why you can't enjoy a lush shady garden; I adore my feathery ferns; they add so much character to the garden.

We have a couple of shady spots in our garden, and I think it's about time I begin filling them out more and more. This Glorious Shade book has given me some great inspiration; I do love Hostas; however, it often comes down to who appreciates their leathery leaves the most; it's either me or the slugs.

This book offers ideas for a zing of colour and tips on maintaining your plants.
---
Allotment Month by Month
Nurturing your vegetable patch
Allotment Month by Month is now a best seller on Amazon, which isn't surprising as it is brimming with ideas for your very own vegetable patch. It will guide you through the year growing your vegetables and give you a helping hand with the fruits and herbs you love.

This book is perfect for a first-time vegetable grower as it advises you on what to sow and when your little seedlings are ready for planting out.

Allotment Month by Month will also assist you in dealing with those pesky insects that take a fancy to your home produce.
---
RHS Gardener's Quiz & Puzzle Book
Enjoy plenty of light-hearted brainteasers
Yes, a gardening book that doesn't require physical exercise; sit back and enjoy a bit of cheerful fun.

This gardening quiz book features over 400 questions for you to put your knowledge against, and you could even drop a question into a conversation with your green-fingered friends.

You'll improve your knowledge of Latin names and give your brain a workout with the many anagrams. Go on, give it a go, sit down, enjoy a cuppa and test your horticultural know-how.
---
As an Amazon Associate we earn from qualifying purchases.
As an Amazon Associate we earn from qualifying purchases.
* This post may contain links to affiliated sites where we earn a small commission at no additional charge to you.