by Janis on 21st July 2023 / 0 comments
Was it a success or failure?
Well, to be perfectly honest, every time a little seedling appears, it's a success. It always feels like a sense of achievement, especially when a couple of months have passed by, and you can literally see the fruits of your labour.

Back in March and April, I started to sow my seeds for 2023. Some seeds were purchased for particular areas of the patio and garden, some were sown as I received them for free from my Gardeners' World magazine, and others were seeds which I collected last year from our garden.

Oh yes, and there were a few I just couldn't resist.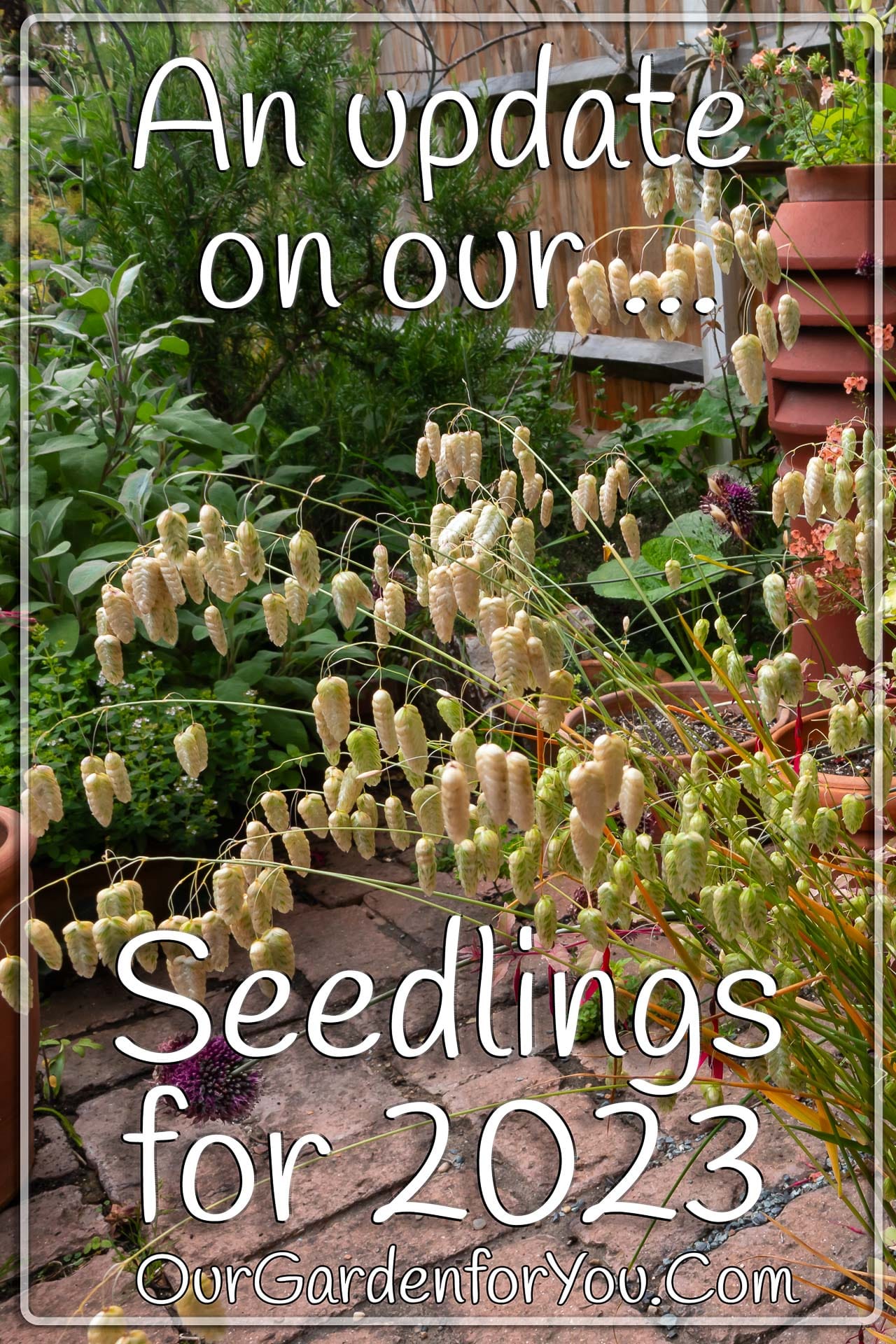 Why not Pin it for later?
You win some, you lose some
My conservatory is a greenhouse
I know that I sow way too many seeds each year, but it's a matter of weighing up whether they'll all be successful or fail to show their tiny heads.

Well, I was lucky on some and not so fortunate on others; however, considering that when I counted the different varieties of seeds that I sowed, there were over 30 different types of plants.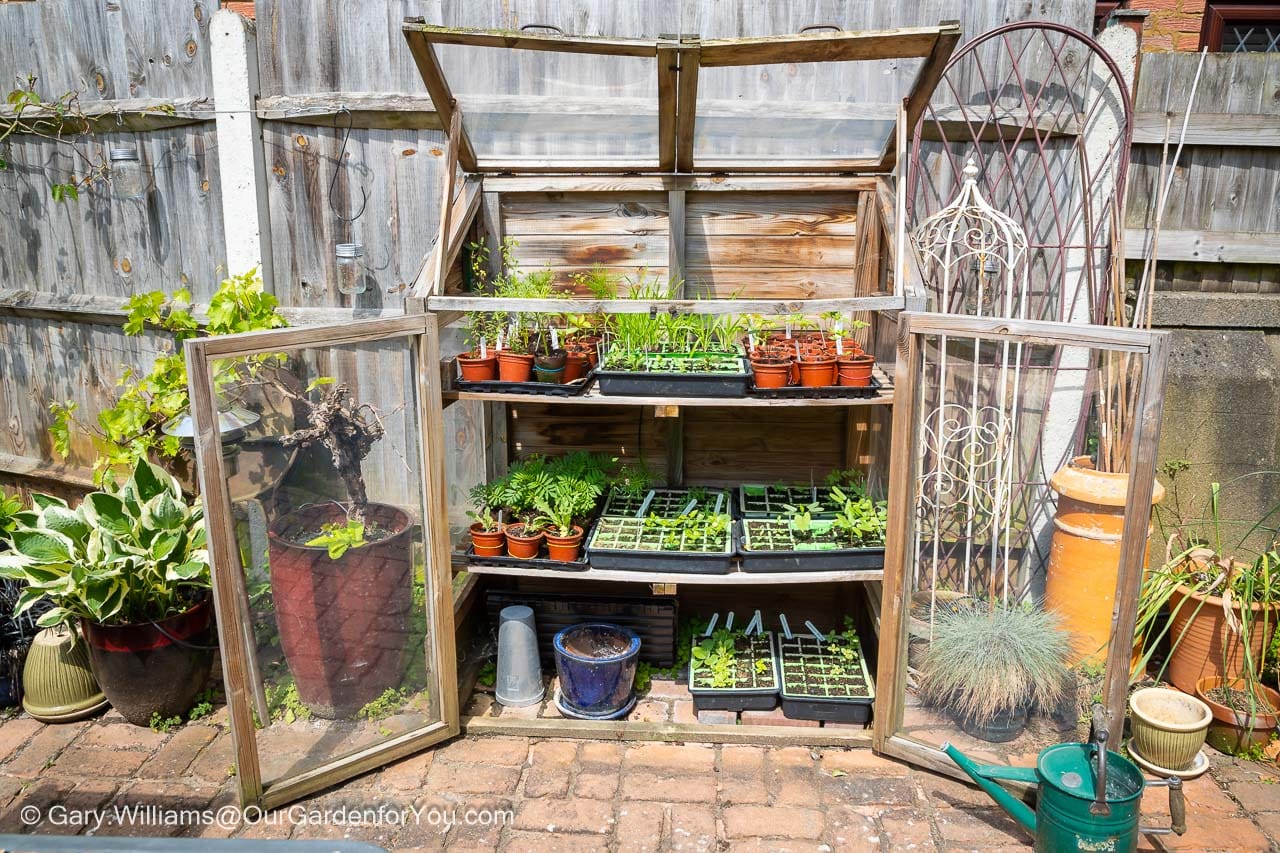 Our cold frame
When it came to potting on the nurtured seedlings, I had what appeared to be hundreds of little plants, and I needed to find a home for them in either my cold frame or the conservatory.
During springtime, our conservatory inevitably looks like a greenhouse, which is pleasing in some way. Still, it is nice once we have transferred all the little plants outside.
Yes, I sowed more seeds
It was my mistake
Now, I must confess that not all of my seeds were successful, so I ended up sowing some more. I especially wanted to have plants to grow up a few obelisks on my
courtyard patio
to add height and colour.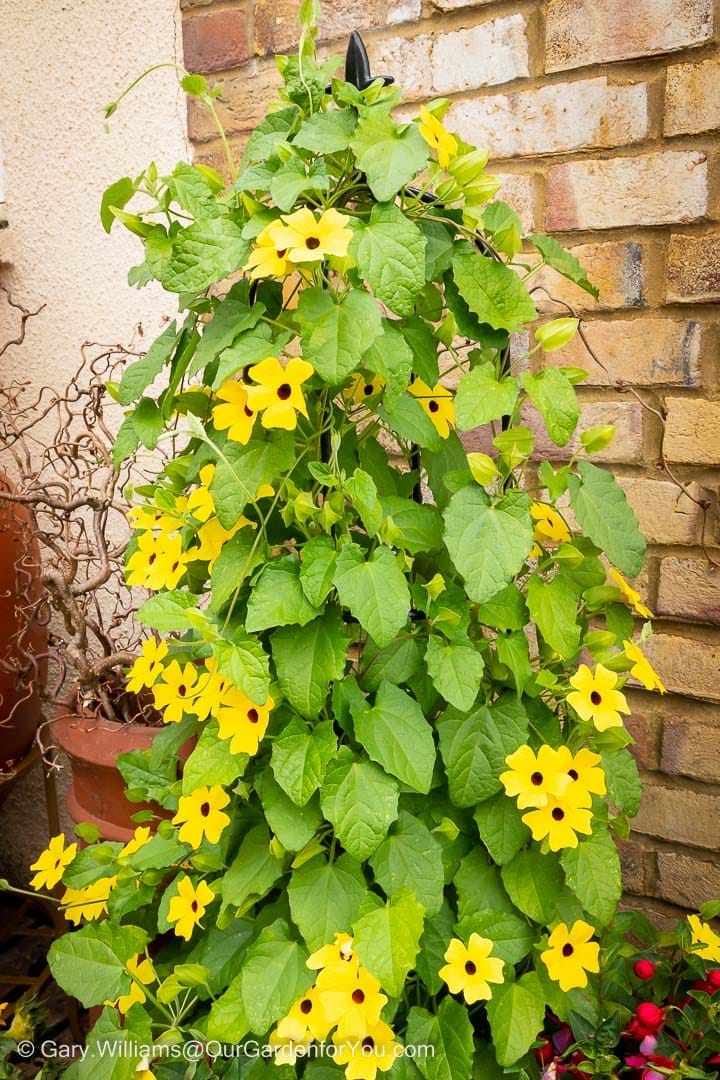 Black-eyed Susie
Last year I bought some Black-eyed Susie plants, which were fantastic; they flowered for months and months. So, I thought I would grow them from seed this year, which was a great idea if they all germinated; however, they didn't. So, I ended up sowing some more.
A similar thing happened with my chillies and tomatoes: I sowed more seeds and ended up with too many. But hey-ho, I gave a couple away, and I now need to look for more recipes which include tomatoes and chillies.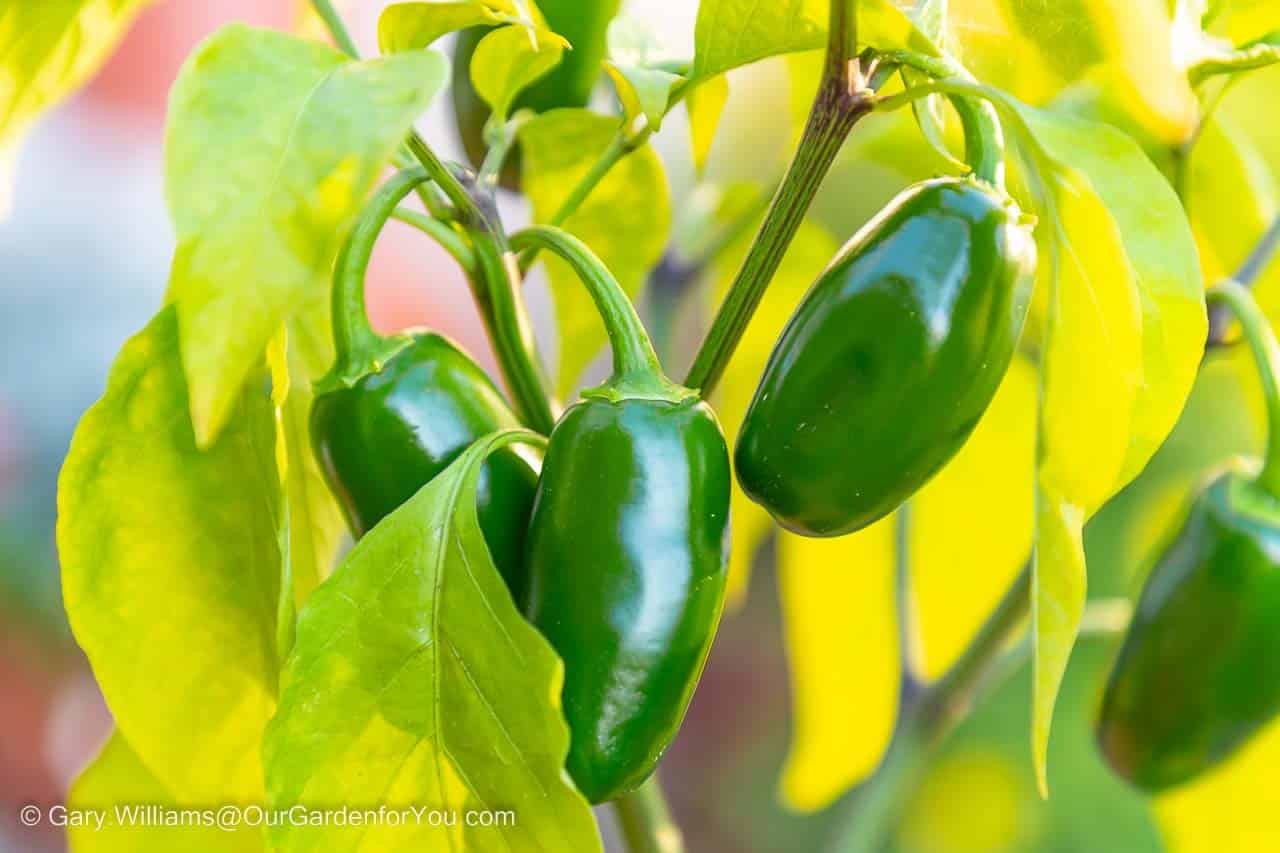 Last year's Jalapeño chillies
Now, I think my initial mistake with sowing my seeds was that I didn't use seedling compost, I used a peat-free multi-purpose compost with
vermiculite
and
perlite
. I believe the compost wasn't fine enough, and then when I grew my second batch of seeds using seedling compost, they were nearly all a success; you live and learn.
Our chosen tomatoes & chillies
Cherry toms in abundance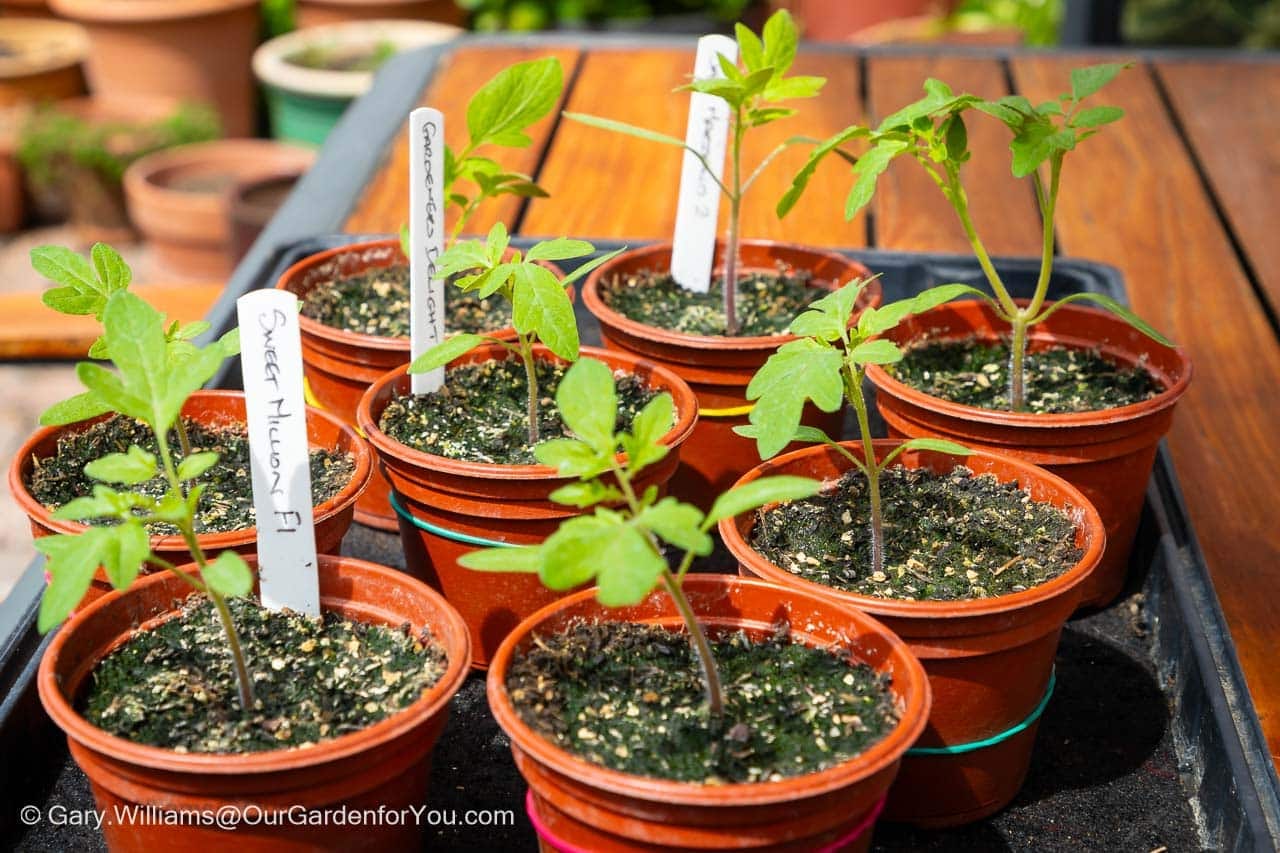 Young tomato plants
To be honest, I was only going to sow three varieties as I was trying to keep them to a minimum. However, the tempting packet of 'Red Cherry' seeds landed on my doorstep from my Gardeners' World magazine. I couldn't resist giving them a go.
So far, so good; my little tomato plants are not so little anymore and have started to bear fruit. Did you catch my post on 'supporting our tomato plants'? I followed Monty Don's advice, and they are coming on a treat.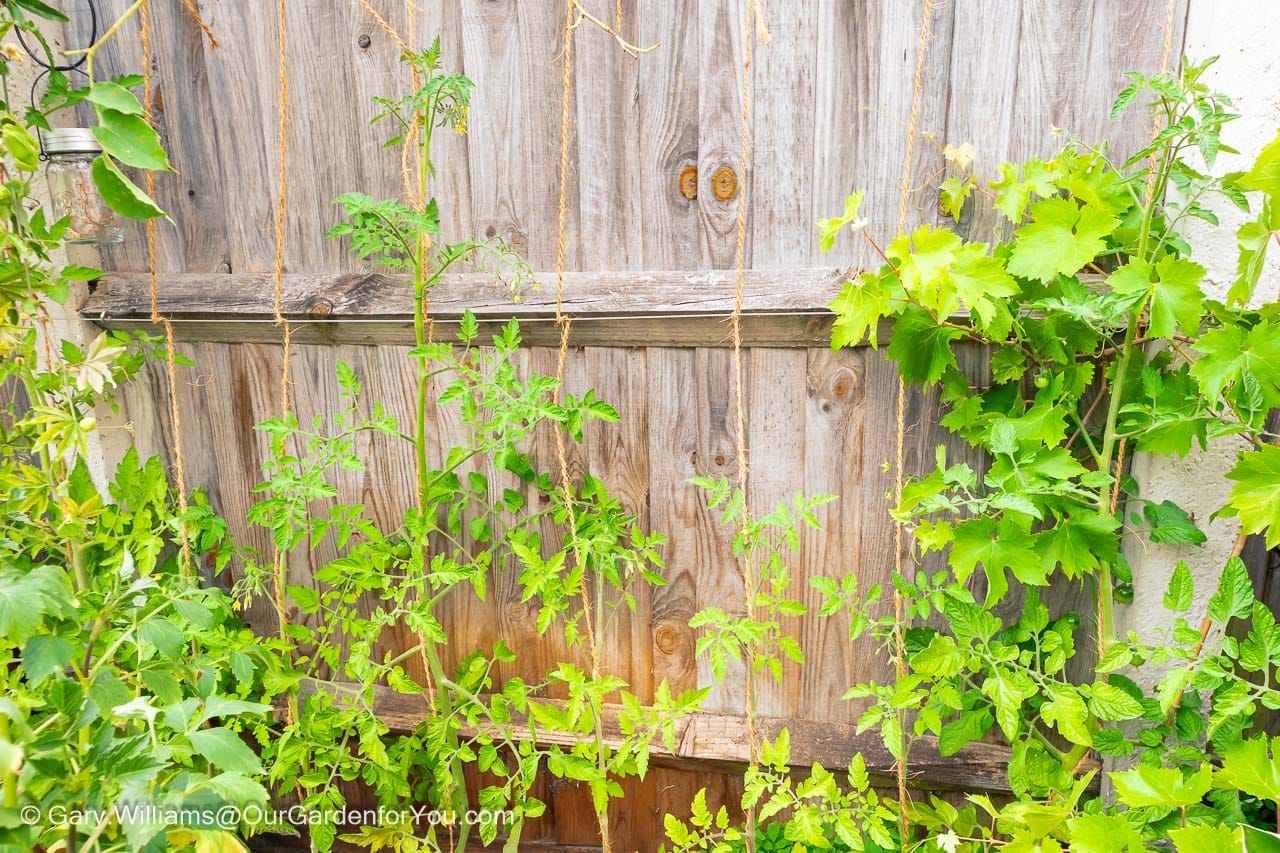 Tomatoes growing up against our fence
This year I have only grown two types of chillies; in hindsight, I wish I had chosen one more, but there's always next year. The two varieties that I have are Cayenne and Hungarian Hot Wax.

I'm hoping that the Cayenne chillies are going to pack a bit of a punch when we cook with them; fingers crossed. They are flowering well, although the chillies have not appeared.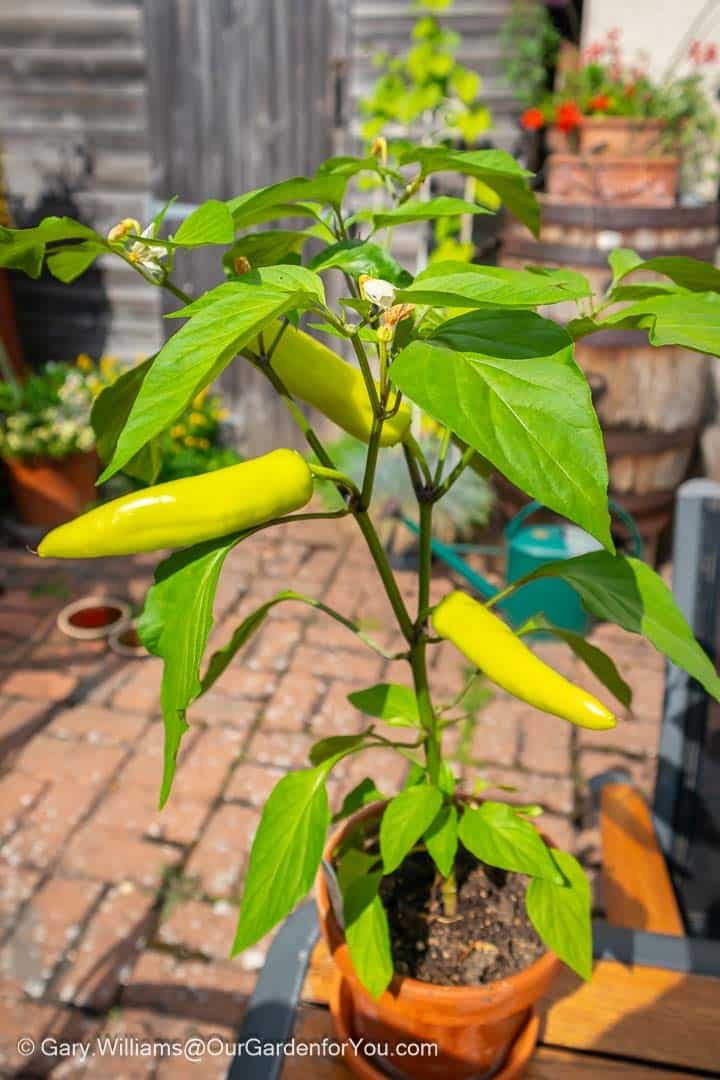 Hungarian Hot Wax chilli
The Hungarian Hot Wax chillies are of medium heat, and we got them free with the Gardeners' World magazine. So far, these chillies are powering along; not only have we got plenty of flowers, but we also have lots of fruit already.
A summary of our 2023 seeds
Was it a big thumbs up?
Sowing and growing our seeds for 2023 has been a bit of a mixed bag. Some of the little seeds germinated immediately and came on leaps and bounds; others didn't even want to show their face.

I kept a little record of how my success rate unfolded, and below is how I faired.
| Plant Name | Variety | Notes | Success |
| --- | --- | --- | --- |
| Rose Campion | Velvety silver leaves | Cerise flower | Yes |
| Achillea | Cerise Queen | Cerise | No |
| Achillea | Salmon Beauty | Salmon | Yes |
| Lupin | Chandelier | Yellow | Yes |
| Lupin | Chatelaine | Pink | No |
| Lupin | Gallery Red | Red | No |
| Lupin | My Castle | Red & Pink | No |
| Cineraria Maritima | Silverdust | Silver bedding plant | Yes |
| Nicotiana | Perfume Mix | Mixed | Yes |
| Salvia | Blue & white mixed | Blue & white | No |
| Salvia | Blaze of Fire | Red | No |
| Chilli | Cayenne | Four colours | Yes |
| Chilli | Hungarian Hot Wax | Red | Yes |
| Tomato | San Marzano | Plum | Yes |
| Tomato | Red Cherry | Cherry | Yes |
| Tomato | Sweet Million | Cherry | Yes |
| Tomato | Gardener's Delight | Cherry | Yes |
| Sunflower | Little Dorrit | Yellow | Yes |
| Rhodochiton | Purple Bell Vine | Pink/purple | No |
| Black-eyed Susie | Thunbergia | Mixed | Yes |
| Cosmos | Candyfloss White | White | Yes |
| Poppy | Black Swan | Deep red | Yes |
| Verbena | Bonariensis | Purple | Yes |
| Marigold | Carmen | Orange and red | Yes |
| Lobelia | String of Pearls | Mix | Yes |
| Greater Quaking Grass | Like lanterns | Papery | Yes |
| Honesty | Mix | Purple | Yes |
| Antirrhinum | Dark Orange Potomac | Orange | Yes |
| Rudbeckia | Cherokee Sunset | Bronze | No |
| Cactus | Mix | Spiky | Yes |
| Morning Glory | Heavenly Blue | Blue | Yes |
Greater Quaking Grass
A few of my favourite successes are the Greater Quaking Grass, Black-eyed Susie, and Lobelia, all looking beautiful and lasting for months.
As an Amazon Associate we earn from qualifying purchases.
As an Amazon Associate we earn from qualifying purchases.
Let's talk about my Morning Glory plants
Where are my flowers?
Now, firstly I must say that growing Morning Glory was a complete success, and I have two towering obelisks overflowing with foliage. However, this is where my success ends; there is no sign whatsoever of flowers.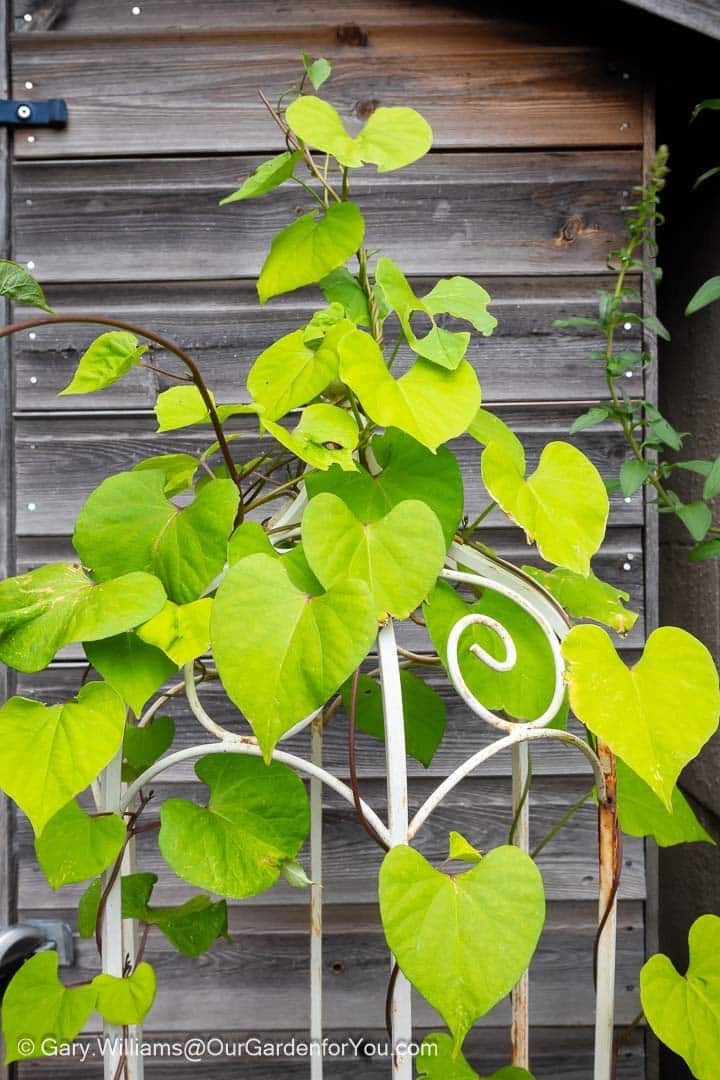 Morning Glory
The seed packet promised an abundance of blue trumpet blooms, but there was nothing to be seen. The plants are lovely and healthy, yet still no flowers. Does anyone have any ideas? I'd love to know what I have done wrong.
* This post may contain links to affiliated sites where we earn a small commission at no additional charge to you.