by Janis on 9th June 2023 / 0 comments
An enchanting haven in West Sussex
Once again, we're out and about exploring the National Trust sites in the southeast of the UK, and we've now arrived at Nymans in West Sussex.

Previously during Spring, we visited Sissinghurst Castle Garden and Scotney Castle in Kent; both were stunning. The National Trust team keeps their gardens looking immaculate all year-round; however, I do enjoy visiting them in springtime.

Sometimes I wish I had a regiment of gardeners to control our borders and weeds; the National Trust team at Nymans are so meticulous, it's incredible.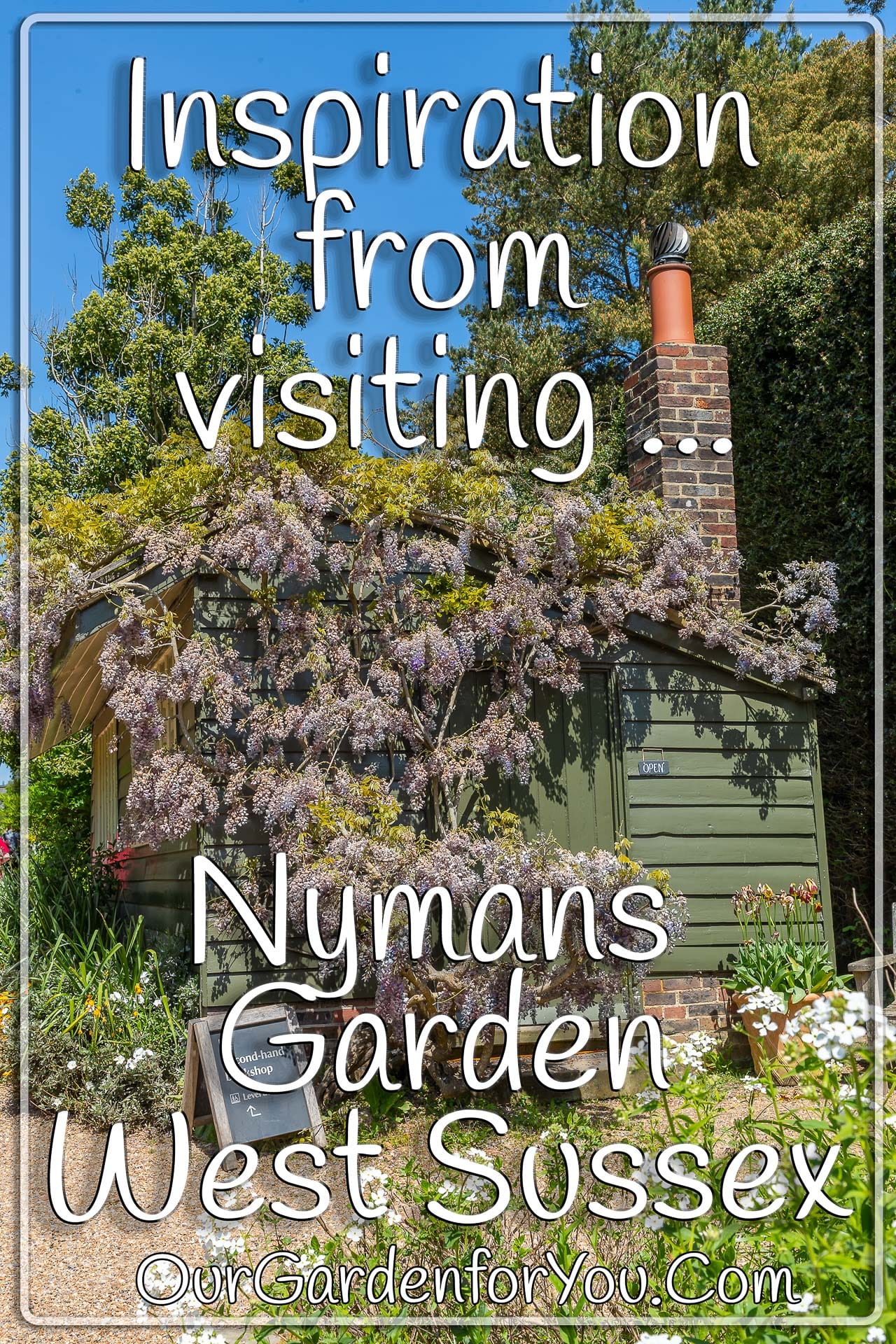 Why not Pin it for later?
A little background on Nymans
From Regency to aristocracy
Nymans house was originally built as a Regency-style manor house around the late 1830s, and it was in 1890 that it was purchased by the Messel family. Ludwig Messel was of German Jewish descent and, once settled in England, bought the delightful 600-acre Nymans estate.

Nymans is located in West Sussex, and from within its sloping gardens, you have picturesque views across the High Weald and beyond.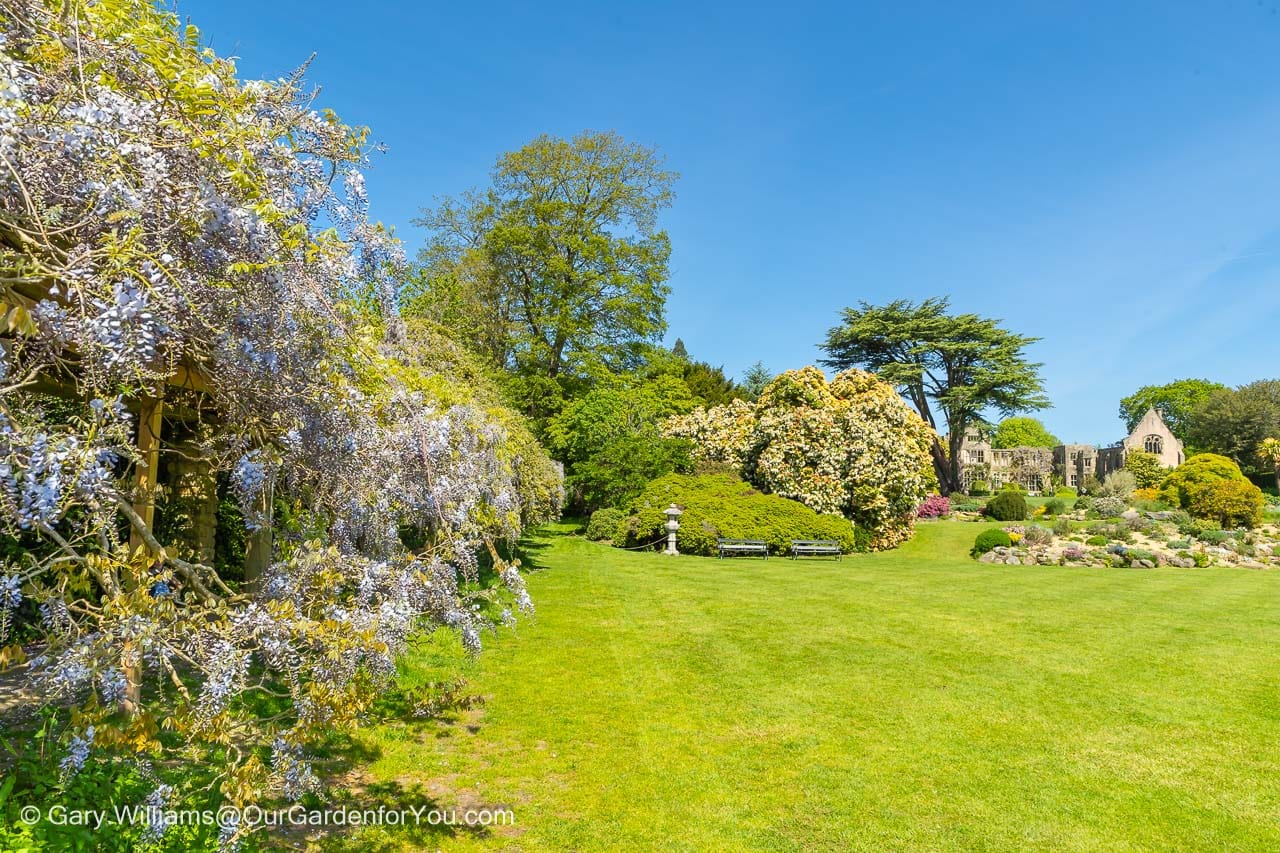 Croquet lawn and wisteria pergola
It wasn't long before the Messel family began transforming the old Regency house into a German-style family home. This was then shortly followed by the rejuvenation of the Nymans' gardens with their head gardener James Comber. No expense was spared by Ludwig in creating his perfect garden.

In 1915 when Ludwig's son Leonard inherited Nymans, the house was once again redeveloped, and the German-style wood-beamed home was remodelled into an attractive mock-medieval stone manor house.
The beautiful gardens continued to blossom and were nurtured and extended further; in the 1930s, the gates of Nymans were thrown open to the public.
The ruins within Nymans
Unfortunately, in 1947 a disastrous fire destroyed a large part of the Nymans' house. It was partially rebuilt, leaving a large section of the house as ruins. Today this has become a magnificent backdrop to Nymans gardens.

Leonard and his wife Maud had three children, and their daughter Anne married into the aristocracy to the Earl of Rosse. Anne's eldest son was the Earl of Snowdon and went on to marry Princess Margaret.
As an Amazon Associate we earn from qualifying purchases.
As an Amazon Associate we earn from qualifying purchases.
Exploring Nymans Pinetum
And the calming wildflower meadow
Nymans is a popular National Trust garden, and once we started exploring the estate, I could see why, Nymans is gorgeous. As with all National Trust sites, you're greeted with an enthusiastic smile and offered guidance on where to begin your venture.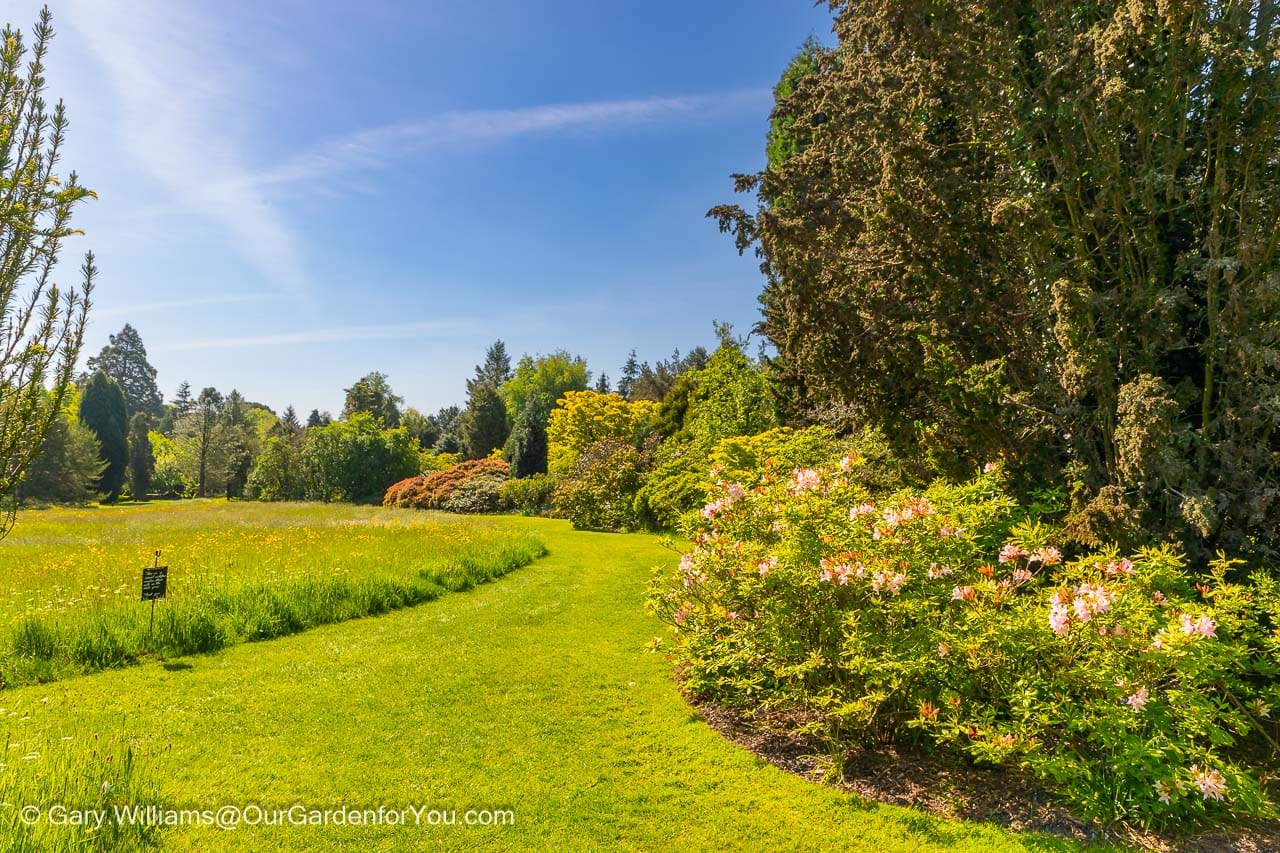 Wildlife meadow at Nymans
We head off toward the wildlife meadow and the charming temple dedicated to Ludwig's brother Alfred Messel, a renowned architect.

What I love about National Trust gardens is that they helpfully label most of their plants; this makes it a lot easier for me if I see a plant that I love. Although I have now started using the 'PlantNet' app to identify plants, you must download it if you haven't already. It is so helpful.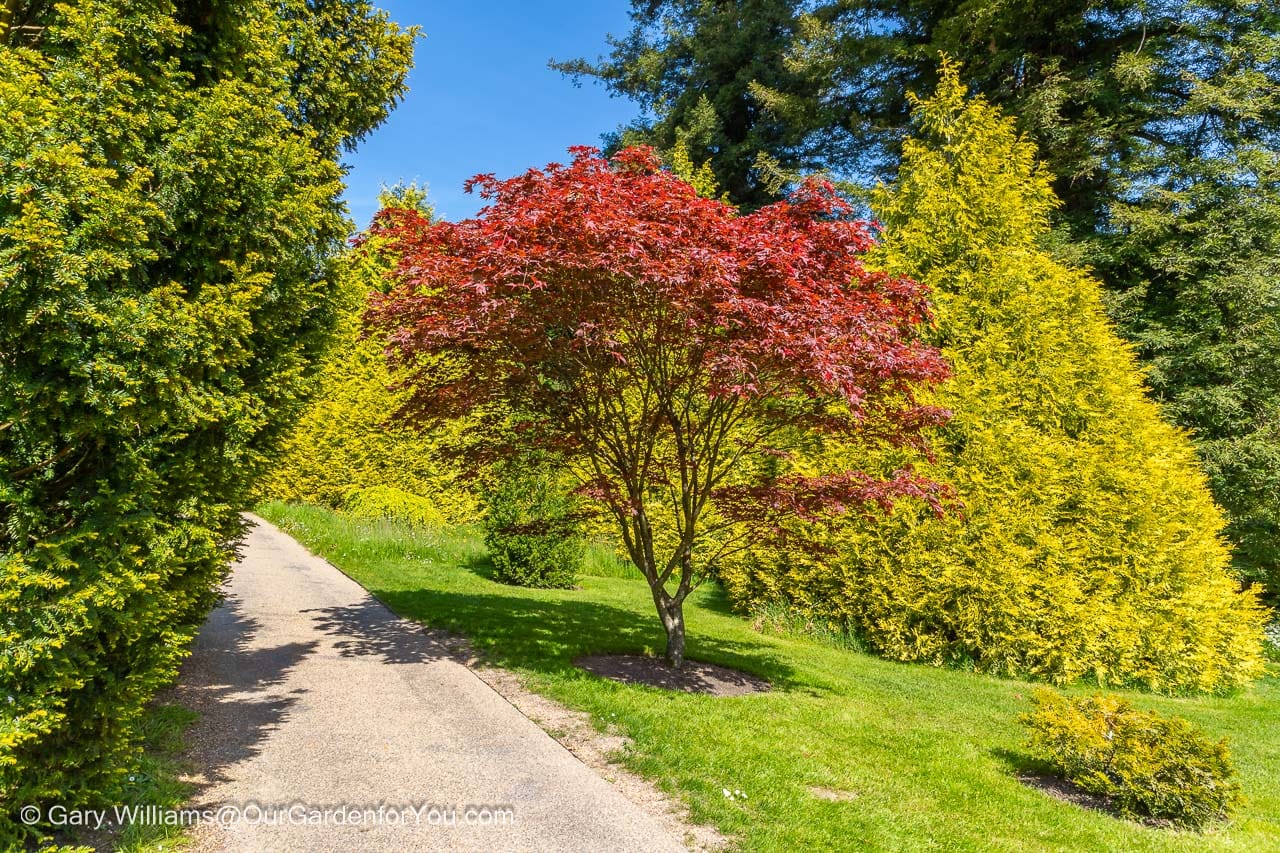 Meandering path in Nymans Pinetum
As we meander along the dappled pathway, we effortlessly arrive at Nymans Pinetum, which is stunning. The Pinetum is full of beautiful structural trees in all shades of green, and russet reds. Luckily for us, we can still appreciate the resplendent blooms on Nymans' rhododendrons.
The Lime Walk
Views of the Wealden countryside
We wend our way around the perimeter of Nymans estate, enjoying the scenic views across the Wealden countryside and welcoming the dappled shade as we stroll. The gardens at Nymans are Grade II* listed.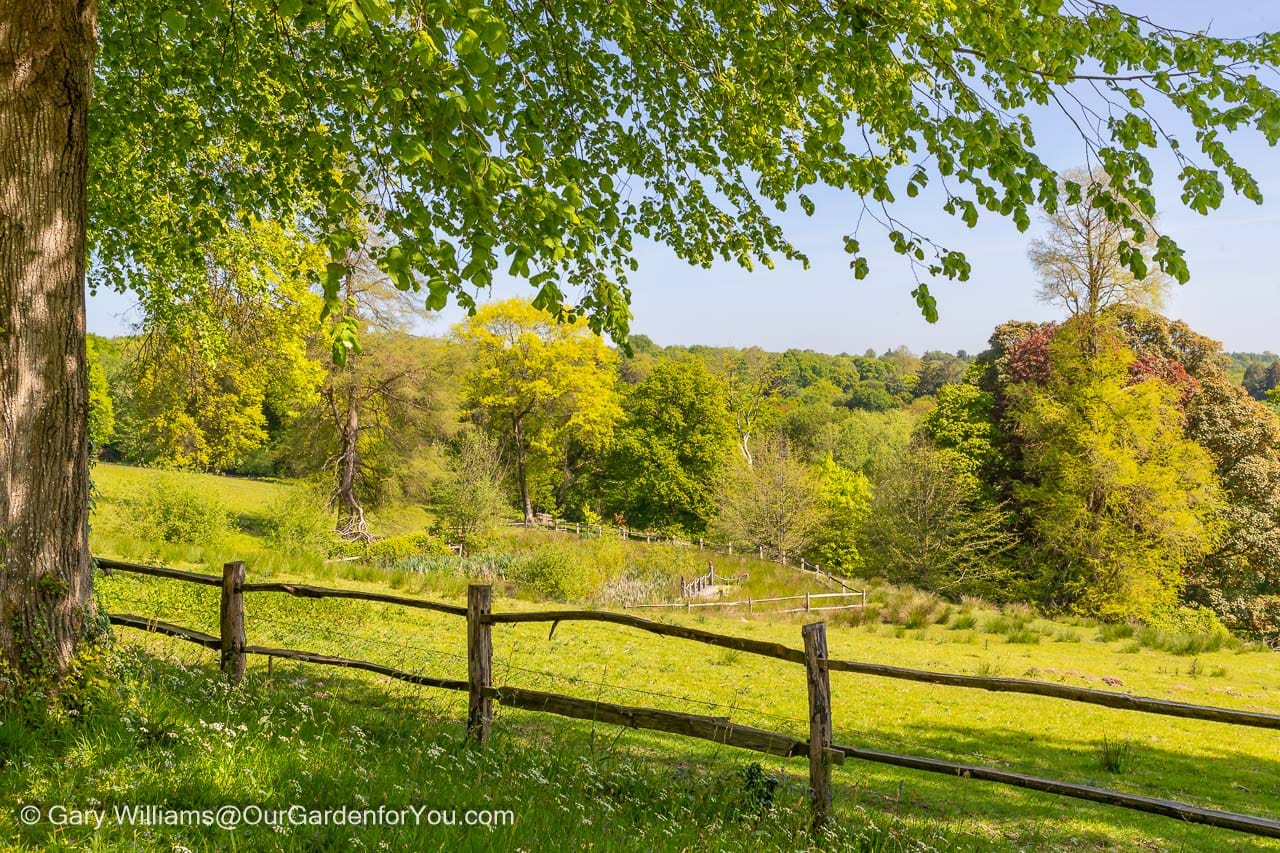 Views of the Wealden countryside
We amble along Lime Avenue and head towards the rear of Nymans house to admire the ruins and appreciate how they have now become an integral part of the garden.

I think we may have to revisit later in the year to see the transition from one season to the next.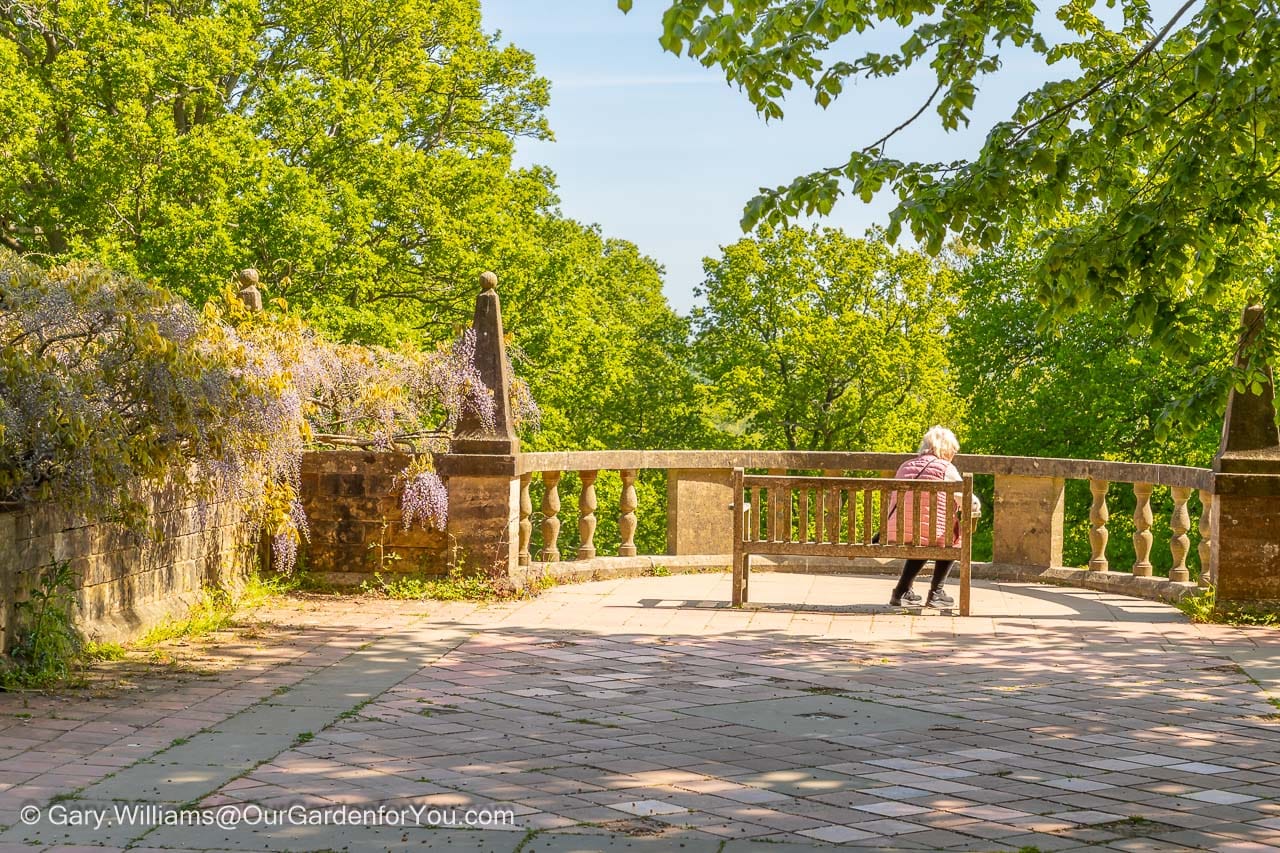 Taking a rest in the sunshine
This is a wonderful part of West Sussex; you can see why the Messel family fell in love with the location. To assist you in exploring the estate fully, National Trust run daily 'Garden Buggy Tours' from May.
National Trust further reading
If, like us, you enjoy visiting the National Trust gardens around the United Kingdom, then grab yourself a copy of the latest 'Gardens of the National Trust'.
It's a beautifully illustrated book, and it won't be long before you're planning your next trip.
Nymans Loggia and sunken garden
A little nod to South Africa
Nearby the ruins of Nymans house is the beautiful sunken garden with an eye-catching loggia as a striking backdrop. This a glorious area within Nymans and so meticulously maintained by the National Trust gardeners.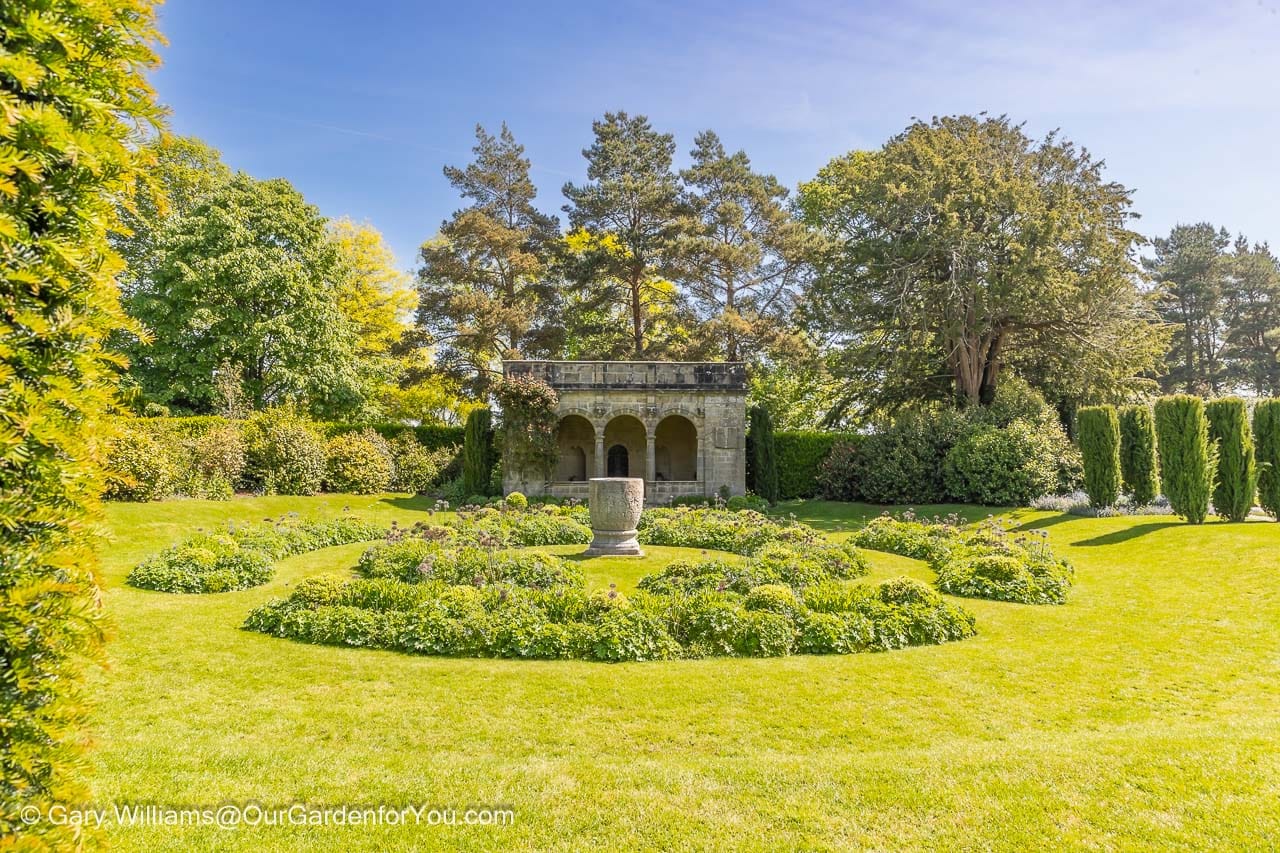 Nymans sunken garden and loggia
I loved the stunning display of alliums within the sunken garden; I've recently fallen in love with alliums. I planted a few allium bulbs last autumn; come springtime, they were in full majestic bloom. The ornamental globes stand so proud within our cottage garden beds, and now admiring the display at Nymans, I think I will be planting more this autumn.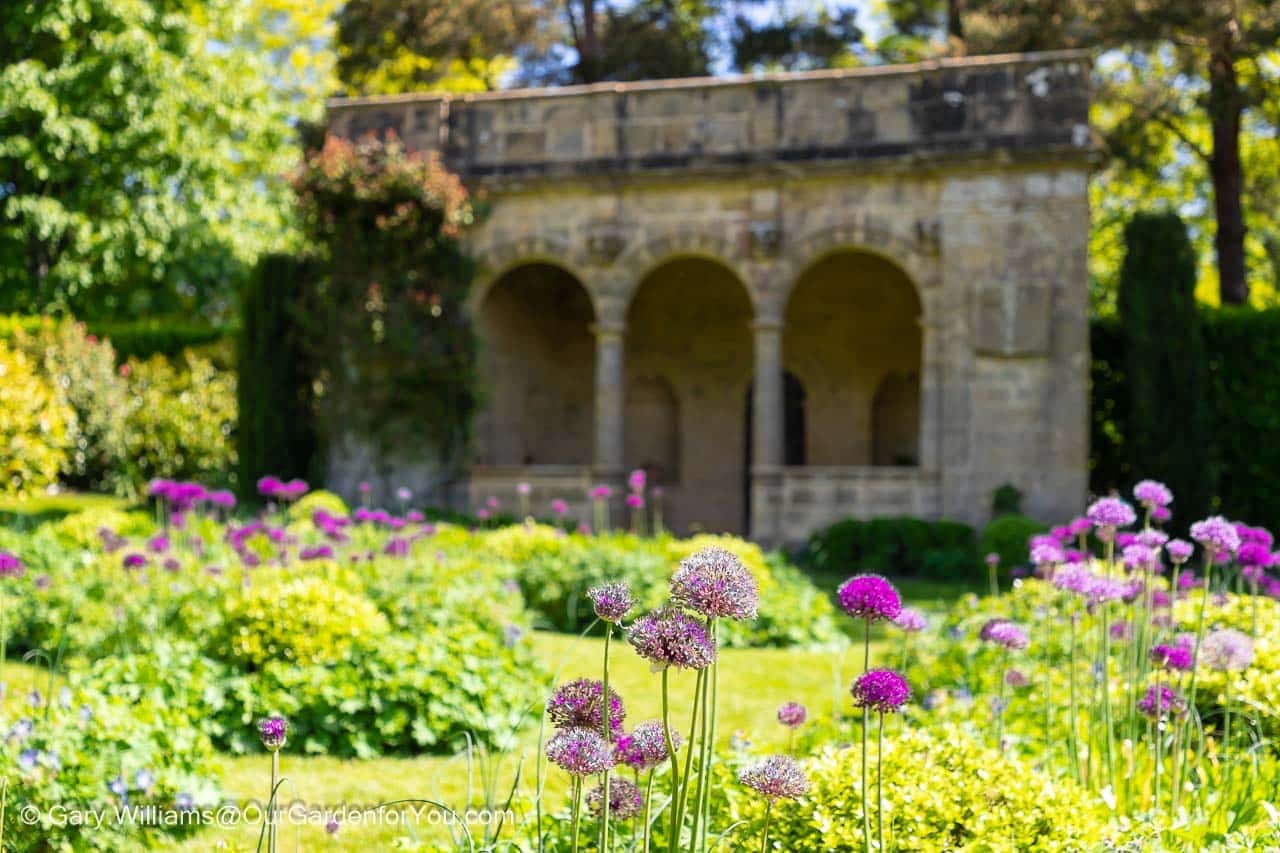 Alliums within the sunken garden
A short hop from here is the South Africa inspired garden and meadow, which I imagine could be a challenge to maintain over the English winter months. However, with the May sunshine streaming through now, the South African bed was beginning to show its full glory.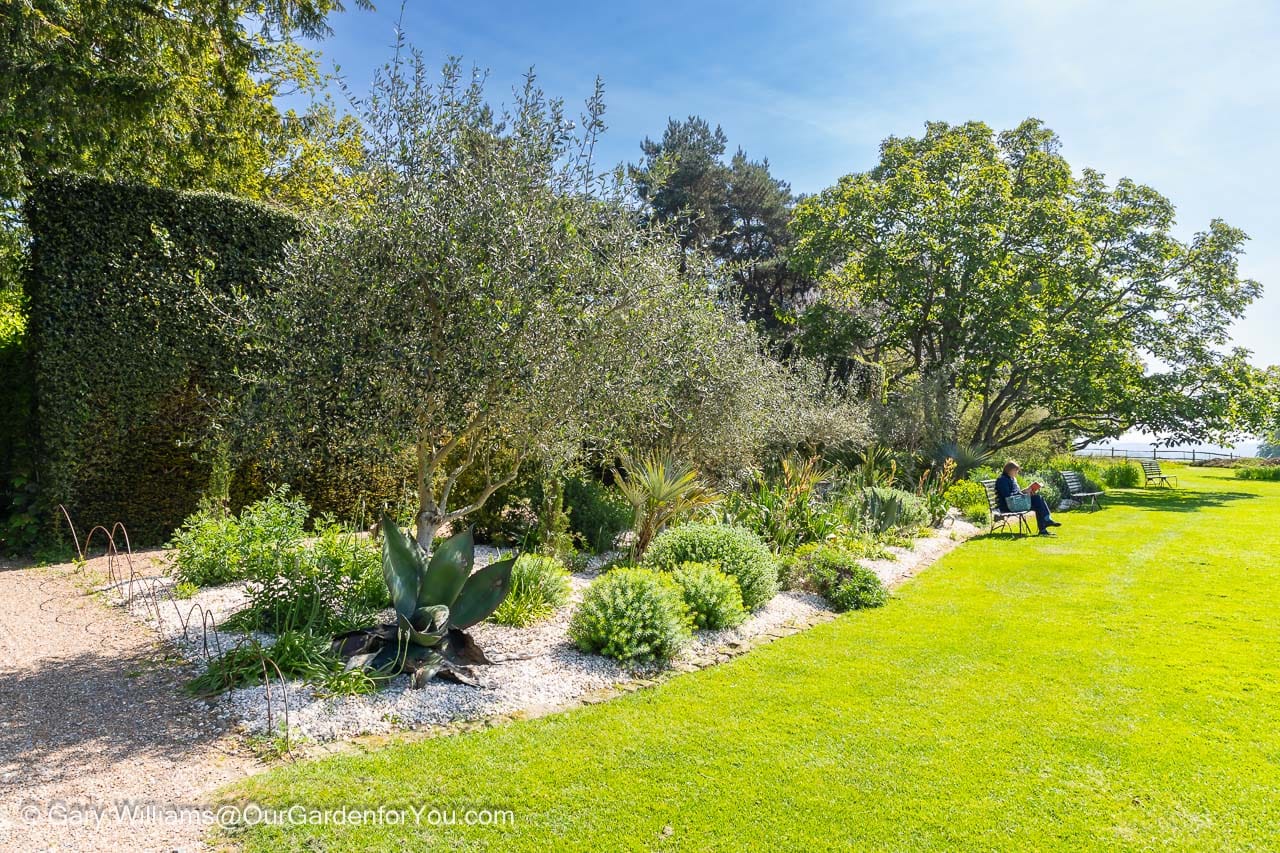 South Africa bed
The South African bed has been thoughtfully planted out with delicate grasses, bold perennials and exotic hardy plants giving strong texture and structure to the charming garden.
Exploring the charming rock gardens
A parasol of wisteria
One of the areas I particularly loved at Nymans was the rock gardens; these gardens were enchanting, and I could have spent hours admiring them.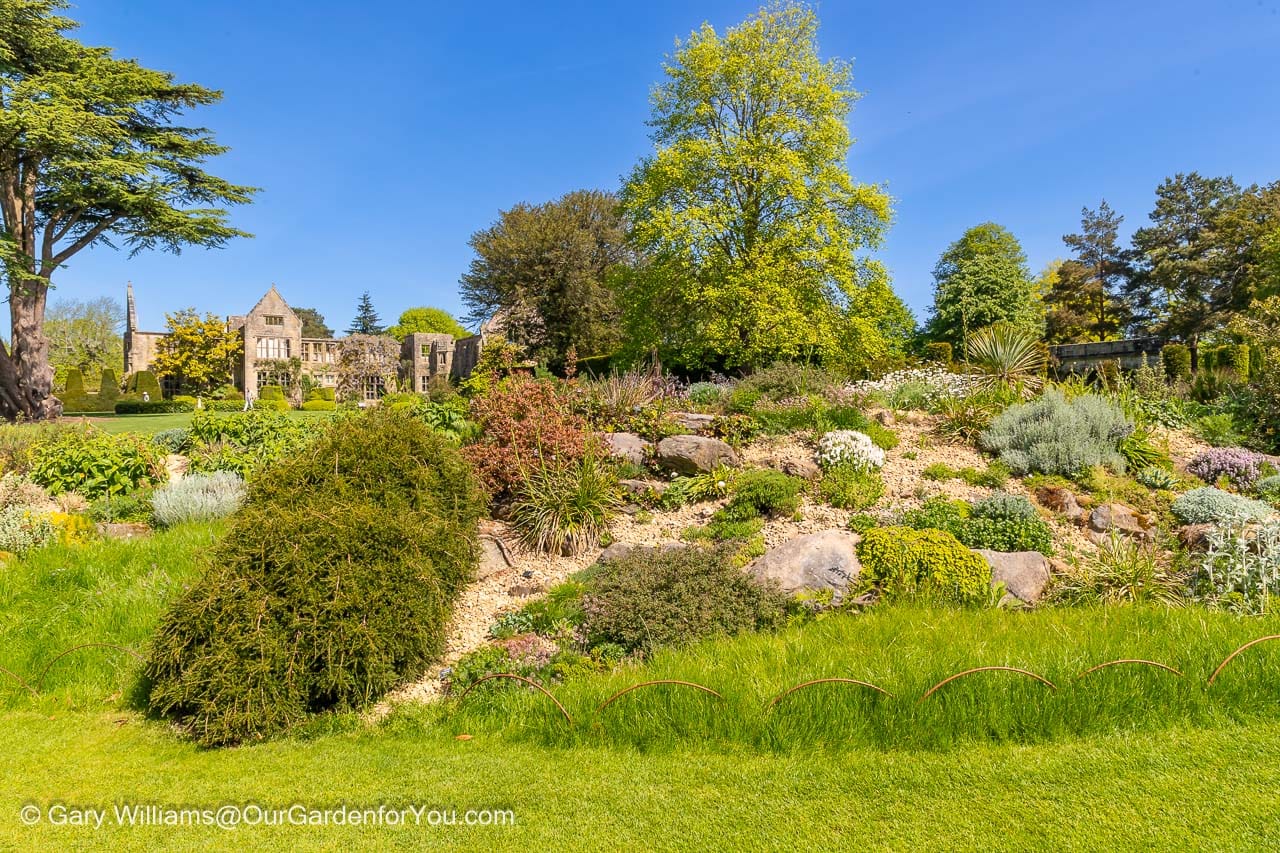 Nymans rock gardens
What I especially liked about the rock gardens was the nature of the planting. Amongst the boulders and interspersed within the golden pebbles were delicate plants which gave a captivating Mediterranean feel; in fact, the majority of the planting you would find in a British garden.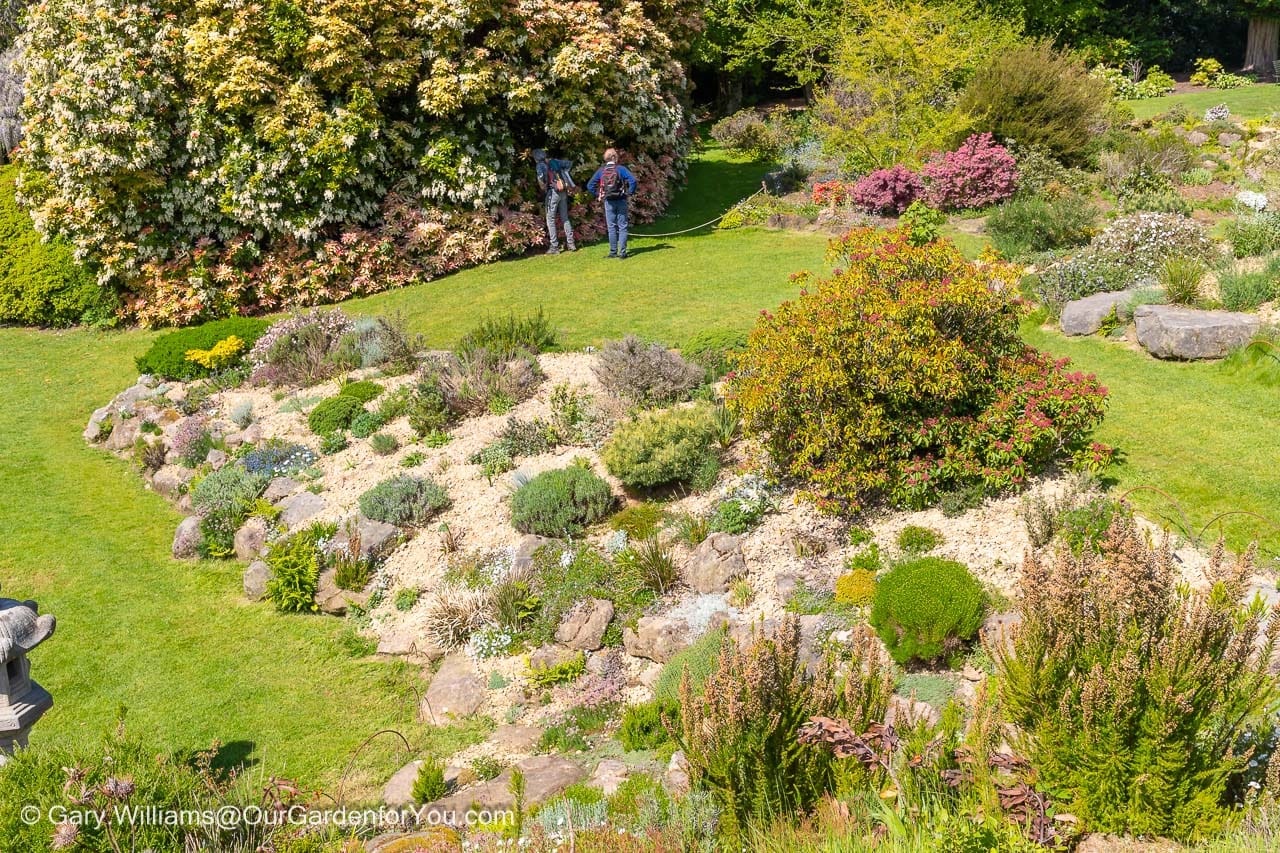 View above the rock gardens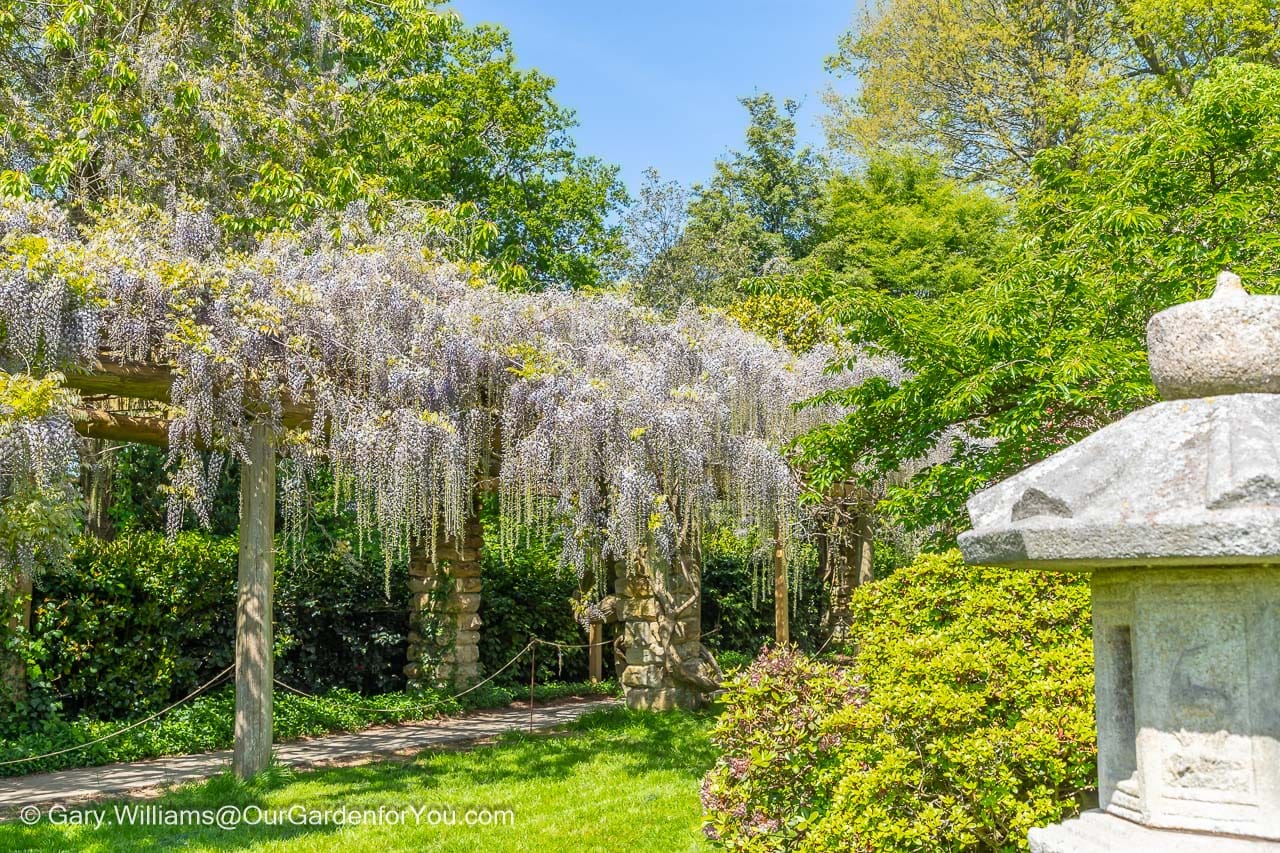 Wisteria in bloom at Nymans
We visited Nymans in May, so we were lucky enough to catch the delightful lilac pastel flowers from the trailing wisteria.

On the edge of the manicured croquet lawn was a long pergola. Along the entire length of the structure, a stunning wisteria was elegantly draped in magnificent purple blooms. It was so striking and created a parasol of dappled shade.
Captivating walled garden
To the fragrant rose garden
We continue exploring the glorious gardens at Nymans and visit inside the historic Nymans house. It's from here that we head to the charming walled garden.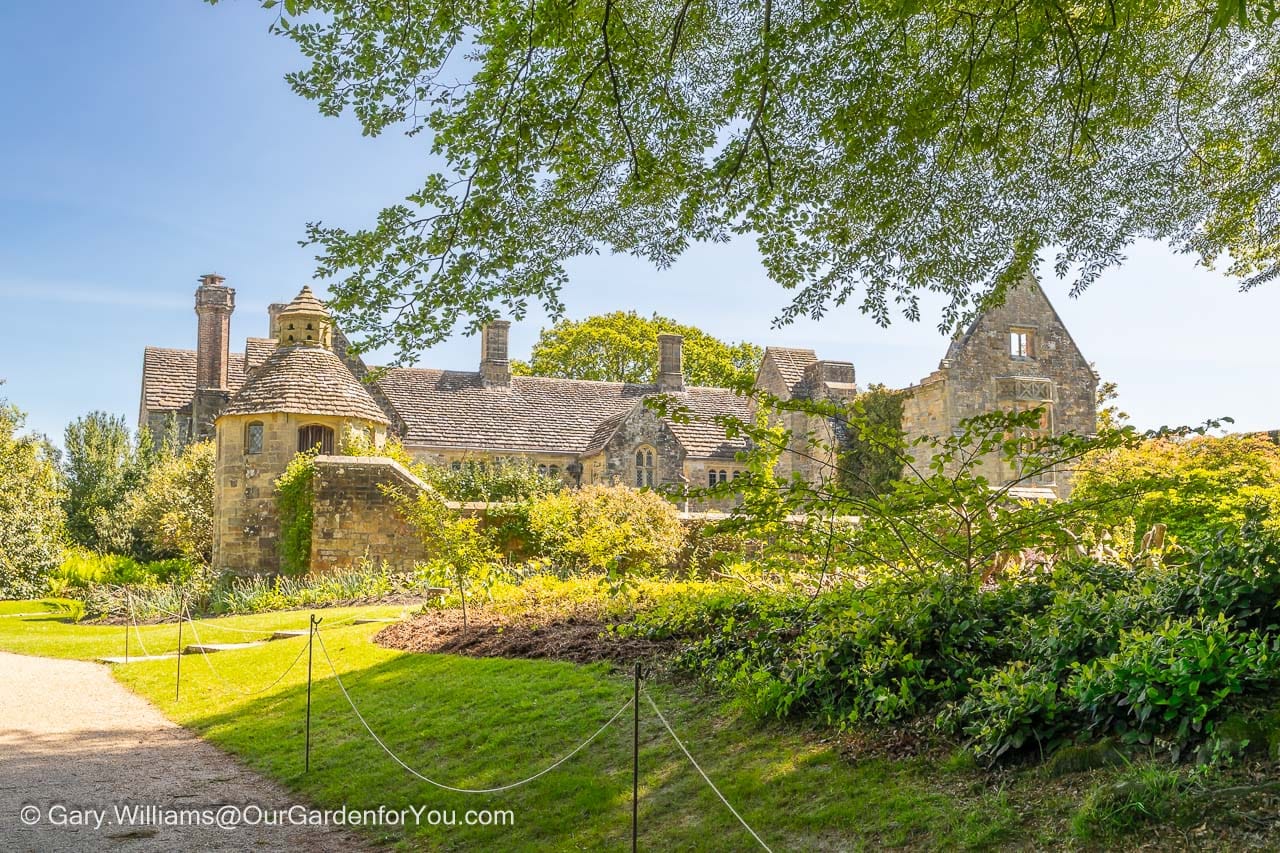 Nymans house
Sections of the walled garden were being planted during our visit; however, there were still plenty of plants to see as you veer off the main avenue. Beautiful 'Kent Pride' iris were in bloom along with camassias, aquilegia and forget-me-nots.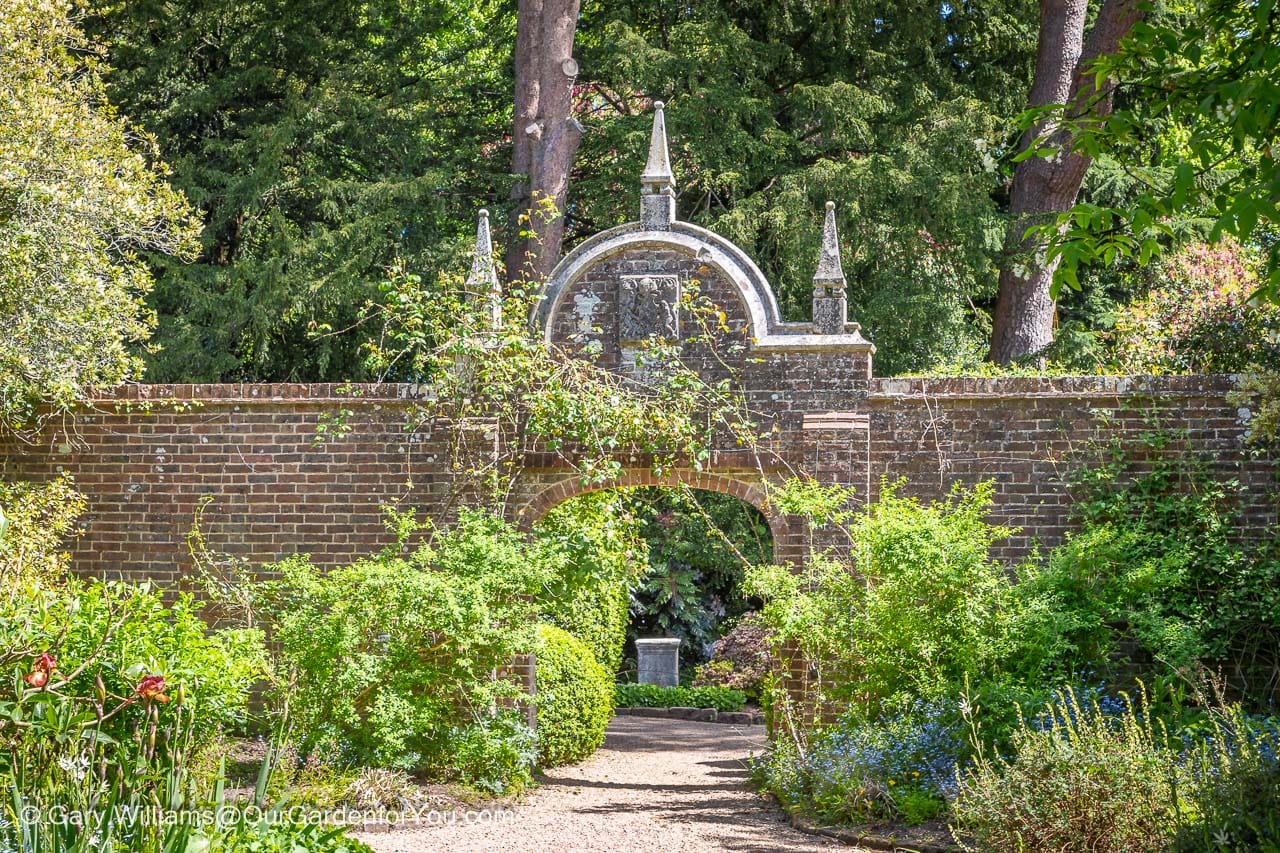 Nymans walled garden
Dotted all around Nymans's gardens are grand statues, tumbling water features and plenty of seating to rest your weary feet.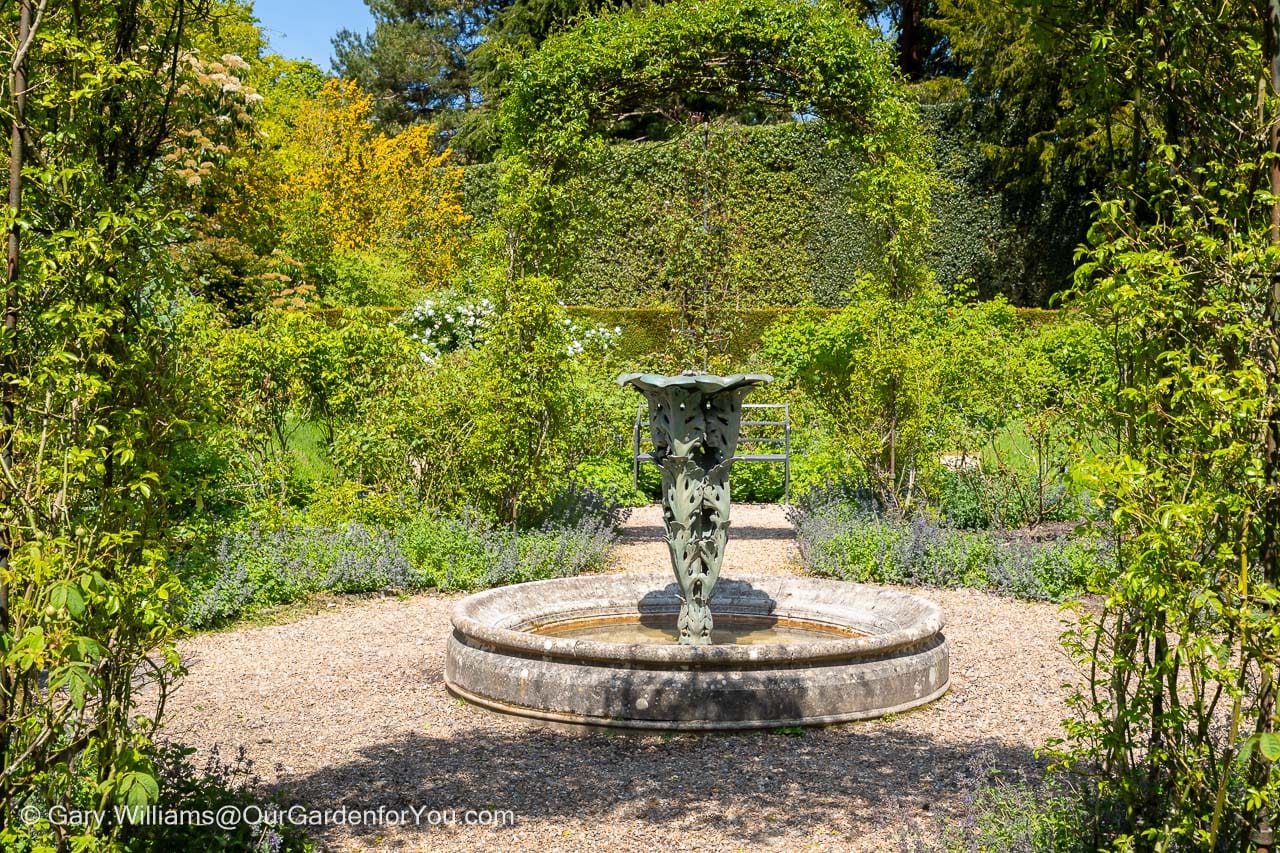 Nymans rose garden
Our next stop was to the rose garden. We were a little bit early in the season to enjoy the full extent of Nymans' exquisite rose garden. Nevertheless, it was a calming a relaxing area for Nymans to sit peacefully and listen to the tweeting birds around us.
Second-hand bookshop
Pick up a plant or two
It wouldn't be the same if a National Trust site didn't have a second-hand bookshop, and the one at Nymans is a vision of beauty with its cascading lilac wisteria clambering over the former potting shed.

Pop inside and grab yourself a bargain.
Nymans second-hand book shop
Our final stop in Nymans was to the garden shop and the plant centre. Prior to visiting a National Trust plant centre, I imagined their plants to be expensive. Actually, they are pretty reasonably priced and all very healthy.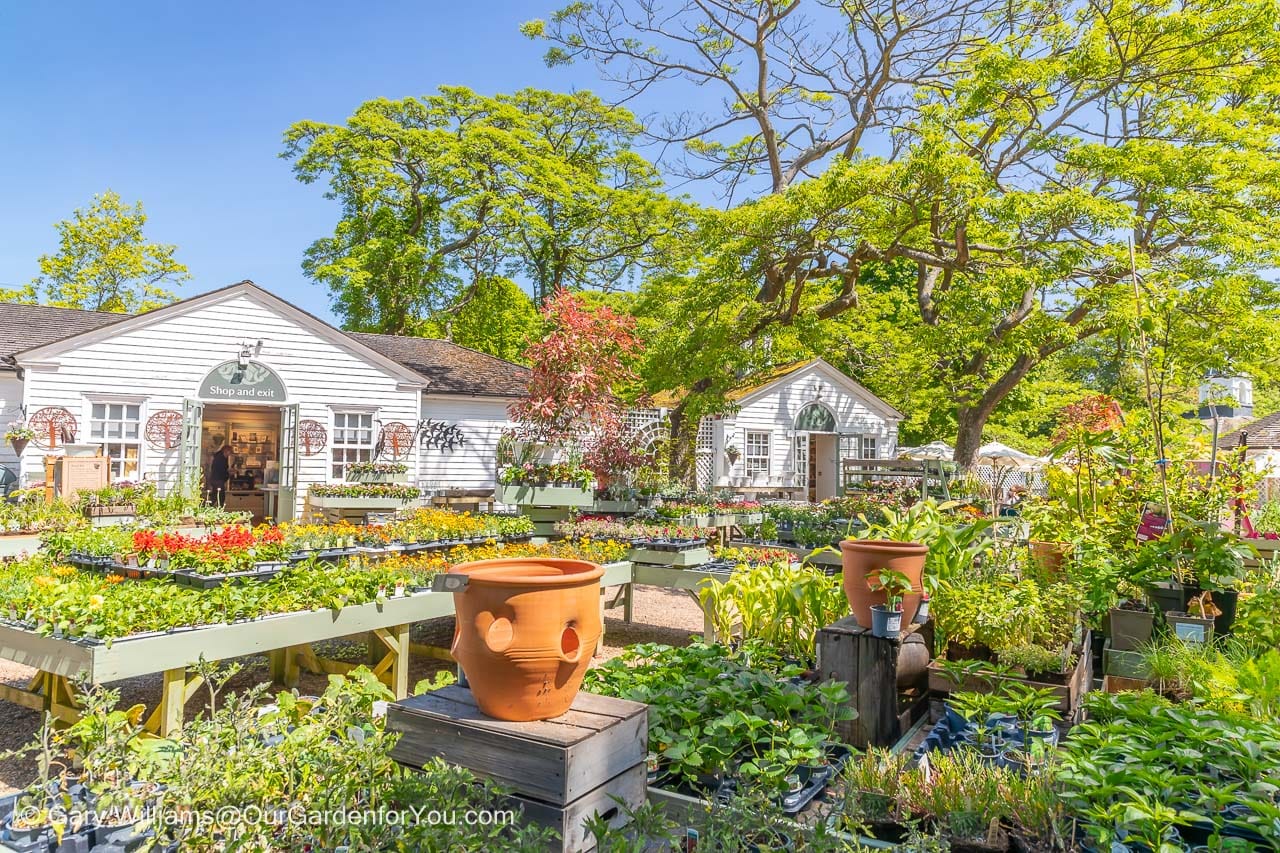 Nymans garden shop
So, as we are currently in the process of creating our 'woodland shady' section of our garden, we purchased a couple of hostas. The first was a Hosta Blue Mouse Ears which only grows to 6 inches tall, and a Hosta Halcyon, which produces blue leaves.

Go on, grab your National Trust membership card and visit Nymans in West Sussex.
* This post may contain links to affiliated sites where we earn a small commission at no additional charge to you.