by Janis on 10th February 2023 / 0 comments
Blooms, as far as the eye can see
Visiting Keukenhof in springtime to admire swathe upon swathe of vibrant fragrant bulbs is a must for any garden lover and such a delightful way to put a beaming smile on your face.
I thought planting 400 bulbs in my garden last autumn was a huge challenge; however, the 7 million bulbs planted each year in Keukenhof's garden truly raised the stakes.
Keukenhof is in the Netherlands and not too far from Amsterdam, so you could enjoy a few days exploring the canals and waterways of Amsterdam and then head to Lisse to explore the stunning displays at Keukenhof.
Why not Pin it for later?
- By Car
There are a few choices for getting to the Netherlands; If you're venturing from the UK, jump on Le Shuttle and tour Holland under your own steam.

There is plenty of parking at Keukenhof, which costs €6 per day. A car park ticket can be purchased on the day or online through Keukenhof with your entrance ticket.
- By Train
If you're travelling from the UK, it is now possible to let the train take the strain and catch the relaxing Eurostar to Amsterdam. The direct route takes just over 4 hours.
- By Air
The nearest airport to Keukenhof is Amsterdam Schiphol Airport, about 25 minutes (14mls/22km) from Keukenhof by taxi.

It is possible to purchase an online public transport combi-ticket to Keukenhof to include the train and bus from a nearby town/city or Schiphol Airport.
A little background on Keukenhof
From a hunting ground to a glorious spectacle
Keukenhof's landscape was once a 15th-century hunting ground and a kitchen garden for the nearby Teylingen Castle.

In 1638 the estate was purchased, and within a couple of years, a manor house was built and is now known as Keukenhof Castle. The castle stands on the outskirts of Keukenhof gardens.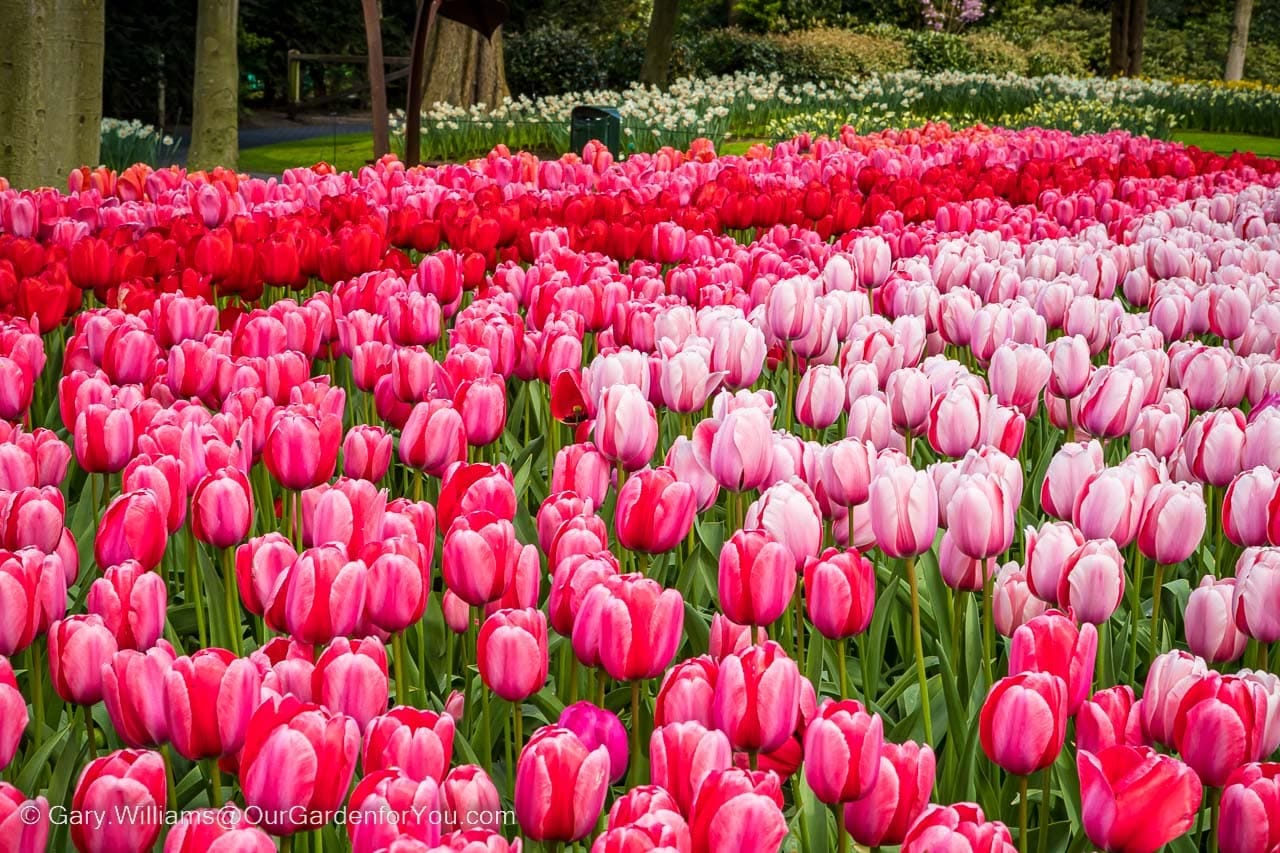 Sweeping lines of tulips
Some 200 years later, in 1857, recognised landscape architects Jan David Zocher and his son Louis Paul Zocher were given the undertaking to redesign the castle gardens.
The English style design still forms the foundations of Keukenhof park today.
Select a path and wander
In 1949 a group of bulb growers created a plan to develop a stunning exhibit of spring-flowering bulbs within the estate, and Keukenhof was born. The garden gates were thrown open to the public in 1950, and people have continued to visit year after year.

In 2023 Keukenhof will now hold its annual event for the 74th time.
2023 Keukenhof admission prices
The 2023 Keukenhof garden display opens from 23rd March until 14th May from 8am – 7:30pm.

Adult €19 (Online)
Children 0-3 Free
Children 4-17 €9
Parking €6
Planting 7 million bulbs in Keukenhof
8 weeks of blooming colour
Keukenhof's spring-flowering beds are meticulously maintained by around 40 gardeners. Each year from October until early December, over 7 million bulbs are lovingly planted.

Striking designs sweep through the gardens in ribbons of eye-catching colours and hypnotising scents. Every section of Keukenhof is carefully planned out so that the garden is in continual bloom for the 8 weeks that the park is open.
Mixed tulips
The bulbs are hand planted in three layers akin to a lasagne, so, therefore, the shallowest bulb will appear first, followed by the next two layers. I actually read about this method in a Gardener's World magazine. I adopted this style of planting while filling out our patio pots with our
spring-flowering bulbs
.
Exploring Keukenhof
Follow the enchanting scent
I can guarantee that you'll want to spend a whole day visiting Keukenhof as there is so much to see within the beautiful gardens.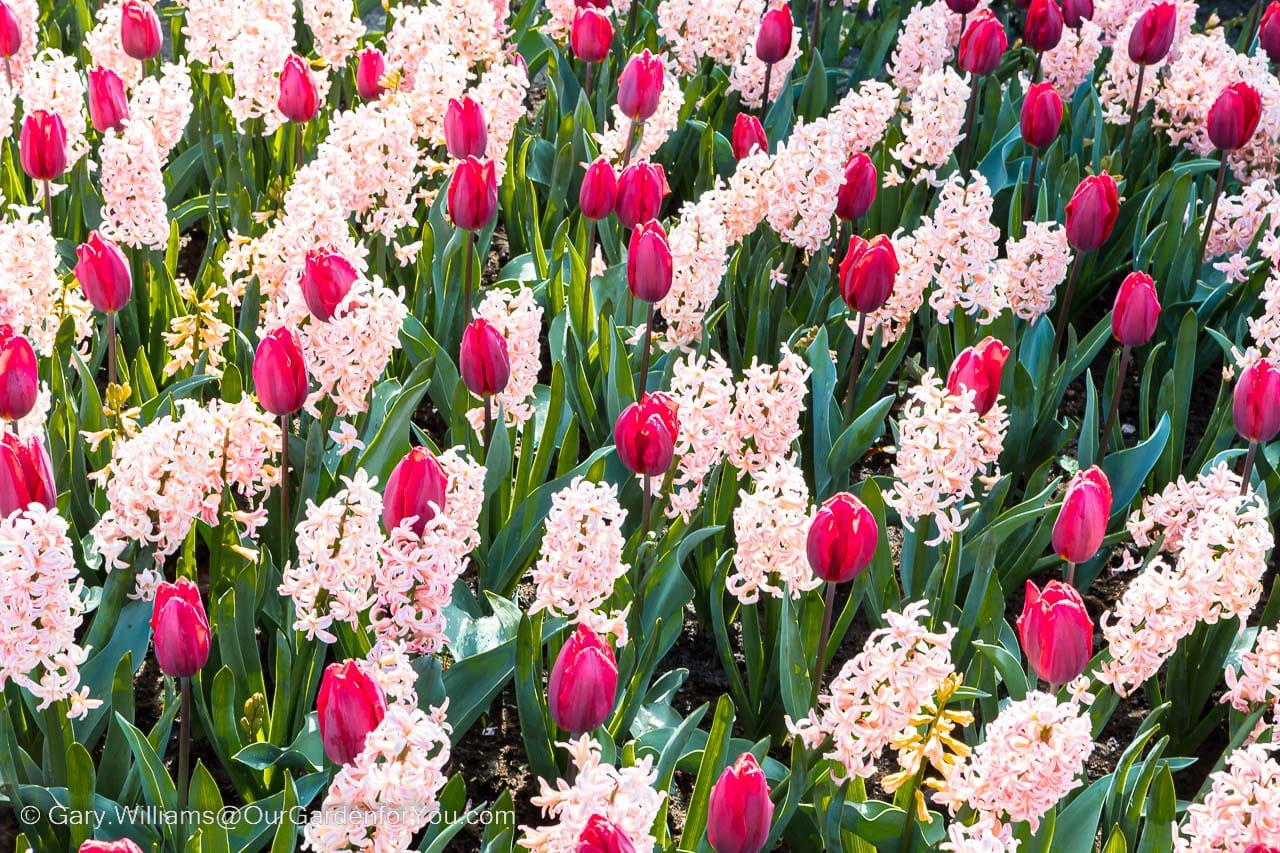 Mixed bedfellows
It's breath-taking when you first step through the entrance of Keukenhof; immediately, your senses are on overdrive, and it's spectacular.
It certainly isn't surprising that Keukenhof welcomes over 1 million visitors each spring, from near and far.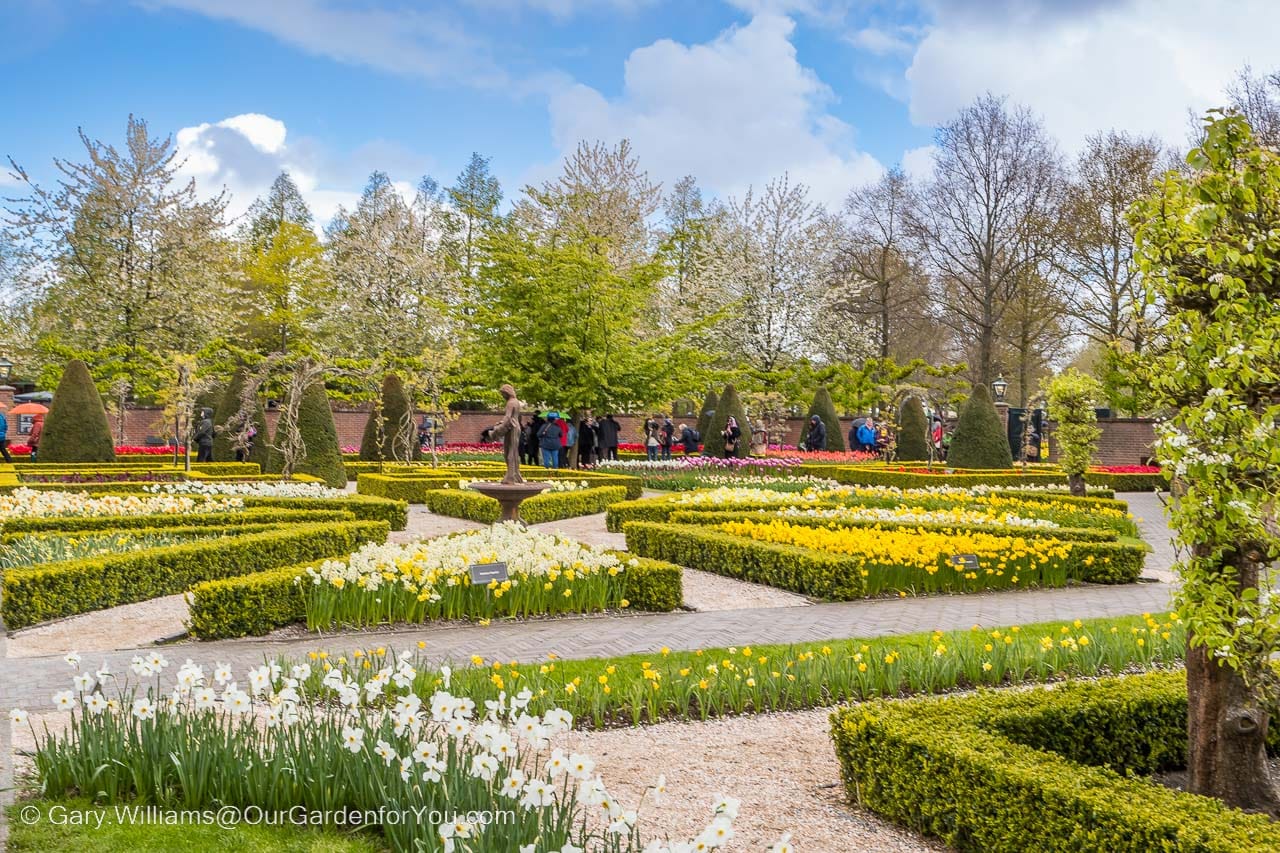 The walled garden
The attractive Keukenhof gardens are designed so well that you'll be venturing off in all directions. There's no need to follow a particular route, just pick up a pop-up map and stroll until your heart is content.
A fragrant floral theme
With a touch of De Stijl
Each year Keukenhof choose a different theme to base some of their spring plantings on; when we visited, the topic that was chosen was 'Dutch Design'.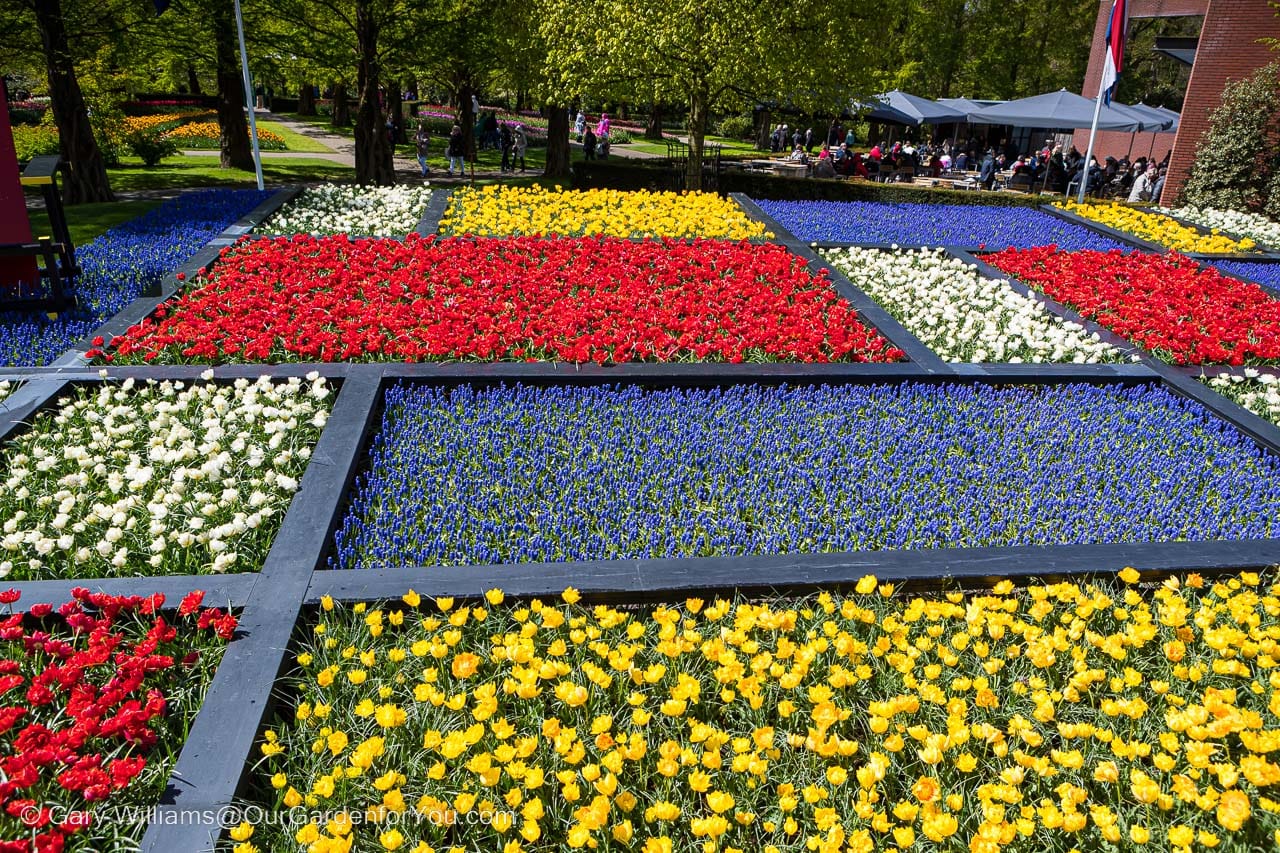 The Mondriaan design
This vibrant contemporary theme celebrated the famous Dutch artists and designers Piet Mondriaan and Gerrit Rietveld, both innovators of the De Stijl art movement in the 20th-century.

The eye-catching display unquestionably illustrated the iconic lines for which the designers were famous.
Save time arriving at Keukenhof
You'll want to make the most of your time at Keukenhof, so why don't you buy and print your e-ticket in advance online from the Keukenhof website. It is valid for one day, just book your timeslot and away you go.

You can also pre-book parking online.
Keukenhof, an assault on your senses
Hyacinths, tulips and daffodils
Hours will be spent winding your way around the exquisite gardens at Keukenhof; you'll become emersed in the fragrance as you wind your way amongst the twisting pathways from one stunning display to another.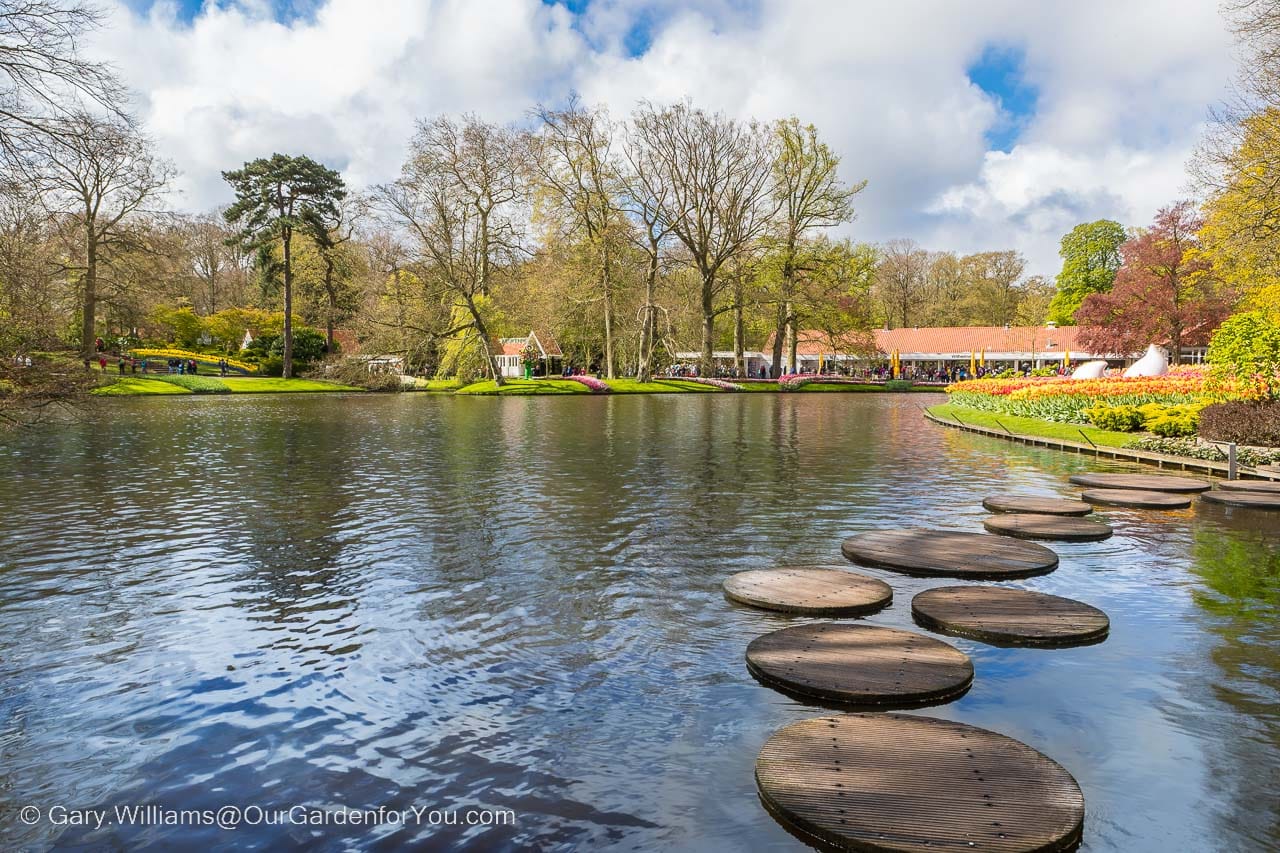 Stepping stones
To ensure you make the most of your day at Keukenhof, bring along a picnic and eat al fresco at one of the many picnic tables in the park.

As you stroll around the many sections of Keukenhof, admiring the abundance of tulips and daffodils, and becoming entranced by the gorgeous scent of hyacinths, ensure you visit the delightful lake and wander amidst the meandering waterways.
As an Amazon Associate we earn from qualifying purchases.
As an Amazon Associate we earn from qualifying purchases.
Every year, 7 million bulbs are planted
The park covers 32 hectares (79 acres)
Keukenhof features more than 20 flower shows
Climbing a Dutch windmill
Floral views to behold
During your visit to Keukenhof, ensure you pop into a few of the pavilions which are dotted around the park, as there are some beautiful flower displays inside; we especially enjoyed the orchids.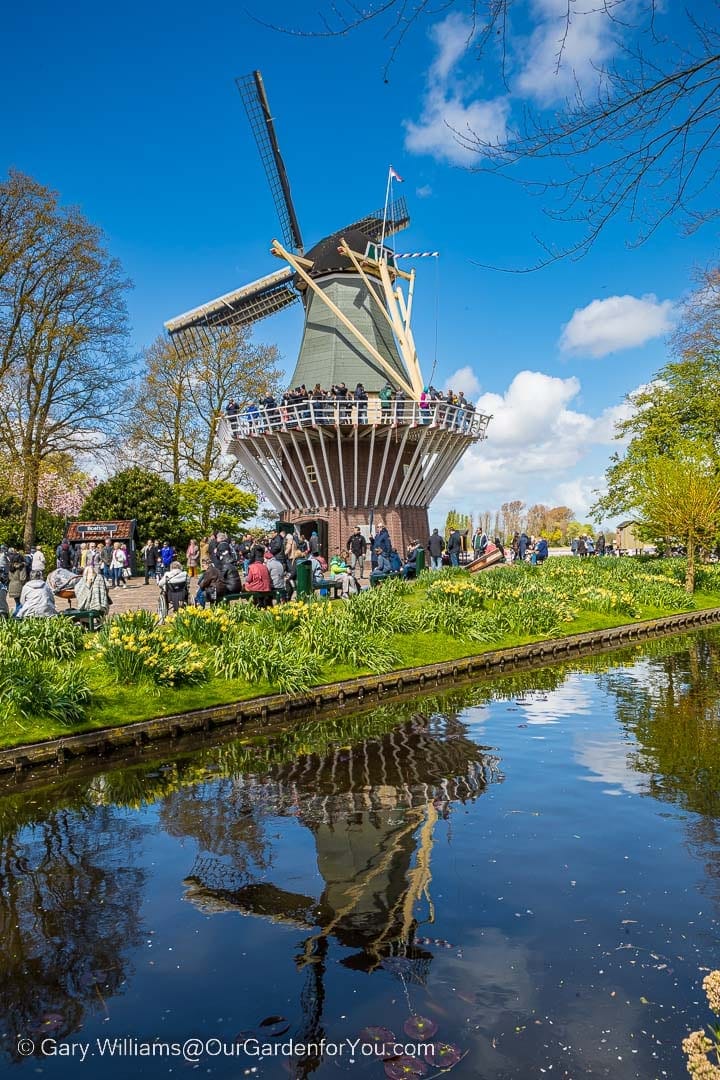 The Windmill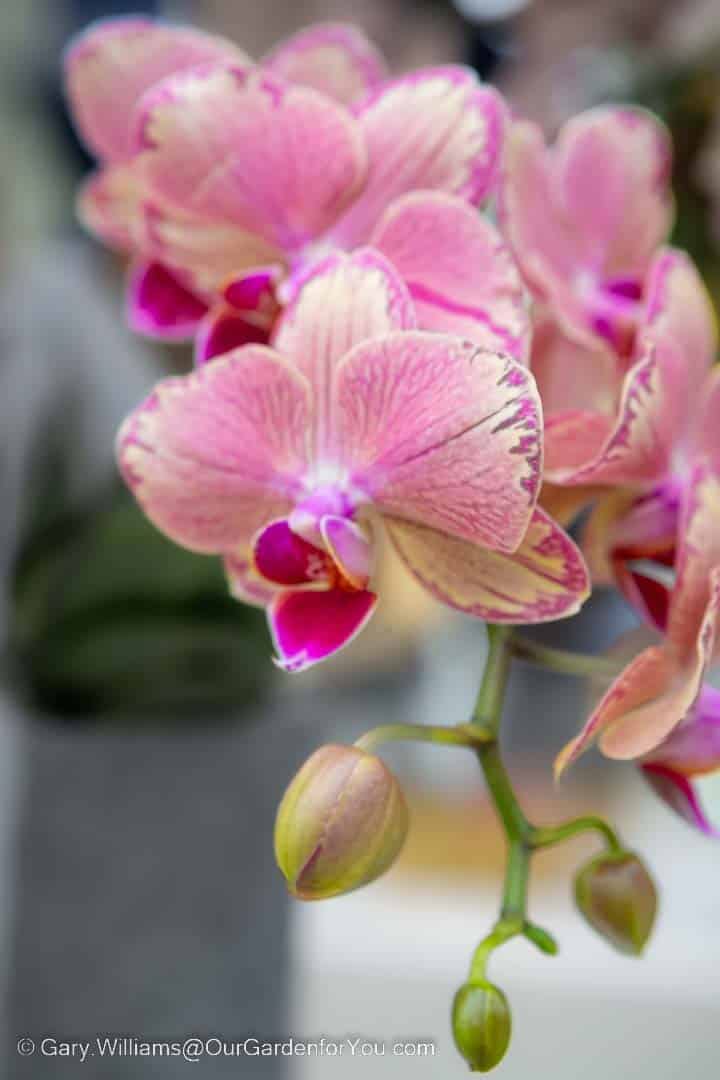 A orchid on display
Lastly, a trip to Keukenhof wouldn't be complete without heading to the iconic Dutch windmill.
It's only a couple of flights of stairs up to the circular viewing platform. You'll have a stunning view across the far-reaching stripey bulb fields when you step out and wander around in one direction. On the other, you'll see Keukenhof park.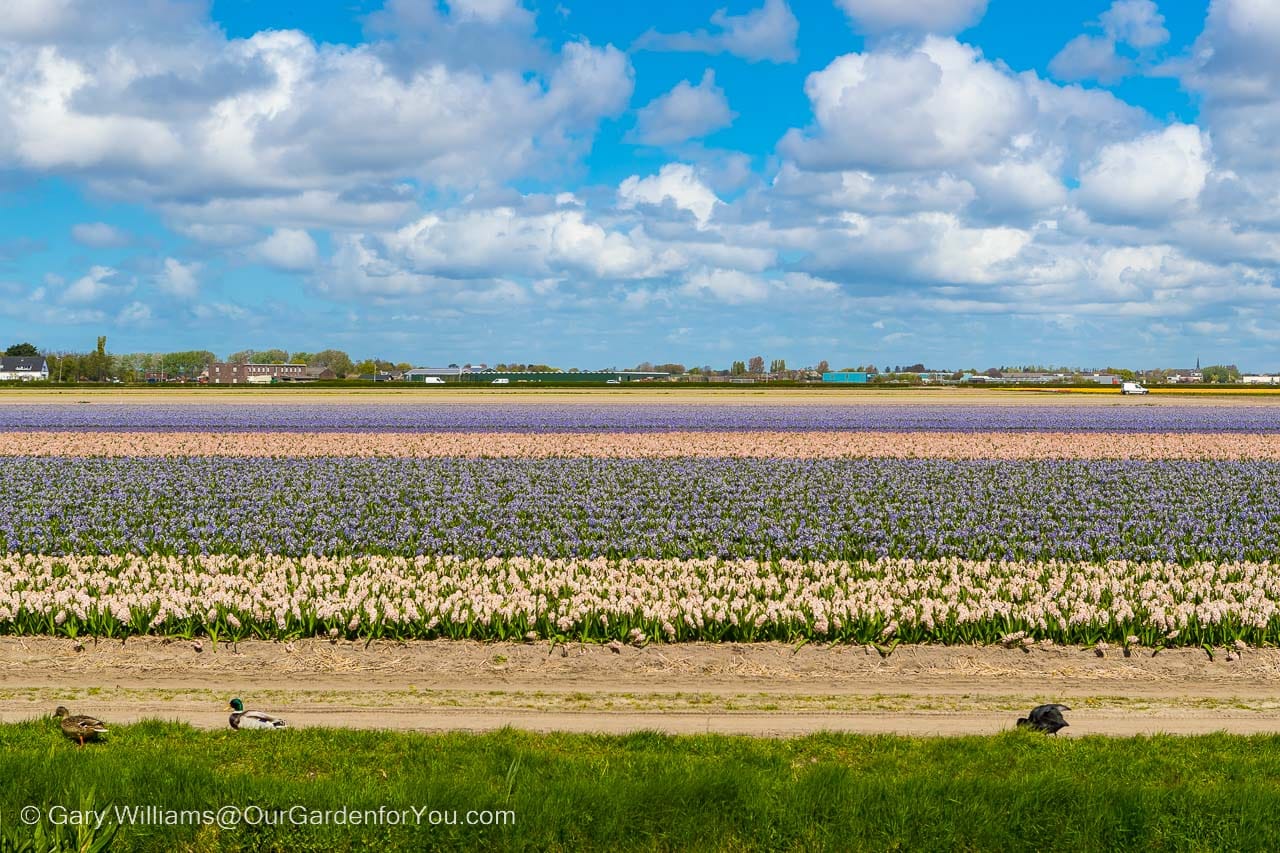 Fields of hyacinths
At this point in Keukenhof gardens, you can hop on the chargeable 45-minute boat tour through the bulb fields.
Always wanted to see Holland in Bloom? It really is a great way to spend a day, and why not enjoy some Dutch culture too? Have you been? What are your memories?
* This post may contain links to affiliated sites where we earn a small commission at no additional charge to you.