by Janis on 23rd September 2022 / 2 comments
A compact rotary lawnmower
I've recently had to replace my old Flymo lawnmower as, after many years of service, she has had to bow out gracefully. To be perfectly honest, my first thoughts were that I must replace the lawnmower with another Flymo as it certainly did "what it says on the tin".
Well, which one was it to be, as Flymo undoubtedly have a large selection and appears to fit most needs.
So, what is it I'm looking and what are my key requirements.
I would like it to be
Compact
Rotary & Electric
Easy to store
Mowing height adjustable
Grassbox collector & easy to use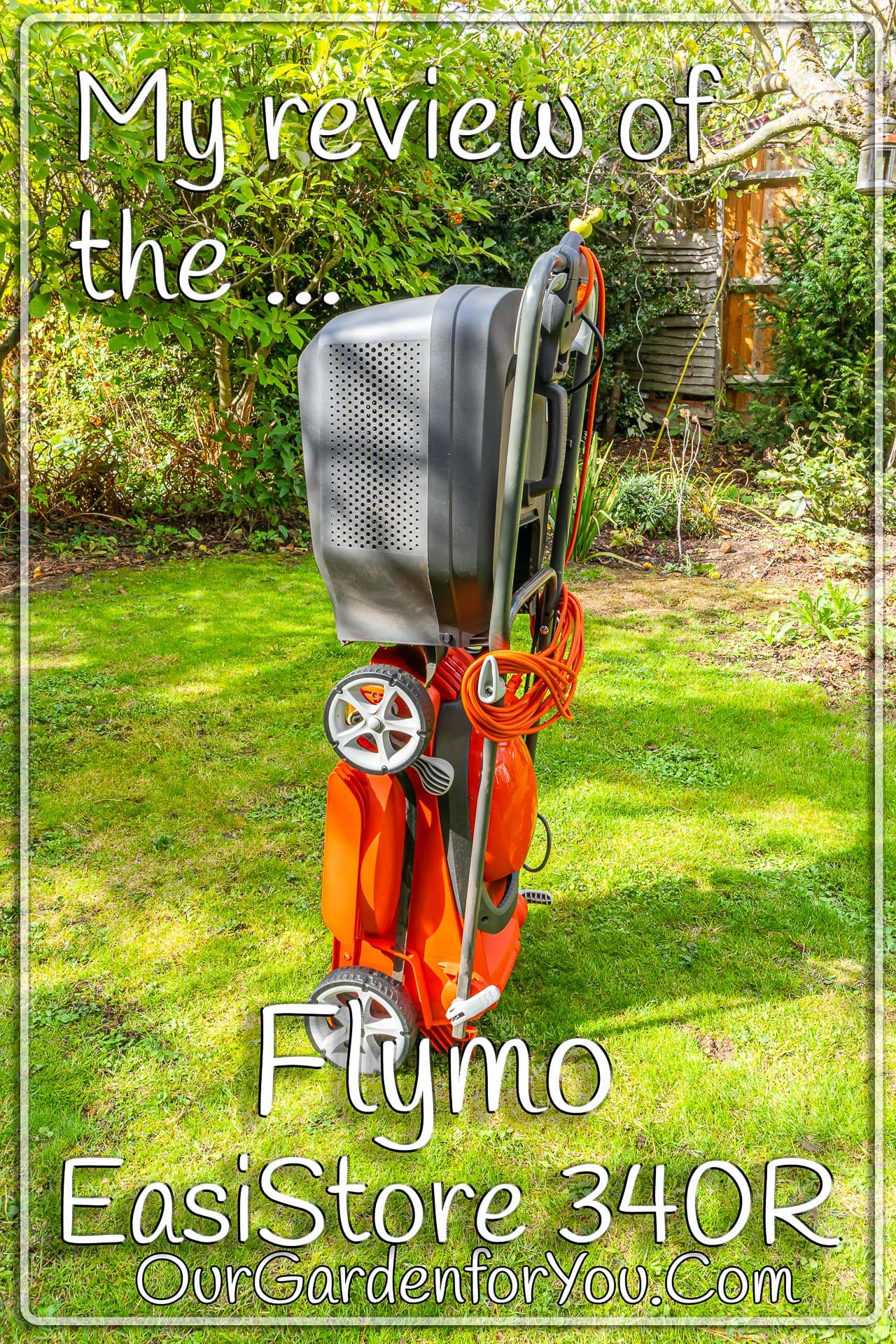 Why not Pin it for later?
After browsing through the Flymo website, I decided upon the EasiStore 340R lawnmower, which appeared to tick all my boxes. The blade on the 340R is 34cm, and the electric motor is 1400w. Our lawn is medium size, so I didn't need anything too cumbersome.
I shopped around for the best deal, and Homebase, and Amazon had the best offers.
So, after a few laps of the lawn, let's see how it faired.
Is the Flymo 340R compact?
Trims to the edges
Well, when I went to collect the Flymo 340R, I honestly thought I had ordered the wrong one, as the box was so small. I couldn't believe that even with the lawnmower being dismantled that it would fit in there.

Anyway, I was wrong. I did order the correct lawnmower, and it was reasonably lightweight too.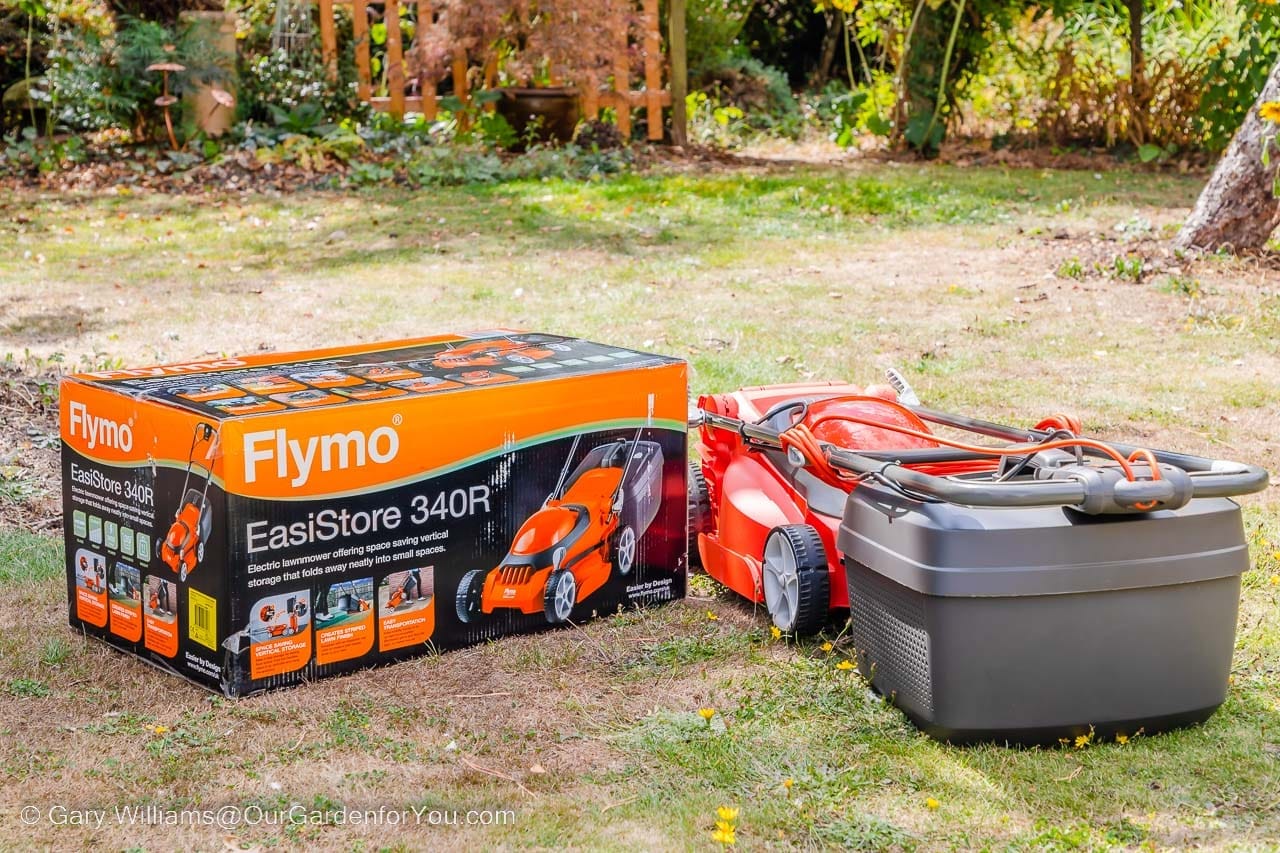 Newly unboxed Flymo EasiStore 340R
With Gary's assistance, we started to unpack our new Flymo and fit it together; the packaging had undoubtedly been well designed for minimum waste.

Amazingly no cursing or swearing was involved while assembling the lawnmower, so things were moving in the right direction. After about 20/30 minutes, we were ready to take it for a test drive.

As I mentioned, the metal blade is 34cm, and the lawnmower is only 39cm wide. Therefore, the blade almost stretches the entire width of the lawnmower, allowing you to cut close to your edges and borders. So, for its compactness, I would give it a big tick.
Rotary lawn mower for me
And it needs to be electric
My next requirements were that I wanted a rotary lawn mower; yes, I desired wheels; I held back with the 'go-faster stripes'. Also, I wanted it to be electric; I didn't need the hassle of popping out and buying fuel for it.

Regarding storing the electric cable, Flymo has made this relatively simple to stow. Once the 340R is in its upright position, the cable is wrapped around the handle levers in a figure of eight and a clip is supplied.

The 340R cable is 10 metres in length, which may be sufficient for many people's gardens. However, I would have liked it longer and, therefore, wouldn't need to use an extension lead.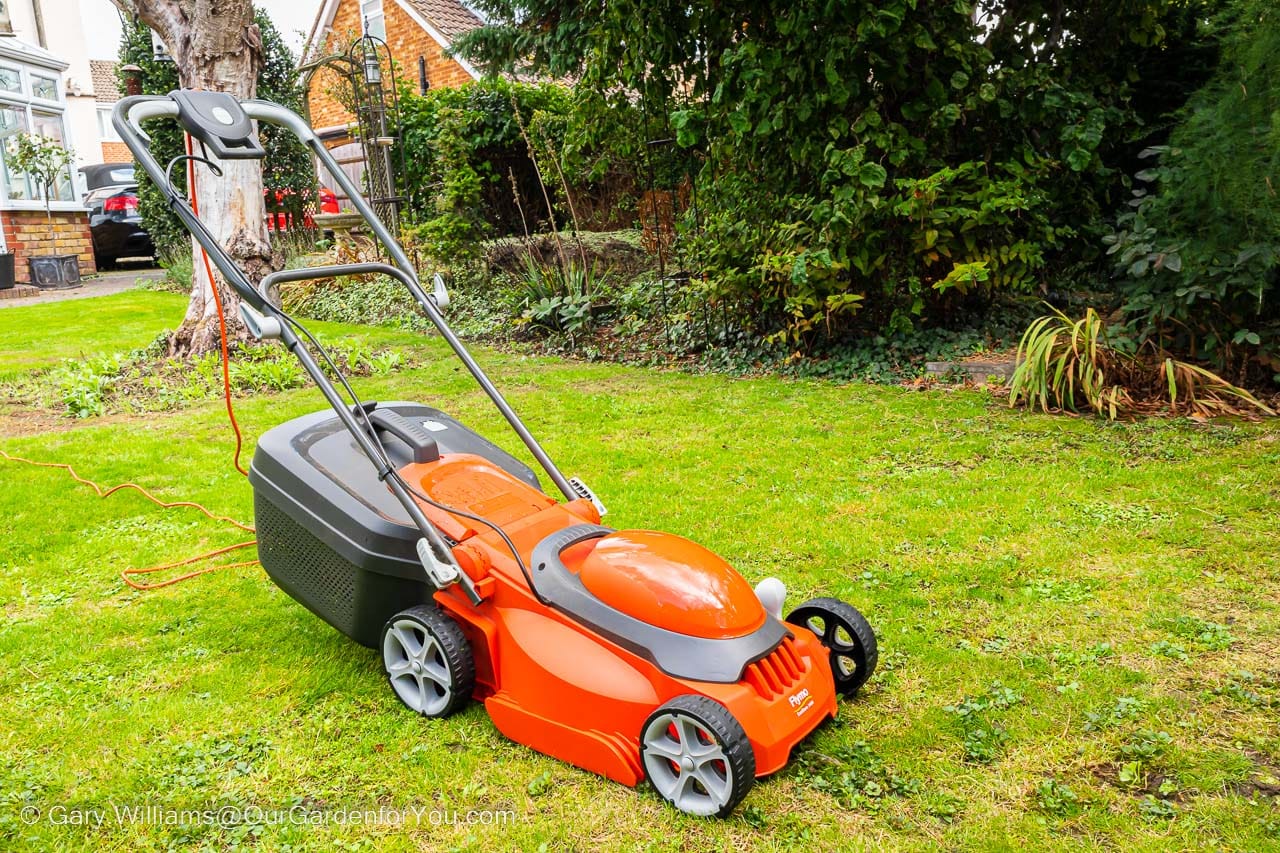 Ideal rotary lawnmower
So why did I want a rotary? Well, for two reasons really, firstly for the ease of pushing it up and down the lawn. Our lawn isn't the flattest of gardens, although it's not because we live on a gradient it's because the nearby trees have made it a bit undulating.

The second reason I wanted a rotary lawnmower is for manoeuvring it to and from the shed and being able to wheel along the path and not have to lift it. The complete lawnmower weighs around 11kg which isn't too heavy, but the wheels certainly make it easier.

An additional feature that the Flymo 340R has is a rear roller which creates stripes on your grass. This wasn't a requirement for me as I don't think our lawn will ever look like a bowling green. But hey, it has that functionality if you require it.
Using the Flymo EasiStore vertical storage
Three simple steps
Now let's talk about the EasiStore space-saving functionality. The vertical storage is a big selling point for me, as I don't have room for a bulky lawnmower in my potting shed, even after tidying it up.
So, how does it work? Well, once you have given your lawn its trim, emptied out the grass clippings and wound up your cable, it's time to stack the 340R in its upright position.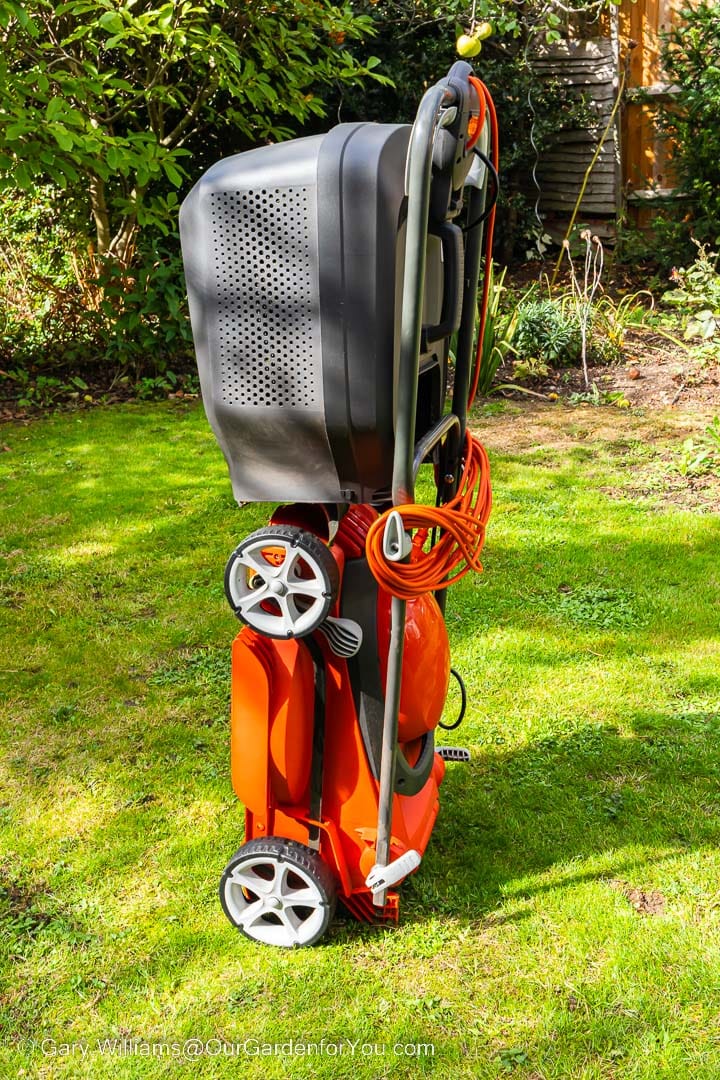 Flymo EasiStore 340R in its upright position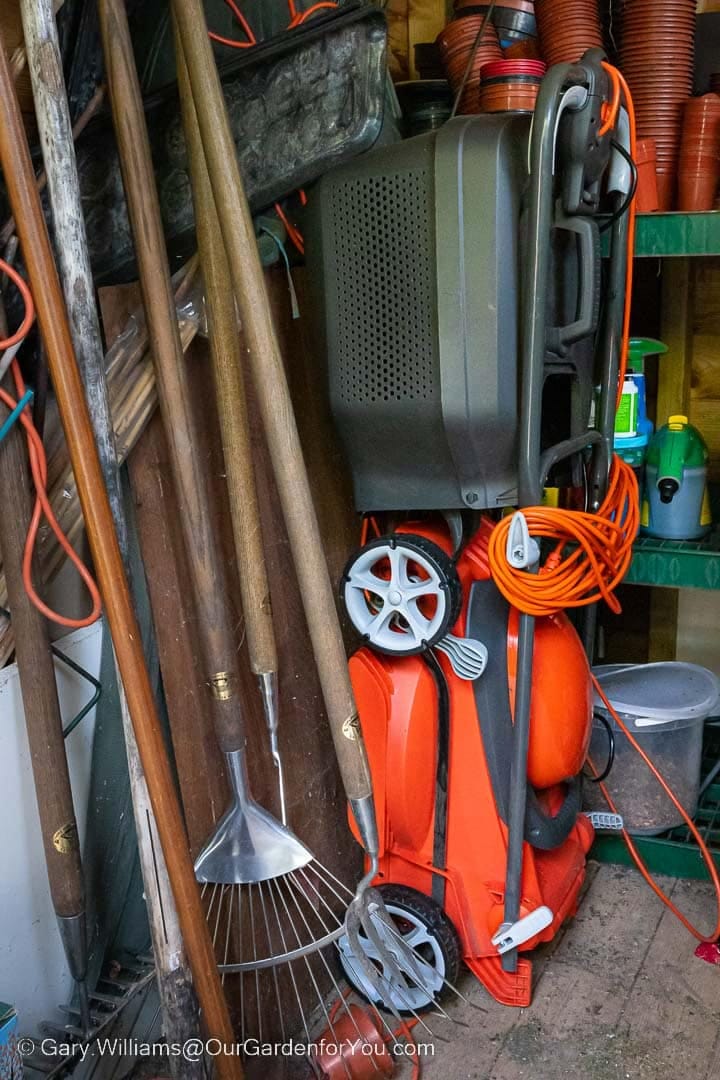 EasiStore 340R in the potting shed
Firstly, unclick the grey levers at the base of the handle, lay the handle flat across the lawnmower, and click the levers back securely. Secondly, lift up the lawnmower so it is in the vertical upright position; it will stand unaided. Thirdly, clip in the grass box so that it sits on top of the Flymo EasiStore and clicks into the handle of the lawnmower, et voila, it is done.

Now with the EasiStore 340R all secured together, you can just grab the handle and wheel it along to your shed or wherever you store your lawnmower. As it is now vertical and slimmer, it's easier to manoeuvre.

I think this is a perfect solution for a bulky lawnmower.
The 340R height adjuster
Are five positions enough?
Now let's get onto actually using the Flymo EasiStore 340R. Ok, so we're reassembly the lawnmower by removing the grass clippings box and securing the handle back into position. There are multiple height levels for the handle, so find the one that is comfortable and suits you best and clip the levers firmly in place.

Now position the grass-clipping box under the lawnmower's rear flap; the grass box's lip slots into the back, ensuring it is firmly seated.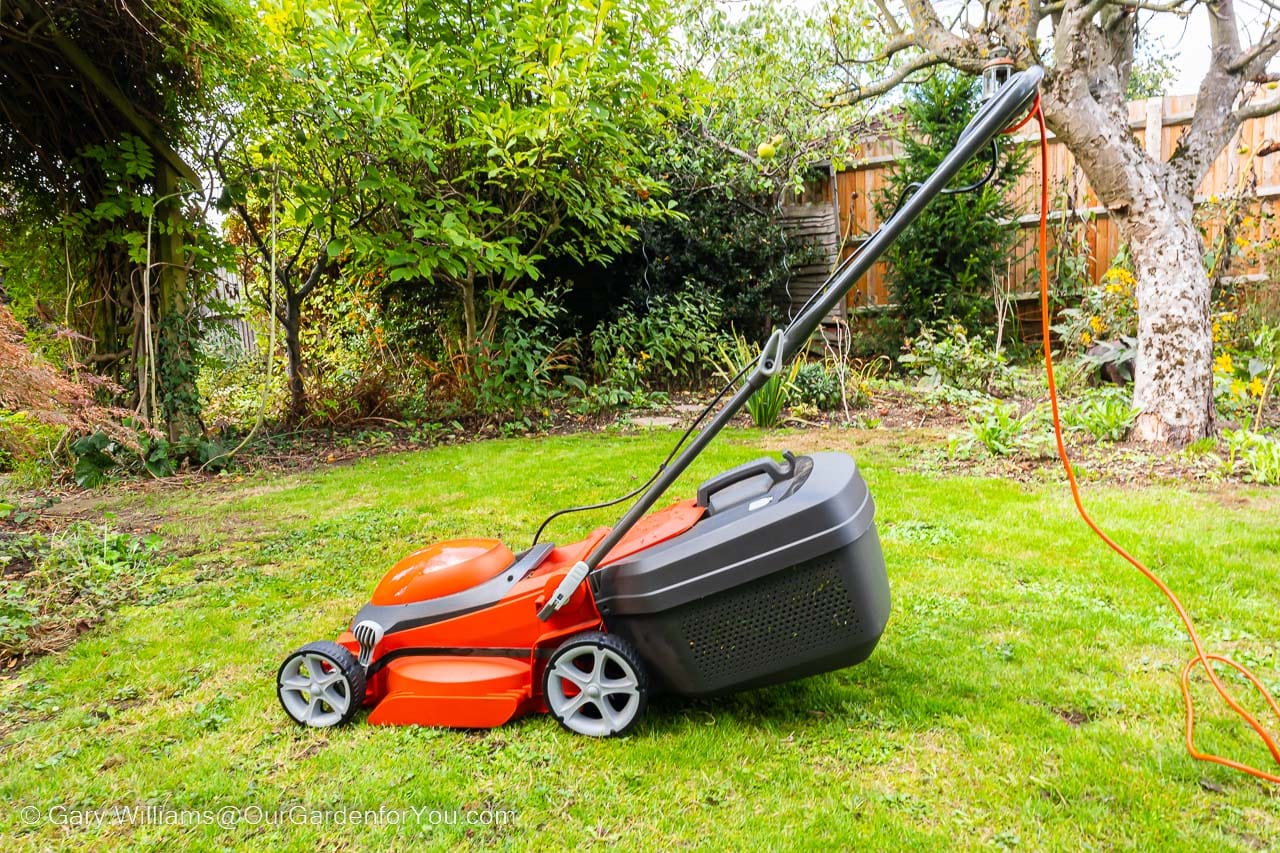 Flymo 340R prep'd and ready
Depending on whether this is your first cut of the season or your regular mow, you can easily change the cutting height of your lawnmower. There are five different height settings from 2cm up to 6cm. You can alter the height by shifting the grey lever near the front wheel to 5 for the highest cut to 1 for the lowest.

I find that the blade doesn't quite cut low enough, so for me, this is a slight negative at the moment. Still, it may be that my lawn is slightly undulating, so it's struggling to get an even cut.

Time will tell.
Grass box and indicator
Overall ease of use
Just before we get underway with cutting the grass, you'll notice that the main handle used to manoeuvre the lawnmower has dual functionality. This allows you to use your left or right hand whilst mowing and offers more flexibility if you switch between hands.
Me using the Flymo 340R
My last Flymo wasn't a rotary lawnmower; it was a gliding mower, so I could move it in any direction; however, with the EasiStore 340R, I chose a rotary version. At the moment, it is taking me longer to cut the grass. However, I think I must reconsider how I approach mowing the garden. We have two trees on the lawn, so these cause me quite an obstacle; it's just a matter of altering the process and whether I should cut around the trees first; well, what a decision.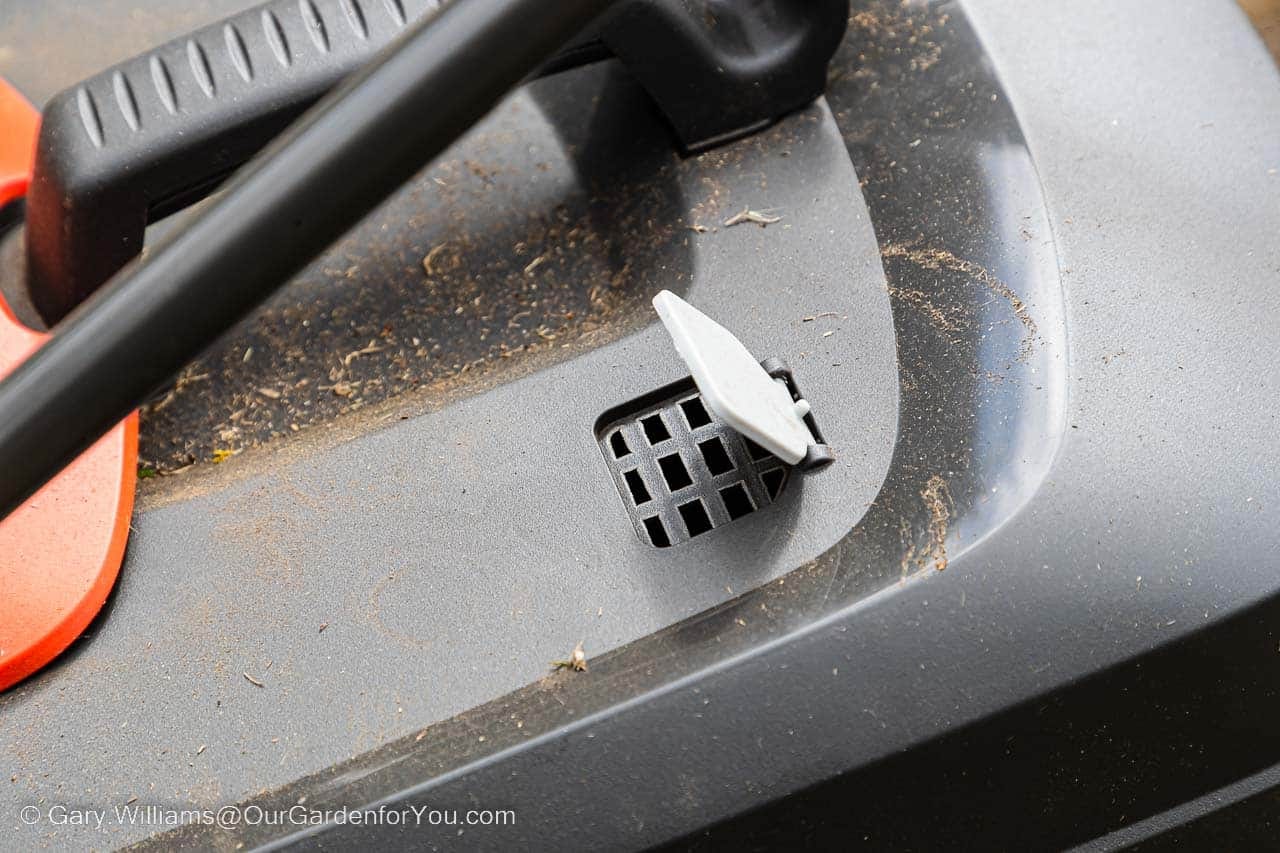 Grass box indicator
Ok, so with the mowing underway, the 35-litre grass clippings box has become full; how do I know? I hear you ask; well, Flymo have come up with this natty grass box indicator that flaps open when it is empty of partially filled, and the flap remains closed when it is full, well, how about that.
Verdict on the Flymo EasiStore 340R
Thumbs up or down?
Overall, I'm pretty happy with my new Flymo EasiStore 340R; I'll give it an 8 out of 10. I've marked it down mainly because it is not cutting quite low enough for my liking, and I wish the cable was longer.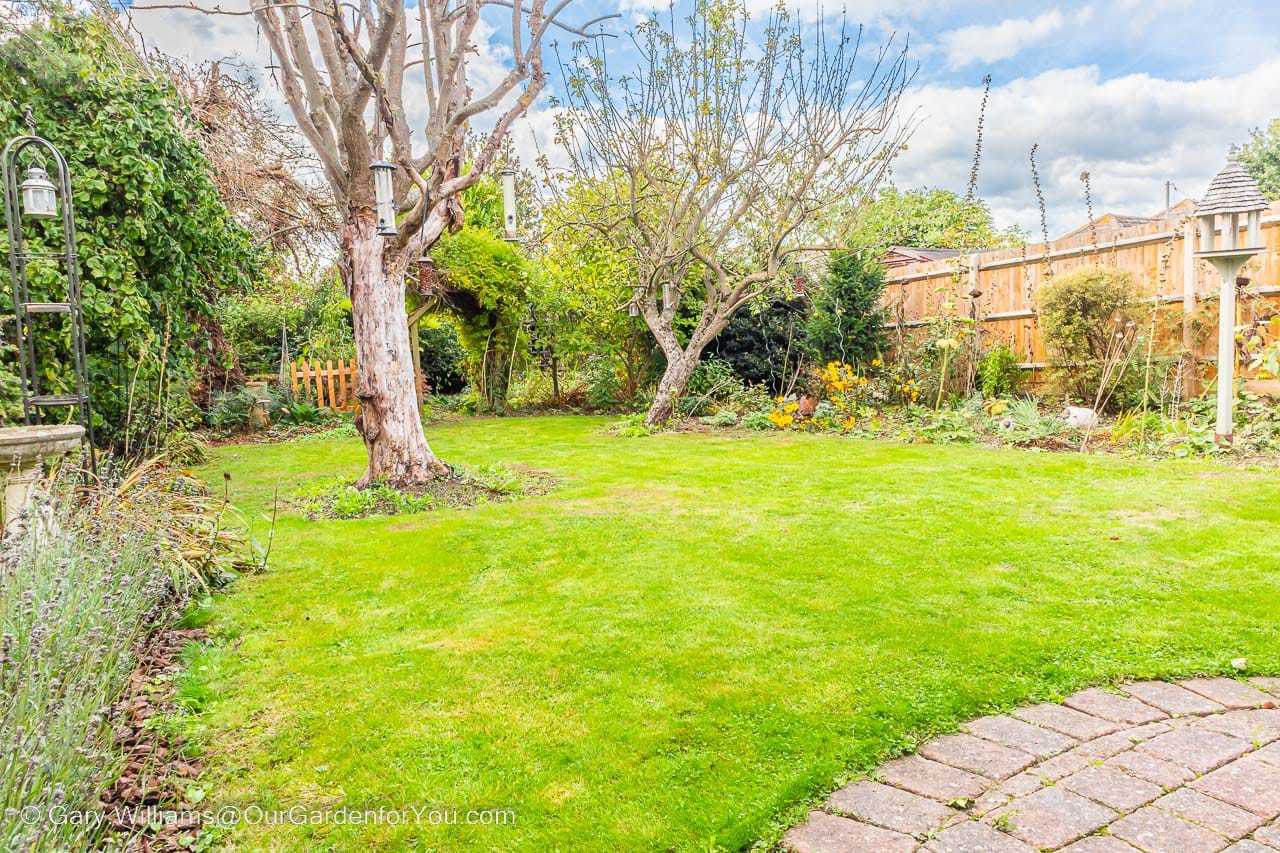 Flymo Finished lawn using the EasiStore 340R
However, I bought the 340R for its EasiStore vertical storage function, and it's a reasonably compact lawnmower with a 34cm blade.
* This post may contain links to affiliated sites where we earn a small commission at no additional charge to you.