by Janis on 8th April 2022 / 0 comments
Oh yes, and a little slice of Provence
We are lucky enough to have a reasonably large country garden, and during the lockdown, it was a godsend. When it's sunny, I often head outside with my laptop and work from the shade of the patio parasol. What is especially gratifying is that it is so peaceful, and most of the time, all you can hear are the birds chirping.
Apologies, I digress. I am meant to be introducing you to the different sections of our garden.
I have sketched out a rough design of the layout, with emphasis on the word 'rough'. It gives a good indication of the whole garden and hopefully the inspiration we need to kickstart this project. I'm not too sure that Gary is impressed with it. Still, I was pretty happy.
You never know I may transfer my plan to GARDENA myGarden, which is a free online garden planner.
Although there are many more shrubs in the beds than I care to divulge, it would dishearten me if I drew them all; then, all I would be thinking about is pruning. Breaking the garden down into sections and mini gardens really helps when embarking on each task; it makes it less daunting.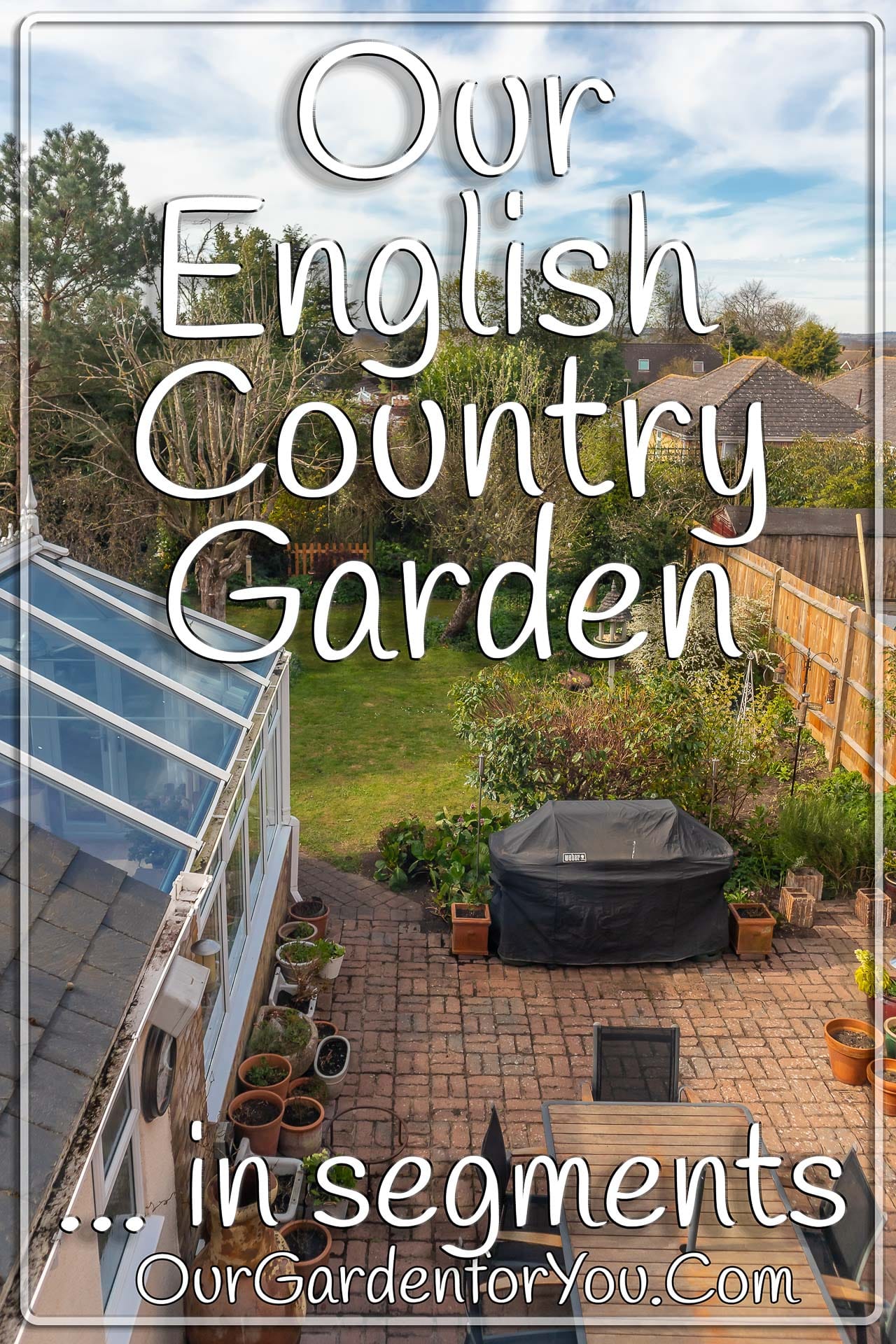 Why not Pin it for later?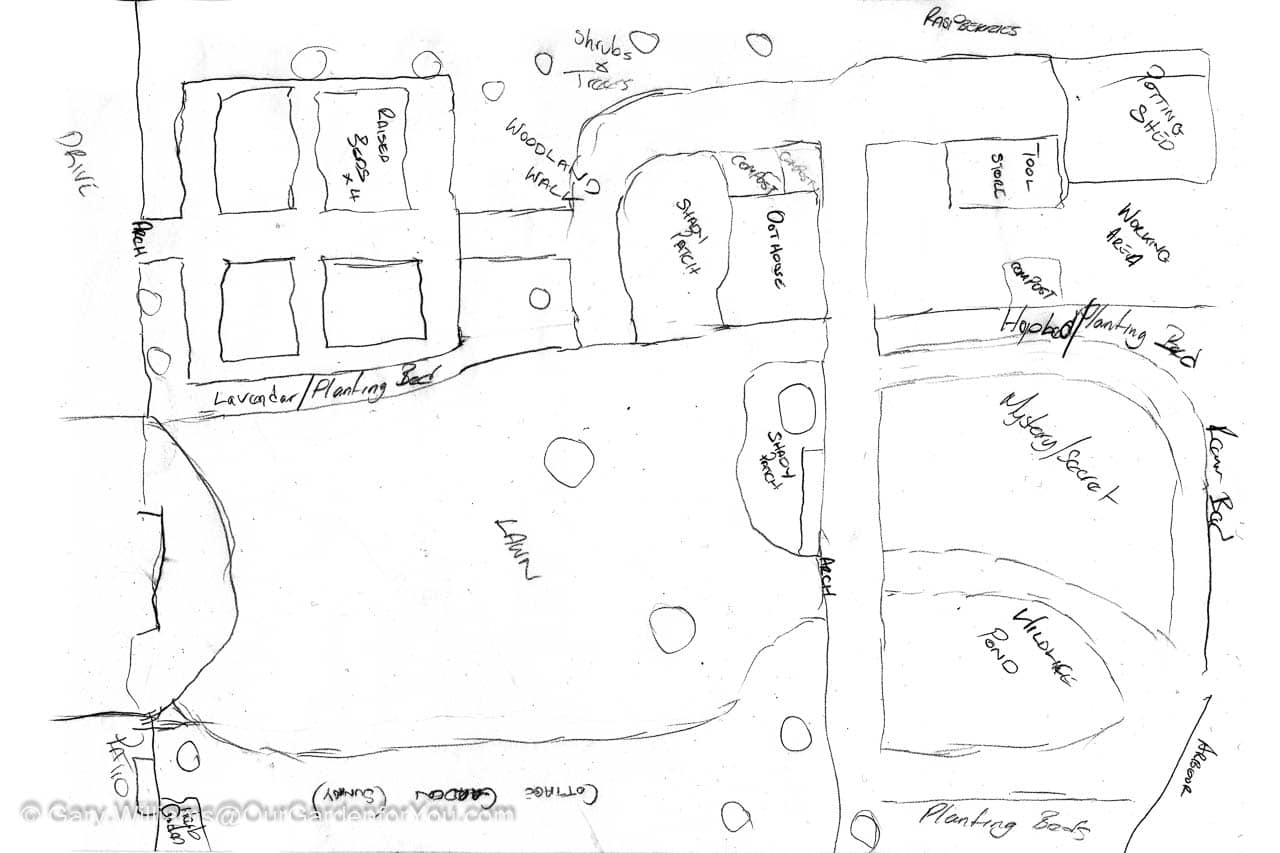 The plan of Our Garden
The lush lawn
Well, that's what we are hoping for
So, where do I start?
Let's begin at the 'Lawn' in the garden's centre and then journey clockwise from 7 o'clock.
The lawn is looking a touch sad in places at the moment as moss has taken over in some areas, especially the shady spots. After its first winter haircut, it has exposed more encroaching moss.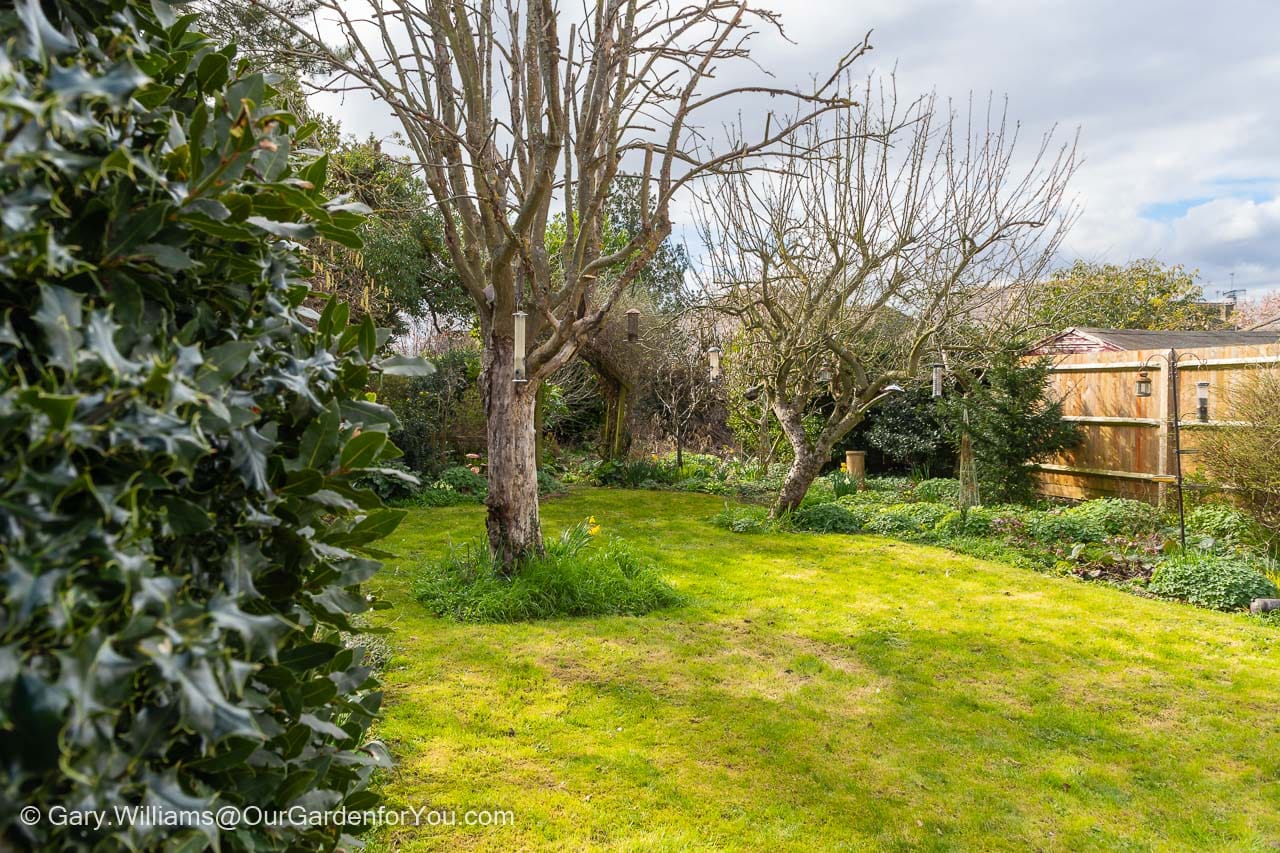 The lawn after the first cut
I've used a plastic rake to gather some of the moss, and there's no other option than to re-seed in places. First, we will aerate it, which is always a fun job, she says ironically, then scatters over some sand and brush in and then it will be time to start seeding and watering it.

It is a bit of a waiting game, and it will always look worse before it gets better, but I'm sure it will be worth it.
Off to the raised beds
And our little piece of Provence
It's now to the raised beds section and the planting border, separating the lawn from the raised beds.
Within the planting border, we are going to revive our lavender bed; this is our little slice of Provence and always brings back enchanting memories from our visits to the South of France.
We have purchased six Lavender 'Munstead' from Wood Cottage Nursery, so this is one of the many jobs for this weekend. We'll re-home the two woody plants that are left and any other flowers that have sneaked in over the years. I'm beginning to sound like Monty Don; that's where the similarity ends.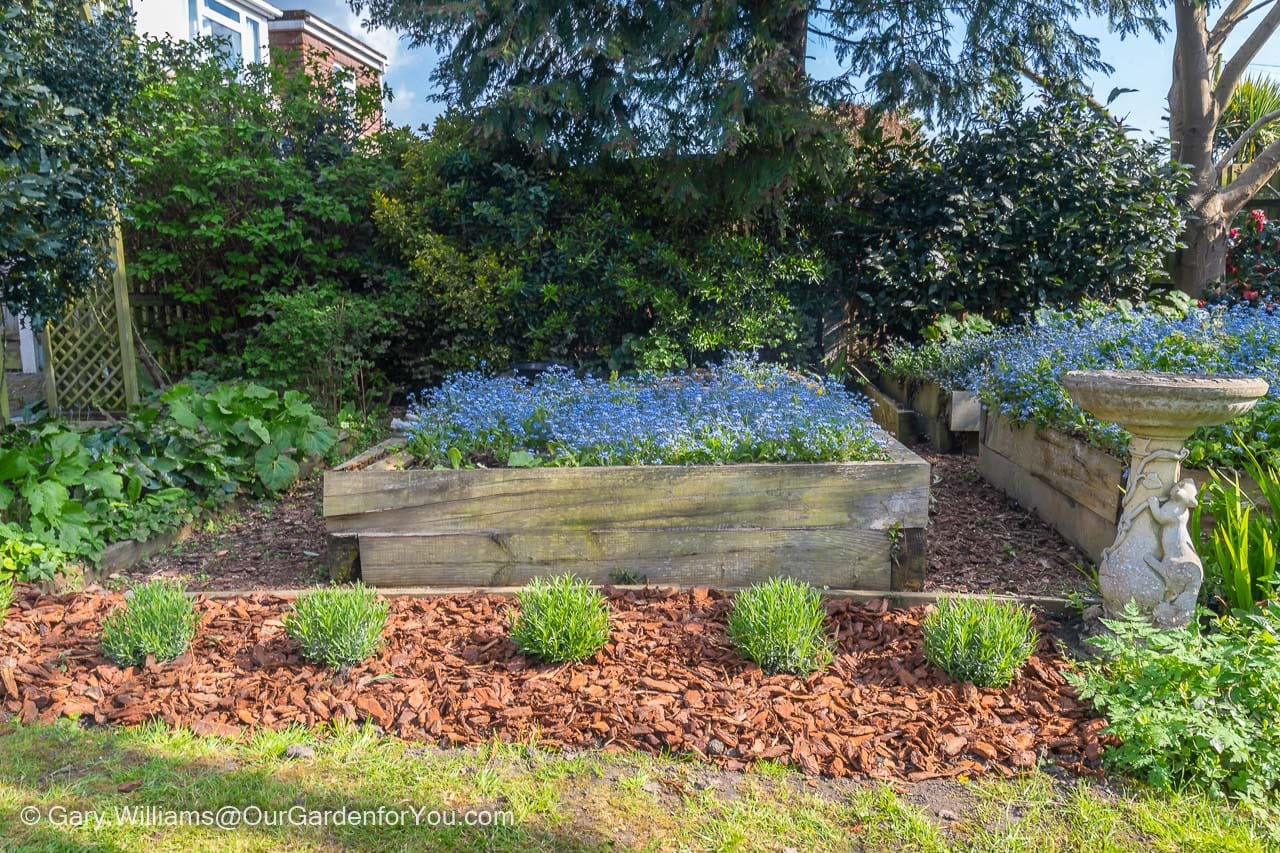 The new Lavender bed
Now, the raised beds are causing a few headaches as we're not too sure what to do about them yet. I really do like them, and they are fantastic for growing vegetables. They are so pleasant to sit by you can hide amongst the runner beans, and the wildlife can't see you, and neither can Gary.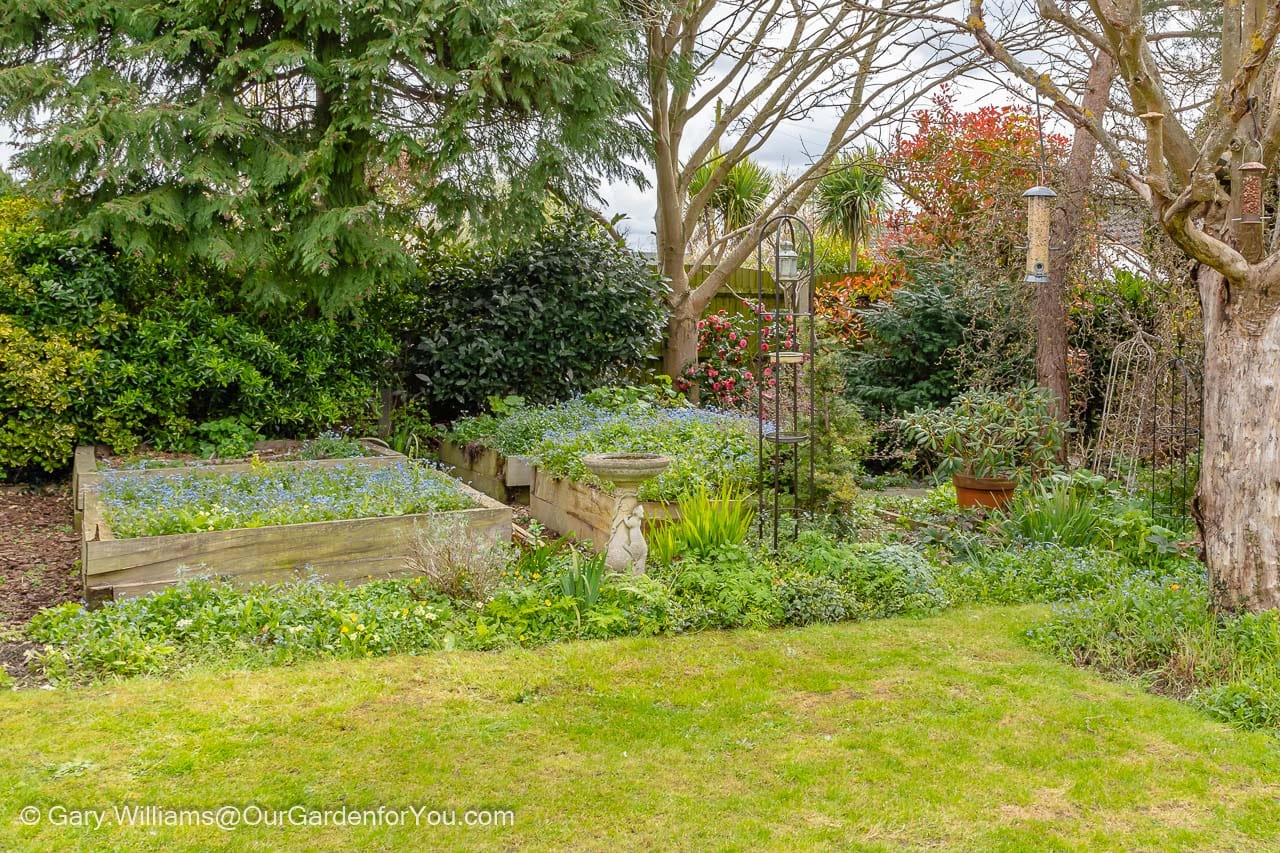 The decrepit raised beds
The issue that we have at the moment is that they have fallen apart in places. They weren't lined when we had them built, and the wood is now rotting. Therefore, we will not be addressing this area immediately as we have other tasks which are priorities. Also, at the moment, the raised beds are being used as an intermediary stop for some plants before we decide their final destination.
Our mystery woodland walk
Leading onto the Outhouse
We've named this next section the Woodland Walk, as it appears that it doesn't matter which time of year it is; there are always pinecones around.

Here are also some larger trees, a Crimson King, Conifer, Yew tree, Contorted Hazel and a Red Robin shrub. Also, a tree that appears to be a kind of conifer; however, we were told that it was a Bonsai tree, and someone planted it; just prior to us moving in, it is now reaching for the sky.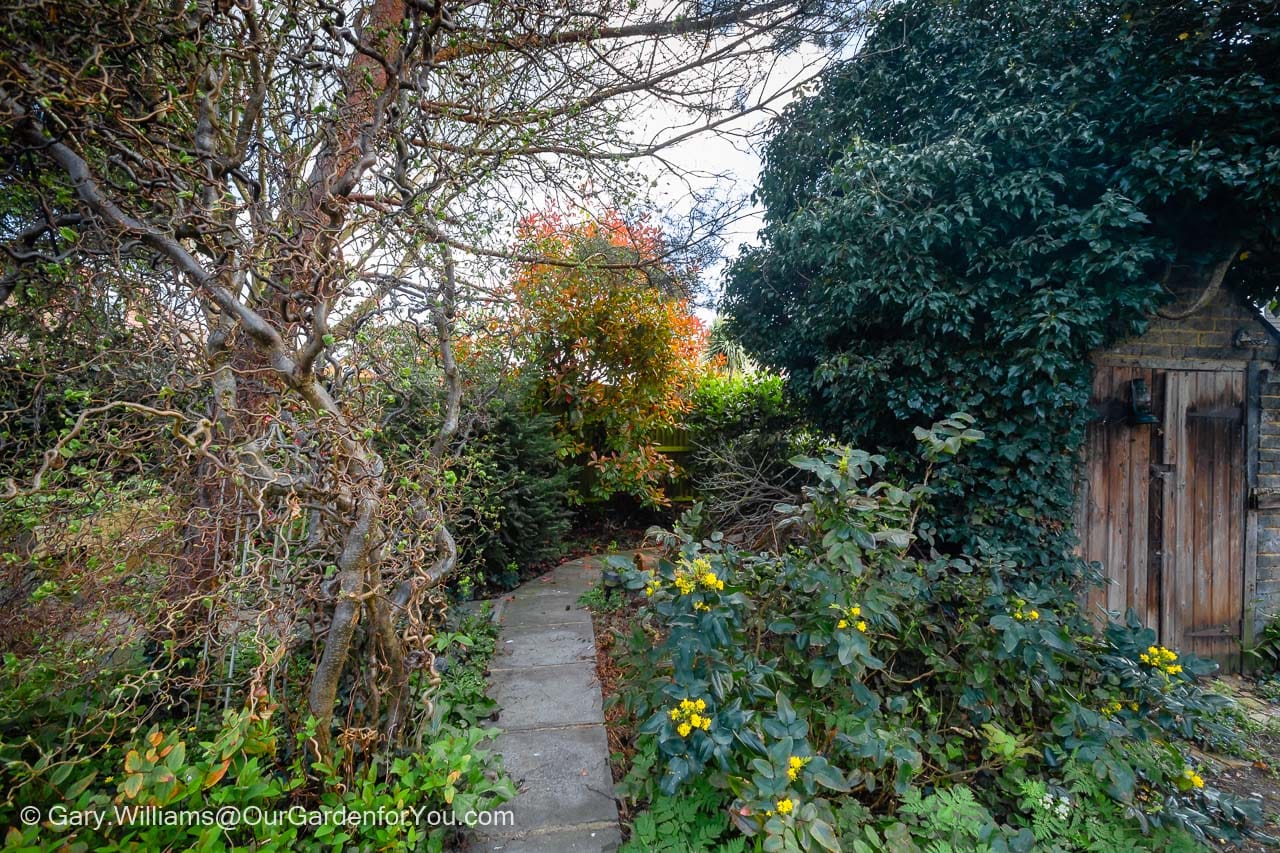 The Woodland walk section of Our Garden
Another bed borders the lawn and curves into the Woodland Walk in this area. This border has a mix of sun and shade. Here, we have a carpet of blue Periwinkle, some bulbs and a Hypericum Hidcote shrub. We've yet to decide our long-term plans for here; at present, it needs pruning and tidying up.
Shady beds
Fern Shady, Lawn Shady and Slim Shady
Just a couple of steps from the Woodland Walk at about 9 o'clock in the garden plan, we have a shady bed beside the old Outhouse. We need to clear the reasonably small bays and holly trees and dispose of the excess branches and twigs accumulated in this plot.
One of our shady sections
We are looking for shady planting ideas for here and the shady patch at the end of the lawn and slim shady by the picket fence. I do like ferns, so I think this may be the way forward.
Exploring our Working Area
Everyone needs one
Strolling around the back of the Outhouse, we have a row of raspberries waiting to burst into colour, and we also arrive at the Working Area. Here it's a little rough and ready, and luckily it cannot be seen from the house.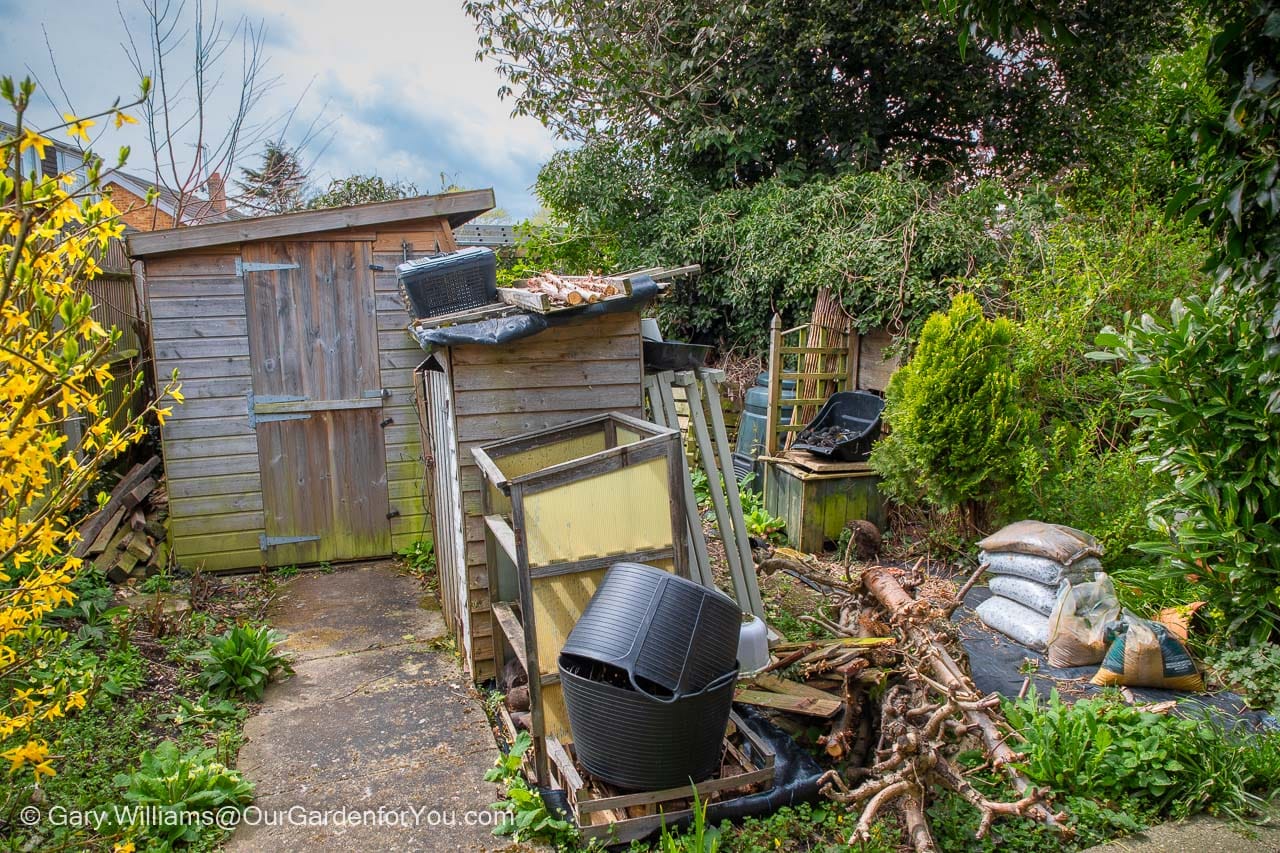 The working area
In this section, we have our recently organised Potting Shed, a tool store on its last legs and will be replaced in the near future, a couple of composters and a log store. It's also an area where we gather garden waste for chopping and pots and canes for staking out.
As you'd expect, this may never be a pretty space. You always need areas for storage, compost, sand, top dressing, and the uglier items associated with garden preparation.
Our Secret Garden is a mystery to us
Let's welcome back the frogs and newts
We're now reached 12 o'clock in the Our Garden for You layout/plan, an area we are naming the Secret Garden as it is full of mystery. I'm not going to lie; this section really has got out of hand, and for 2022, it will probably be a matter of some severe pruning and lopping.

The secret garden needs time and dedication. Currently, our efforts are on other areas of the garden.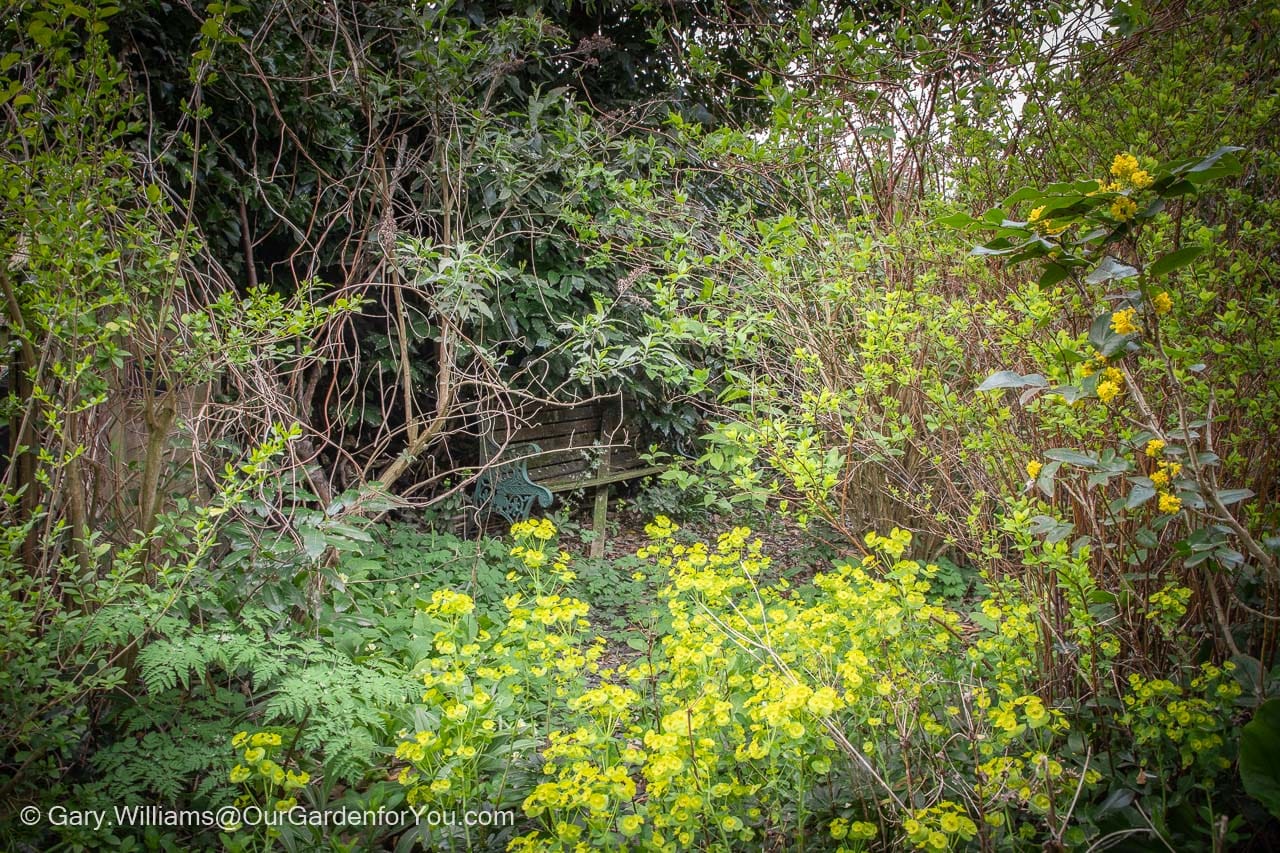 The Secret Garden
This plot has plants of all shapes and sizes and plenty of beds and borders; it requires planning and designing. We also have a Wildlife Pond, which needs the same TLC. I would love this to be a welcoming place to sit in the future and admire all our hard work.

It's time to invest in a hedge trimmer.
Welcome to the Cottage Garden
Full of sun and hopefully full of vibrancy
The Cottage Garden section of our plan is the area we are currently concentrating on. Various plants and flowers have taken over, self-seeded, and generally got their elbows out.

It's quite a large border in depth and length, so we have our work cut out here. The border starts near the pond, where there's a Cotoneaster and a Magnolia. It continues down the length of the lawn to the patio.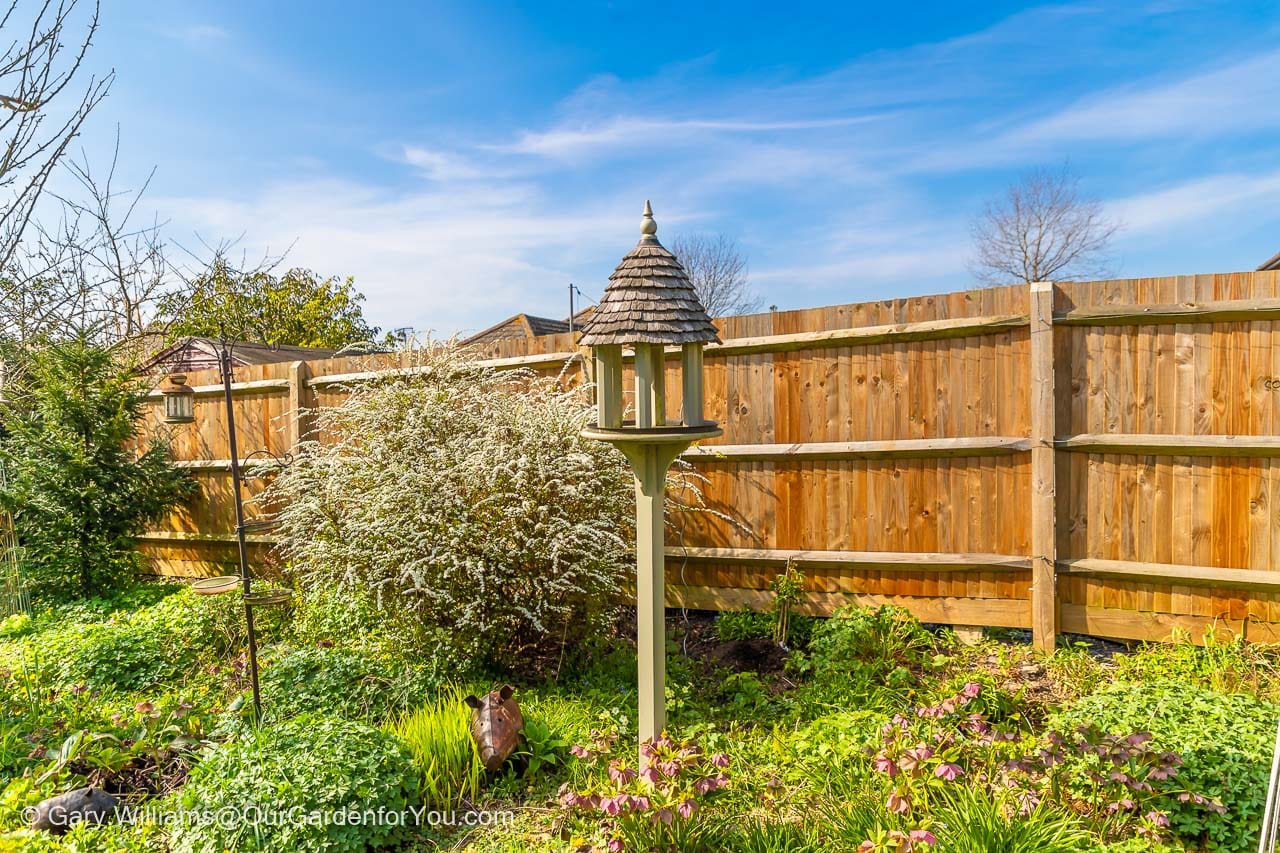 The Cottage Garden before any work
I've started sowing perennial seeds; however,' the likelihood is that they won't start flowering until next year.
So, we've found a fantastic nursery not too far from us named Wood Cottage Nursery. They sell reasonably priced plants that will give us a splash of colour this year and fingers-crossed that our freshly grown seeds will provide us with a blast of vibrancy and fragrance over the coming years.
Along the back border, we have planted a beautiful white climbing Snow Princess rose to eventually meet with a red climbing rose, which has been in the garden for decades. These will partially cover the rear fence and soften the outlook.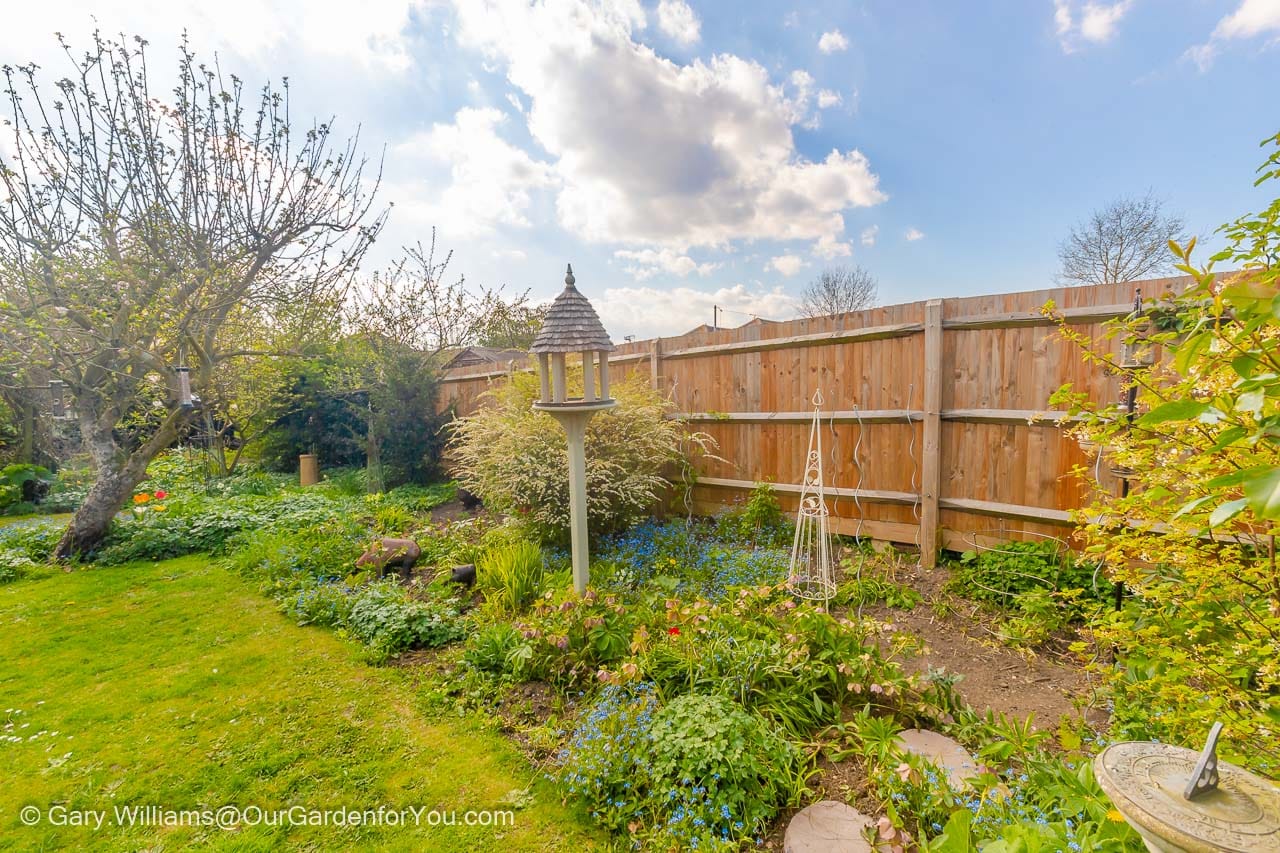 Early days on the Cottage Garden
Digging over the beds is undoubtedly testing our fitness and stamina. At the end of each day, I feel like I've done a workout with Geoff Capes; now, I'm showing my age.

We're re-homing some of the plants around our own garden, offering them to neighbours or passers-by who would like to grab a pot. We have an excess of Hellebores, Geraniums, Elephant's Ears, Primrose and Forget-Me-Nots. To name just a few.
The Courtyard Patio
A place for sunshine, relaxation, and pots
We now reach the patio, located at about 5 o'clock on the garden master plan. We love sitting on the patio. It's so peaceful and from around 11am until 7pm it is a sun trap.

For us, it is an extension to the house and a steppingstone onto the garden during the spring and summer months. We like to think of it as a courtyard garden and have floor tiles laid to give the characteristics of red bricks. Which I think looks good; however, I'm not too sure that Gary agreed when he had to jet wash them. That was an incredibly messy job.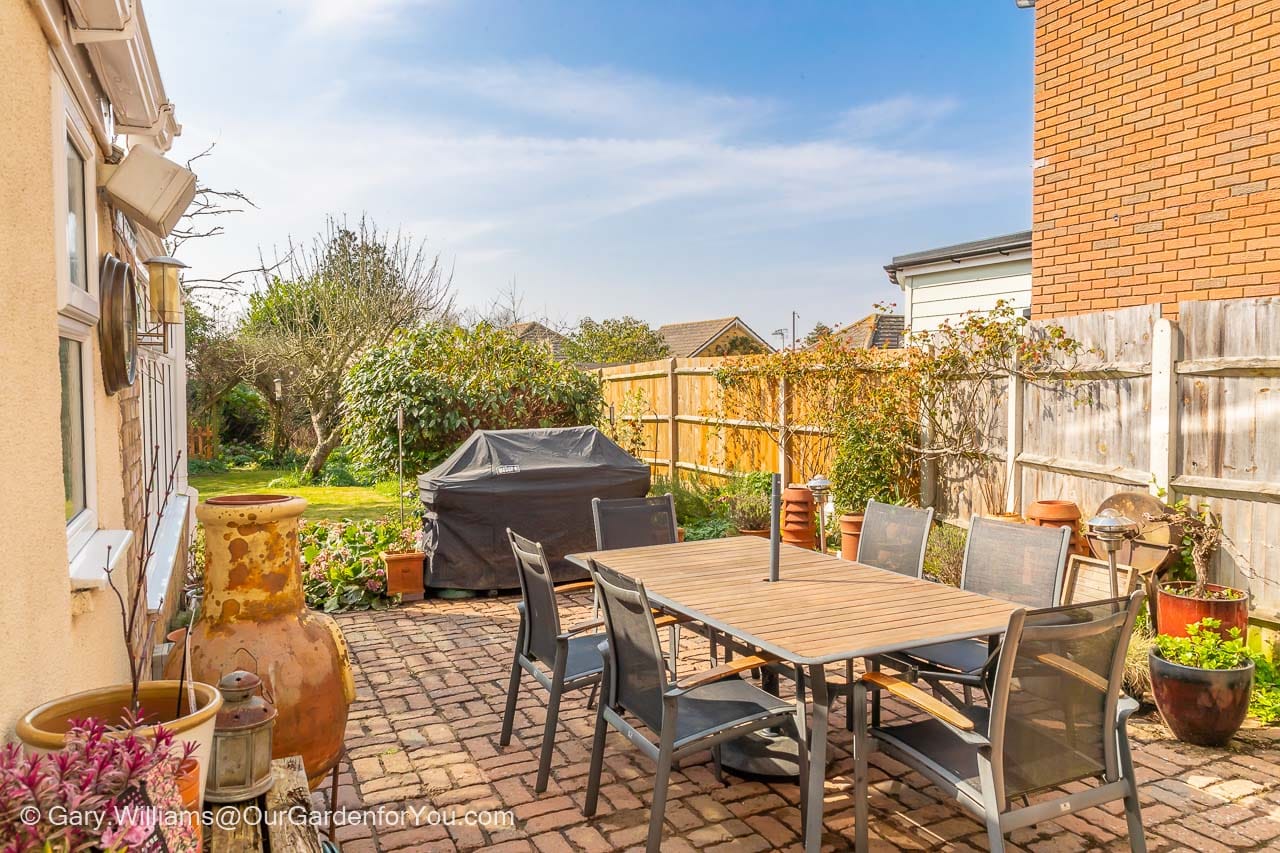 The Patio
Dotted all around are pots of all shapes and sizes, a couple of old Butler sinks planted out, an Alpine Garden and numerous second-hand chimney pots.
We love adding character to a space, so we picked up a grinding wheel from a reclamation yard and turned an oak barrel into our patio water butt.
On the patio, we have our cold frame waiting with bated breath to be overflowing with newly germinated seeds. I'm just waiting for the weather to warm up slightly more, and the seeds that I sowed a few weeks ago can be moved.
Of course, no patio would be complete for us without a trusty BBQ.
I'm looking forward to filling up our pots with a burst of colour and sunshine.
The Herb Garden
Creating an oasis for your senses
We've decided that we would like to create a herb garden that is accessible from our courtyard patio.

We did have a freestanding herb garden, but unfortunately, the wooden structure that the herbs were planted in succumbed to the Blighty weather.
This will be our herb garden
This time, we will snaffle a section of the Cottage Garden directly off the patio and create a pleasurable space, which can be planted directly into the soil or into terracotta pots. We have a few ideas, and hopefully, we can incorporate these ideas with the pots we currently have around the garden.

Well, that's it for the rear of the garden; at some point, I'll introduce you to our much smaller front garden.
* This post may contain links to affiliated sites where we earn a small commission at no additional charge to you.