by Janis on 13th May 2022 / 0 comments
I can't believe it's only been four weeks since we started to clear, restructure, rationalise and revamp our English cottage garden.

Gary and I have just been able to allocate time at the weekends to tend to the cottage garden, so it has certainly been a work in progress. And a bit back-breaking at times too.

But that aside, I think it is starting to look wonderful, and I can't wait for our delightful flowers to start bursting into bloom.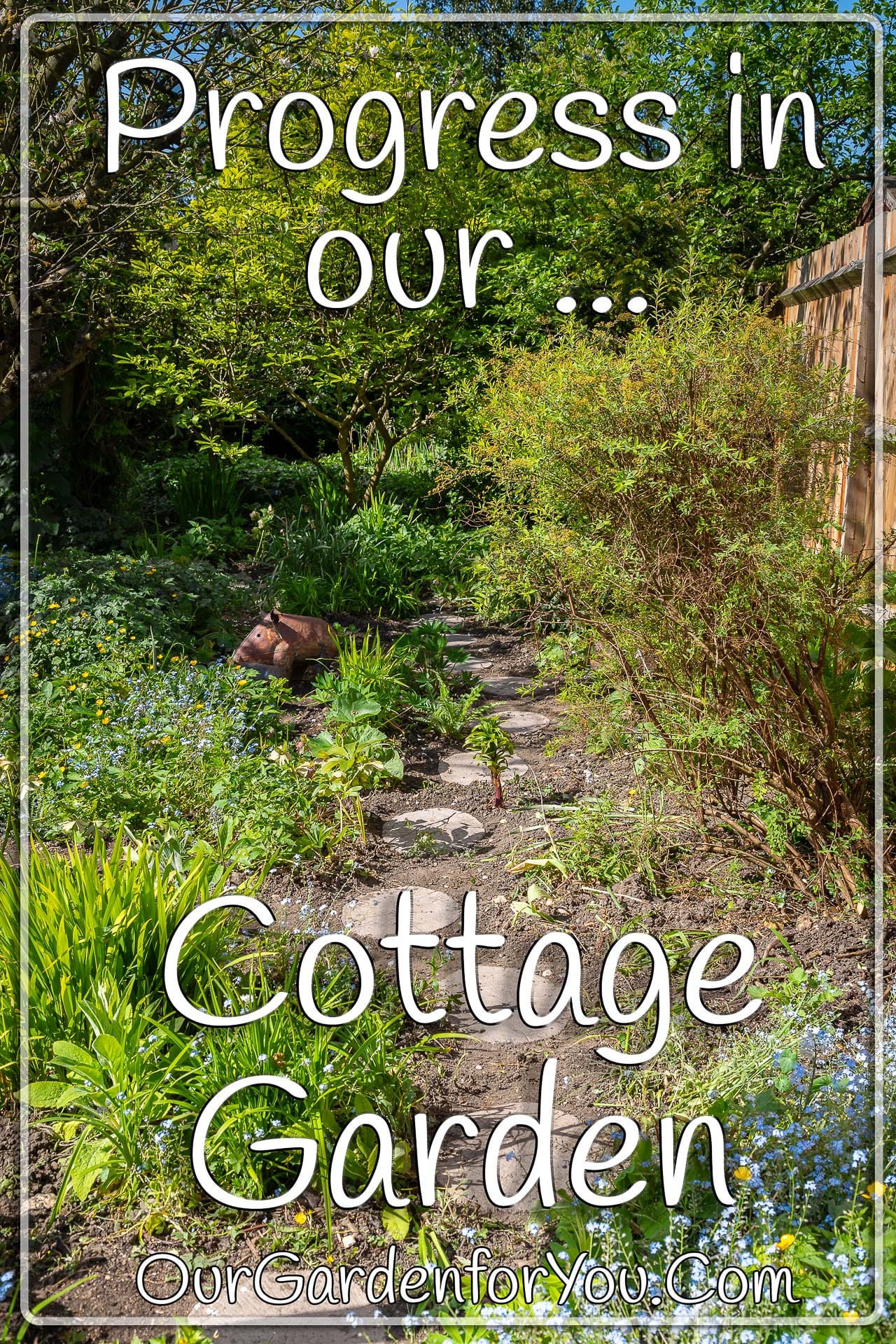 Why not Pin it for later?
Clearing the cottage garden
It was time to get our hands dirty
We started to clear the cottage garden the weekend of the 9th of April, and already there were signs that our geranium invasion was underway.

There are just some plants that take over, and for us, they are geraniums, don't get me wrong, they are very pretty with their delicate pink and purple flowers; however, you only want a few.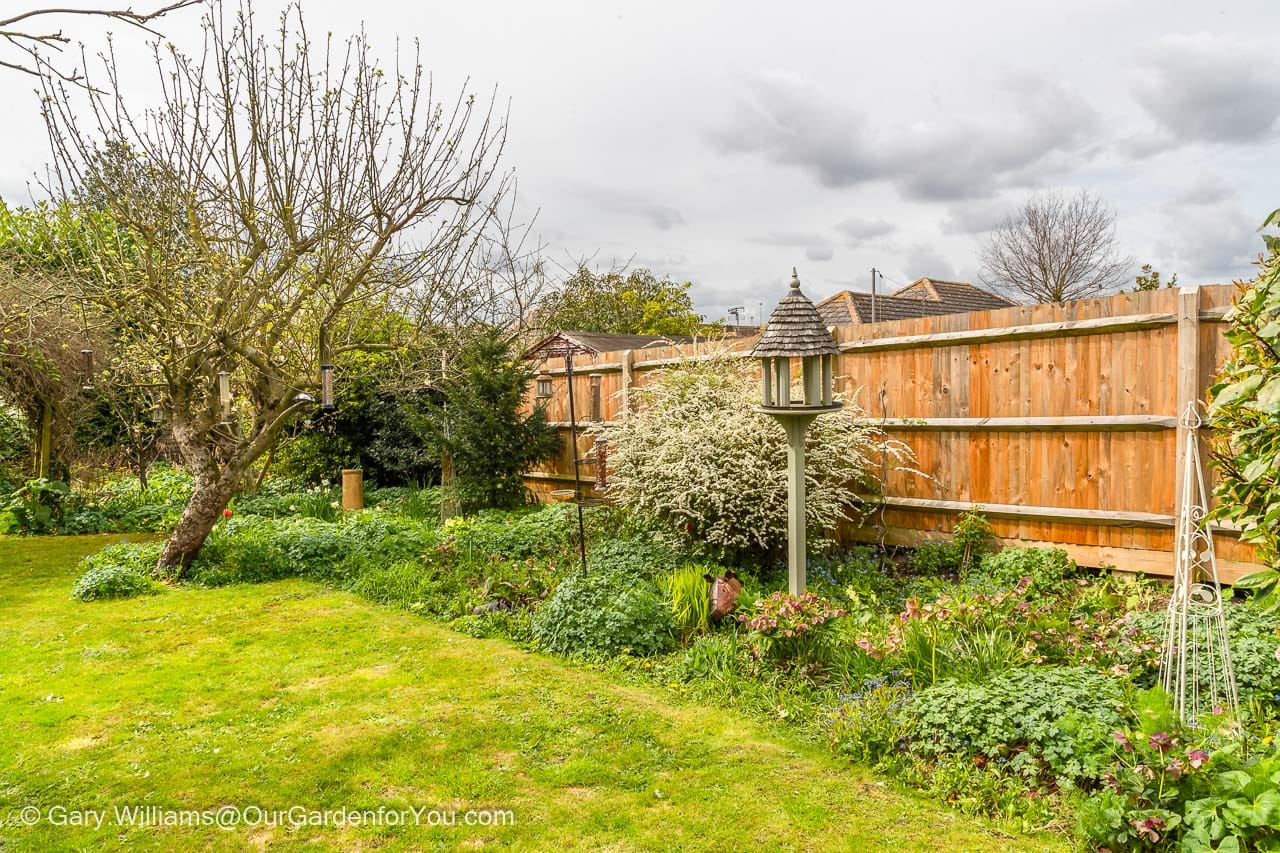 The Cottage Garden in March
The other plants that have well and truly got their feet under the table are elephant's ears which spread from tubers, and a plant that I've yet to identify its correct name. The unnamed plant is around 3 feet tall and has yellow daisy-like flowers. We've kept a few, but I'm waiting for them to grow further; then, I'll use my trusty app
PlantNet
to clarify what it is.
Our plans for the cottage garden
We're going for the tiered effect
Like most gardens in spring, it's the time when fresh new shoots start to stretch out their arms and break through into the sunshine above.

We're not starting from scratch and creating a blank canvas; we have plenty of plants in the cottage garden that we want to integrate. It's just that some may need to be shuffled around to create the structured effect that we are after.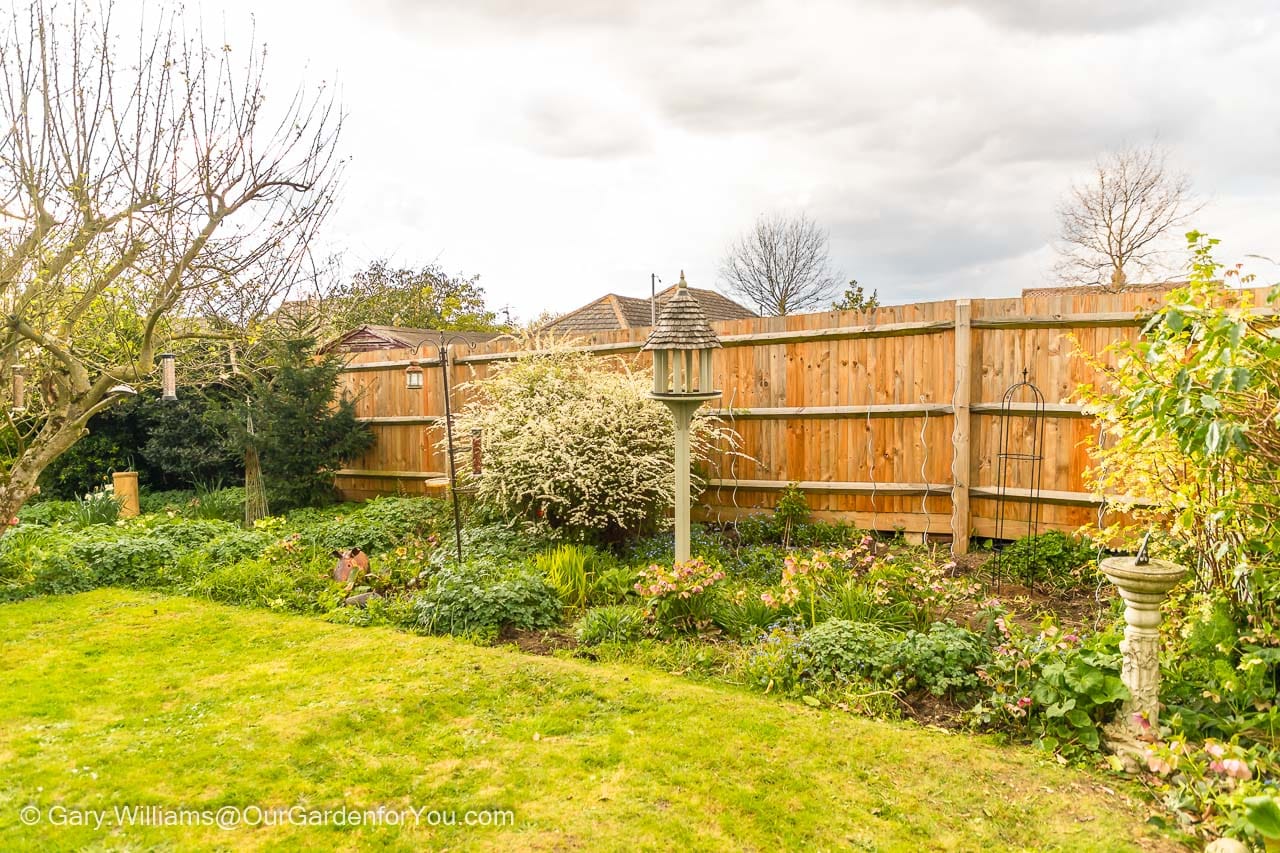 Preparing the Cottage Garden bed
We plan to have three or four tiers forming layers from the front to back, with a mixture of perennials, annuals, climbers, ramblers and some good'ol evergreen shrubs.
We've been maintaining our garden on and off for the last twenty years (although more 'off' in the previous few); however, prior to us living here, there was an elderly couple, Sid and Barbara. You'll see from our history post how it looked a few decades ago, and some of the plants still return.
Unbelievably we still have one of Sid's climbing roses, which must be at least 40-years old. This charming red rose is looking relatively thin in places and probably needs a good prune, but to be perfectly honest, I'm reluctant to cut it back hard as I don't want to lose it. I think I'm going to seek some advice on nurturing it.
Now for the fun part
Choosing the plants
So, back to the cottage garden. Over the last few weekends, we've managed to remove, rehome, and distribute our existing plants, and it was time for one of the tasks I enjoy the most, visiting a garden centre and nursery.
We have found a local nursery named Wood Cottage Nursery, and their range of plants, especially perennials, is fantastic. It's a reasonably small nursery and at times may appear haphazard in its layout and organisation, but when you are only paying £2 for a 1-litre plant, you can't complain.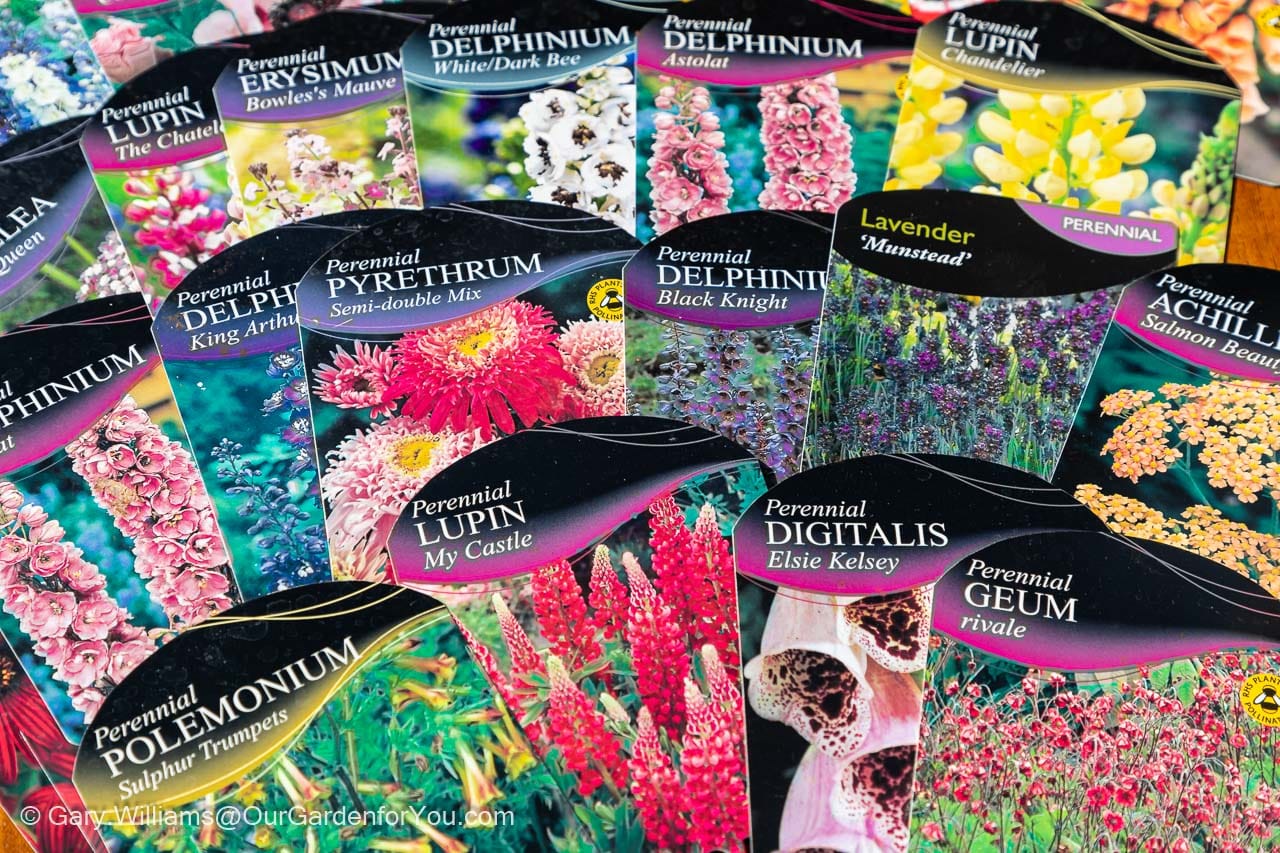 A few of our new plants
I have bought so many new flowers for our cottage garden bed, and I just can't wait to see how they will progress over the coming years. I appreciate that I may not see much fruition this year but who knows.
It's time to start planting
Why did I buy so many?
To give you a taster of the plants we have in the cottage garden for height, they are foxgloves, hollyhocks, sunflowers, and delphiniums. We have achilleas, geums, lupins, dahlias, lilies and Erysimum for a bit of middle ground. At tiers one and two, we have anemones, poppies, cornflowers, love-in-the-mist, crocosmia, marigolds and, at the moment, an abundance of forget-me-nots.

I'm sure there are many more; I just don't want to waffle on too much.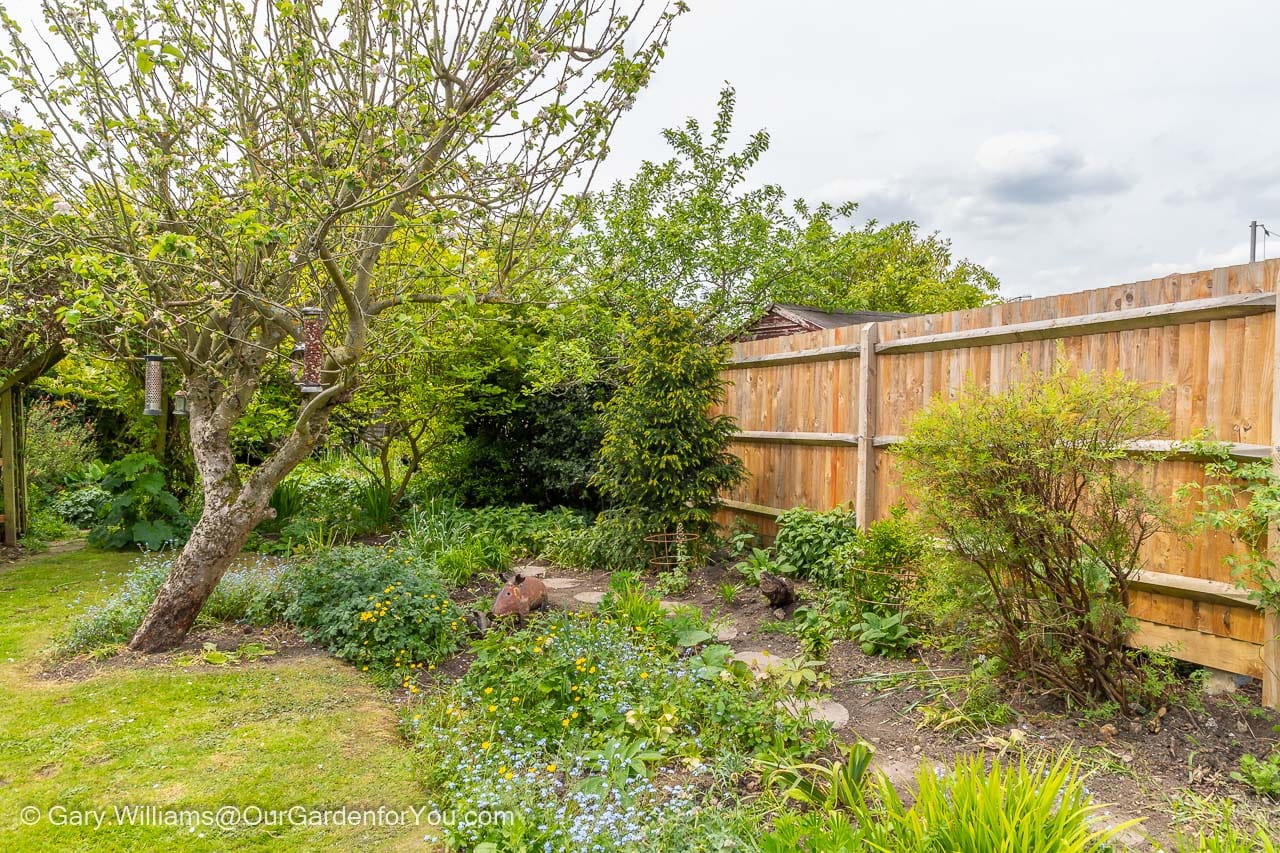 Progress in the Cottage Garden
We're also trying to disguise our brown wooden fence panels; therefore, we have a couple of climbing roses, one of which is a new one named Snow Princess and a rambling rose.

However, the crème de la crème is our recent purchase of a clematis 'Josephine Evijohill'. It is a stunner; it produces huge lilac-pink double flowers and will hopefully flower from early summer through to early autumn.

It amazes me how this delicate clematis can hold up flowers so plentiful.
The addition of stepping-stones
It seemed a good idea at the time
As the depth of our cottage garden is around 10 1/2 feet (3.2m), we didn't want to keep treading through the border to reach the back and trampling on new seedlings and younger plants. So, we came up with the idea of adding a meandering path through the bed, and what could be better than stepping-stones.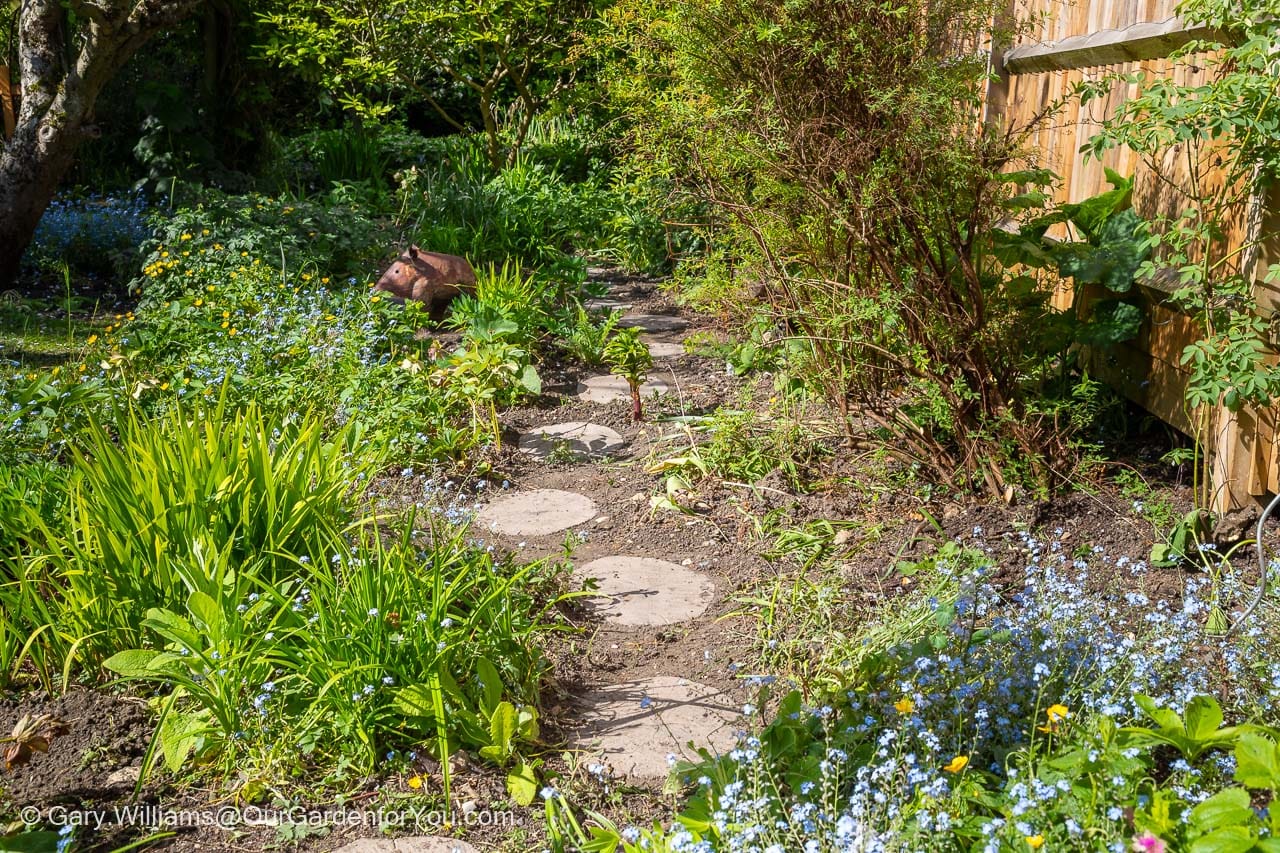 The stepping stones
We'd already purchased three to step from the lawn and reach our bird feeding station; we like to keep this topped up as we love attracting wildlife to the garden. We then thought, why not carry on through the cottage garden? That way, we can reach the plants easily without the fear of squashing anything.
Gary wandered through the bed, pacing out where each stepping-stone would lie, and we counted that we needed a further sixteen. It was a job for sooner rather than later as the new plants were becoming more and more established, and shortly, we wouldn't have a clear path.
So, this past weekend we dug in all sixteen paving stones, and our lovely cottage garden border was coming alive.
We're incredibly pleased with the progress and the results; we're just waiting for it to burst into bloom.
* This post may contain links to affiliated sites where we earn a small commission at no additional charge to you.