by Gary on 11th April 2022 / 0 comments
Before we first adopted our garden back on that cold December day, we knew we wanted to create an environment that would attract wildlife.
Perhaps it was the idyllic scenes of Kent country life played out on the screens of our one-bedroom flat of the 'Darling Buds of May' in the early '90s. Perhaps it was a view of the natural world presented by Sir David Attenborough; whatever it was, we were not opting for the 'low maintenance, top dressed, designs that seemed to be in vogue.
Now, if only we knew what the garden looked like! We viewed the house over a couple of evenings in late October, so we never really saw the garden. If you want to know more of that story, check out Janis's 'The tales of a bumbling gardener.'
Why not Pin it for later?
Attracting wildlife to your garden
What should you expect?
I guess a good place to start is by understanding what we want to attract. Well, the birds, bees, butterflies, ladybirds, frogs, newts, possibly a hedgehog or two.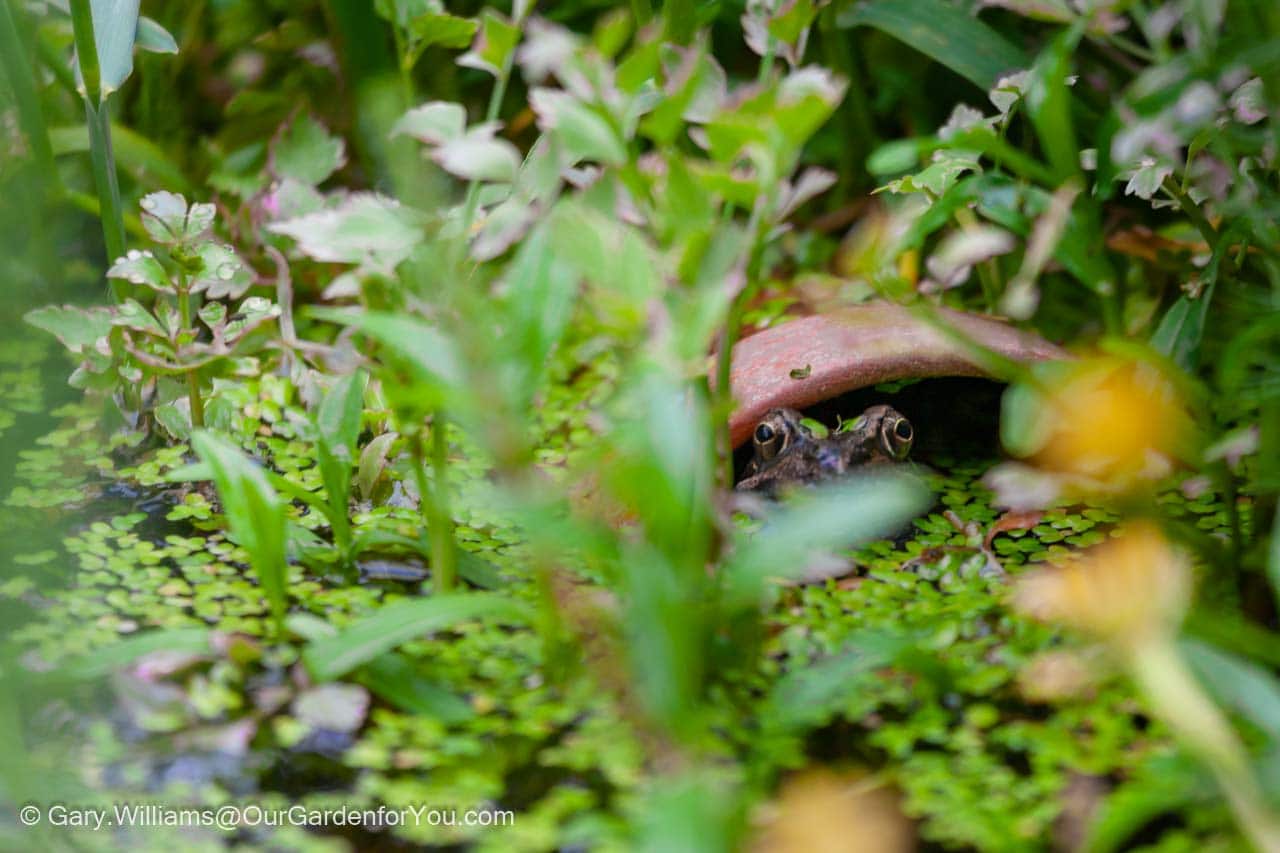 A resting frog in our wildlife pond
To be honest, there is no magic to it - to paraphrase the voice in a  Field of Dreams - "Build it, and they will come". I know; build what?
Well, I guess it's a visit to the local garden centre or even a DIY store to pick up your bird feeders. You will be amazed at the choice; mixed seed feeders, nut feeders, suet mix, sunflower (husk on or off), niger seeds, the list seems to go on, and on each one, pictures of the birds you may attract. Then there are bird tables, the feeding stations and obelisks. Another option would be to check out the offerings from Amazon - be warned, the choices from either method can be overwhelming.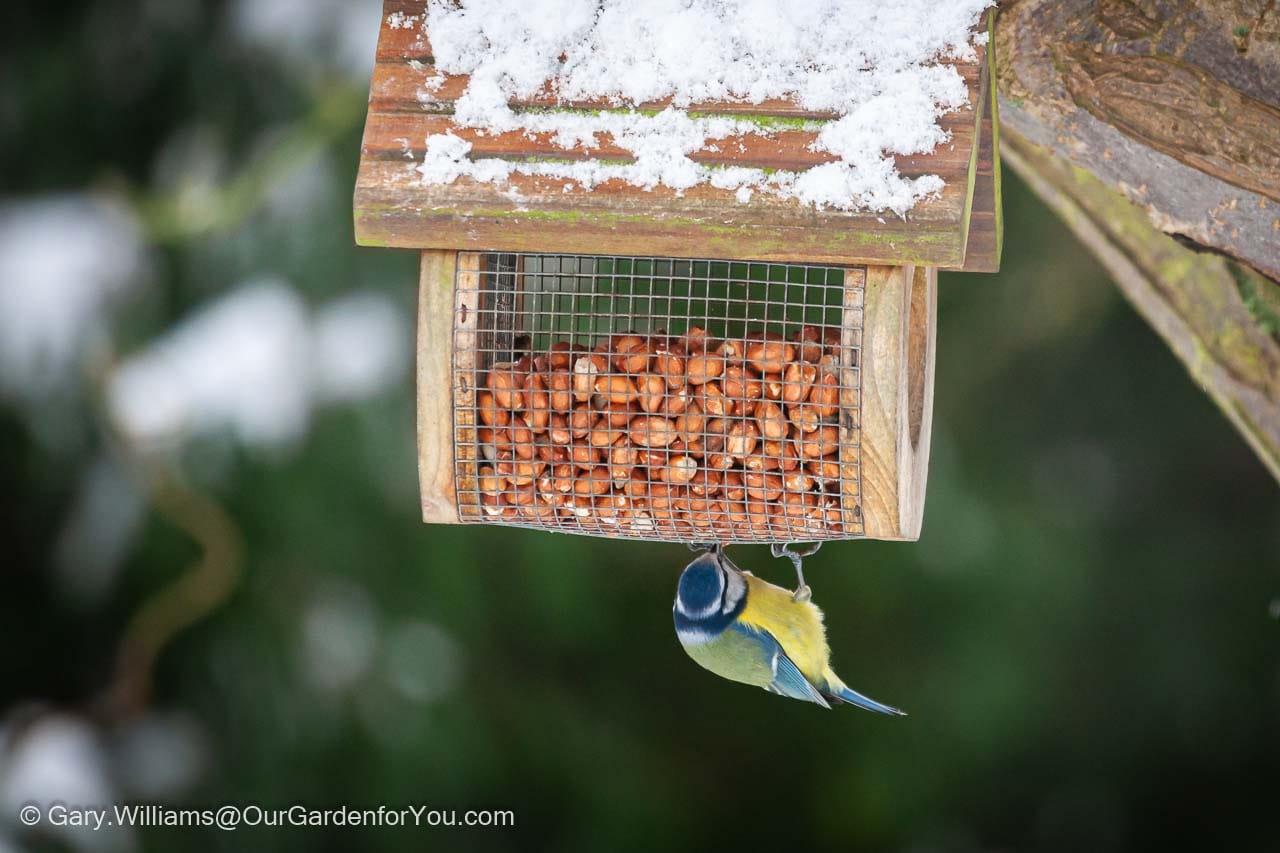 A blue tit grappling with a peanut feeder
Over the years, we have tried most. The niger seeds have failed miserably; the birds in our garden have given them a big thumbs down. We have even added it with the mixed seeds, and when you check the bird table, it is the only seed left.
My advice is to start with a single mixed nut feeder and see what you attract. A bird table is great if you are looking at giving away leftovers, but please check the RSPB site on 'Household scraps for birds'.
Planting for wildlife in your garden
Creating the right environment
So this is the slower burner, but the results can be fantastic. With 'Our Garden', we have tried to provide a mix of colourful species for our key areas; namely the Courtyard Patio and the Cottage Garden bed, with other regions given over to a more wildlife-friendly approach.
A bee feeding in the garden
The bees are going to love our Lavender bed. The Secret Garden contains a buddleia (the butterfly bush), a lilac tree too, and a Mexican orange blossom bush. We just need to get that area under control. One for later this year.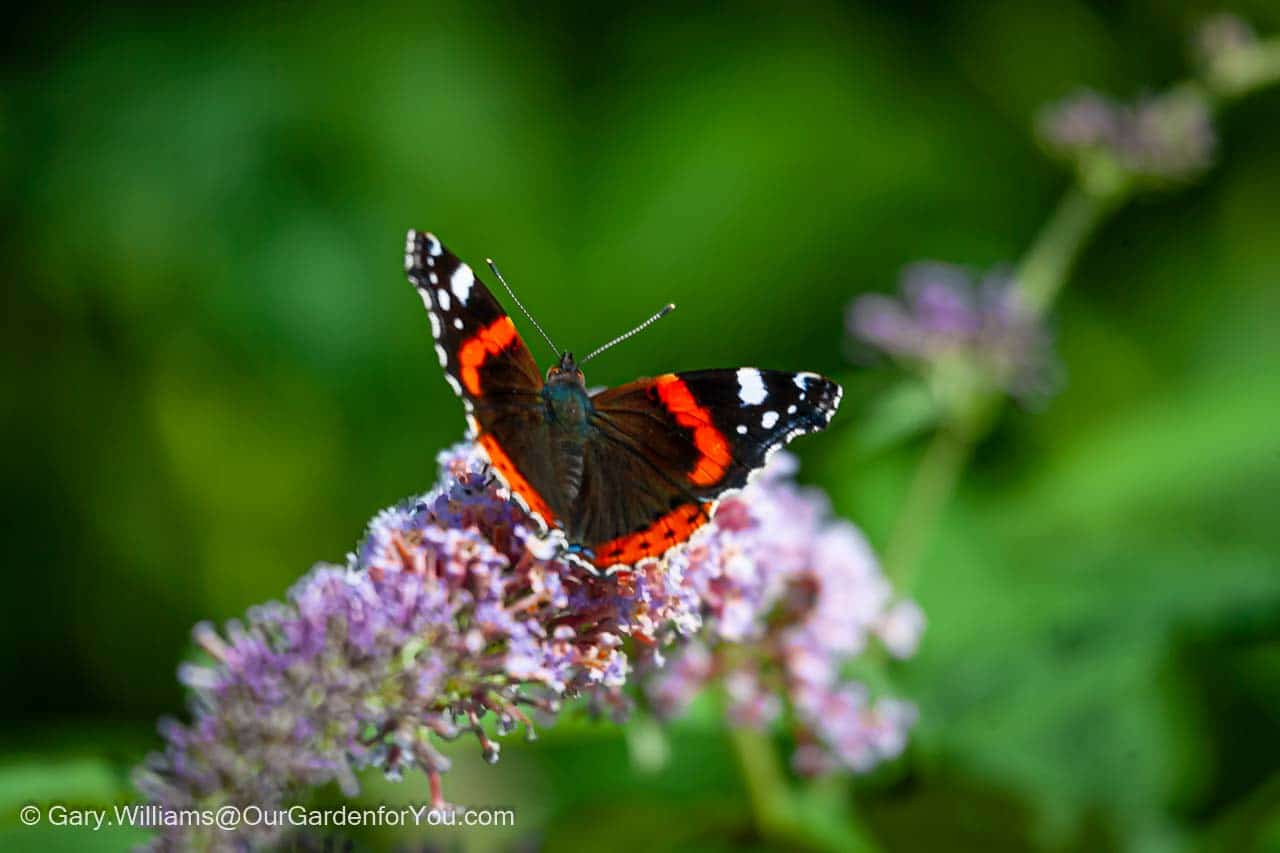 A red admiral butterfly
If you are nurturing your own seeds, as we have, then include a few wildlife-friendly collections in your mix. As you look through the vast selection of packet seeds, you will see some clearly identified as wildlife favourites. We have added sunflowers again this season because once the flowers have died, let them go to seed, and the birds love them.
Is all wildlife welcome in your garden?
Is it friend or foe?
Well, we all know the short answer is no. I am not sure slugs are anyone's friends, but that does not mean I will reach for the slug pellets, no sir. I believe frogs are rather fond of slugs, so if you can have a wildlife pond, that is one option.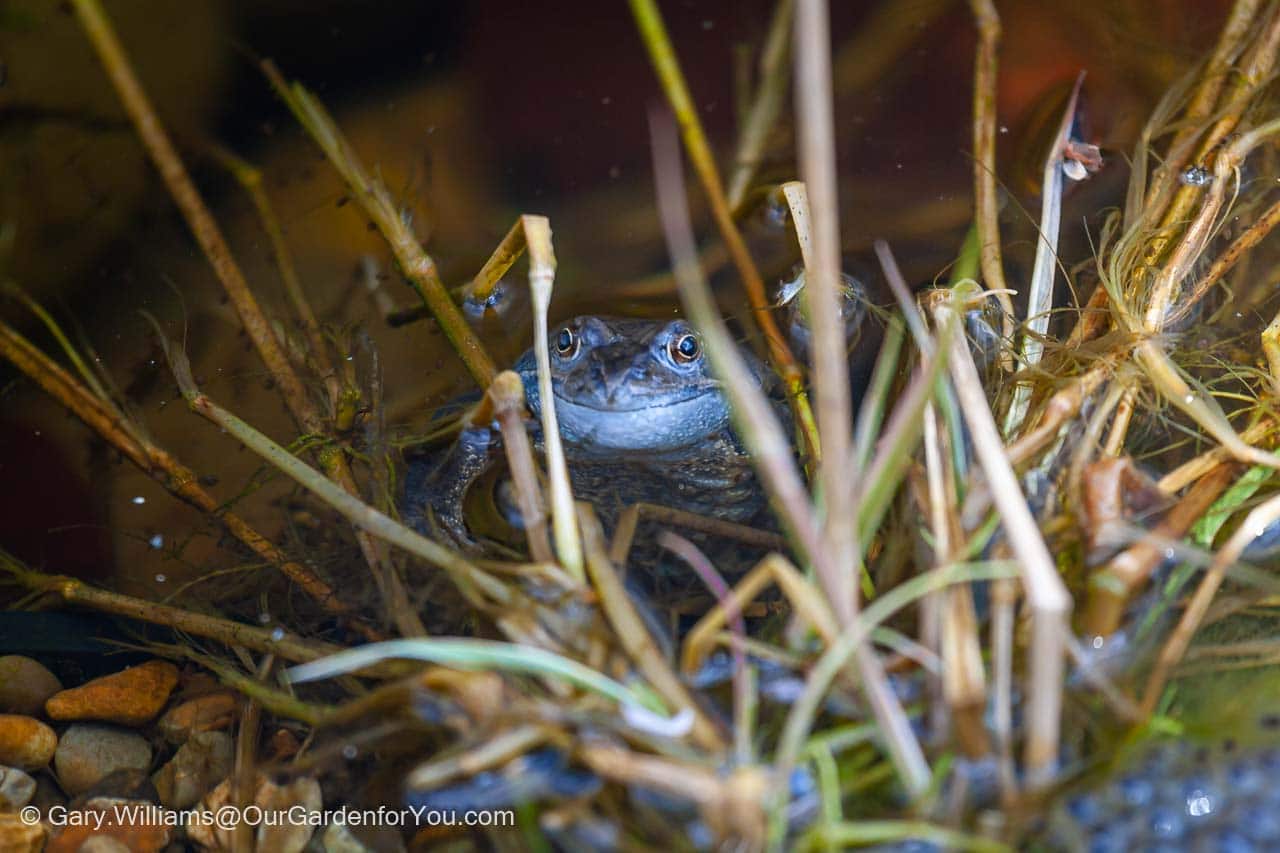 A friendly looking frog in our wildlife pond
Also, hedgehogs, and that is another reason not to poison slugs. You may not be lucky enough to see them, but you might find some evidence of them passing by. If you do, and you want to capture some footage, then why not try a
Wildlife Trail Camera
? Not hugely expensive, and who knows what you might see in the garden. So, create an environment that is hedgehog friendly.
Hedgehogs in our garden
Then, there are rats. Mmm, makes your skin crawl, right? We don't like rats, do we? However, if you are putting food out for birds, you may end up attracting rats. If you are a little stupid, like us, you may end up with a rat problem. We buy our birdseed in bulk from the local farm shop in paper sacks, and we store it in our potting shed. Learn from our mistake, and keep the seeds in a sealed food storage bin. We have a couple of
Gardman Food Storage Bins
. Problem solved.
Creating a balance in your garden
How close do you really want to get?
So, we want to attract wildlife, but you do need to take a little care. Let me explain. You probably want your own area to enjoy, and nobody wins if it is swarming with bees.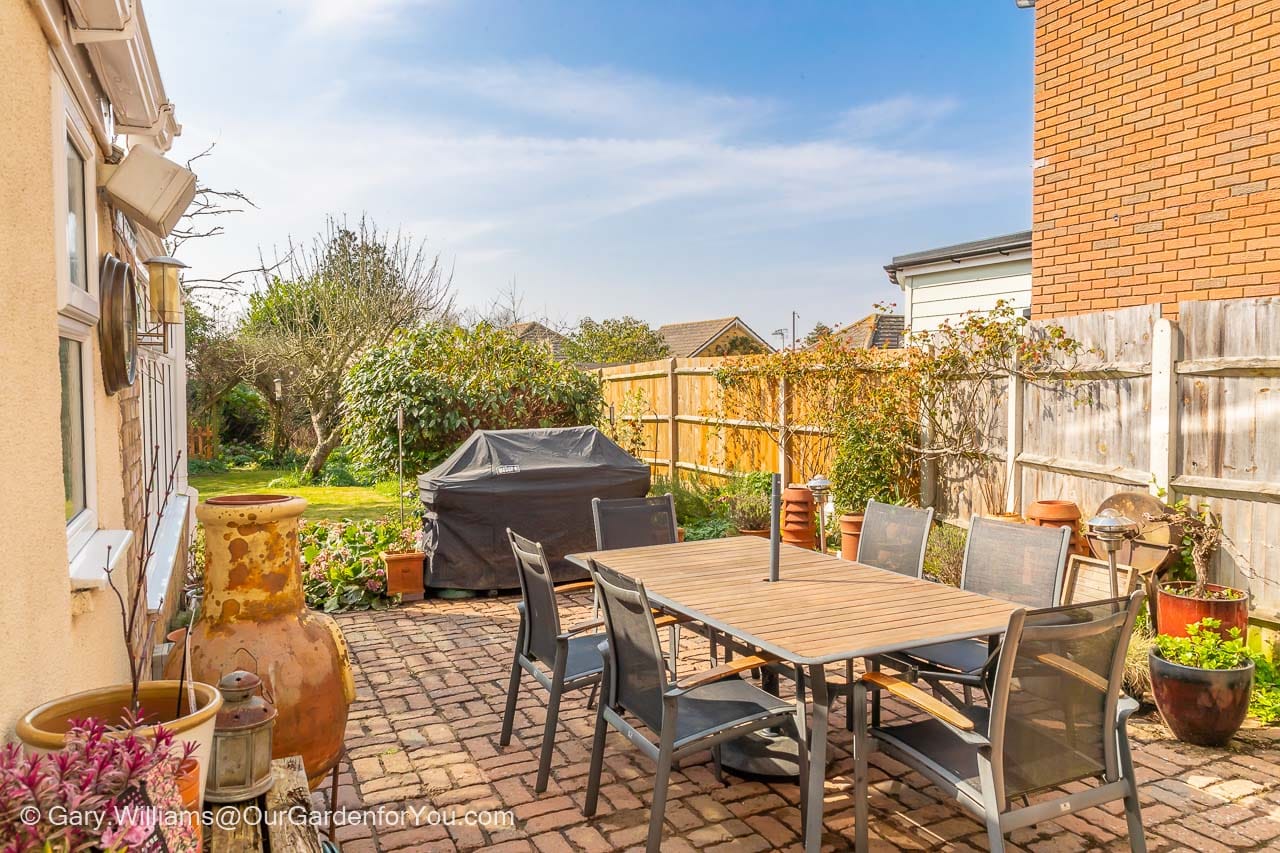 The Courtyard Patio in Our Garden
So plant carefully. We have a couple of lavender plants on the Courtyard Patio. We have placed them close to our newly constructed herb garden.
Obviously, you want your area to be bright, just consider the impact that will have on bringing insects to you.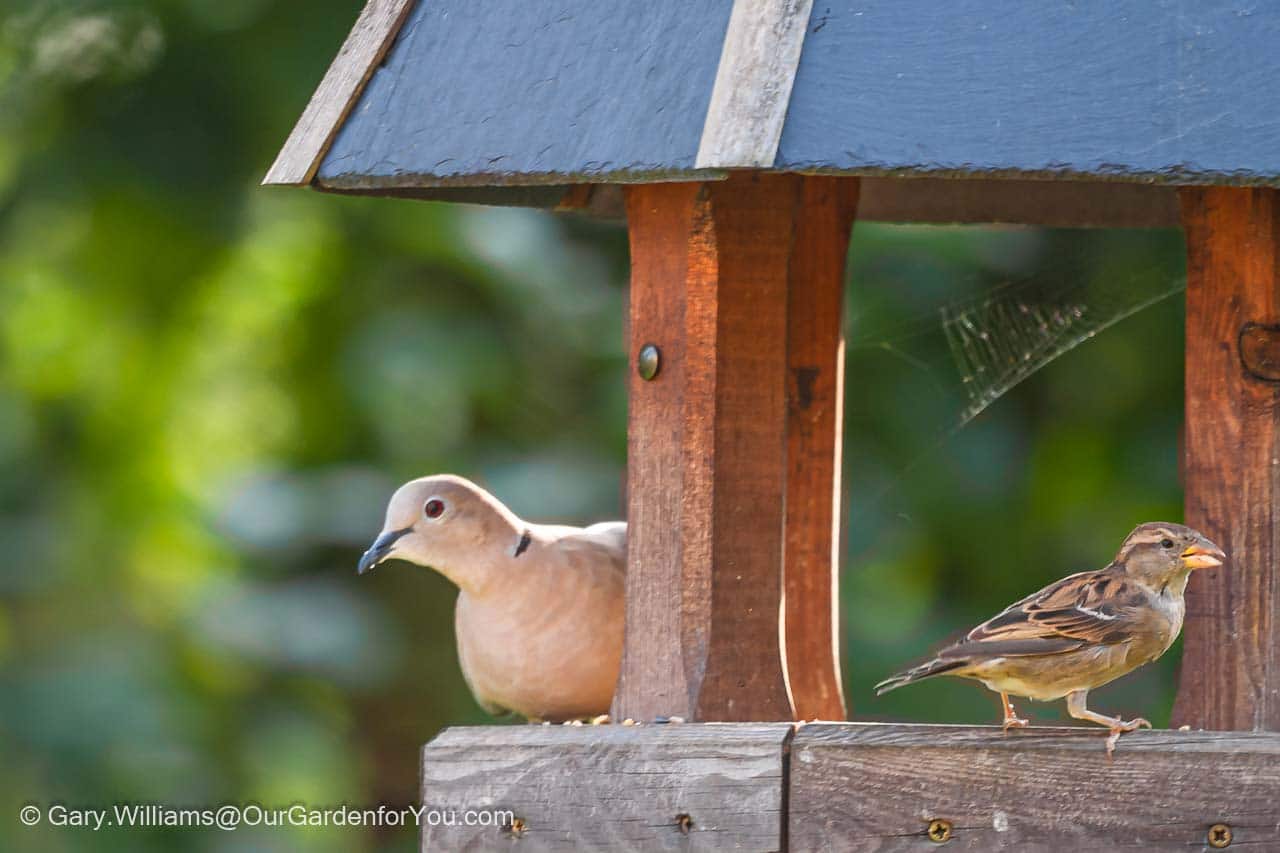 Sharing time in the garden
And finally, you are feeding the birds, well that has to go somewhere. There will be waste, and the birds will not be as grateful as you think (and don't believe the old wives tale, it is not lucky). Perhaps avoid putting bird stations near your cars, or too close to furniture that does not wipe clean. Just saying
I hope that's given you some food for thought on attracting wildlife to your own garden.
* This post may contain links to affiliated sites where we earn a small commission at no additional charge to you.