by Janis on 11th March 2022 / 0 comments
I was going to say, well, where do I start, then I thought I know the day we bought our Victorian home. It was one dark wet autumnal evening in 1999 when we left our one-bedroom flat to view our current house.

There were a few criteria that the house had to meet. We would like it to be in a semi-rural village location, three or four bedrooms, driving distance to a mainline station to London and a garden.

Now, my immediate advice would be, do not buy a house based on you peering out of a window on a dark, miserable October evening and thinking yeh, the size of the garden will be ok. We'd immediately fallen in love with the house, so what was the worst that could happen, right?

We'd never had a garden before, but after living in a one-bedroom flat in Dartford, we were up for a horticultural challenge. Well, there lies the first questionable decision.
Getting your first garden
What's in store for you
When we moved in just before Christmas in 1999, we initially thought it looked large, but a couple of hours here and a few hours there will be manageable. I have omitted to say that the garden is around 80 feet (24 metres) by 30 feet (9 meters), including the patio. So, actually not too far off the size of a tennis court, perhaps in hindsight I missed a trick there, as I've come to realise my forte is actually in mowing.

Little did I know that the previous long-term owners liked a traditional high maintenance floral garden emphasising the 'high maintenance'. Very few larger shrubs were around, and unbeknown to me, the dormant little sadistic bulbs, annuals, bi-annuals and perennials we were waiting in the wings, ready to pounce.

So, keen as mustard, I couldn't wait to head off to all my local nurseries and garden centres. Surely, they would have all the evergreen shrubs I would desire and every tool in the shed a naïve and an inexperienced towny could wish for.

But hey, I wasn't completely green at this (no pun intended). I would rein in some of my excitement in the first year and watch as the mighty garden evolved. Well, I say rein in, you still have to make your own impression on the garden, don't you?
Green fingers in the family
'Pop' would be proud
Now I would also like to add that my grandfather, who we called 'Pop' was an incredible gardener. His perfect seasonal manicured beds, topiary hedgerows and towering delphiniums were to die for. He would regularly be seen at a Q&A stall at the annual Chelsea Flower Show, which was quite amusing, really, as he never really suffered fools gladly, so I can just imagine what he was muttering under his breath.
Another of Pop's favourite horticultural gardens that he loved to visit was RHS Wisley. I still remember visiting with him and ascending through the magnificent rock garden.
So, I thought this gardening malarkey was in my genes, I'm going to be a natural at this, or so I assumed!!!!
My grandfather passed away in 2009; however, I still feel he's watching from my shoulder, trying to tactfully bark instructions and tossing his eyeballs at my less than gracious effort at gardening.
Discovering Our Garden
It began to wake up
I digress slightly so, back to early spring of 2000, and little green shoots appeared through the earthy beds. Slowly at first, this was magical; the garden is stretching out its arms from its winter hibernation.
As the weather gradually gets warmer, the true extent of what lies beneath makes an appearance. Wow, an English country garden was springing into life.
The garden in February 2000
We muddled through for a few years, reading about the dos and don'ts in your garden, watching Alan Titchmarsh and Monty Don making it look a doddle. I'm sure their entourage were hiding in an outhouse.
An additional point to add was that while we were… I was going to say managing the garden. But I think the word manage was a bit strong, we were also commuting up to London Monday to Friday from 6am to 7pm. So other than cracking open an ice-cold beer in the summer months and sitting on the patio, it was a weekend project.
Our Garden needed help
The work/life balance was out of kilter
Yes, my prayers had been answered; however, during the first 10 years or so, we hadn't held back on purchasing more and more shrubs, flowers, trees, creating a pond and adding a potting shed and tool store. Then after a few years, our neighbour made us aware of how much she loved gardening and would maintain it for us a couple of days a week. I even began to grow our own vegetables from seed. With good results, I'm surprised to say.

Fast forward to 2015, and Gary and I were mentally and physically exhausted from commuting to London for the past 24 years so, we had an epiphany. We love travelling, and we have truly been to some extraordinary places including, Zimbabwe, Costa Rica, Namibia, China, and embarked on many road trips around Europe and the USA.
Looking for a better life
We started to tell stories
In 2016 we set up the travel blog Our World for You, , sharing with our followers and readers tips, advice and experiences from our adventures. We also started creating YouTube content from our travels, bringing our trips to life.
Working from home meant that we could also get back to maintaining the garden ourselves and once again taking up the mantel on our own.
We didn't realise the incredible amount of work the travel blog required on a daily/weekly/monthly basis, and it's hard dragging yourself away from your pc when you know there is more to be done.
Yes, you've got it, we've neglected the garden, and just within two or three years, it's looking like "The Day of the Triffids" something needs to be done.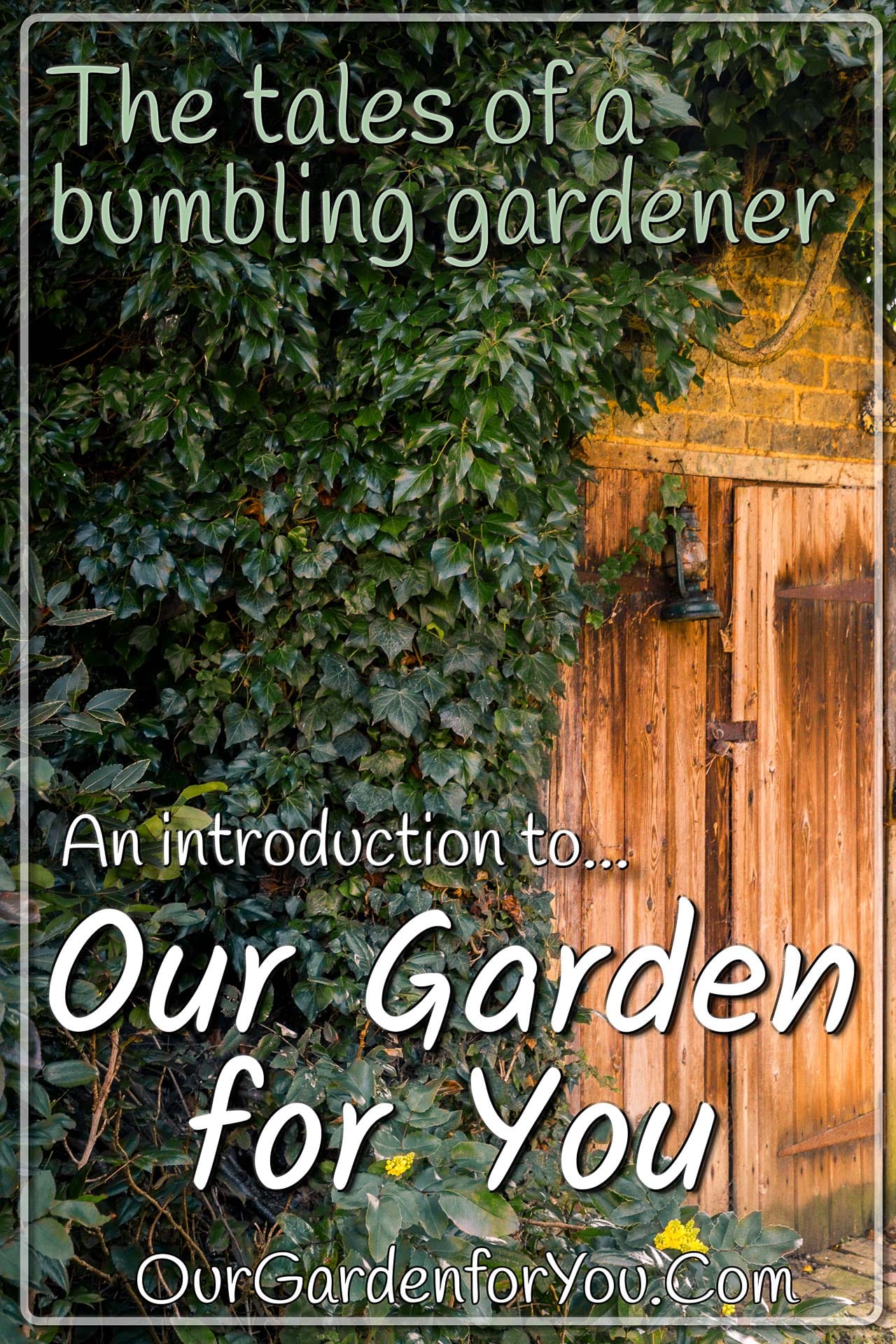 Why not Pin it for later?
The start of Our Garden for You
More stories; warts 'n' all
We thought, what better way to document our garden refurb and the many projects we want to achieve along the way, and that's to set up a gardening blog. Surely, we'll be able to learn from our mistakes, but there are no guarantees.

Hopefully, there will be others like ourselves with little or no experience, untamed enthusiasm, or misplaced confidence that we'll be able to guide and advise step by step.

We're mostly be arguing or muttering under our breaths so the neighbours can't hear. Undoubtedly injuring ourselves, and we'll have aches and pains in our joints that those in their 50s will sympathise with.

So, grab your hoe and trug and let's see how we can help one another, and you never know some of my green-fingered genes may make an appearance.

"Yes, yes, I know Pop, prune the roses on an angle slightly above a new bud".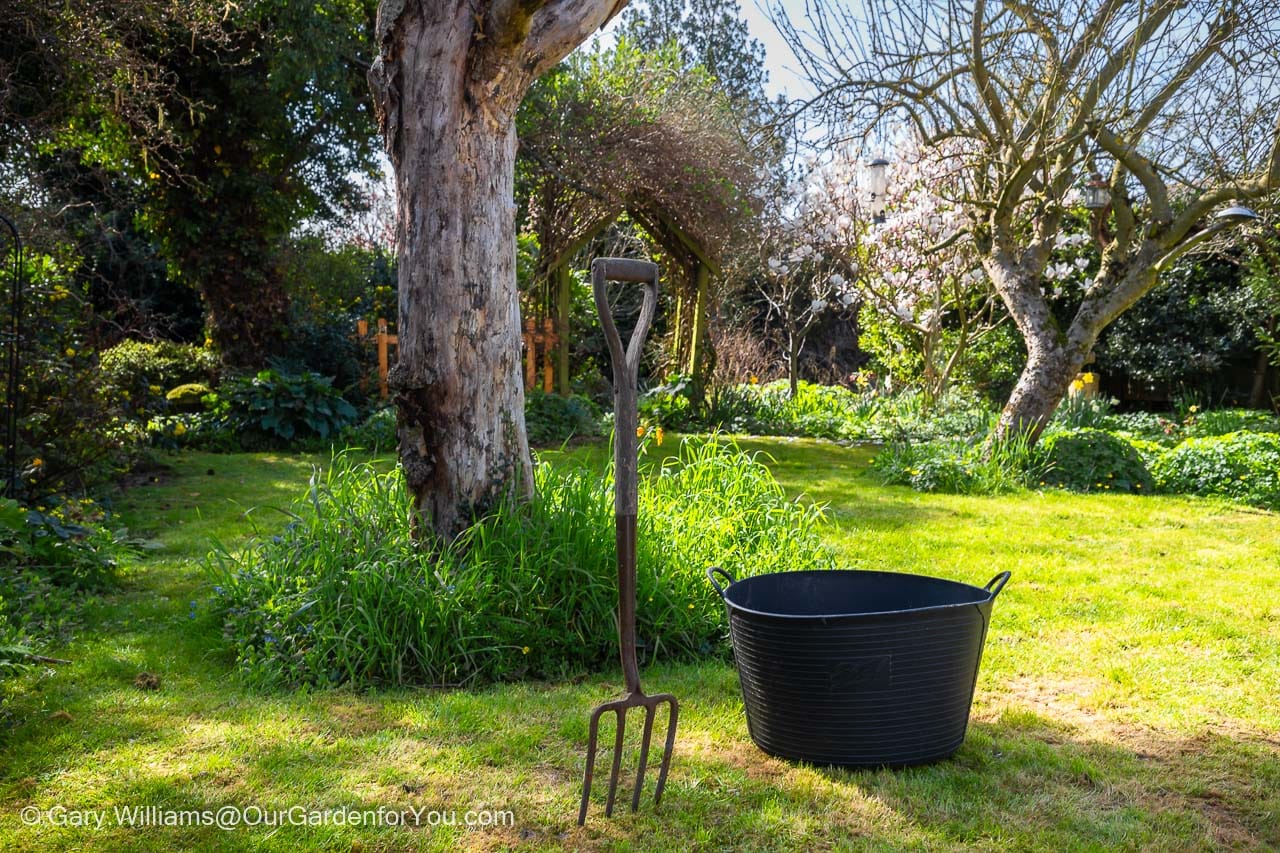 Ready to start work in Our Garden
* This post may contain links to affiliated sites where we earn a small commission at no additional charge to you.