by Janis on 20th May 2022 / 0 comments
A little TLC is what it required
So often you pass areas of your garden that you see day in and day out and become oblivious to how they actually look.
We've recently removed an old planter from our courtyard patio that was on its last legs. We replaced it with an old chimney pot and a structural planting obelisk, and it has transformed it. It's so much easier on the eye and makes you wonder why you hadn't done it sooner.
Well, that's also the case for our 'lawn shady' part of our garden.
Did you catch our post on introducing you to the sections of our English country garden?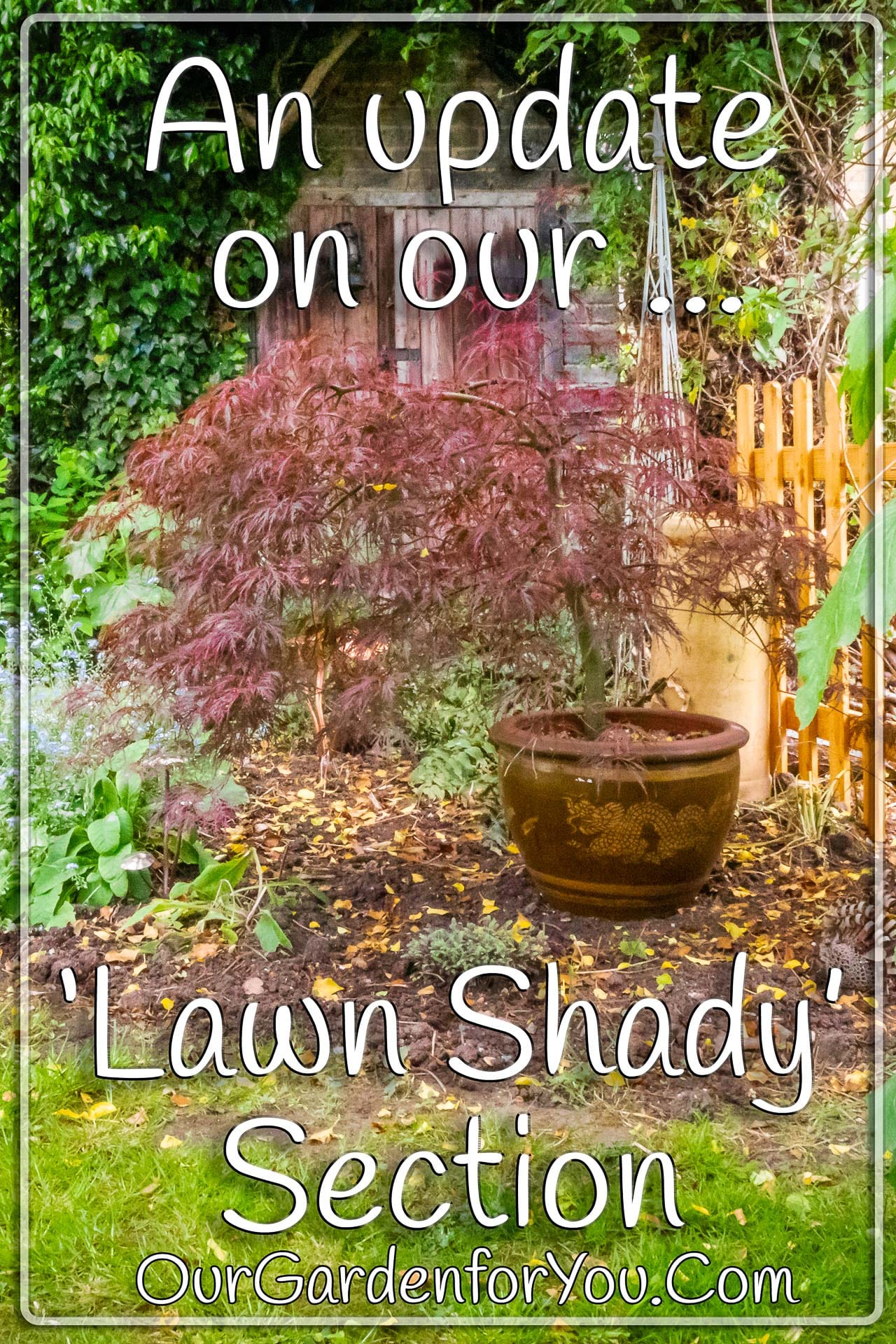 Why not Pin it for later?
Introducing the three 'shadys'
Fern, Slim and Lawn
Now, we have a few shady sections of our garden; the first is 'fern shady', which is currently a 'work in progress' as our log store has encroached upon it along with a rambling mahonia. But it does have a couple of attractive ferns, so it's coming along.
Fern shady in need of clearance
The second is 'slim shady', which is a narrow section that we've recently dug over beyond our new picket fence; we're currently deciding on the planting for this area.

The third section is 'lawn shady', which is the area I'm going to update you on.
A quick win with the picket fence
Upcycling paving stones
Firstly, the initial eyesore was the picket fence, one little gust of wind and it would have disintegrated.
This was actually a quick win and easily remedied; a trip to Wickes and £35 later, we had a new shiny picket fence. After pulling down the old one and fighting off the thorny rambling rose, it only took us around 30 minutes to install.
Preclearance with the old 'fence'
The second task was removing the two basketweave paving stones where pots were sitting upon. This was actually a win, win as we've created a new herb garden which extends slightly from our courtyard patio. The two faux brick paving slabs are the same as our patio, so we were able to seamlessly
revive our herb garden
by removing these.
Preclearance with the new fence
Clearing 'lawn shady'
It's having a makeover
The third job was to clear the excess of unwanted geraniums and unruly plants, dig out the recently seeded saplings that had germinated from the nearby trees and give it a thorough weeding.

Also, within this 'lawn shady' bed, we keep our beautiful potted Acer Palmatum Dissectum Garnet. We've been nurturing this magnificent Acer for some years, and it appears to love this spot. The mixture of dappled sun and shade suits it perfectly and gives a delightful shimmer in the summer breeze.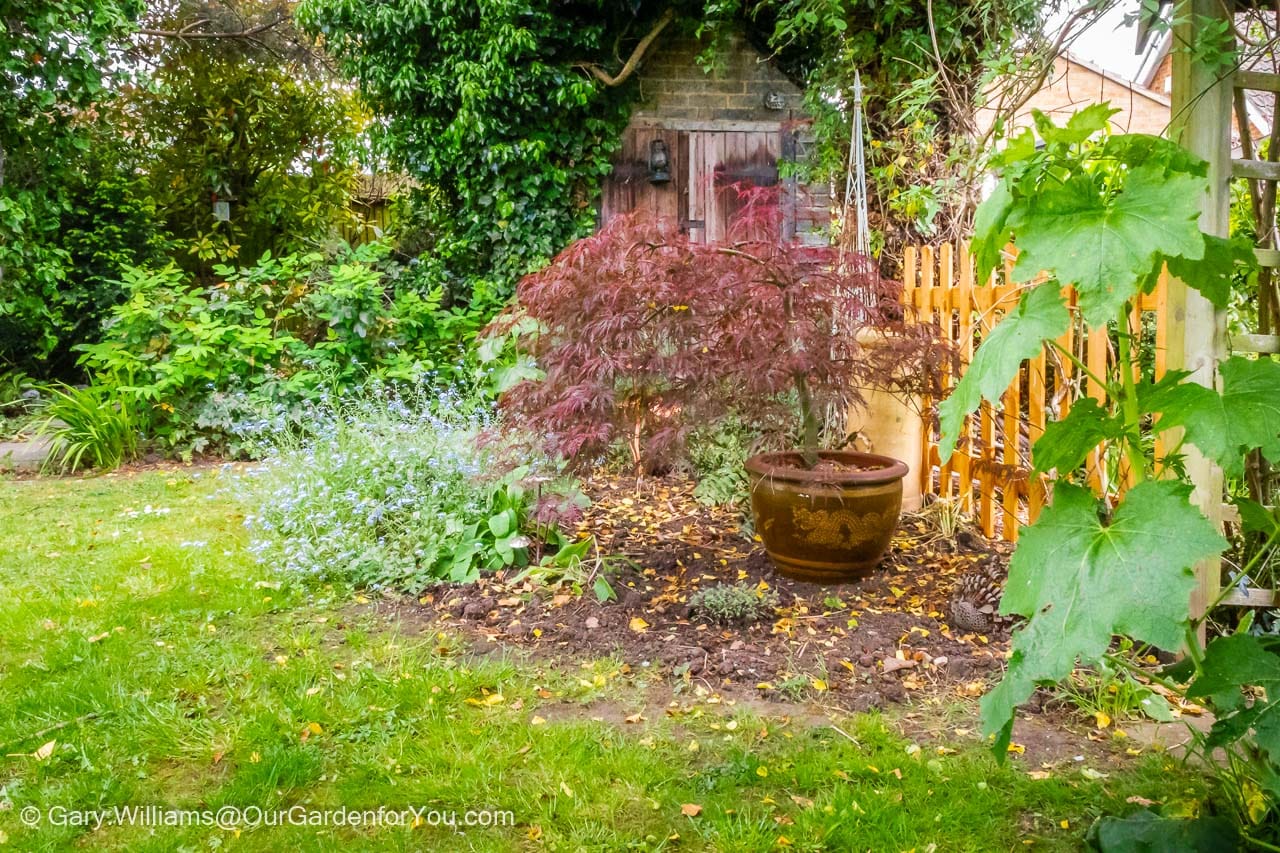 The 'Lawn Shady' section after renovation
So, after a few hours of work, the 'lawn shady' section is progressing well. We've added a bit of structure and contrast by utilising an old chimney pot, a vert-de-gris obelisk and nestled in our copper toadstools which were handmade locally.

We now need to do a little research and discover which shade-loving plants work for us. Although when I was out and about the other day, I found one that I instantly loved: the feathery perennial Leptinella 'Platt's Black'. This plant is for ground cover; it only grows to 10 cm in height and 50cm spread, so it is ideal as a starter for ten.

Another addition that we are going to include to this section of the garden in the future is brick edging as it borders the lawn, and I think it will aesthetically look pleasing.

The 'lawn shady' can be seen from our courtyard patio, so at least it is no longer an eyesore.
* This post may contain links to affiliated sites where we earn a small commission at no additional charge to you.