by Janis on 22nd April 2022 / 0 comments
We've missed our herb garden over the last couple of years. We did have a freestanding V-shaped wooden planter which was bursting with some delightfully fragrant herbs.
I must admit the herb garden lasted pretty well; however, as the years passed and the good old English weather took its toll, the planter had to be dismantled. We removed the hardy herbs that had survived, and the herb garden was temporarily put on hold.
The main herby stalwart was a rosemary; these delightful plants appear to survive anything. We lifted the rosemary and kept it in a pot on the patio, then last year, we re-planted it into the garden near the patio.
Now in 2022, we've decided to give our lovely garden a new makeover in many places and spend more time nurturing it into a calming, beautiful haven for us and the local wildlife.
Therefore, a new herb garden was on the cards, but where was it to go?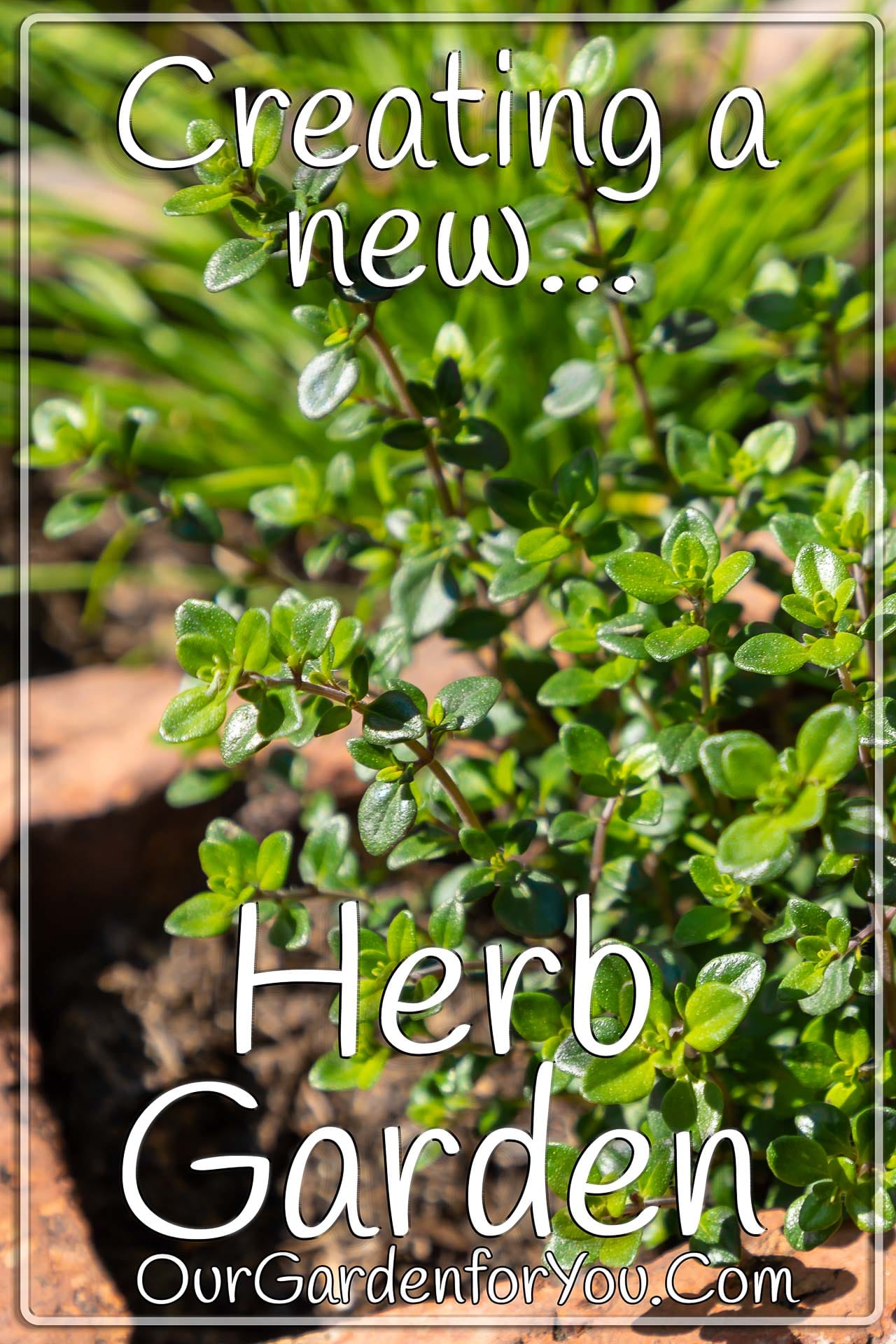 Why not Pin it for later?
Where will the herb garden be located?
In a raised planter or in a bed?
Decision time do we invest in another
raised herb planter
, or shall we snaffle a section of the cottage garden which runs directly from our courtyard patio.
The herb garden before we cleared it
With most herb gardens, you like them to be within easy access to your cooking area and, of course, your BBQ. So, we decided to pinch a section of the cottage garden just next to the bay tree and BBQ. That way, we can just pop onto the patio from the kitchen, and the job's a good'n.

I have a few ideas; I wonder whether they will work.

As I touched upon above, the rosemary that we planted directly into the ground would be our backdrop. Along with vibrant green and bronze fennels (Foeniculum vulgare 'Purpureum'), get me with the Latin name, who said, "you can't teach an old dog new tricks".
Designing the new herb garden
It always feels good to upcycle
It was time to get digging and clear out our new herb garden. There were a couple of plants to rehome and, as usual, a few weeds to dispose of.

Once cleared, we propped up the rosemary, and I shared my plans with Gary.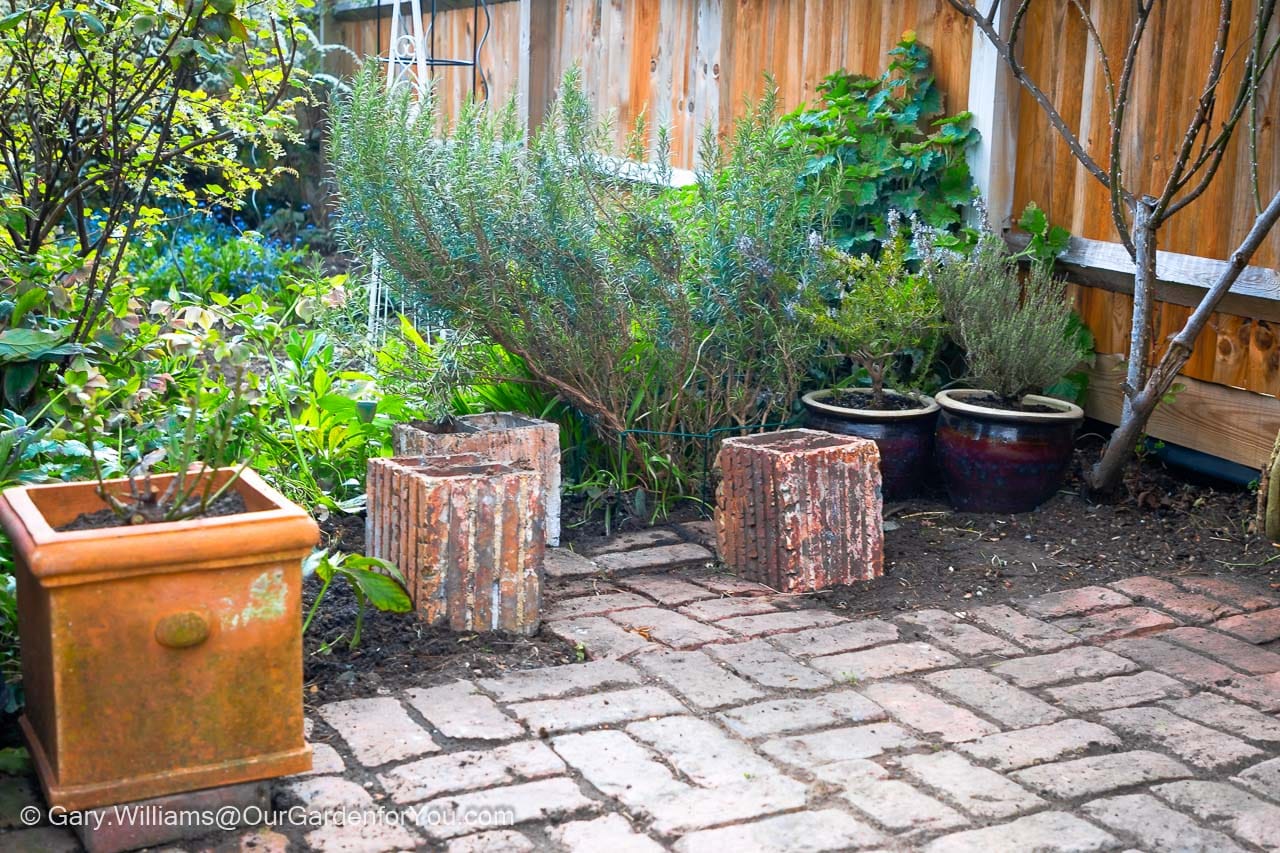 The herb garden cleared for planting
Our courtyard patio has paving slabs that are faux brickwork. They create quite a pleasant effect, and it blends in well with our Victorian house.
Well, I had spotted a couple of spare patio slabs down the back of the garden with pots resting on them; it was time to upcycle them.
Also, in the working area of our garden, there were three tall terracotta bricks, each with two holes in them. These were just sitting around, so they would get utilised too. So, we brushed them down and laid them into the earth to create a little steppingstone section; we will then plant the new herbs around them.
We placed them around the brick paving slabs to create height and structure; it also gave a weathered and rustic feel to the herb garden. We filled them with compost, and they were ready to be planted up with delightful aromatic herbs.
I quite liked our new herb garden; it was a relatively quick win, and who doesn't love that?
Choosing herbs for your garden
And the fun of planting
Great, it was time for a trip to the garden centre and nursery to choose our herbs, amongst many other things we need to purchase.
As I mentioned, we already have a flourishing rosemary bush; I can't wait to start pruning some of the foliage back; we can then use the stems as skewers on the BBQ.
We didn't want to rush into purchasing the herbs, but equally, you want an excellent, varied selection. We headed to Brookside Garden Centre near Paddock Wood in Kent, and they had a great choice.
Lemon Thyme & Chives
We chose sage, curly-leafed parsley, chive, lemon thyme, coriander, and mint for my Mojito; ok, I'll let it establish first.
So, back home, I planted the six herbs into the individual terracotta sections and watered them thoroughly. It is now fingers crossed that they like their new home.
The Sage & Parsley
We also added a couple of glazed pots around the edge of the herb garden, which includes two lavenders, more rosemary and thyme.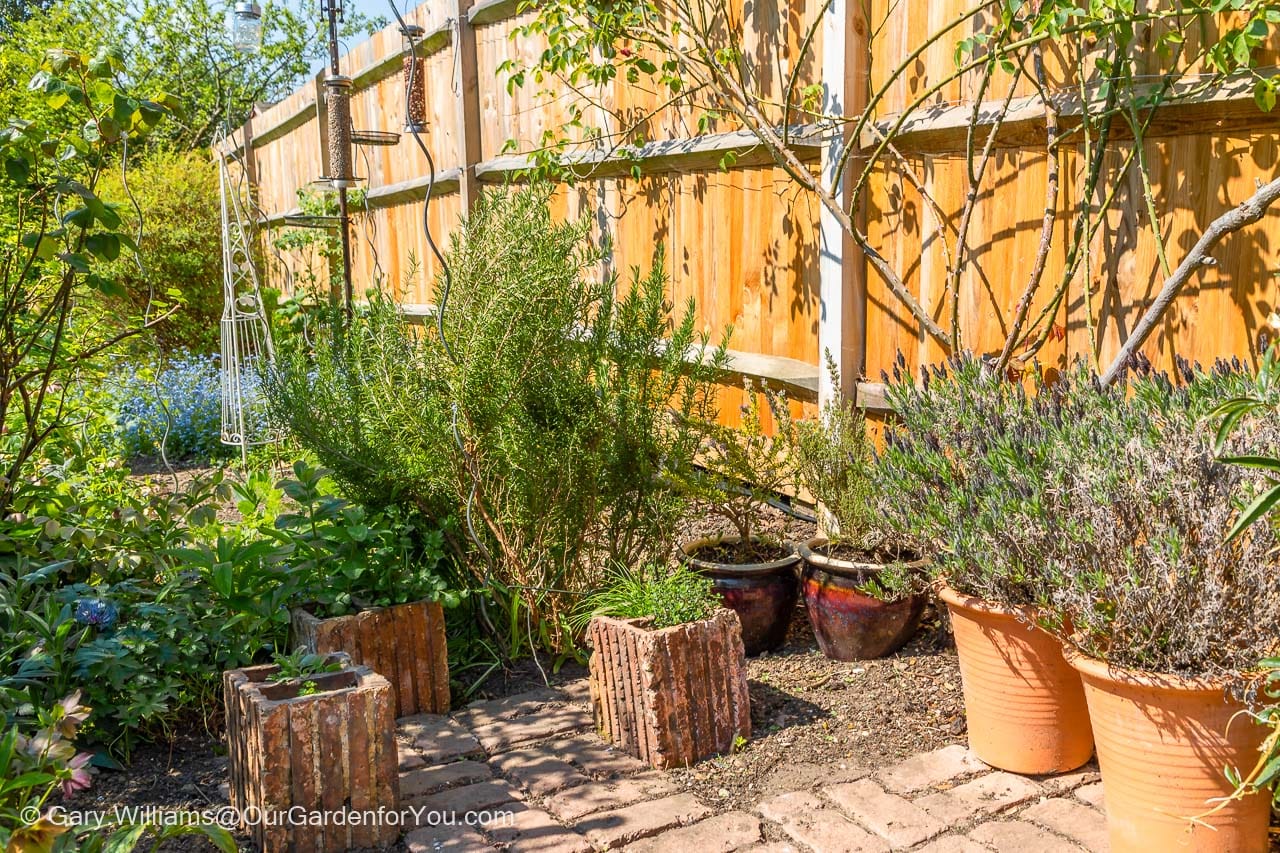 Our herb garden, first plants in.
I particularly love this herb garden because it is so accessible from the patio. There is still plenty of room to add more herbs, either directly into the bed or in pots.

We're planning on planting tarragon, basil, flat-leaf parsley, oregano, and dill, to name just a few.

It's wonderful, let's start cooking.
* This post may contain links to affiliated sites where we earn a small commission at no additional charge to you.