by Janis on 17th June 2022 / 2 comments
Let's start rustling up those dishes
Well, our herb garden has come on leaps and bounds, and we're struggling to keep up with the growth of these culinary delights.

As the days and weeks tick by, our herb garden is filling out more and more. I personally think that even if you're struggling to conjure up some tasty dishes to compliment the herbs, then don't worry; they are beautiful as they are.

The lovely delicate plants look so appealing as a collection; our charming herb garden always brings a smile to my face. Just sit back and enjoy your labours.
Why not Pin it for later?
Our new members of the herb garden
Inspiration from other gardens
Since my initial herb garden post, more of the terracotta pots have been planted out, and new members of the herby family are taking root.

A couple of weeks ago, we visited Sissinghurst Castle Garden, which is managed by the National Trust. Sissinghurst is one of my favourite National Trust sites in Kent and absolute wonder of inspiration for every level of gardener.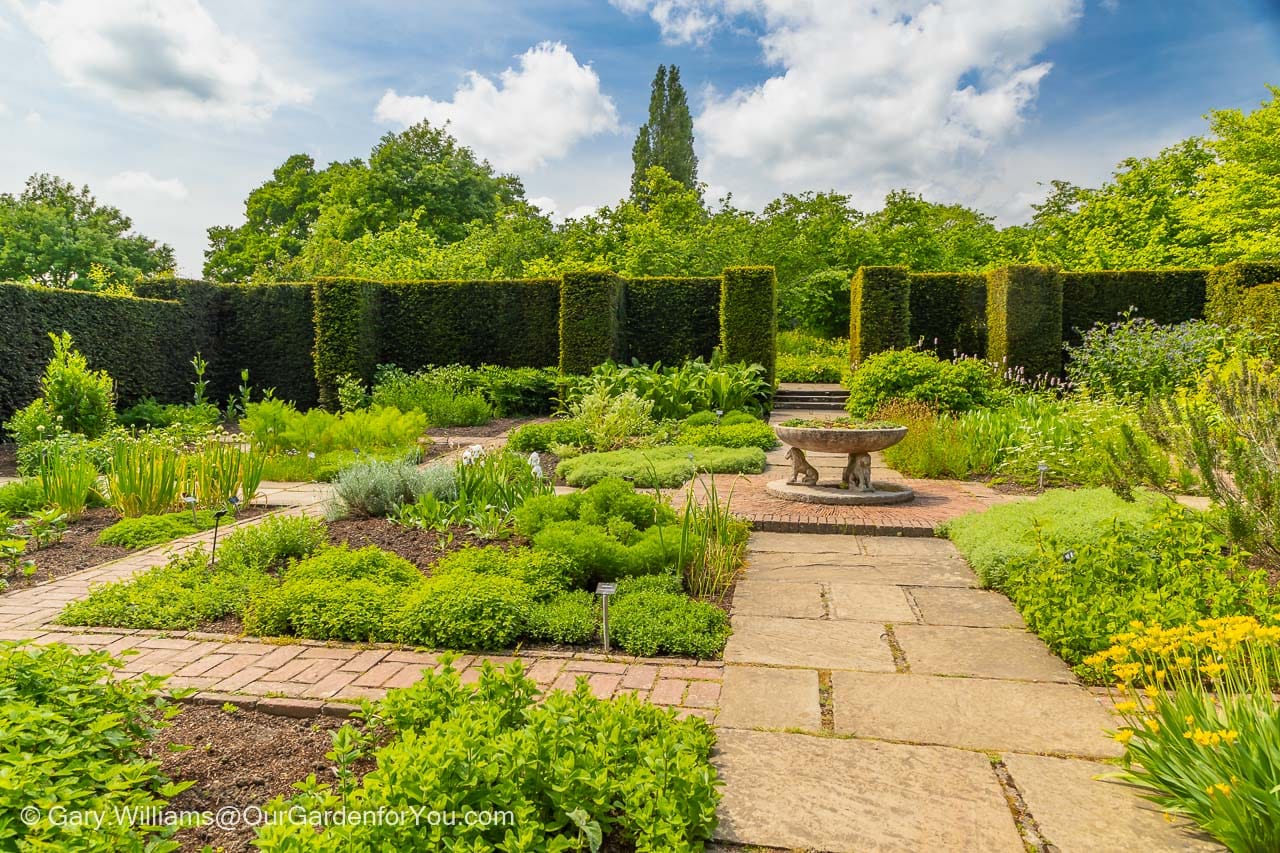 The Herb Garden at Sissinghurst Castle
During our visit, we explored their large herb garden; it was awash with so many different varieties of herbs; I never realised there were so many.
Strolling around the tranquil garden, we gently breeze past the manicured herbs and your sense of smell is sent into overdrive, especially from the curry plant (Helichrysum italicum).
One herb I did fall in love with was chamomile; it is so wispy and gentle. At Sissinghurst Castle Garden, the National Trust team had used chamomile to create a lush, delicate cushion planted within an old stone throne.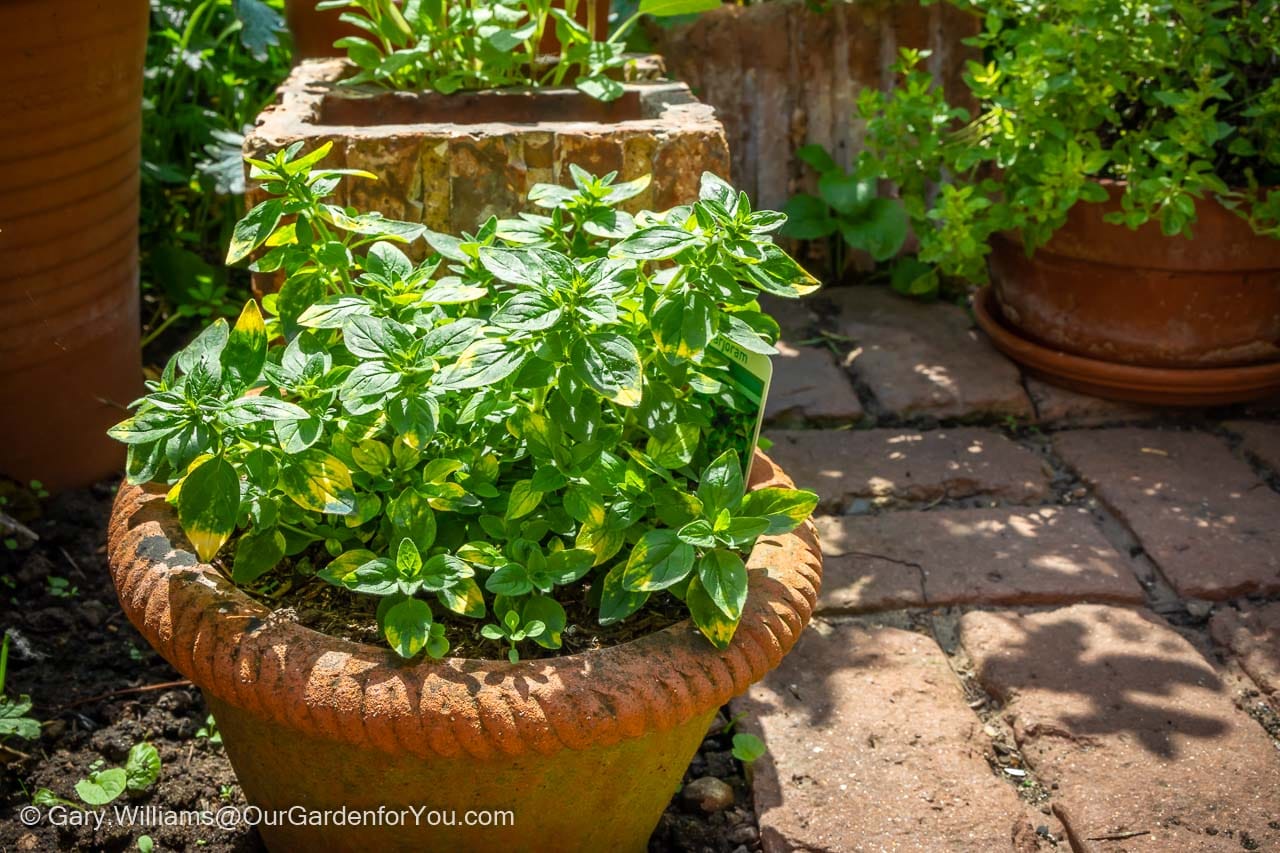 Our marjoram plant
So, needless to say, we took a peek at the herbs that the National Trust had for sale on our way out. I was actually pleasantly surprised at how reasonable their plants were.

We picked up four healthy herbs at £2.50 each, which is better than many garden centres, although not as cheap and growing them from seed. And I must say they have come on a treat.

You guessed it; we chose chamomile, French tarragon, lemon verbena and marjoram.
Progress in the herb garden
Rehoming and nurturing
So, back to our herb garden.

Not only have we purchased a few herbs, but we've also rehomed a couple. We appeared to have a rogue oregano plant self-seeded in a pot, and also, we have a bit of an abundance of mint. Although when it comes to Mojitos, can you ever have too much mint? No, not at all.

I also thought I would experiment with growing herbs from seeds, and so far, so good my parsley and basil are looking relatively healthy.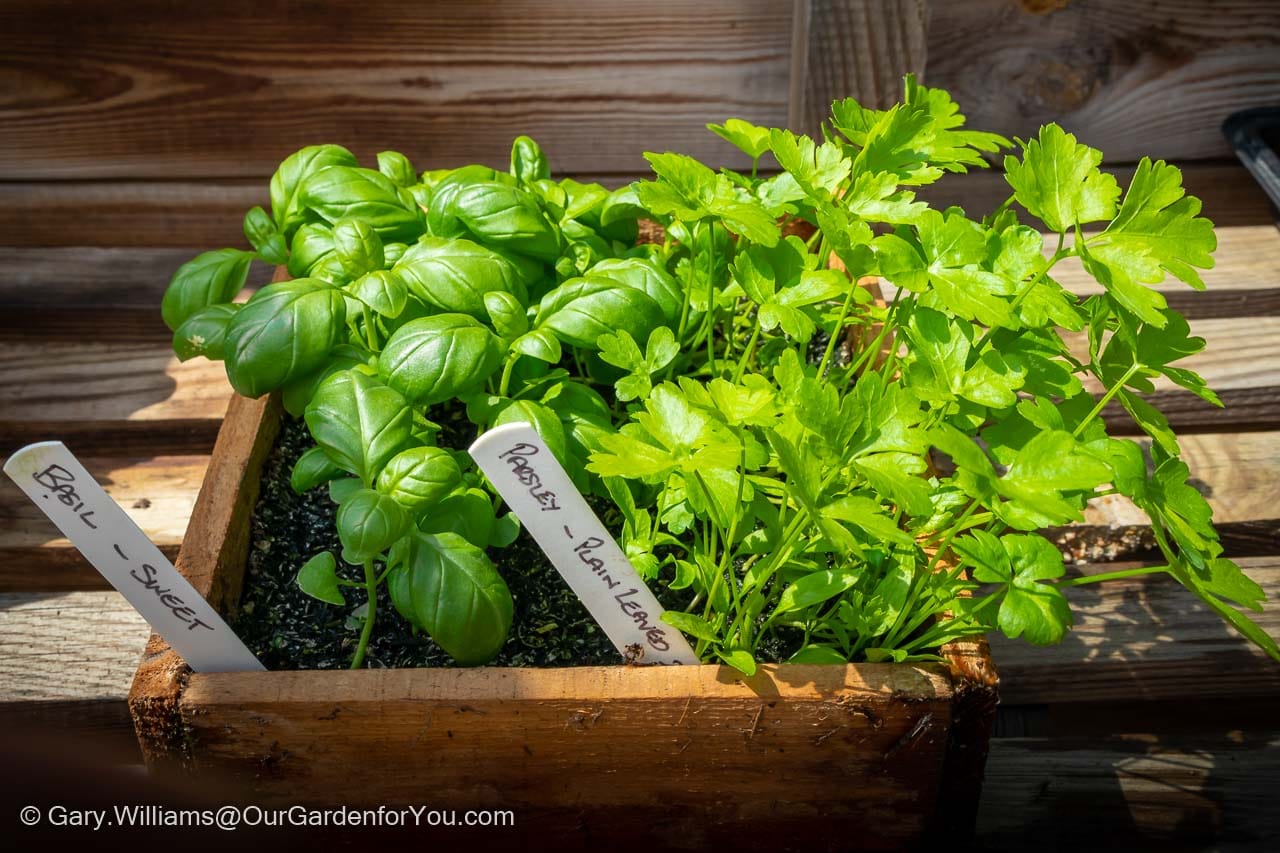 Basil and parsley seedlings
In our
May roundup
, I mentioned that our sage was getting eaten, and tiny pieces of the leaf were discarded at its feet. Well, I'm still unsure what caused it, but I've narrowed it down to either a blackbird or a sparrow.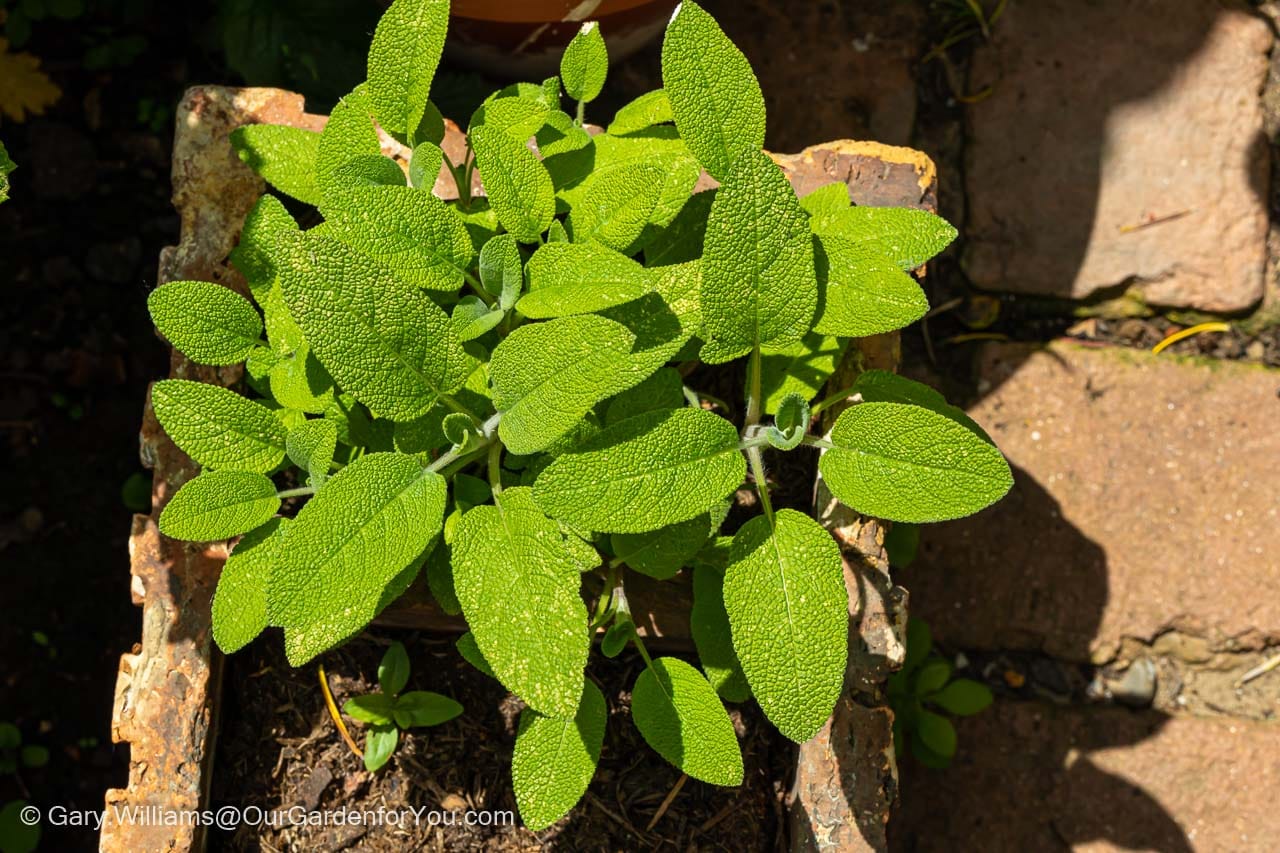 Our sage plant
So, the poor herb couldn't strengthen, so I placed a cloche over it, and it has come on leaps and bounds. I've recently removed the cloche, and a few days have passed now, and all is looking good. I'm keeping my fingers crossed that as it has matured, it will endure the test of time.
You can never have too many tomatoes
Or so I've been told
Now, I know tomatoes aren't herbs, and they are, in fact, a fruit; however, we are keeping our edible produce together.

I've previously mentioned that I struggle with thinning out seedlings; I like to give them all a chance at life. Therefore, this year rather than sow extra tomato seeds just in case I had a lot of no growers, I only grew three seeds from three varieties.
Our tomato plants
The varieties I chose were Gardeners Delight, Sweet Million F1 and San Marzano 2. Amazingly, I only had one that didn't grow: a San Marzano 2. So, we have eight flourishing tomato plants to nurture.

I'm pleased with how our herb garden is progressing; even if you don't have a large garden patch to fill, it's lovely to just plant up a window box with your favourite herbs.
Our herb garden
Also, don't forget the healing benefits you can so often gain from growing herbs. I couldn't live without the captivating scent of lavender; it is so relaxing.
* This post may contain links to affiliated sites where we earn a small commission at no additional charge to you.
Hi Jill,

Thanks very much for your lovely comments.

We only started this website earlier in the year, so it's very much in its infancy. Our garden has gotten a bit out of hand in the last couple of years, so we started to document our trials and tribulations for motivation and inspiration.

It's very much a work in progress and, at times, quite daunting, so in my mind, I break it up into sections to make it more manageable.

We used to have a herb garden in a trough; however, it started to disintegrate after a few years, so we decided to create a herb garden just off our patio. Other than a few hiccups with sage being eaten, it has come on leaps and bounds. As you say, fresh herbs are a delight, and watching them flourish is a pleasure.

Take care
Janis