by Janis on 27th May 2022 / 0 comments
There are promising signs of new blossoms
I love this time of year when new green shoots are becoming more established; slowly but surely, their buds start to form, and the hint of colourful blossom is shimmering.
The only downside with the new welcoming shoots is that there are unwelcome ones too. Yes, the weeds are coming back in abundance.
Once again, the weather in the southeast UK has been pretty good recently; we've even had a few hours of rain here and there, so our new perennials are being watered in nicely.
The garden is also springing to life with our beautiful, feathered friends. They love it when we fill up the feeders and the feeding station; they must be watching from afar, and as soon we step away, they're swooping down.
The Greater Spotted Woodpecker is a bird that we're particularly pleased to see, which is making a reappearance. They are fascinating to watch.
Why not Pin it for later?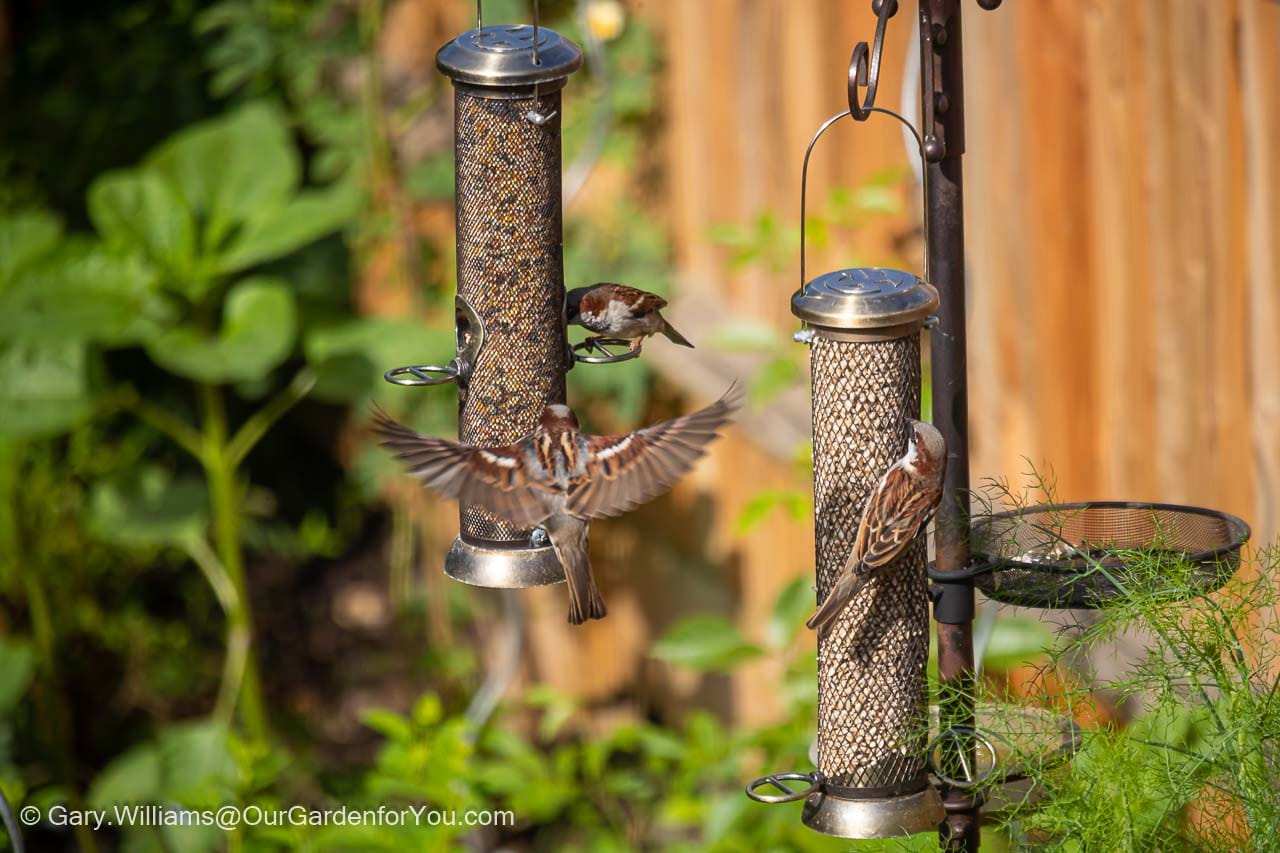 Sparrows on the bird feeder
What we've been up to this month
In the garden and on the website
We've been lucky; in May, we've had some glorious days. Last week I even managed to hook up my laptop at the patio table and work outside for a while.

Now that we are managing two websites, there's a lot more content to be written. So, sitting outside creating posts for 'Our World for You' and 'Our Garden for You' seems so much easier when the birds are tweeting.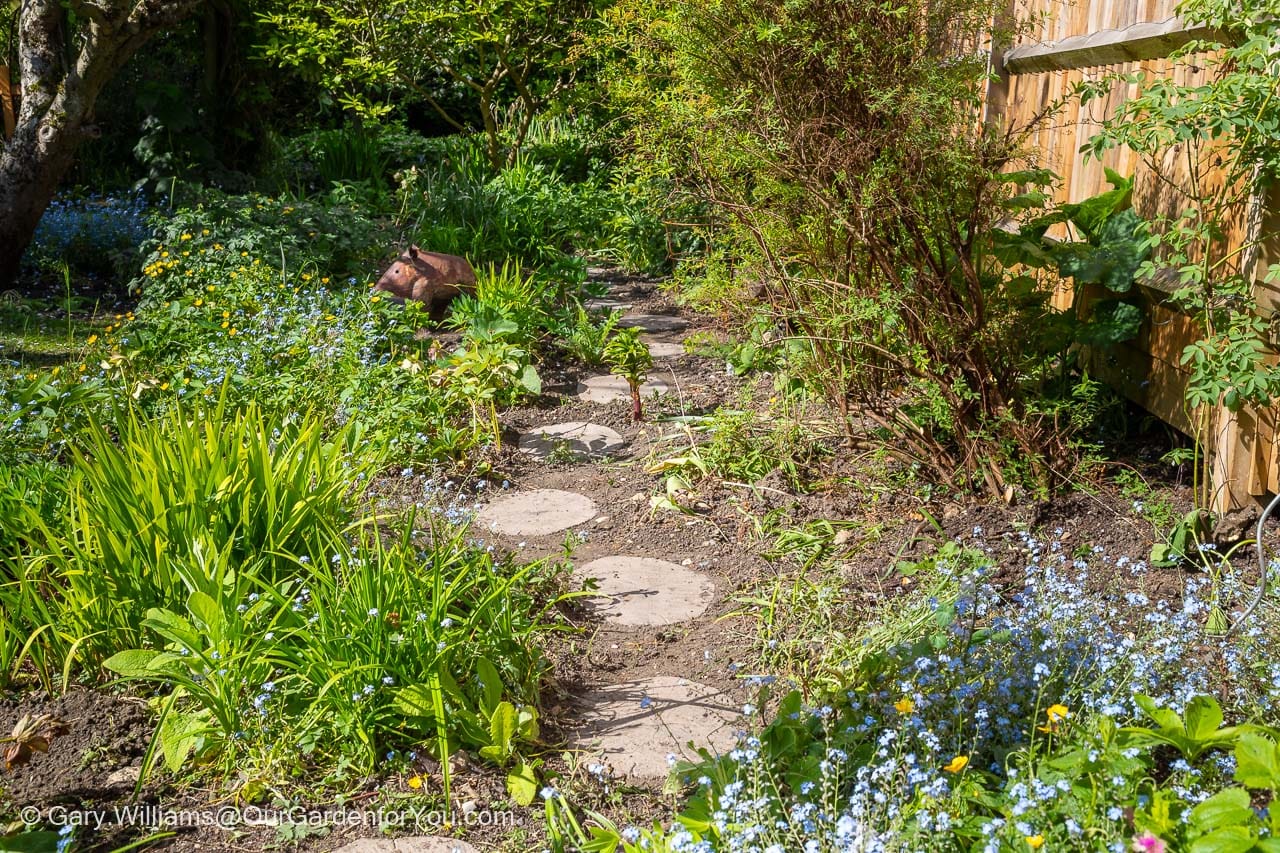 A pathway of stepping stones
Our plans for the Cottage Garden involve a lot of plants due to the tiered effect that we are creating. This requires a fair amount of ongoing maintenance. So, early in May, we decided to lay stepping stones towards the back, which weave their way from one end of the bed to the other. This allows us to get closer to the rear of the border and not step on new shoots.
I must admit I love them; you really feel that you're creating a one-to-one space with the plants.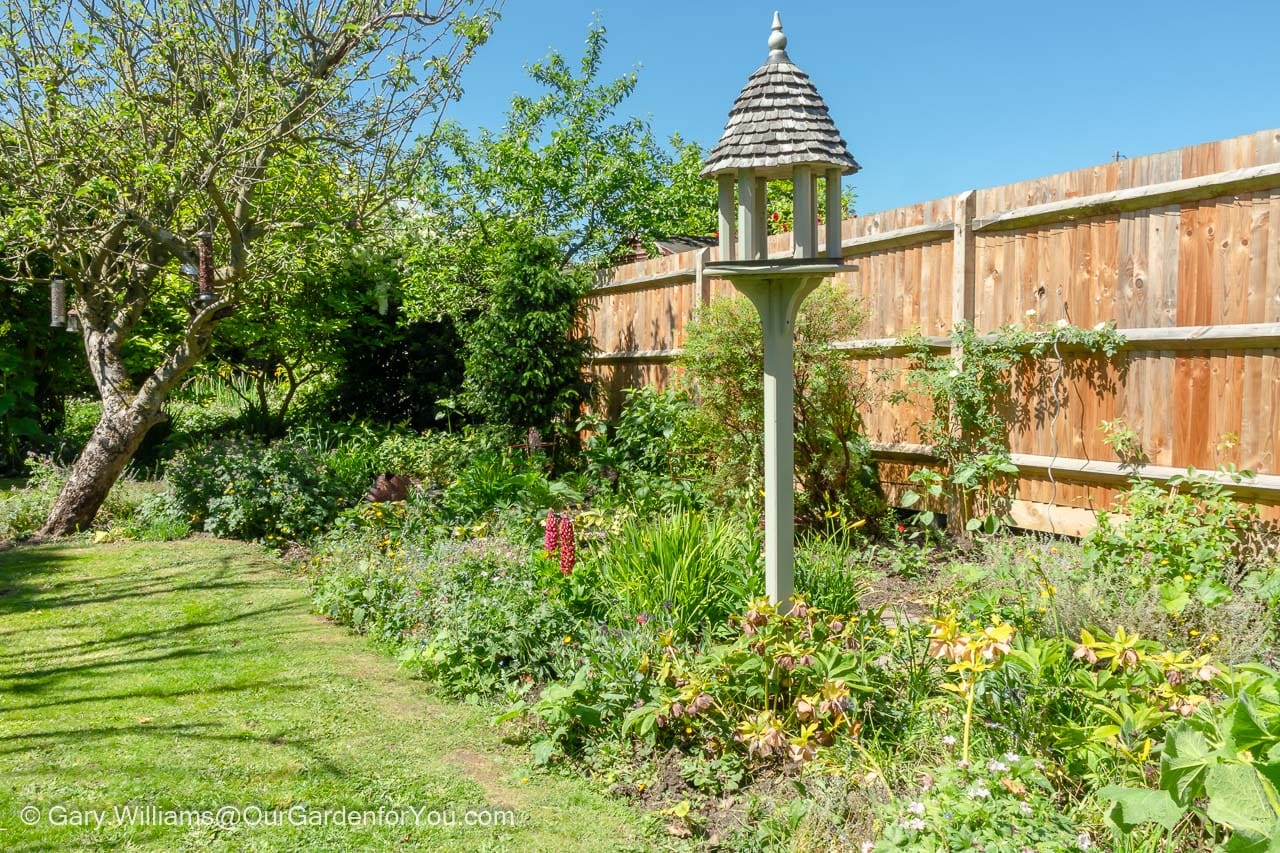 The Cottage garden bed in May 2022
We've also been on the lookout for garden centres and nurseries that we haven't visited before; we found one named Pleasant View in Chart Sutton near Maidstone. Needless to say, we didn't come away empty-handed. We picked up a coppery fern called Dryopteris Erythrosora for our Woodland Shady area and a magnificent clematis named Josephine (Evijohill) for the back of our Cottage Garden.
During our local travels around Kent creating content for 'Our World,' we chose to head back to the National Trust sites of Scotney Castle to see the stunning Rhododendrons and then onto Sissinghurst Castle Gardens for inspiration from their perennial planting.
This month we've written articles on potting on young seedlings, our progress in our cottage garden and an update on our 'lawn shady' section.
Sissinghurst Castle Gardens
Achievements for May
Let's keep ticking those boxes
Well, it's been another busy month in the garden. I feel like we've achieved a fair amount considering we can only dedicate time a couple of days a week. So, let's see what we've managed to tick off for May.
We now feel that we've cleared most of the overrun plants in our cottage garden border. This has been a big task; it's now a matter of maintaining it and controlling the weeds.
---
Laying 19 stepping stones. This job wasn't on the list as we only decided last minute; we were struggling to manoeuvre our way to the rear of the Cottage Garden border without treading on new shoots and plants. We certainly did a workout then and deserved a cold beer at the end of the day.
---
Gary has upcycled our old chimenea. Plan A was to paint it a shade of yellow to brighten up the patio. Well, there is bright, and there's where are my sunnies; the colour was an offence to the senses. So, Plan B was required, and we chose to paint it terracotta. It looks so much better. It's now ready for planting.
---
Prune and tidy the shrubs in the woodland walk area.
---
I didn't get a chance to tackle the Front Garden, which will move into June. I'm worried that my Buxus may have Box Blight; I fear there are limited options.
---
Continue to plan the different sections of the garden and understand what we want to ultimately achieve.
---
I planted lots of plants in our Cottage Garden bed, including a few Geums, which I bought from
Wood Cottage Nursery
, along with a Liatris and a Polemonium. Also, I planted up my homegrown dahlias, marigolds, poppies, and poached egg.
---
Other jobs that we've achieved:
Planted out 16 sunflowers, 5 of which are dwarf for our Provence Bed.
Sowing lettuce, basil, foxglove, and lupin seeds.
Sorting out our patio pots and replanting a few.
Pruning numerous shrubs and digging out many unwanted tree saplings.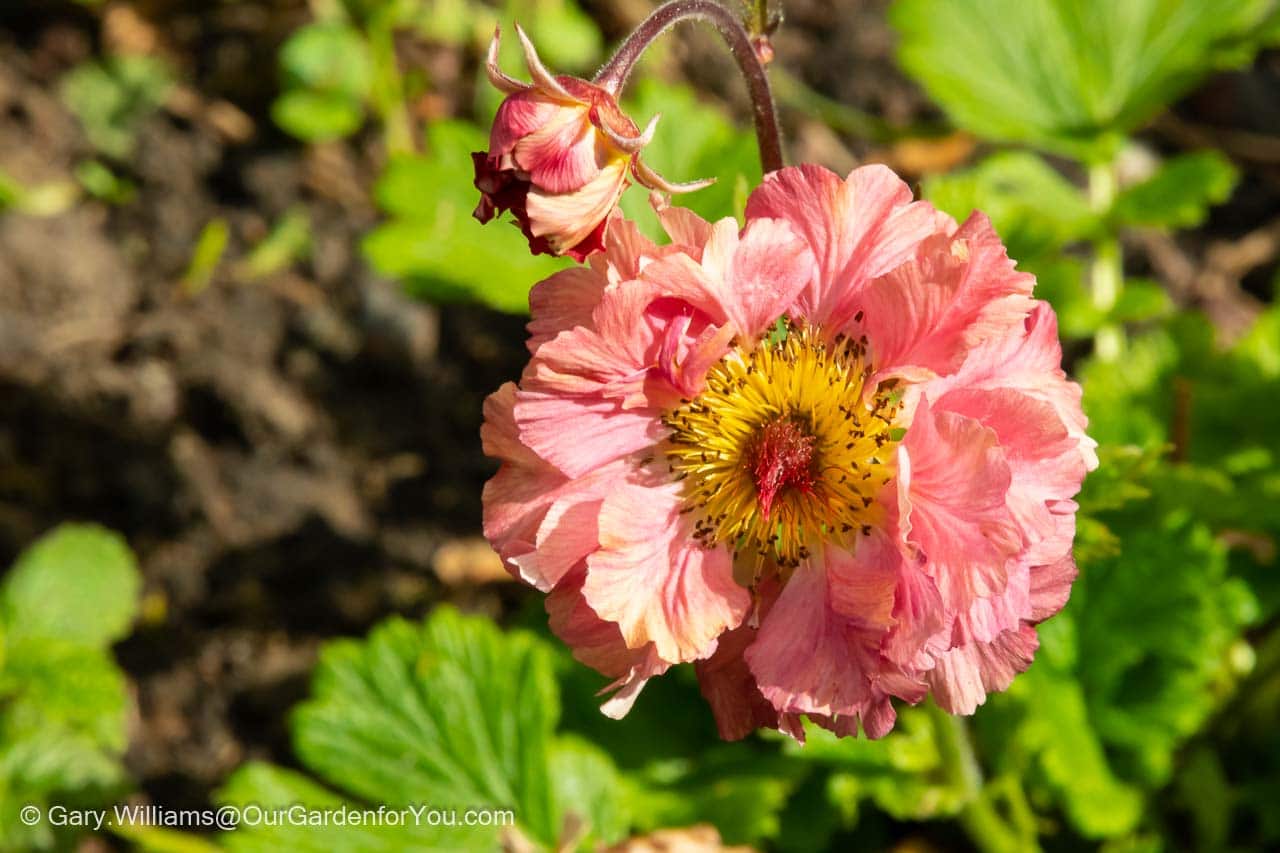 Geum: Bohema Pink
Lessons learnt & mistakes made
You live and learn
Now, in fairness, this isn't really a lesson learnt as I still don't know who the culprit is. Any answers are welcome, by the way. I bought a lovely fragrant sage a few weeks ago, and it was happy and growing well. Then I noticed discarded pieces of leaves by its base; slowly, as the days went by, more and more of it missing until it got to the point whereby there were no leaves left. I've now placed a cloche over it, and it's strengthened up. I have a clue who is munching at it; I'm thinking a sparrow or blackbird. Any suggestions?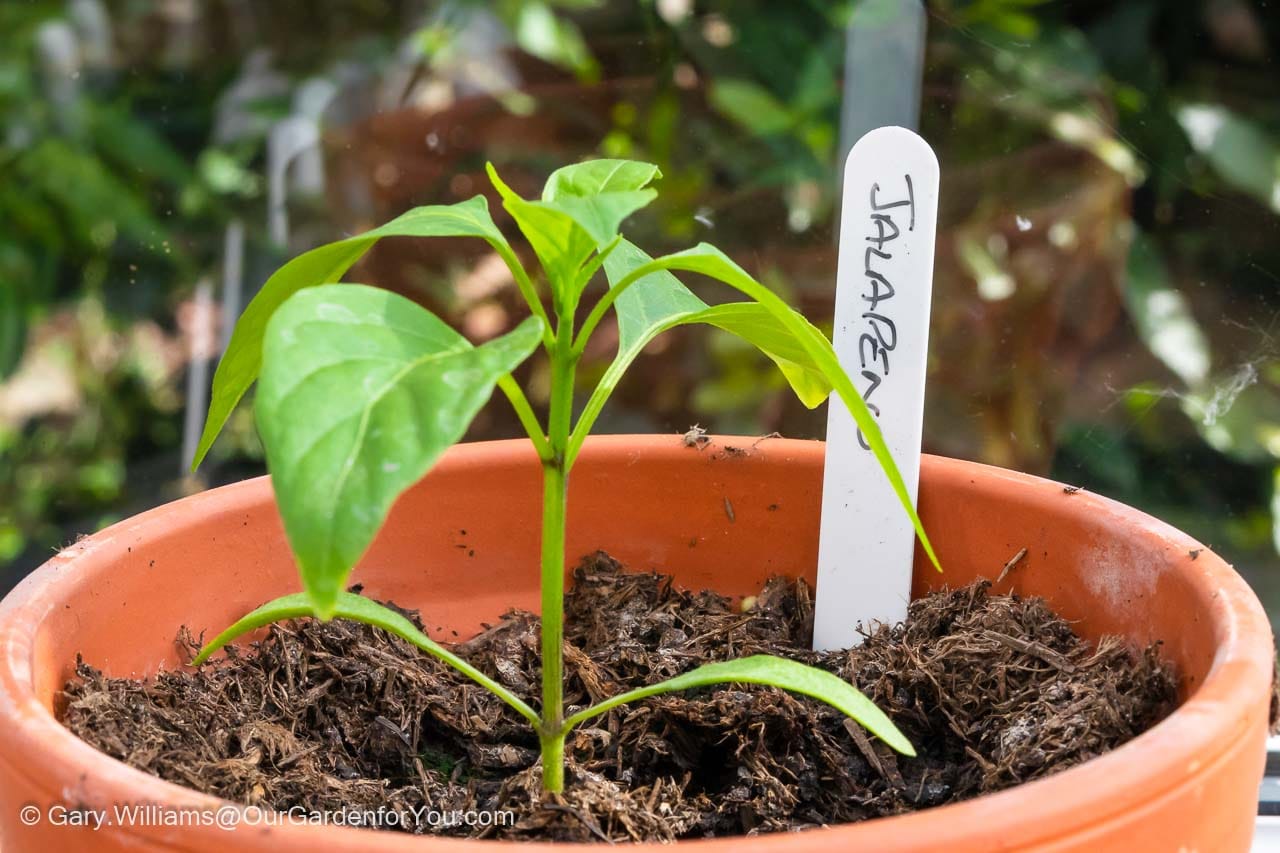 Our Jalapeno chillis
One lesson that I've learned is not to pot-on seedlings in a container which is too big. I believe I've made this mistake with our chilli plants, but only time will tell. I'm keeping a close eye on them; we've lost one; however, I'm hoping that the others will strengthen up. I certainly don't want to move them again.

Another snippet of info I've learned from watching the C5 Gardening with Carol Klein show is to pinch out sweet pea tendrils. I hadn't picked up on this before; I'm going to give it a go and see if it strengthens the flowering.
Our plans for the coming month
What's on your to-do list?
Bring more colour to our patio planters and pots by adding homegrown and purchased bedding plants.
---
Plant out our nurtured herbs in our new herb garden.
---
Progress with planning the different garden sections and understanding the likes and dislikes of our plants.
---
Prune and tidy the jasmine and rose arch down the back of the garden.
---
Plant the mountain of seedlings in my cold frame that I've managed to grow from packets.
---
Weed drive and generally tidy it up. This is an ongoing task as I've worn down the edge of the scraper.
---
Keep cutting back and managing our overgrown and unruly shrubs in the Secret Garden
---
Tackle some of the unruly plants through our woodland walk area and the border by the lawn.
---
Weeding, weeding and more weeding.
---
Tidy front garden, I think we are going to need someone to remove an unwanted tree.
---
Continue to tackle our working area, it's slow progress, and there is so much garden waste.
---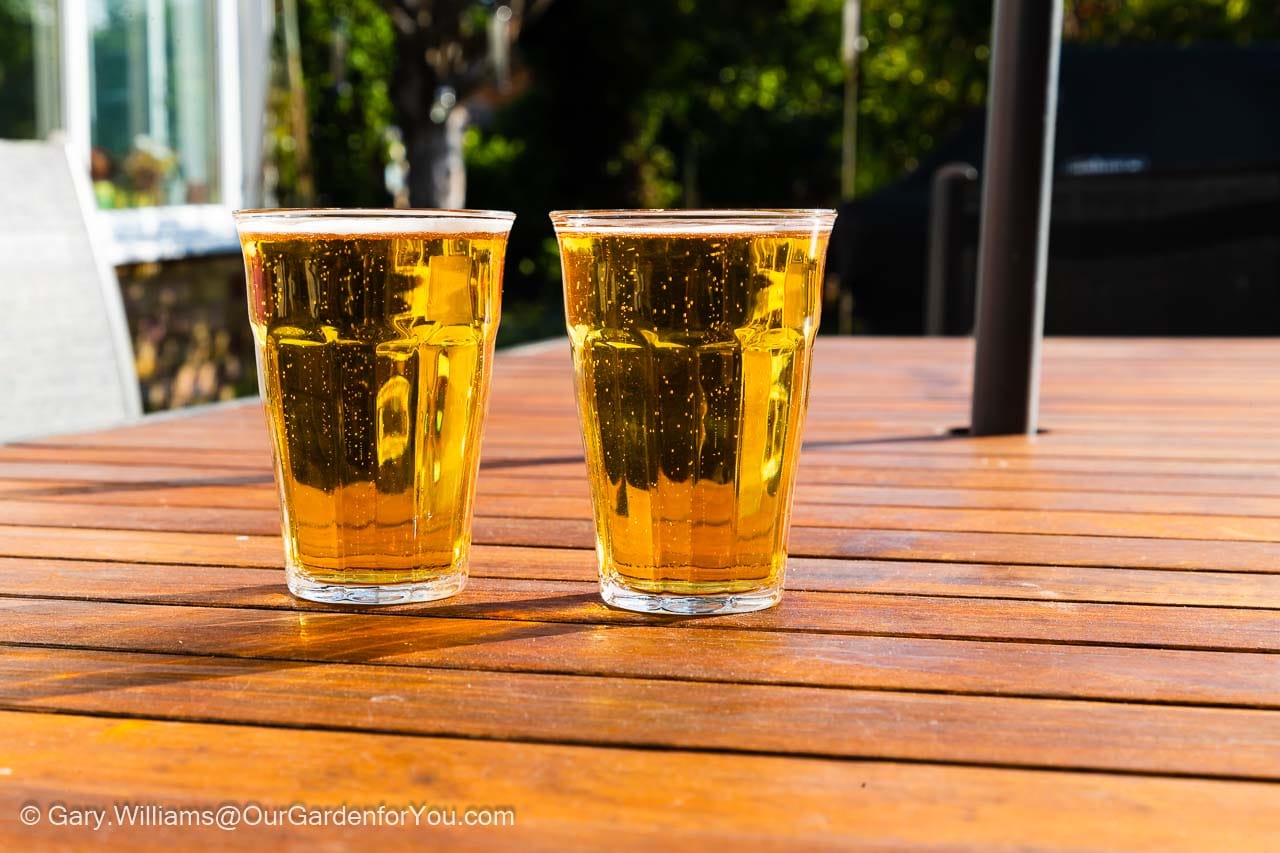 Cheers to a good month
We're also hoping to visit the Kent Garden Show at Detling this weekend; I'll give you an update next month as to how we got on.

Well, it looks like we have another busy month ahead. Please let us know what you have planned in your garden this month; we'd love to know.
* This post may contain links to affiliated sites where we earn a small commission at no additional charge to you.