by Janis on 28th April 2023 / 0 comments
Sowing, digging and planting
Ahh, the longer and brighter evenings make such a difference to the garden and to your own well-being.

Sitting out on the patio surrounded by overflowing pots of spring flowering bulbs and the hypnotic sound of bird song is such a pleasure.

All of our early spring bulbs have finished. However, we still have a swathe of beautiful nodding daffodils in the beds and containers. I can't wait for the abundance of tulips to bloom.

Spring is also a wonderful time of the year to visit one of the National Trust's many enchanting gardens. I especially love visiting Sissinghurst Castle Garden, it's always such an inspiration for our own garden, and I come away with a list of new plants I'd like.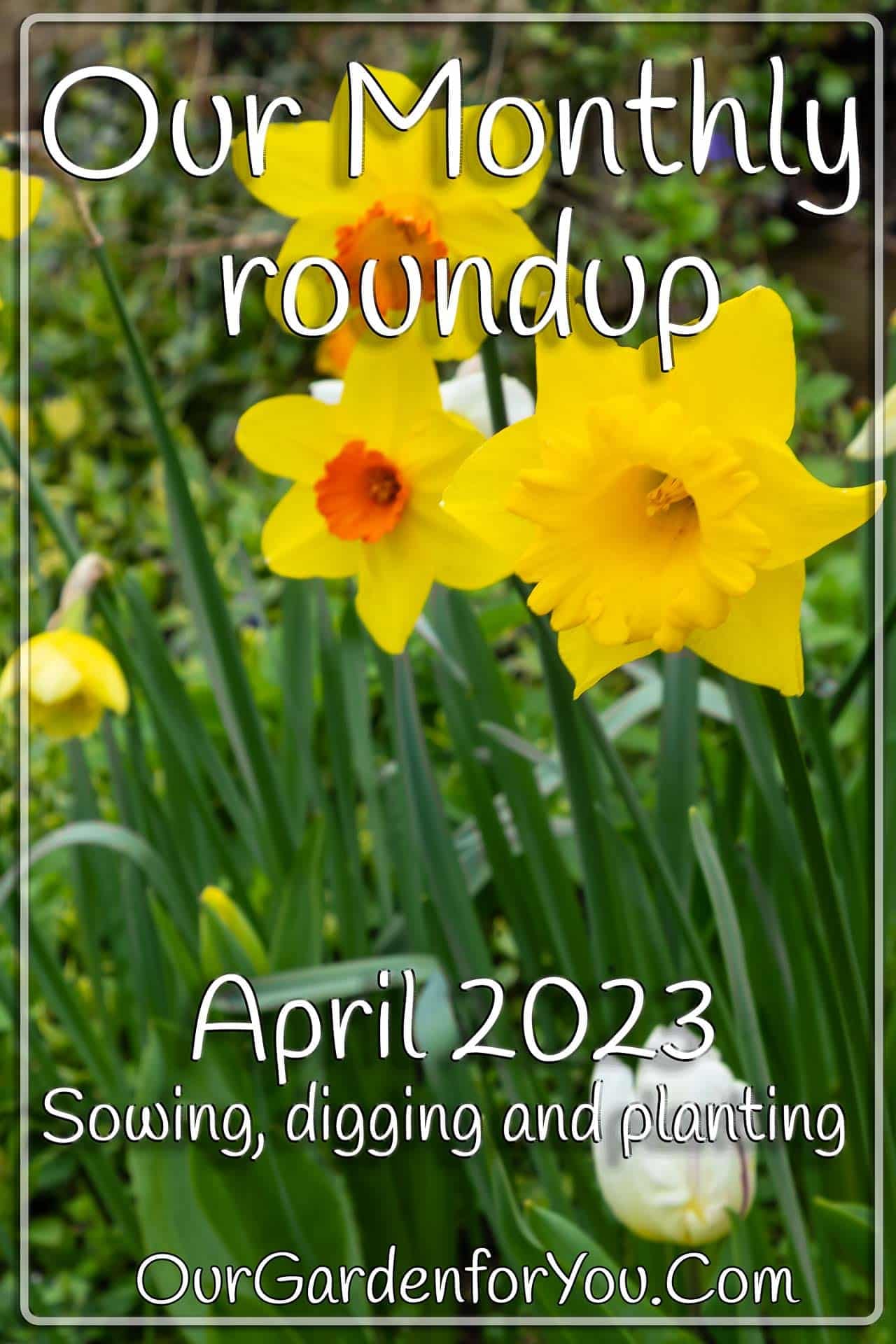 Why not Pin it for later?
What we've been up to this month
In the garden and on the website
In early April, I finally spent a few hours in my potting shed sowing lots of seeds for the months ahead. I've mainly been sowing flower seeds for our cottage garden bed and our patio pots.

In addition to the flower seeds, I've sowed four different types of tomatoes, San Marzano, Gardener's Delight, Red Cherry and Sweet Million. In addition to the tomatoes, I've sown two different chilli seeds varieties, Cayenne, and Hungarian Hot Wax.

It's now just a waiting game, and keeping my fingers crossed.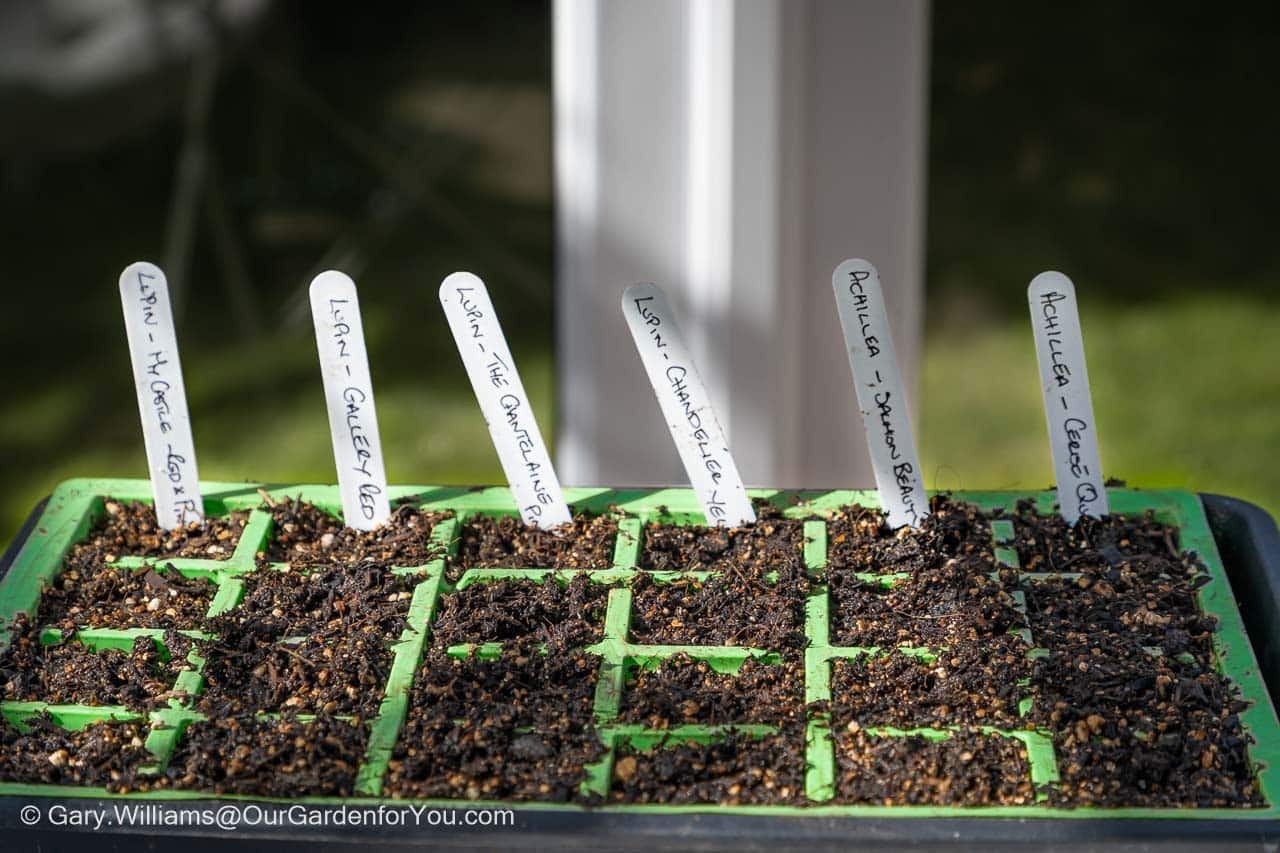 Cell seeding tray
We're gradually gaining back control of our secret garden area and pruning some of our unruly shrubs. We've also been weeding all around the garden, especially the cottage garden bed. It appears that no sooner we turn our backs and there are more weeds, it's like painting the Forth Bridge.

Our four raised beds weren't lined, so the sleepers have now rotted. Gary has started to tackle our raised bed section. He is gradually redistributing the soil from the beds around the garden. We haven't entirely decided what we are going to do with the area; however, we're thinking of covering it with a pea shingle and making a seating area, but it's up for discussion at the moment.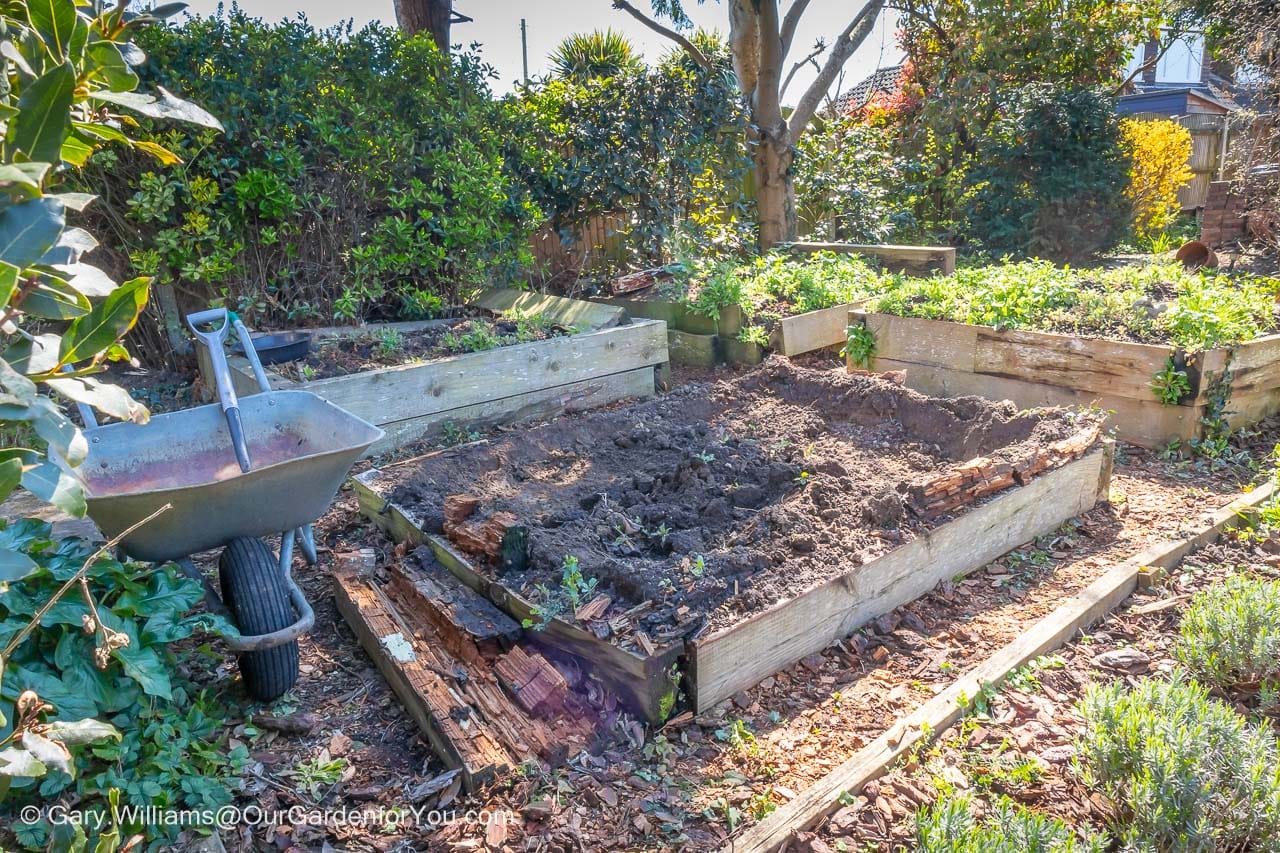 Clearing the raised beds
We've also planted out our Woodland Shady section, it already had a couple of ferns, one of which was quite established, so we split it up and now have two more plants. Additionally, we bought three different varieties of ferns along with a Hosta and three bright Heucheras, so it's looking rather delightful there now.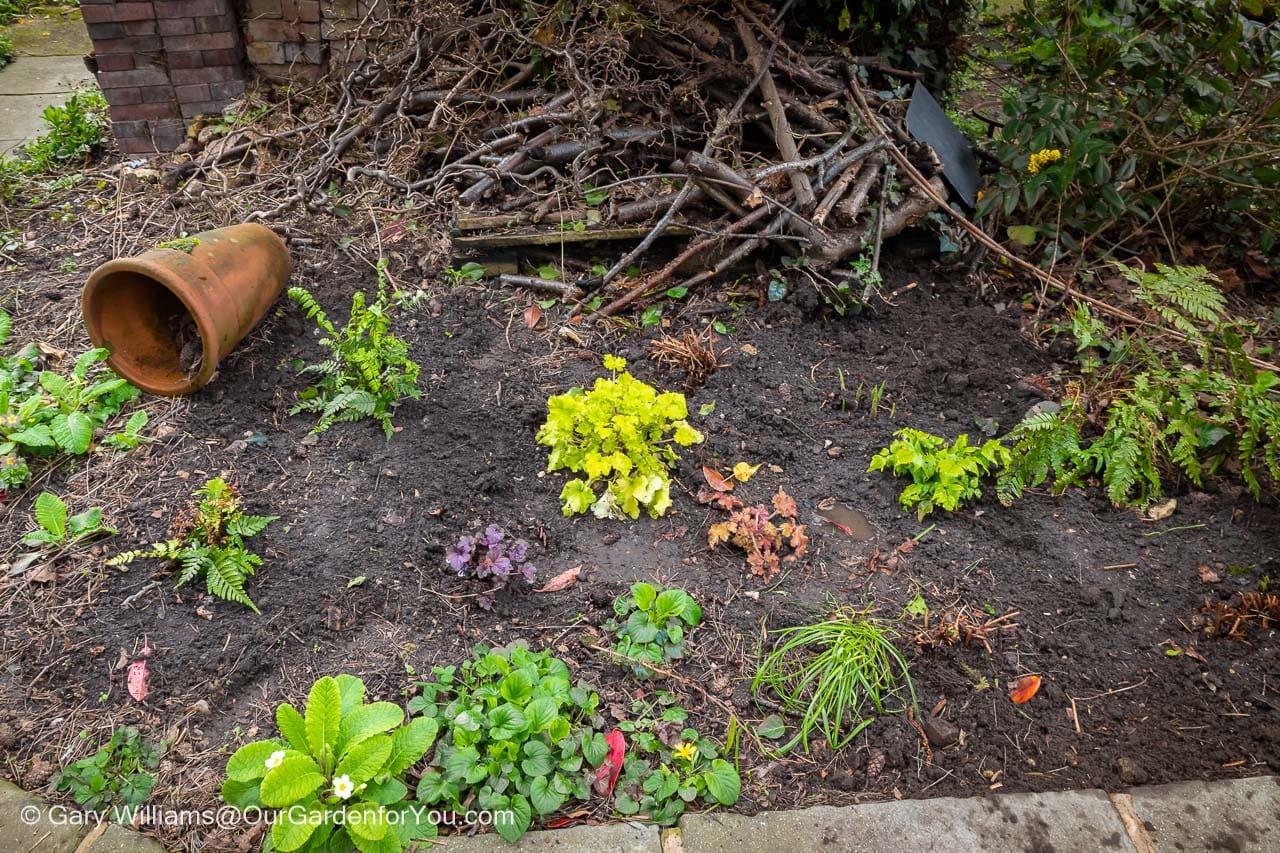 Woodland Shady planting
Also, this month I've tackled the front garden, which is now looking a lot better.
As an Amazon Associate we earn from qualifying purchases.
As an Amazon Associate we earn from qualifying purchases.
Achievements for April
Let's keep ticking those boxes
April has been a reasonably busy month in the garden, although the weather could certainly have been better. We've been sowing, digging, planting, weeding, mowing, pruning, and just sitting back and admiring.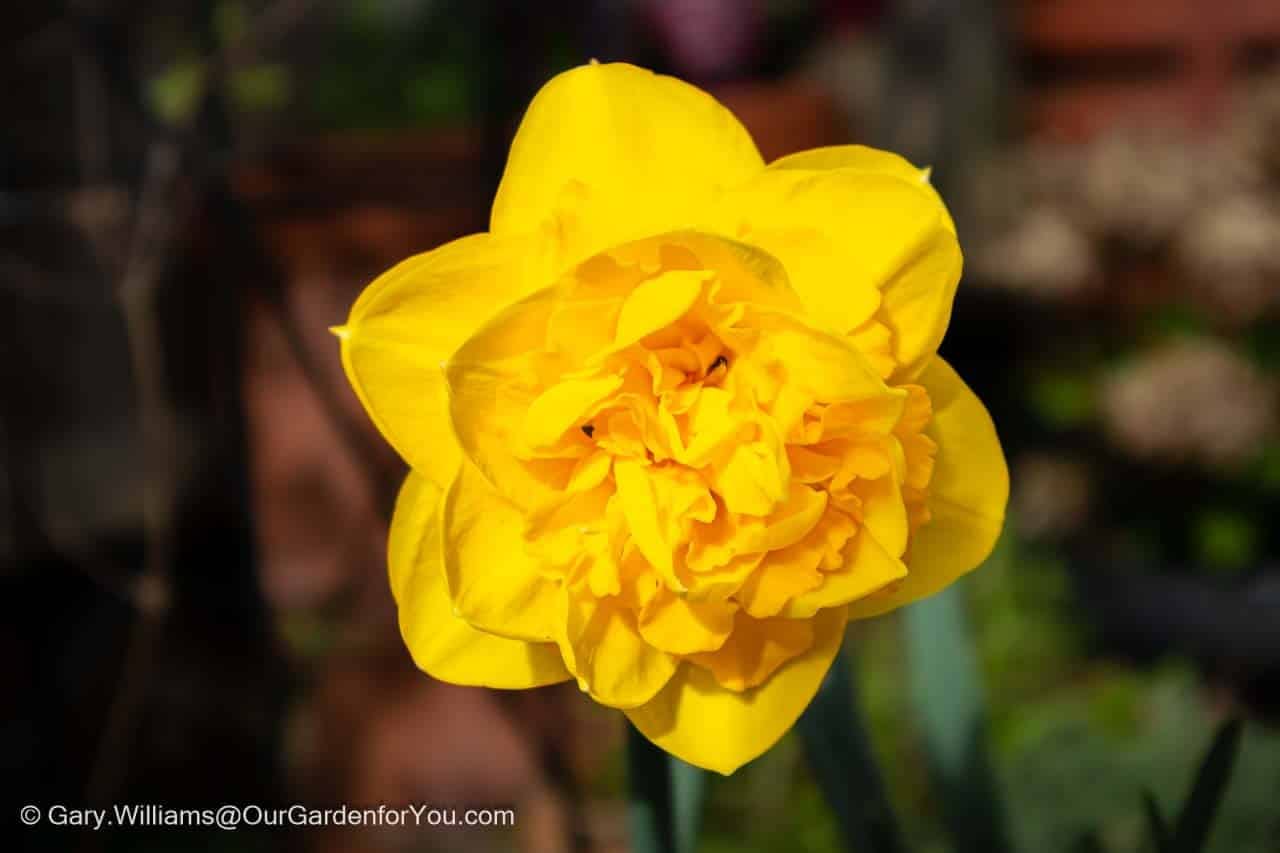 Beautiful daffodil
So, let's see what we've managed to tick off for April.
Sowing flower seeds for the Cottage Garden bed.
---
Start to clear all the soil from the four raised beds.
---
Tidied and weeded the front garden.
---
Sowed tomato and chilli seeds.
---
Planted out the Woodland Shady area.
---
Weeding many of the beds and pruning.
---
Planted new lupins, irises, dahlias, and clematis, which we purchased from the
Wood Cottage Nursery
.
---
Lessons learnt & mistakes made
You live and learn
Some of my seeds have started germinating and come on leaps and bounds, and others are not showing any signs of growth. So, I may need to sow some more in the next couple of weeks or, worst case, purchase some young plants.
Our plans for the coming month
What's on your to-do list?
Continue to maintain the weeds in the Cottage Garden bed.
---
Manage our overgrown and unruly shrubs in the Secret Garden.
---
Continue to clear the soil from the four raised beds.
---
Sow more seeds in the potting shed to top up those that have not germinated.
---
Remove the old barrel from the patio.
---
Clear weeds from the drive.
---
Think about a plan of action for the moss and weeds in the lawn.
---
Decide how to progress with the raised bed section.
---
Fix up the trellis for the clematis.
---
Clear the faded blooms from the patio pots.
---
Please let us know what you have planned in your garden this month; we'd love to know.
* This post may contain links to affiliated sites where we earn a small commission at no additional charge to you.