by Janis on 26th August 2022 / 0 comments
We're weeding, pruning and planning
The month of August has continued to be quite hot in the southeast of the UK. This has unfortunately led to our water provider implementing a hosepipe ban. Still, hey-ho, we've all got to do our bit.

Last month I feared, due to the drought, that we had lost one of our beautiful new clematises. However, we have now spotted new fresh shoots appearing at the base of the clematis. I'm not saying we're out of the woods yet, but there are certainly positive signs.

I mentioned in July's roundup that we may have a new lodger in the garden; well, it turns out we are right. I've been filling up a couple of flowerpot dishes with water every evening. Most mornings, when I look out onto the patio, one of them is empty.

Yes, we have a hedgehog. The other evening in the midst of our second heatwave, we sat out on the patio until it was nearly dark. Suddenly, I spotted a dark image by the water trays. Watching it was incredible; our little spikey friend was enjoying its newfound watering hole.

Once it had finished its drink, it trundled off and wandered around the bottom of our cold frame, out the over end and then headed off behind our patio pots; I'm hoping he went looking for slugs.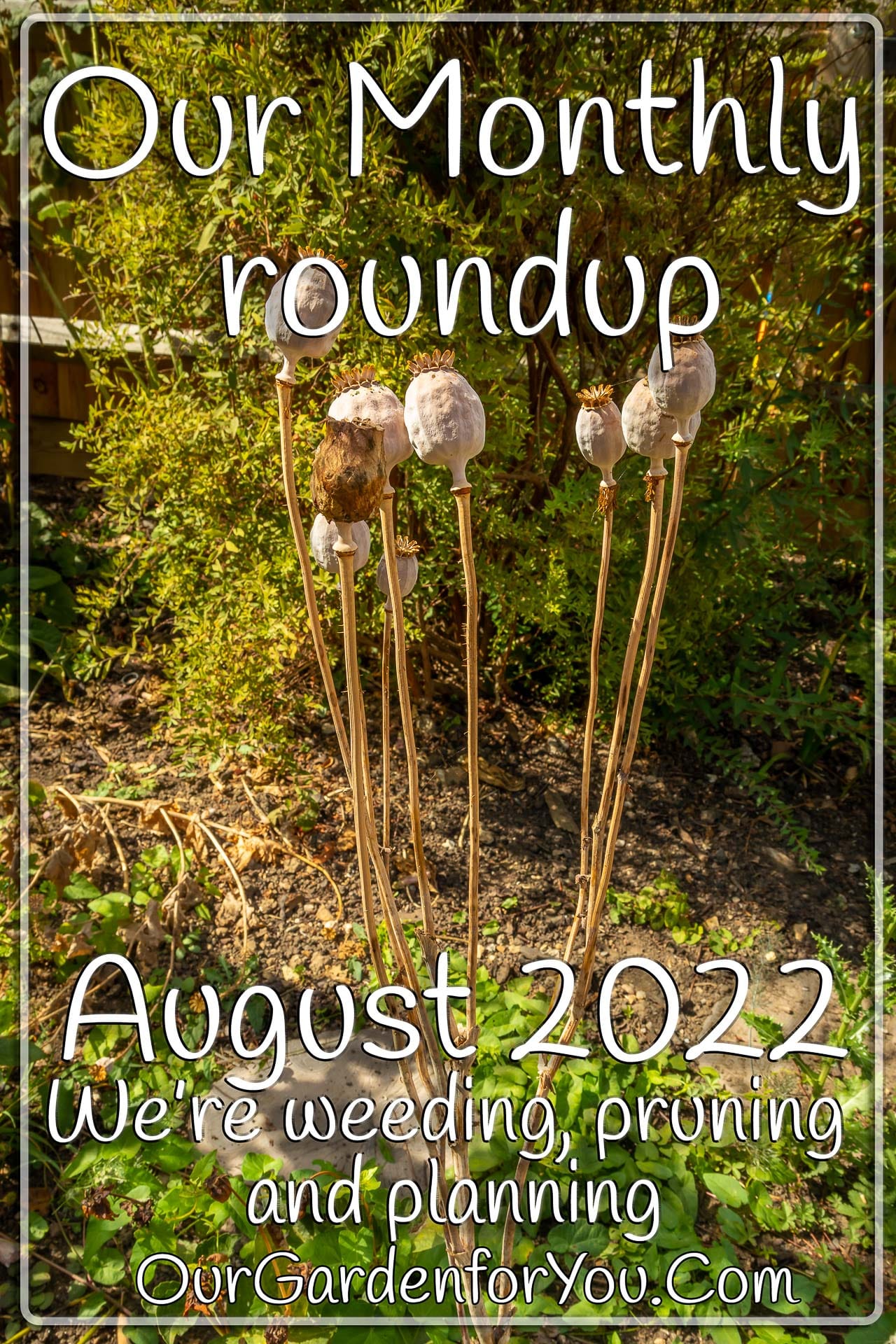 Why not Pin it for later?
What we've been up to this month
In the garden and on the website
Similar to July, August has also been slightly slow due to the heat; however, I have managed to tidy up the front garden, which looks much better.

We needed a tree removed from the front of the house, which had become quite large, and a holly tree lopped back so we could manage it as a smaller bush. This has now been cleared, and the guys shred and dispose of the green waste ethically, so all good.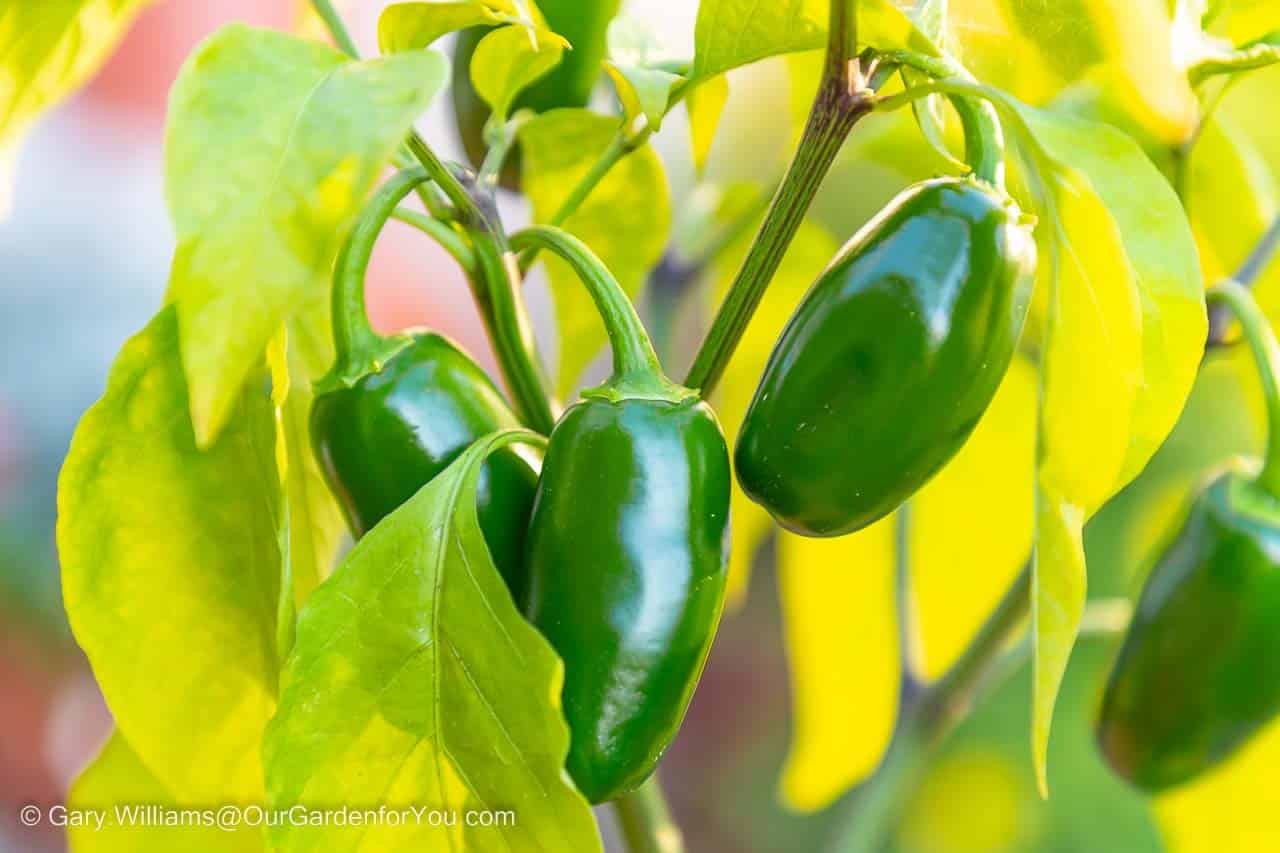 Jalapeño chillies
Our tomato plants are bursting with fruit; we're struggling to keep up with the pace that they are producing tomatoes. We have created a delicious roasted tomato base which we will use this evening on ciabatta.
I must say our chillies are coming on leaps and bounds. We've had the first crop of our Jalapeño chillies and made a jalfrezi curry. They were fantastic but reasonably mild; I think our Zimbabwe Black chillies may be a little hotter, and they have also started to turn red.
Did you catch our update on our chilli plants?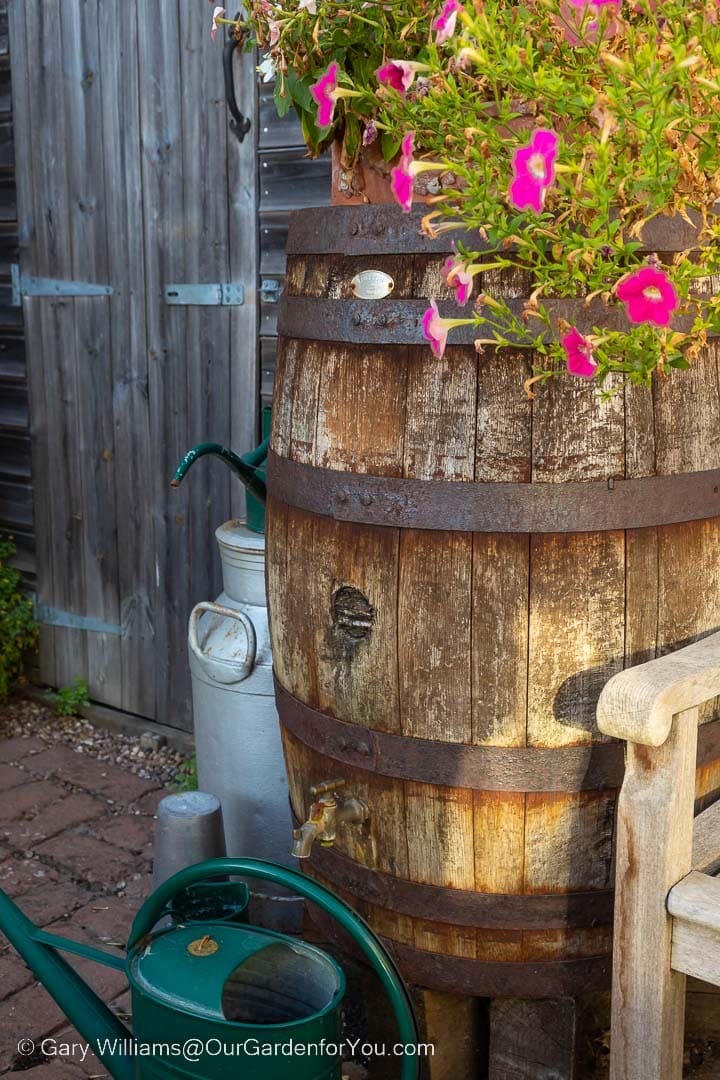 The oak barrel water butt
In one of our previous posts, you may have seen that we installed an irrigation system; now, with the hosepipe ban in place, we were obviously concerned.
We did further research on the South East Water website. Thankfully they allow drip or trickle irrigation systems as long as they are fitted with a pressure-reducing valve and a timer. Luckily, we tick all those boxes, and we are exempt. Consequentially our patio Is colourful; however, our main garden isn't.
Take a peek at how we are coping with the drought.
This month we've written an article on 'The Gardening Pruning Groups'; yes, the RHS have made it easier for us to understand.
Achievements for August
Let's keep ticking those boxes
Due to the heat here in August, we haven't quite devoted the usual couple of days a week to the garden, but hey, we've squeezed in a few hours here and there on cooler evenings.

So, let's see what we've managed to tick off for August.
I've made progress in the front garden, and we've had an unsightly tree removed. Also, the holly tree has been lopped back, and we're looking forward to it being more controllable as a bush.
---
We've cleared some more space in our Secret Garden area; Gary has been making light work of the shrubs with our new Ryobi hedge trimmer. We've also now invested in the
Ryobi pole hedge trimmer
, which once again has proved invaluable.
---
I've also managed to clear and tackle more weeds in our cottage garden. Although due to the heat it has exposed more dry soil and stunted the growth of some of our existing plants.
---
Gary has now completed installing the final part of our
irrigation system
, so all good for the hosepipe ban. Keep an eye out for his updated irrigation post.
---
I didn't get a chance to clear the weeds and unwanted planting in the Woodland section; this will move to September.
---
We've also purchased a new lawnmower, a
Flymo EasiStore 340R
. I've only used it once due to the lack of growth of the lawn. However, I'm liking it.
---
I've been collecting more seeds from our plants around the garden, ready for sowing next year. I'm getting quite a collection now.
---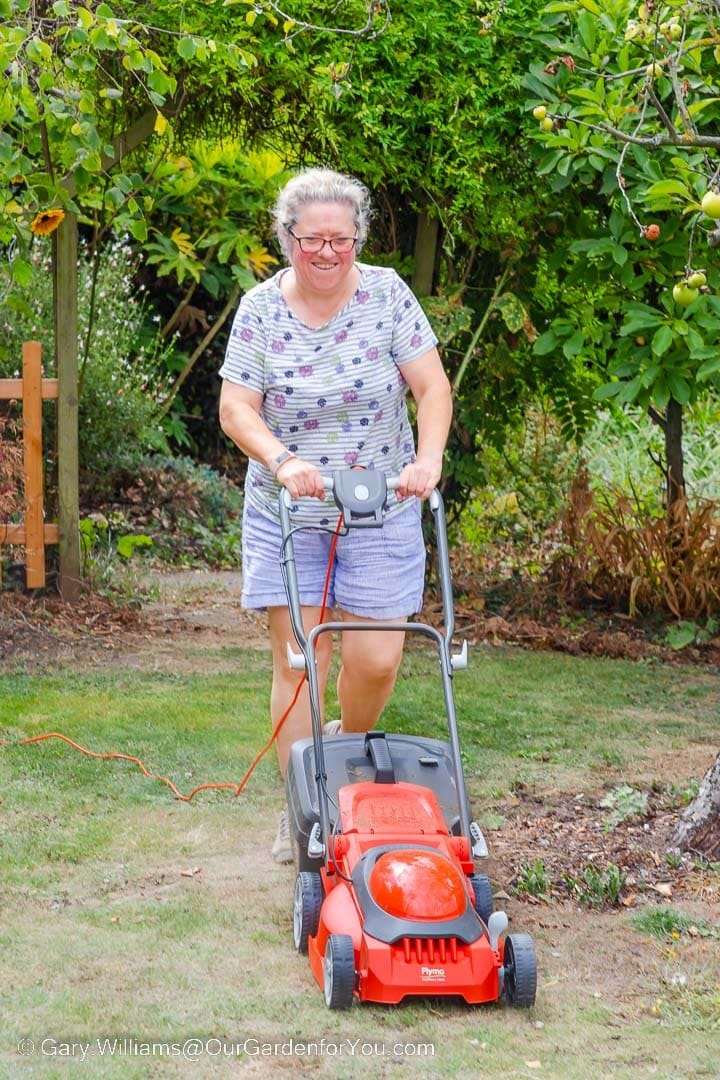 The new lawnmower
Lessons learnt & mistakes made
You live and learn
Although we have had fantastic results from our tomato plants, the tomatoes have become too heavy. This is my fault, as I should have positioned them along the fence so that we can put sturdier supports in place. It has now become a bit of a juggling challenge.

I have a question for you: do you allow your tomato plants to grow high, or do you remove the stems once the plant has produced four or five? I'm not too sure what is best.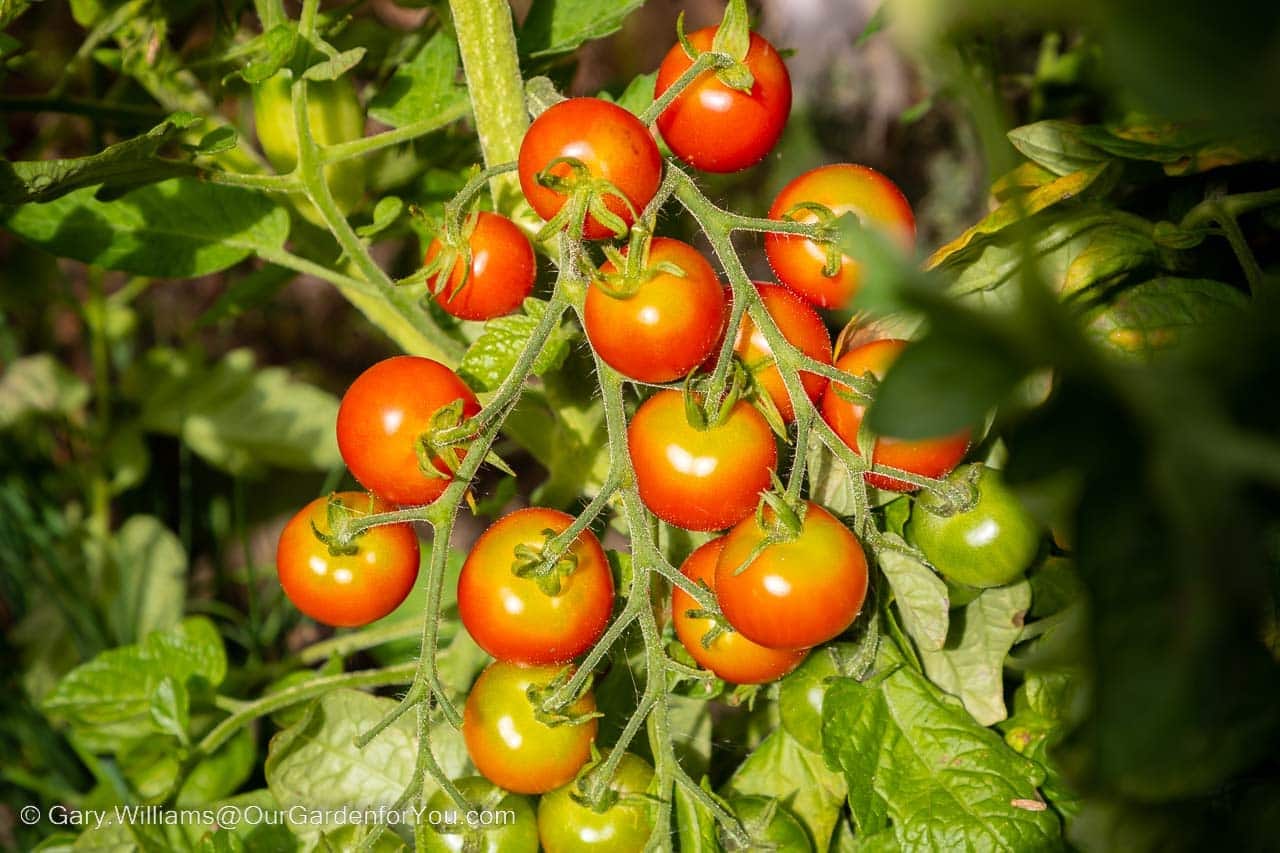 Our Tomatoes
When we were planting our cottage garden border earlier in the year, I thought we had too many plants. Not only did we have around 30 new perennials, but we also had existing ones and lots of annuals. However, I didn't expect most of our summer colours to disappear by early to mid-August.

More planning for colour is required for 2023.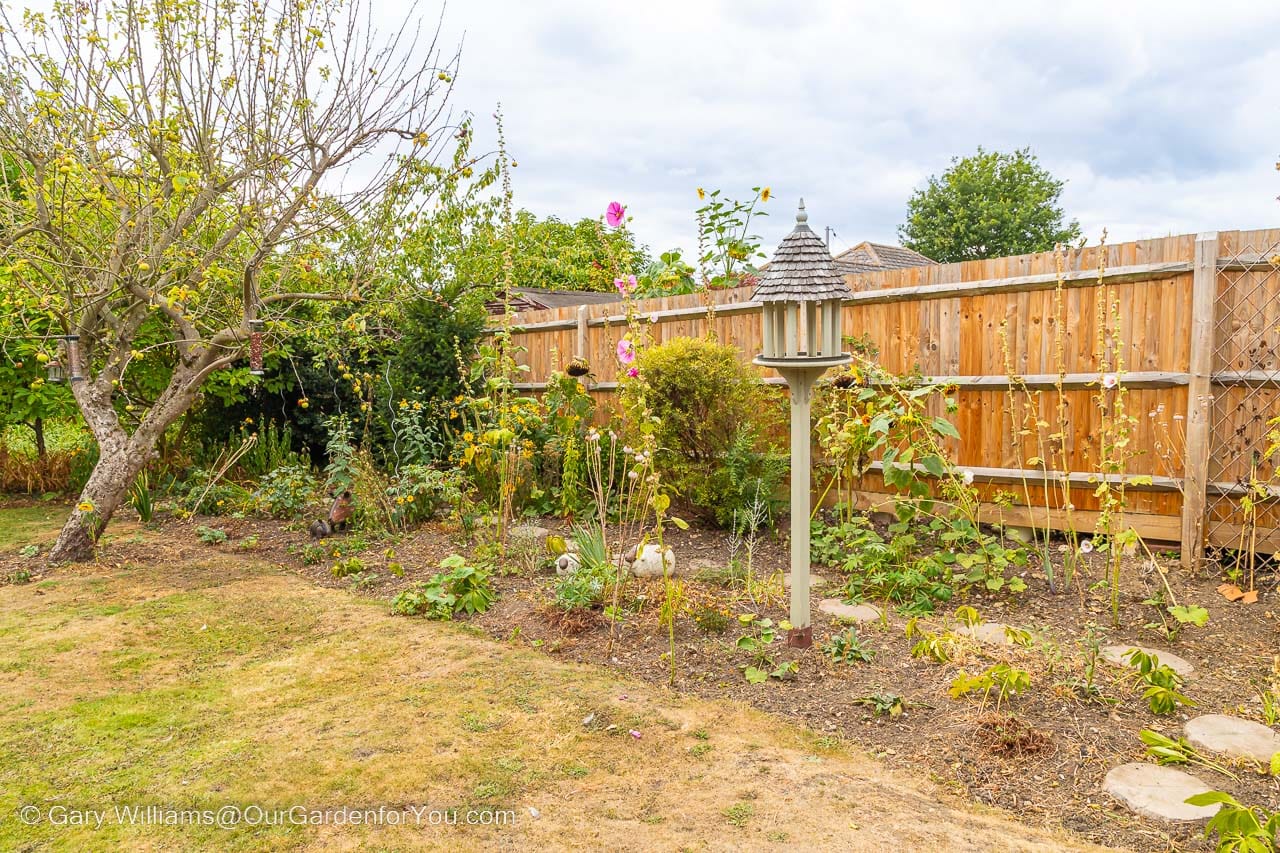 Our parched cottage garden
I mentioned in July's update that we took cuttings from our Thunbergia plants in the hope that they would take root and we could replant for this season. Alas, although they are growing rampant up our obelisk, they never took root.
Our plans for the coming month
What's on your to-do list?
Clear the weeds and unwanted planting in the Woodland section.
---
Continue to prune and tidy the jasmine and rose arch down the back of the garden; we've made some progress.
---
I've recently started using the
RHS 'My Garden'
online calendar to manage plant-related tasks; so far, so good. I will compile a little post on this, so keep a lookout next month.
---
Continue to collect seeds from plants around the garden, ready for sowing next year.
---
Keep cutting back and managing our overgrown and unruly shrubs in the Secret Garden.
---
Progress with planning the different garden sections and understanding the likes and dislikes of our plants.
---
Continue to tackle our working area, it's slow progress, and there is so much garden waste.
---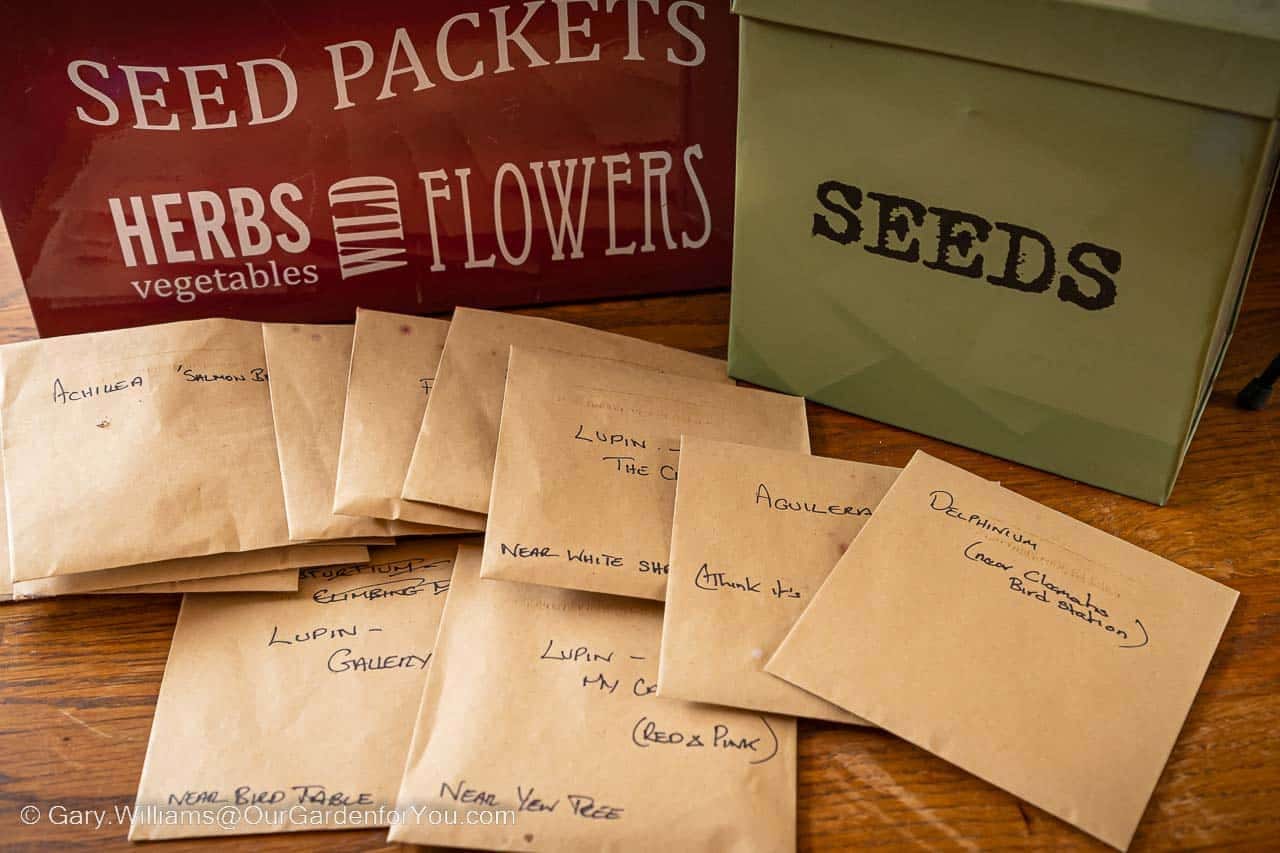 The seeds collected from our garden
Well, it looks like we have another busy month ahead. Please let us know what you have planned in your garden this month; we'd love to know.
* This post may contain links to affiliated sites where we earn a small commission at no additional charge to you.