by Janis on 29th July 2022 / 0 comments
The garden is a little parched, and I've sown even more seeds
To say it's been hot in the southeast of the UK over the last few weeks has been an understatement. Unfortunately, it has taken its toll on some of the plants in our cottage garden bed. I fear we may have lost one of our new clematis, which was stunning, but only time will tell.

We also believe we may have a new lodger in the garden, or the little fellas are just passing through each evening to an onward retreat. We had a suspicion that one or two hedgehogs wandered through a gap between a stone pillar and a wooden fence, and now I think we were right.

A couple of weeks ago, when we had the 40 degrees heat, I read that placing some water in a dish for the local wildlife is a good idea. Now every morning, when I pop out onto our courtyard patio, one of the water dishes is empty and occasionally other evidence. We'll now have to see if we can get photographic proof.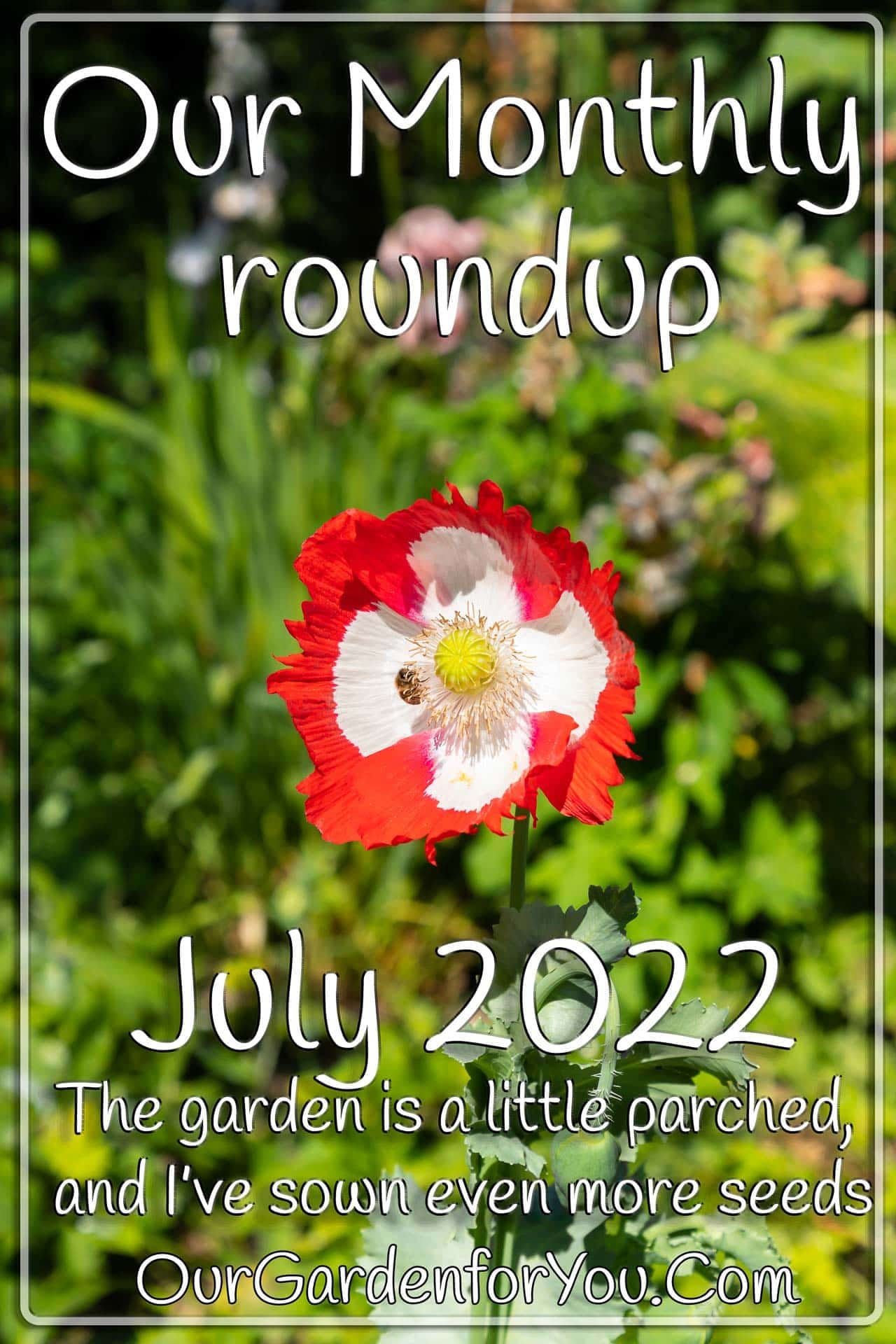 Why not Pin it for later?
What we've been up to this month
In the garden and on the website
July seems to have been slow progress in the garden, and the heat hasn't helped.

The courtyard patio is in full bloom, so it's such a pleasure sitting out there of an evening. Enjoying the beautiful colours and watching the butterflies and bees making the most of the blossom.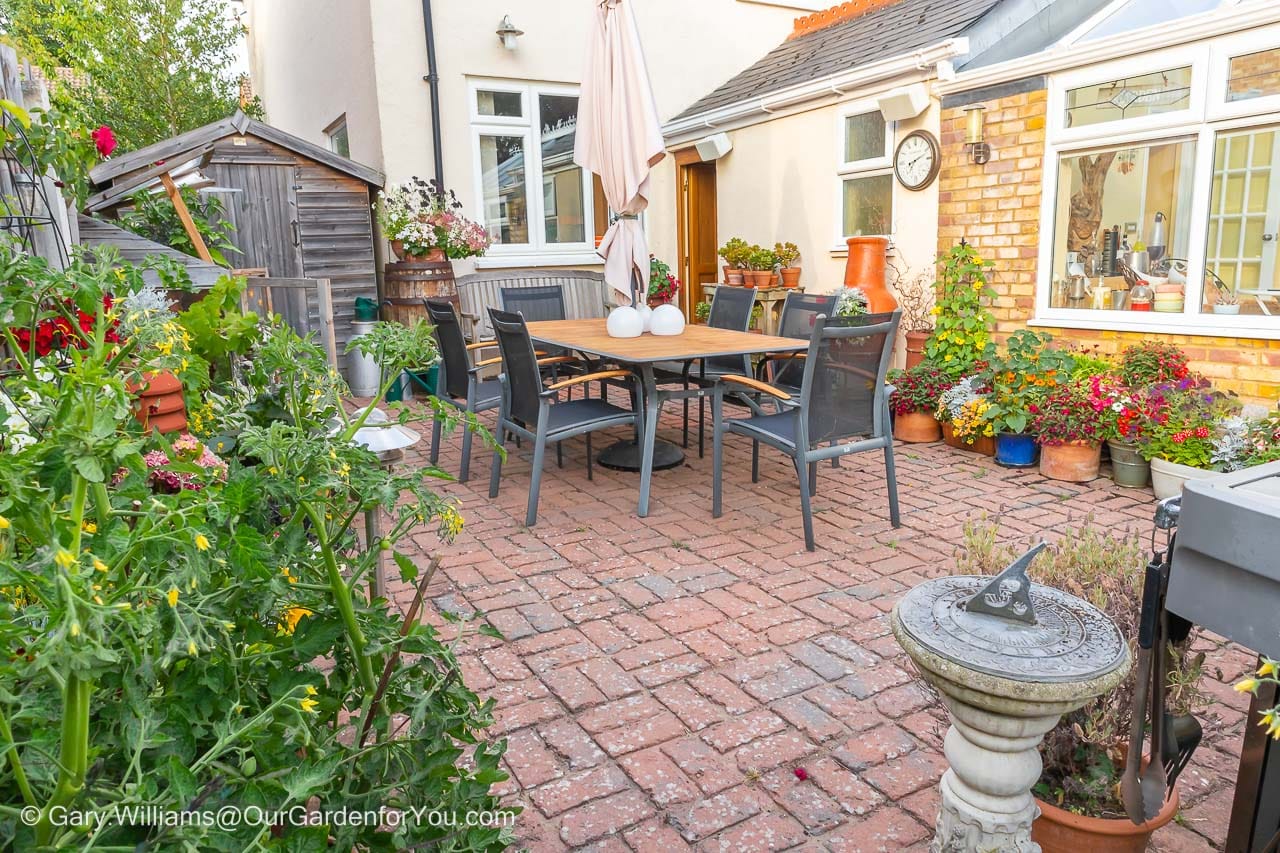 The Patio in July 2022
The tomato plants are coming on leaps and bounds, and I've had to re-stake them as they began to topple over.
It looks like we will have quite a crop from the tomatoes. In hindsight, I should have given a couple away; the same applies to our chillies, although I did hand out a few to friends and family.
However, we're going to have to find some more spicy recipes.
The irrigation system has had a few tweaks here and there, but it is generally doing well. We've set it on a timer for morning and evening, which maintains a little trickle for 30 minutes each time. It certainly seems more efficient than using a hosepipe or watering can.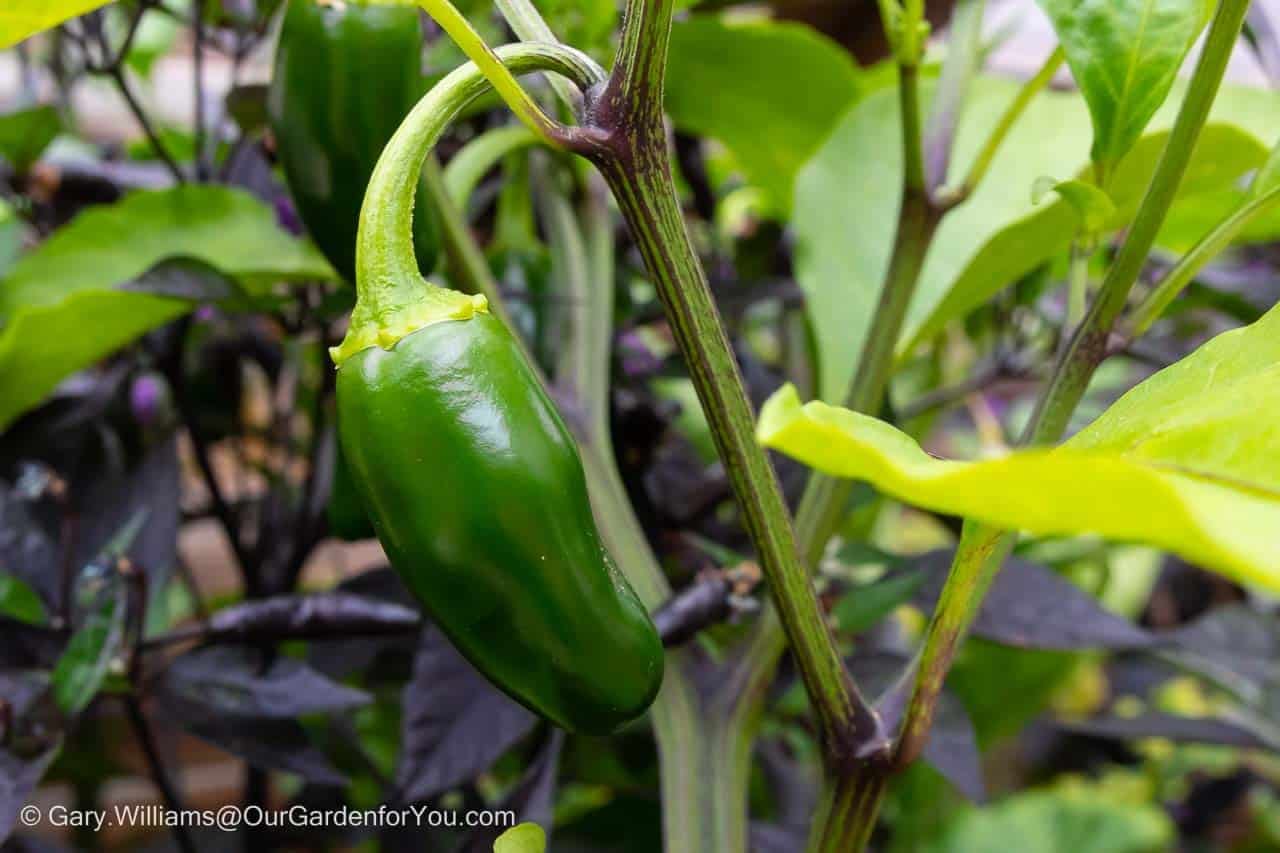 Jalapeño Chillies
As I've previously mentioned, we also manage the website 'Our World for You', which enabled us to visit Lacock Abbey in Wiltshire. The historic village of Lacock and Lacock Abbey are managed by the National Trust, so the gardens are always a delight to visit.

Watch this space for a little insight into their garden, which I'll post in August.

To ensure we keep our crop of basil, parsley and lettuce flourishing through the season, I've sowed more seeds. The lettuce was amazing, so I can't wait to see them thriving again.
Lacock Abbey
When we visited
Sissinghurst Castle Garden
in June, I spotted a delightful purple Honesty plant. We managed to source the variety from a local nursery after the flowers had turned into translucent seedheads. I opened the papery pods and have now sown them for spring 2023. I'm also using clear recycled yoghurt pots for the first time; I was curious whether we would see the root structure.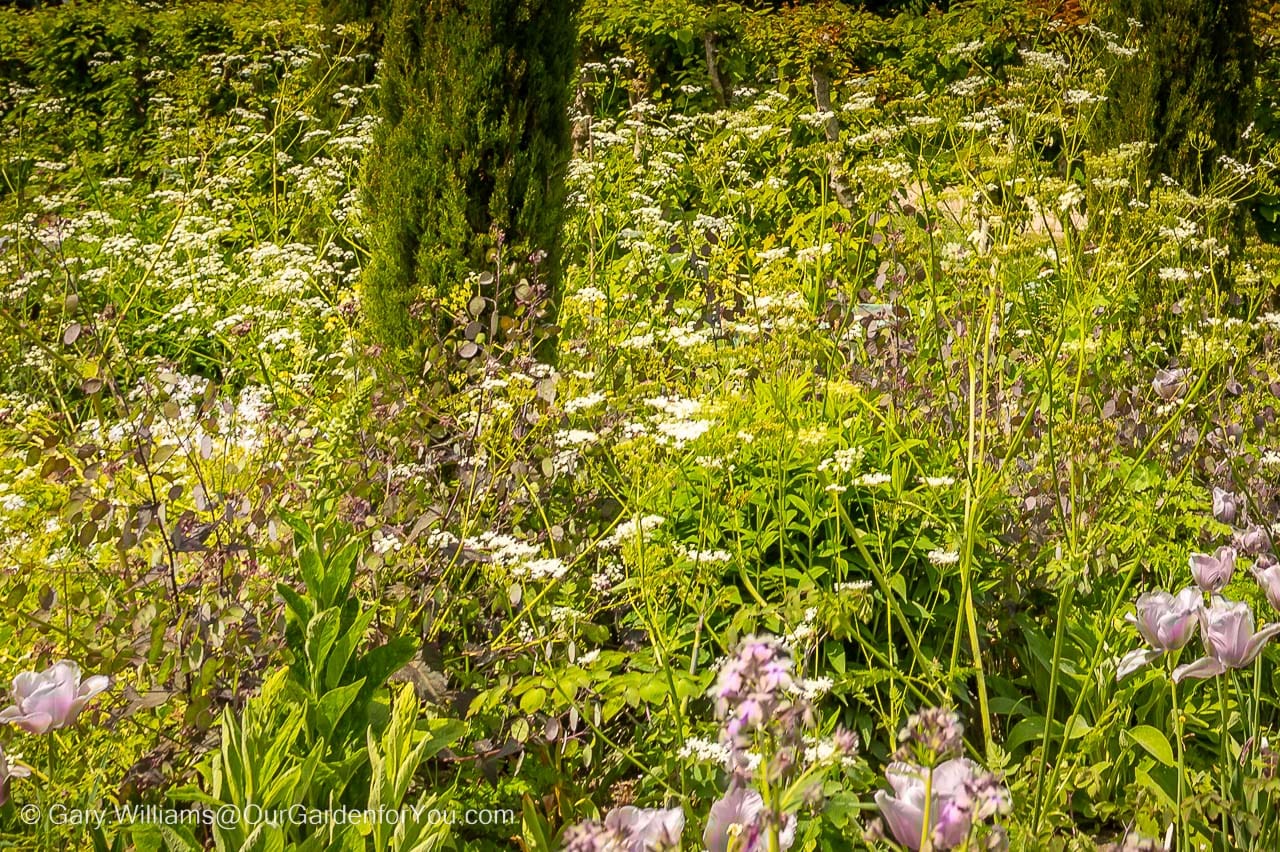 Purple Honesty at Sissinghurst Castle Gardens
Apparently, Honesty takes around two to three weeks to germinate, so I'll update you on the progress in the August roundup. Hopefully, they will sprout as I need to plant them out in autumn to ensure they flower in Spring.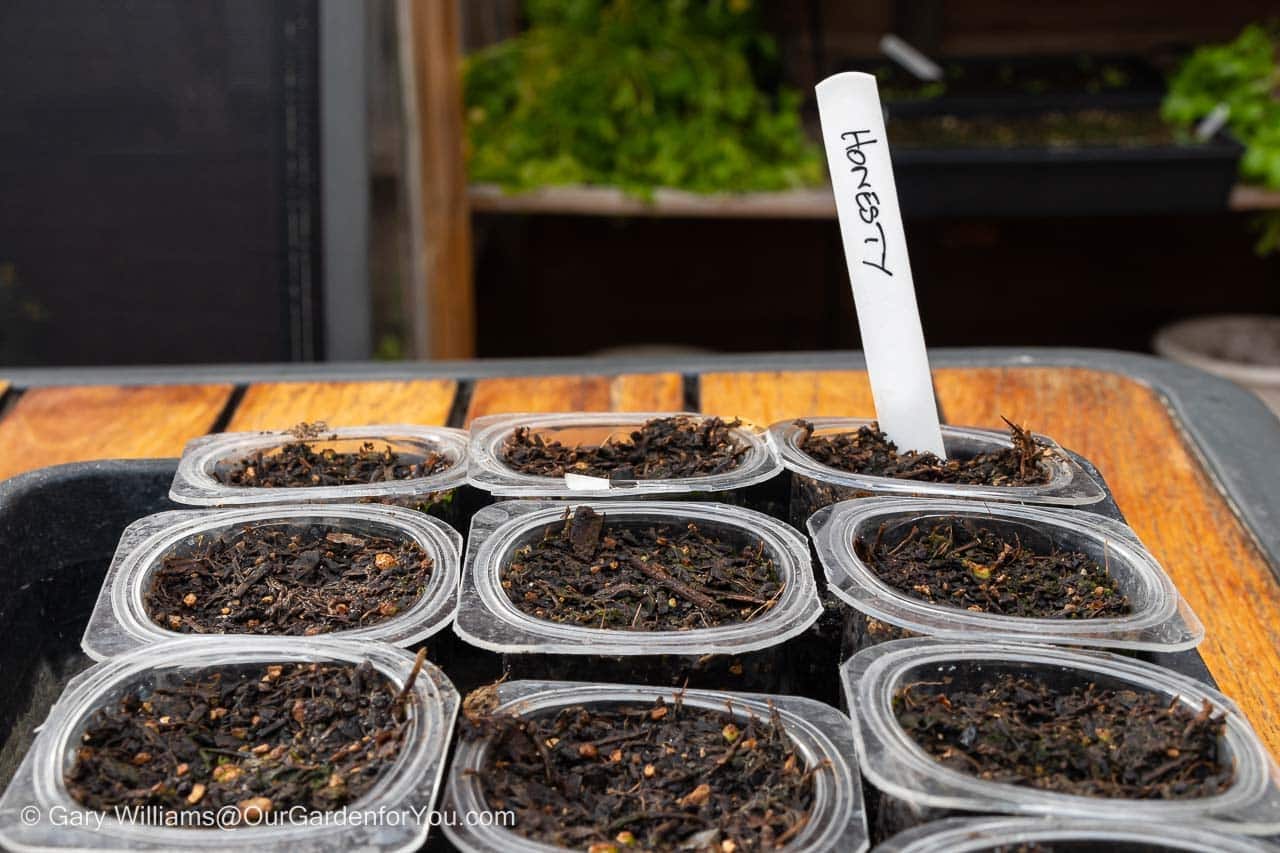 Freshly planted Honesty
Achievements for July
Let's keep ticking those boxes
In July we haven't quite managed to dedicate the usual couple of days a week to the garden. The weather and our lack of time have been a hinderance.

So, let's see what we've managed to tick off for July.
We've cleared some more space in our Secret Garden area and tackled the vigorous vine; this area is undoubtedly a work in progress.
---
I've started tackling areas of the front garden; however, I'm looking forward to having the rogue tree removed; it will begin to look better.
---
Gary has been making the most of his new
Ryobi hedge trimmer
; it has made light work of some jobs. Although it looks like we need to invest in the extended reach trimmer as well.
---
I didn't get a chance to clear the weeds and unwanted planting in the Woodland section; this will move to August.
---
Our recently invigorated composters appear to be working correctly; we're just waiting to see the fruits of our labour.
---
I've been collecting seeds from plants around the garden, ready for sowing next year.
---
Yes, I feel like I'm continually weeding, I'm struggling to keep up, well actually I'm not at the moment the earth is so dry.
---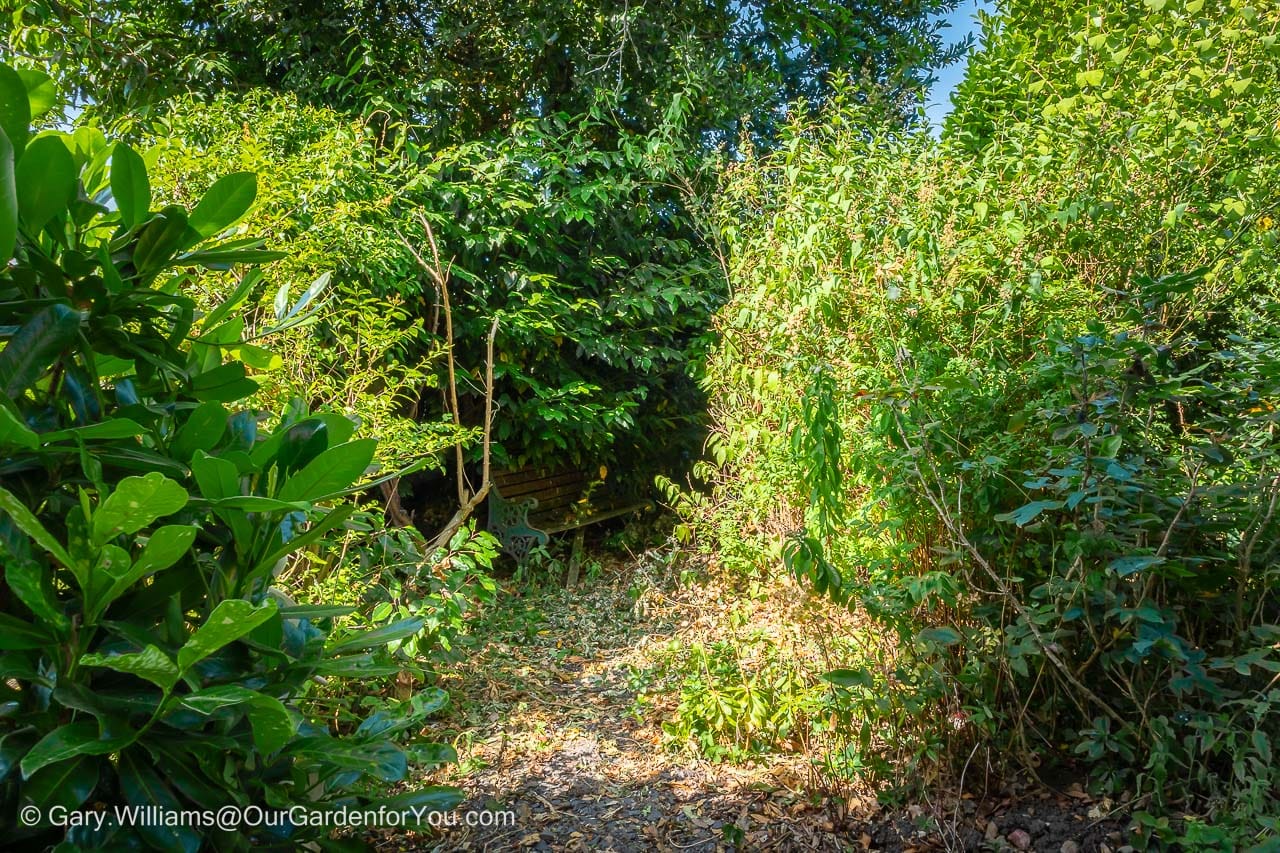 A path into the Secret Garden
Lessons learnt & mistakes made
You live and learn
I think this is more of a lesson learnt, and it relates to nasturtiums.

I do love nasturtiums and their tumbling effect when they grow; however, once little critters start to arrive, the poor nasturtiums are decimated.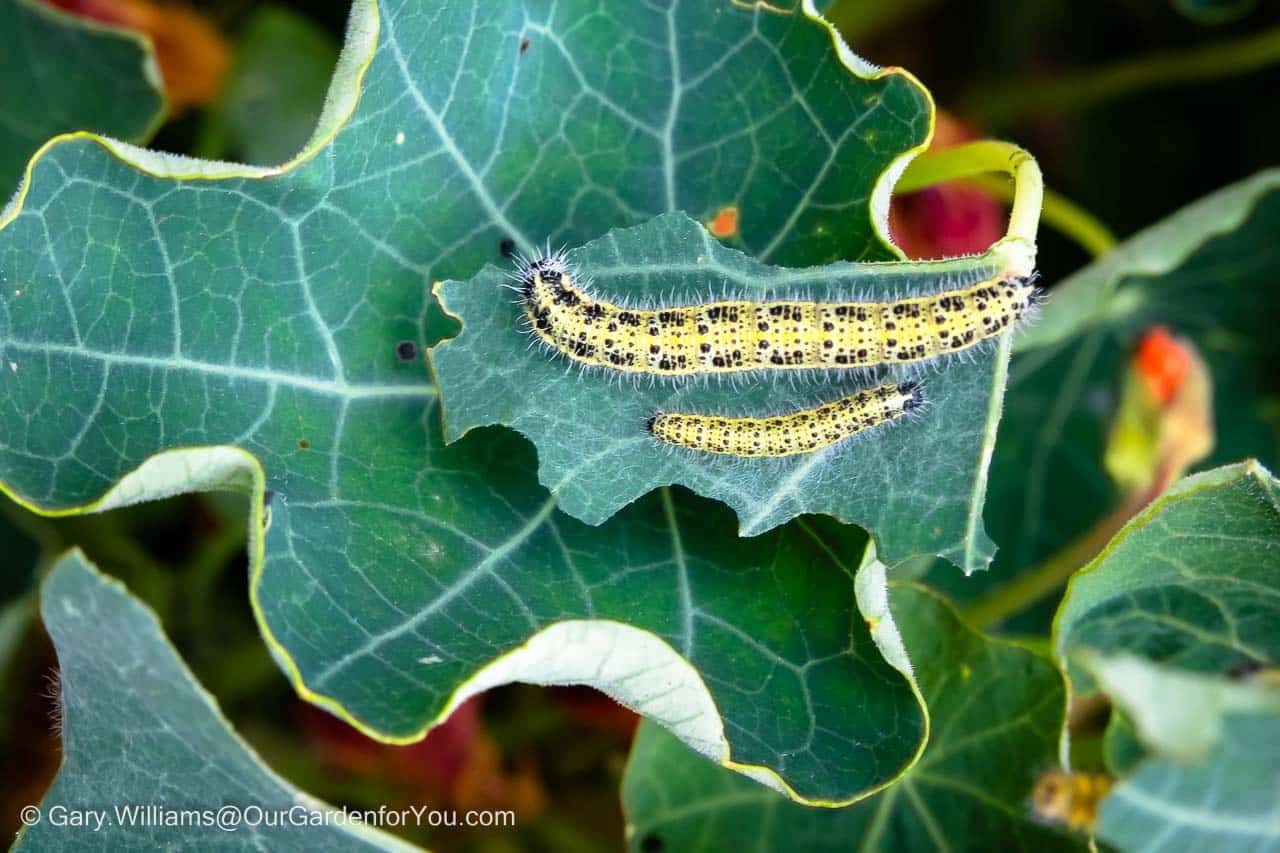 The Cabbage White caterpillar
Some have had a bout of blackfly, and now the others are smothered in cabbage caterpillars; they just can't win.
We grew nasturtium from seed because we wanted to fill our old chimney pots and our upcycled chimenea, and they would look attractive flowing down.
Well, I have now come up with another plan for our pots, and I'm just hoping that the cuttings from my thunbergia or black-eyed Susan vine will grow in time.
About six weeks ago, I bought three thunbergias 'Lemon' from a charity garden centre called
Spadework
that we had never visited before. The small plants have grown amazingly, awash with pretty flowers, and have smothered the obelisk they were growing through.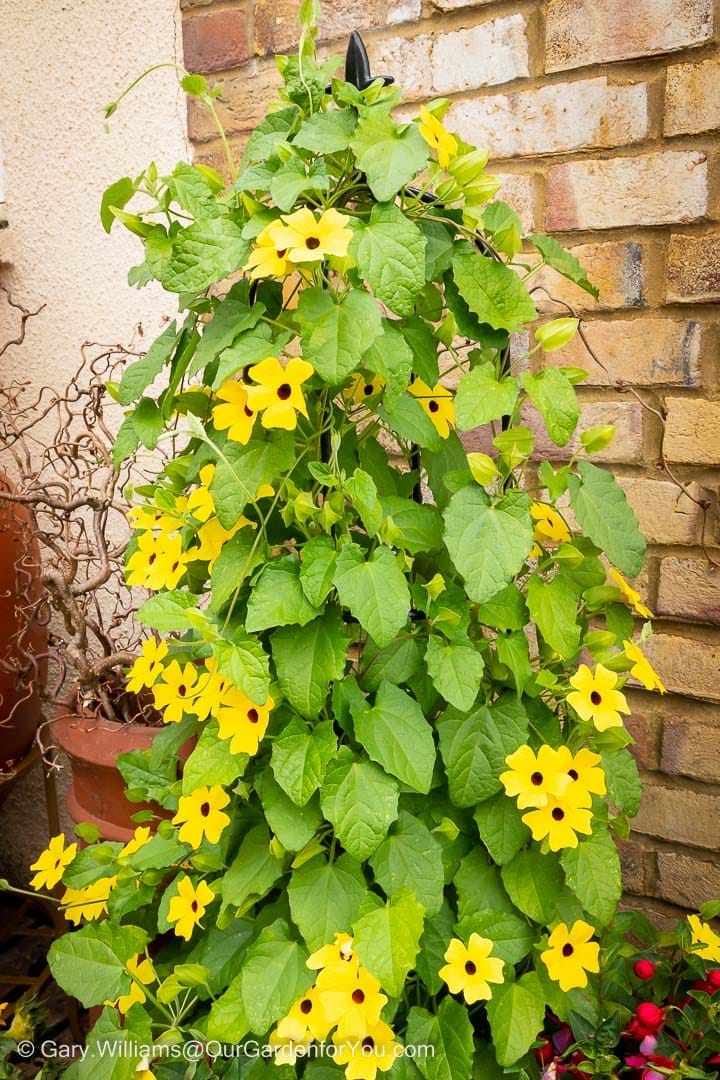 Thunbergias 'Lemon'
Waiting for roots
I have read that if I cut off some shoots at around 6 to 8 inches in length and place them in water, they will sprout roots. I'm keeping my fingers crossed that they take. I can then pot them on asap and will have tumbling thunbergia instead of nasturtium.

I'll update you in August.
Our plans for the coming month
What's on your to-do list?
Clear the weeds and unwanted planting in the Woodland section.
---
Prune and tidy the jasmine and rose arch down the back of the garden.
---
Collect seeds from plants around the garden, ready for sowing next year.
---
Keep cutting back and managing our overgrown and unruly shrubs in the Secret Garden.
---
Continue to weed drive and generally tidy it up. This is an ongoing task as I've worn down the edge of the scraper.
---
Resume tidying up the front garden.
---
Progress with planning the different garden sections and understanding the likes and dislikes of our plants.
---
Continue to tackle our working area, it's slow progress, and there is so much garden waste.
---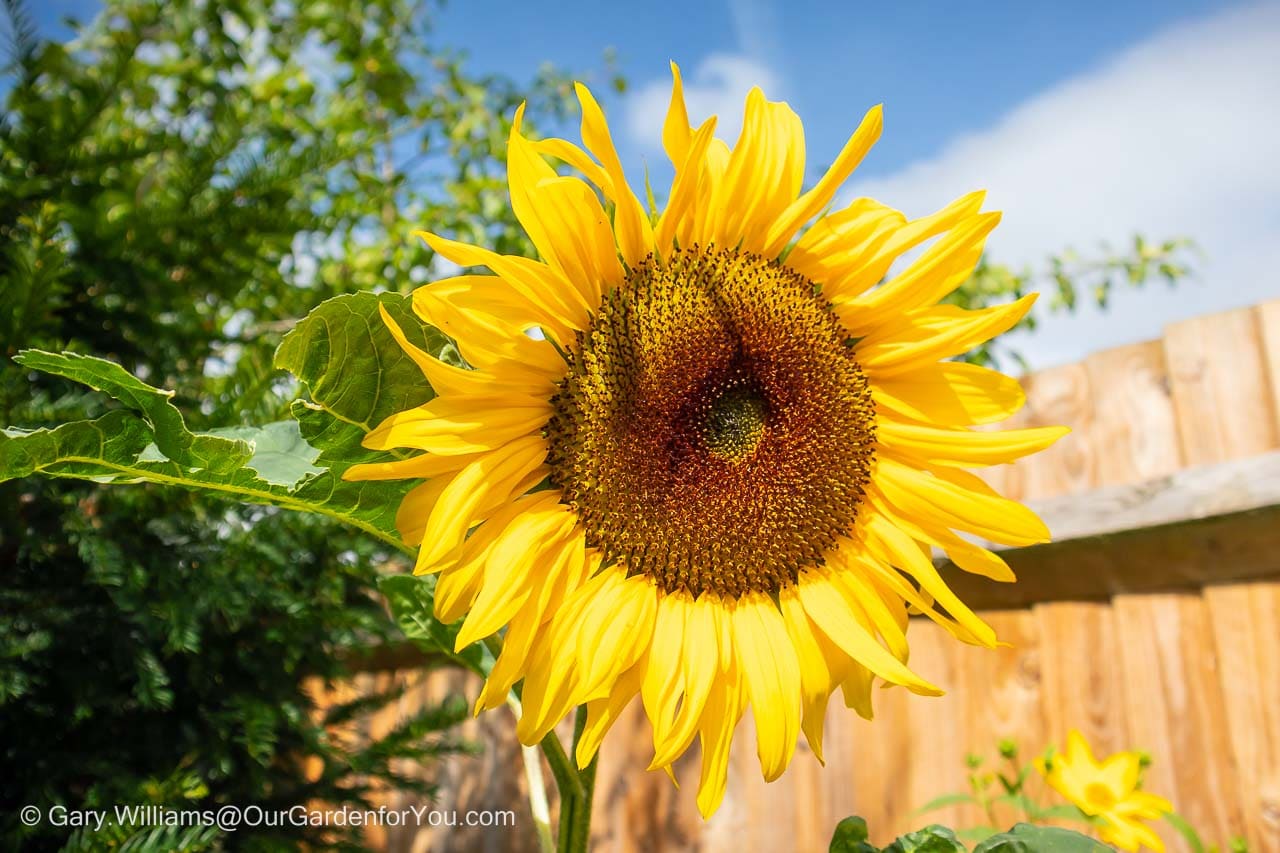 A July Sunflower
Well, it looks like we have another busy month ahead. Please let us know what you have planned in your garden this month; we'd love to know.
* This post may contain links to affiliated sites where we earn a small commission at no additional charge to you.