by Janis on 3rd June 2022 / 0 comments
There's something for everyone
Wow, I couldn't believe it was eleven years ago since we had last visited the Kent Garden Show; doesn't time fly.

The Kent Garden Show is held annually at the Kent Showground in Detling; happily, for us, it is only about 15 minutes away. It was a bright, sunny spring day, so we hopped in the car and headed over there.

It's always a pleasurable experience strolling amongst beautiful plants and happy people.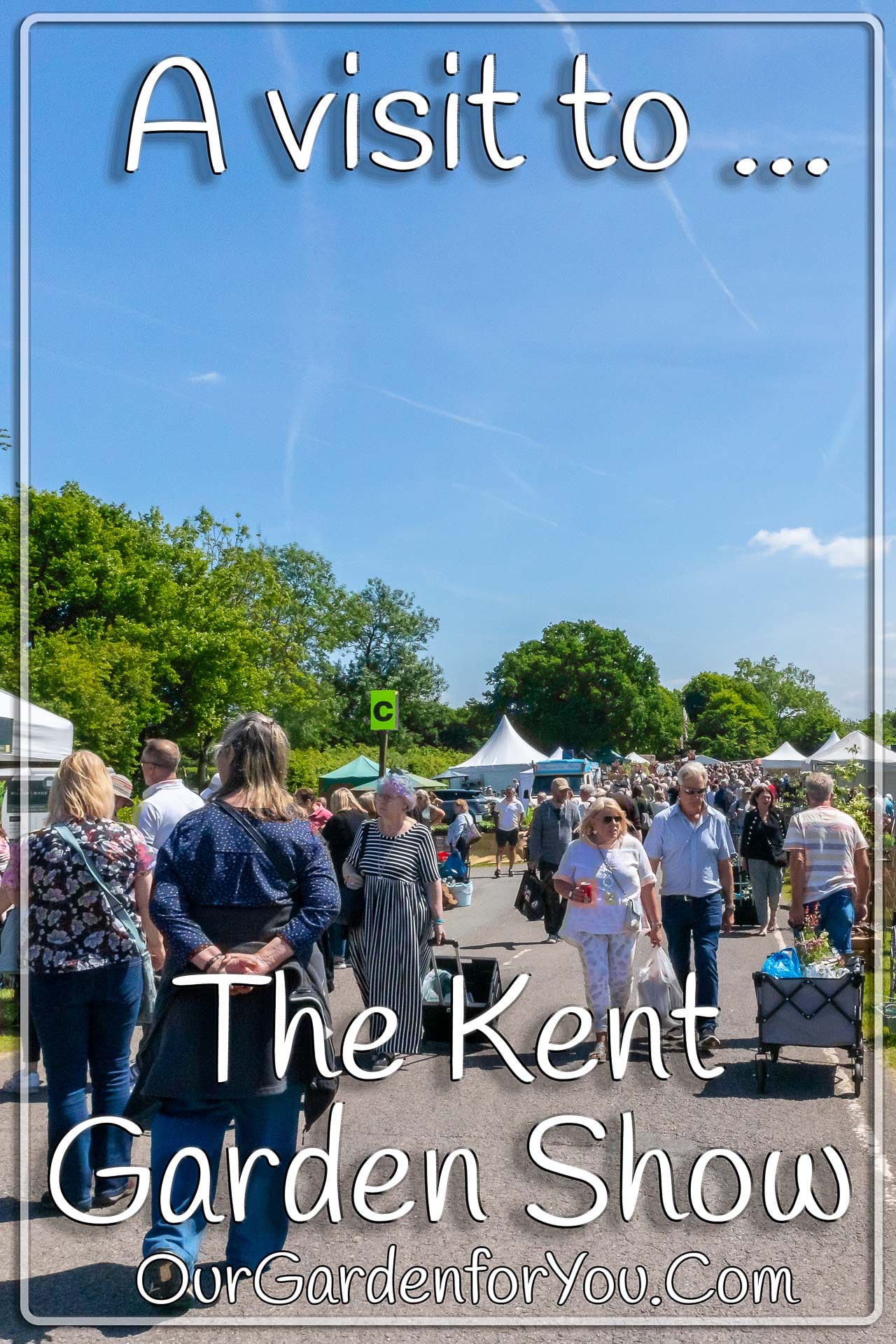 Why not Pin it for later?
A trail of striking colour
Are you a trolley person?
As soon as you arrive, you'll instantly spot the folk that mean business; they've come armed with their trolleys, some foldaway and others you could fit a whole garden in.

Although we are filling out our cottage garden and planning other areas, we don't envisage we are going to leave with armfuls of plants. We do have a few plants in mind but hey, let's see what we discover.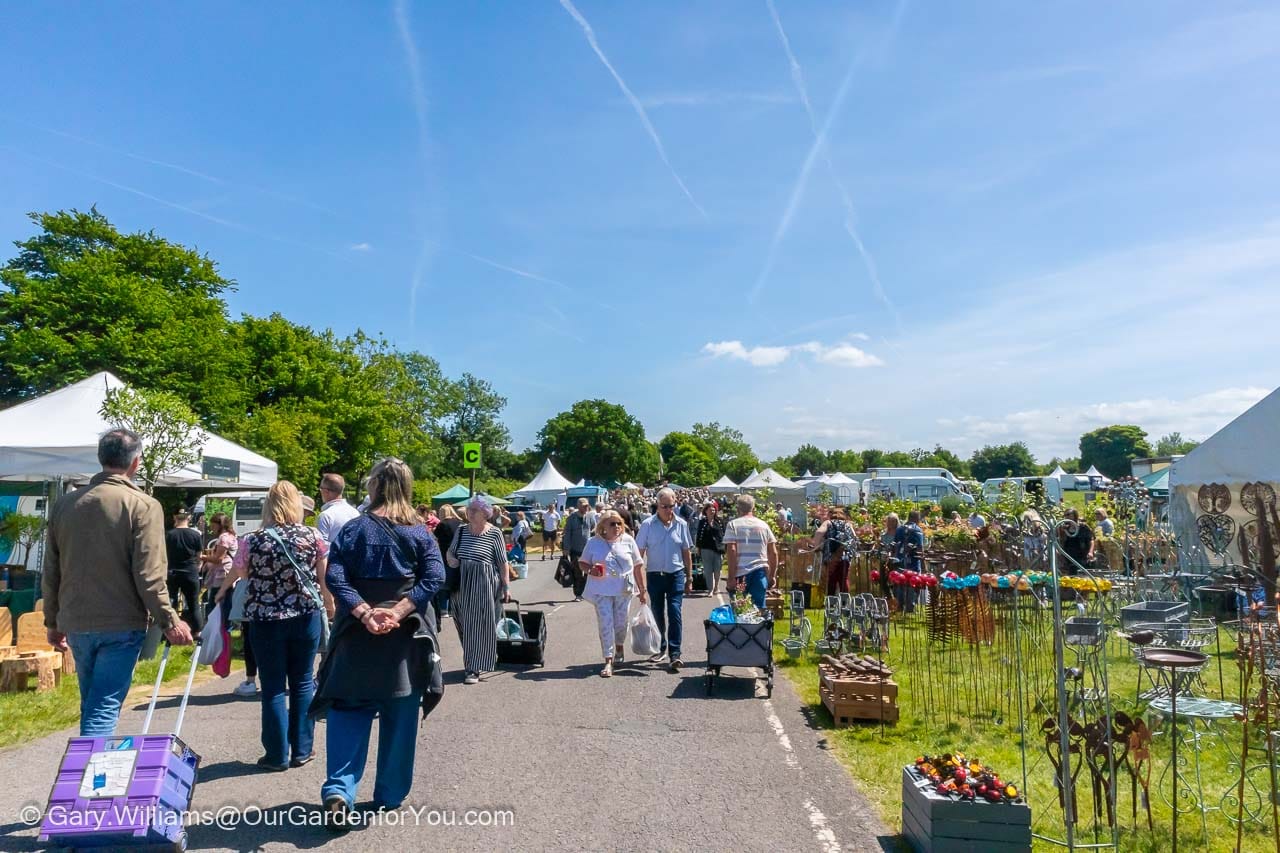 The main aisle at the Kent Garden Show
Immediately as you start wandering up the main walkway, there is vibrant colour everywhere, from the beautiful wispy flowers to the glazed garden pots.

The large stalls are laid out very well, there's plenty of room to stroll around, and the plants are all well labelled. What I must add is that all the shrubs and flowers were very healthy-looking specimens.
Ahh, yes, the copper mushrooms
Stylish and subtle
Now, we remembered that it was eleven years since we'd previously visited the garden show because we had bought a delightful pair of copper mushrooms. Gary had taken a photo when we had positioned them in the garden and looking at the image now, it was dated 2011.

Fast forward 11 years, and the same supplier is still attending the garden show. I must admit that our mushrooms have weathered very well; they continue to look good after years of nestling in the garden.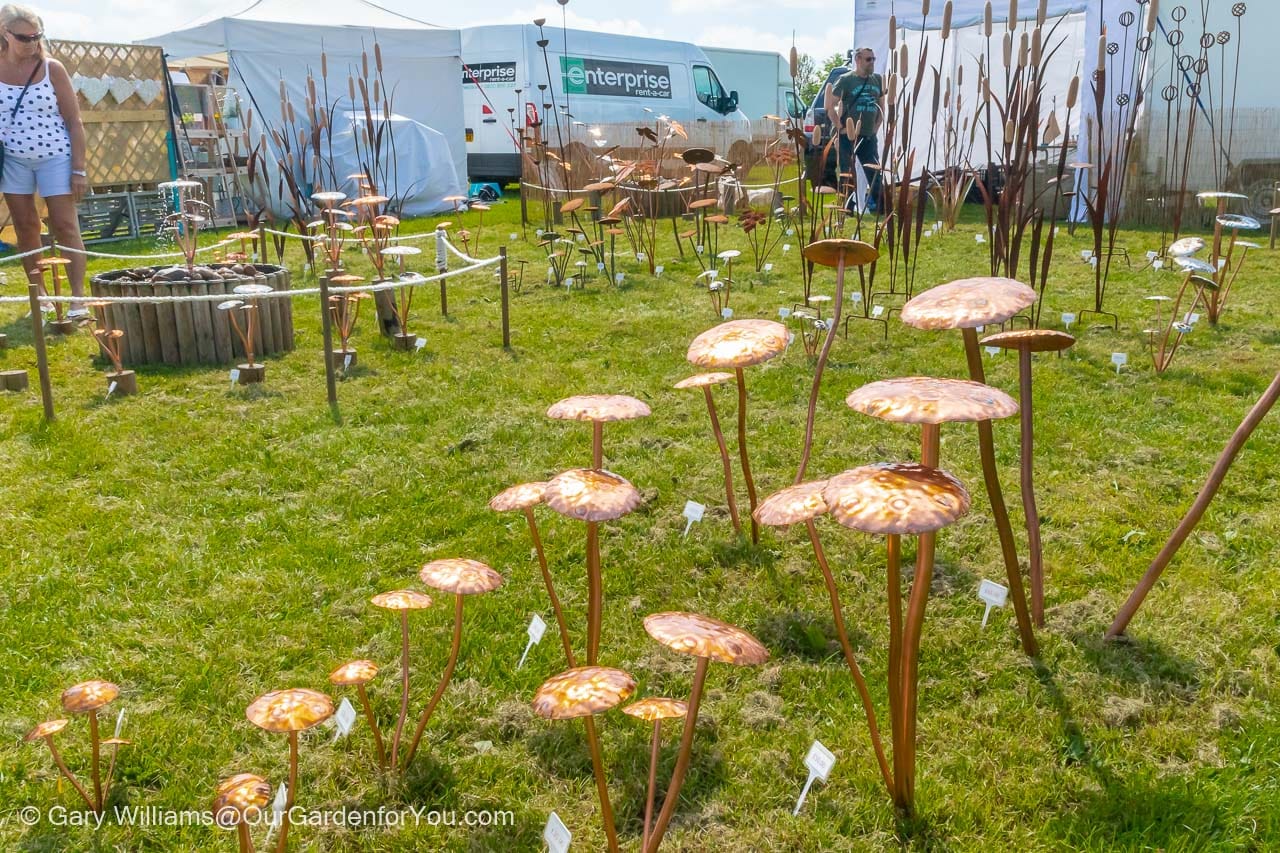 Ornamental copper mushrooms at the Kent Garden Show
There are some charming garden ornaments and structures for sale at the show; there's something for everyone. I would just say take a step back and decide whether the huge carved wooden gargoyle is for you.

The show has stalls selling items from water features, hot tubs, tools, garden furniture, trugs, trolleys and even reclaimed galvanised watering cans.
Finding that perfect plant
In search of herbs
I enjoy visiting the Kent Garden Show; however, I often find that some of the plants are slightly repetitive, and stalls mainly display the latest colourful fashions. If you're searching for a specific plant or variety, you may not be so lucky.
In fairness, it isn't an issue; I would say arrive with an open mind and go with the flow; I'm sure something will catch your eye. There are many stunning varieties of plants and ample choices for everyone.
An added bonus is that if you don't want to carry your purchases around with you, the individual stalls will look after your items, and you can pick them up later in the day.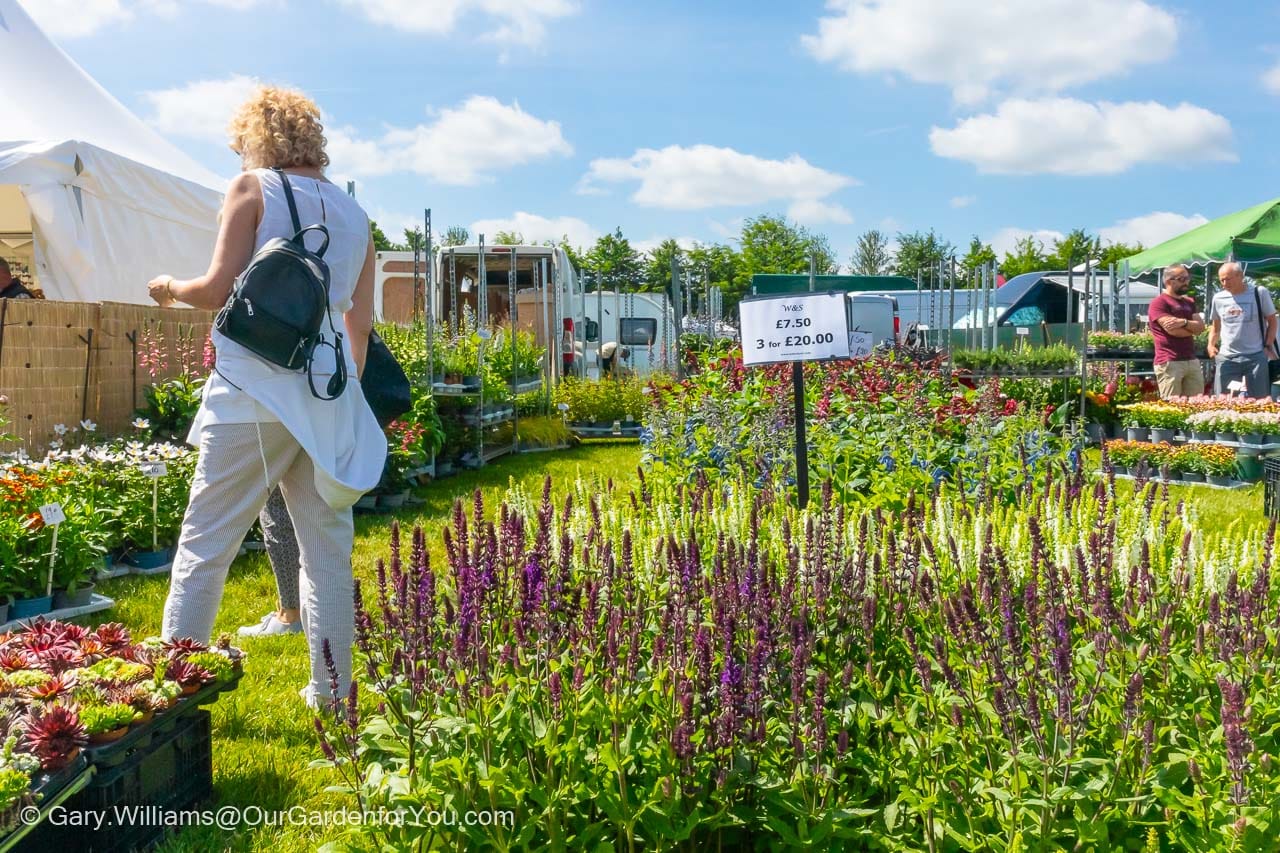 Plant buying at the Kent Garden Show
One stall that you'll undoubtedly find an unusual variety at is the herb stall. There was so much choice, and the quality of the herbs was amazing, and great value at £2.50 each; I found them a lot better than some garden centres I've visited.
Start creating your own herb garden like us, it's great fun, and you'll reap the rewards.
Keeping fed and watered
Our new garden residents
One thing that Kent Garden Show wasn't lacking was food and drink stalls, although Gary was hoping for a beer tent.

There were plenty of choices dotted around the showground; grab yourself a cuppa and a piece of cake and ponder over your purchases.

Oh yes, and definitely indulge in some ice cream in the beautiful Kent sunshine; it would be rude not to.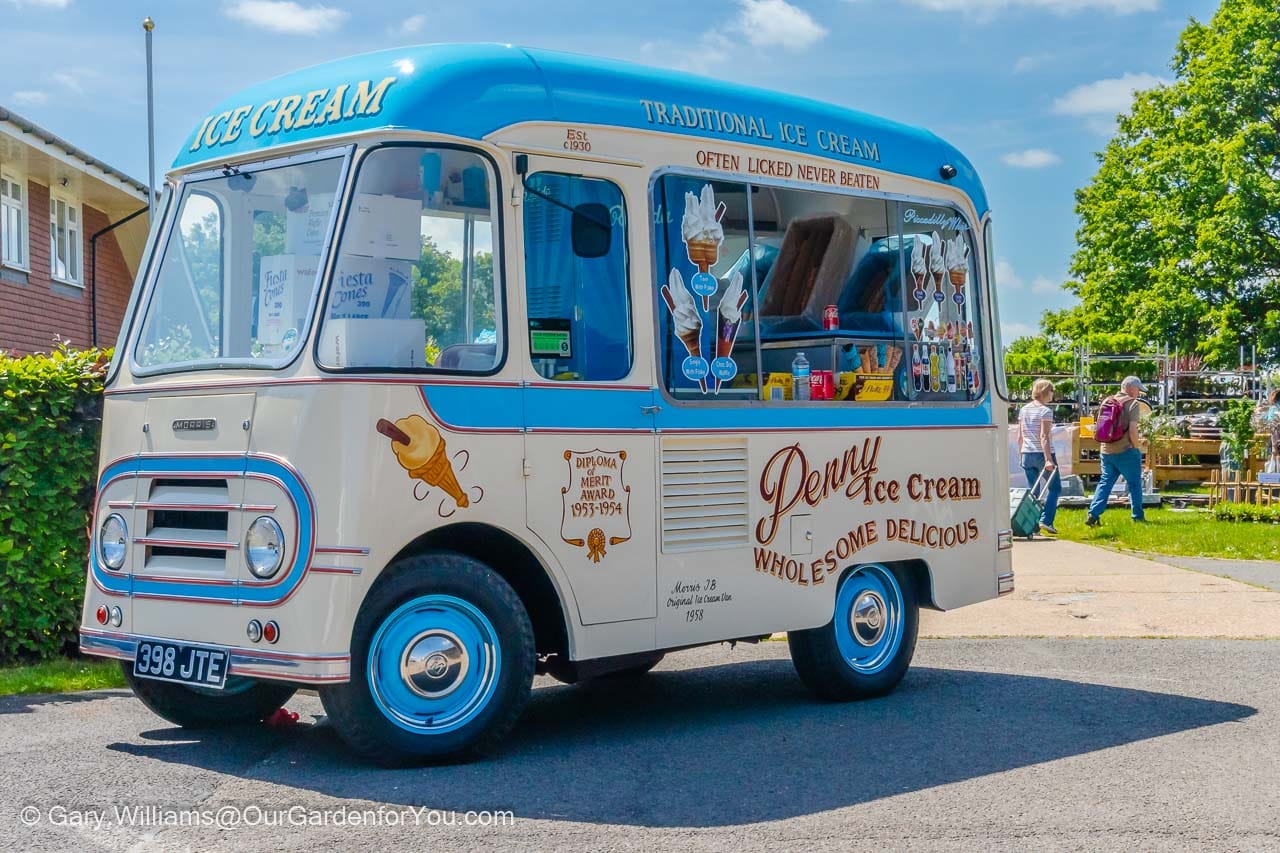 Ice creams at the Kent Garden Show
Inside the main tent, there is a tearoom, after which you can stroll around the floral displays and admire the beautiful iris, fuchsias, and hostas, to name a few.
Ok, I will confess we did buy some plants. We found a stunning clematis, 'Charmaine', which I will plant within an obelisk for our courtyard patio. Additionally, I wanted to add a splash of deep mauve and height to our cottage garden. I came across a Scabiosa 'Chile Black', which will fit perfectly.
I also have a bit of a soft spot for grasses, so I purchased Hordeum Jubatum, which has wafty purple-tinged heads and Lagurus Ovatus, 'Hares Tails,' which looked quite sweet.
So, it's back home to plant out our new garden residents.
* This post may contain links to affiliated sites where we earn a small commission at no additional charge to you.