by Janis on 23rd June 2023 / 0 comments
Who can resist a feathery fern?
Our garden's 'woodland shady' section has often been neglected and slightly forgotten by us. Unfortunately, it has been an area where we've placed dead wood, branches, and many twigs prior to being collected by our council as garden waste.

However, this year we decided to embrace the fact that it is a very shady spot and search out some shade-loving plants.

Did you catch our post introducing you to the sections of our English country garden?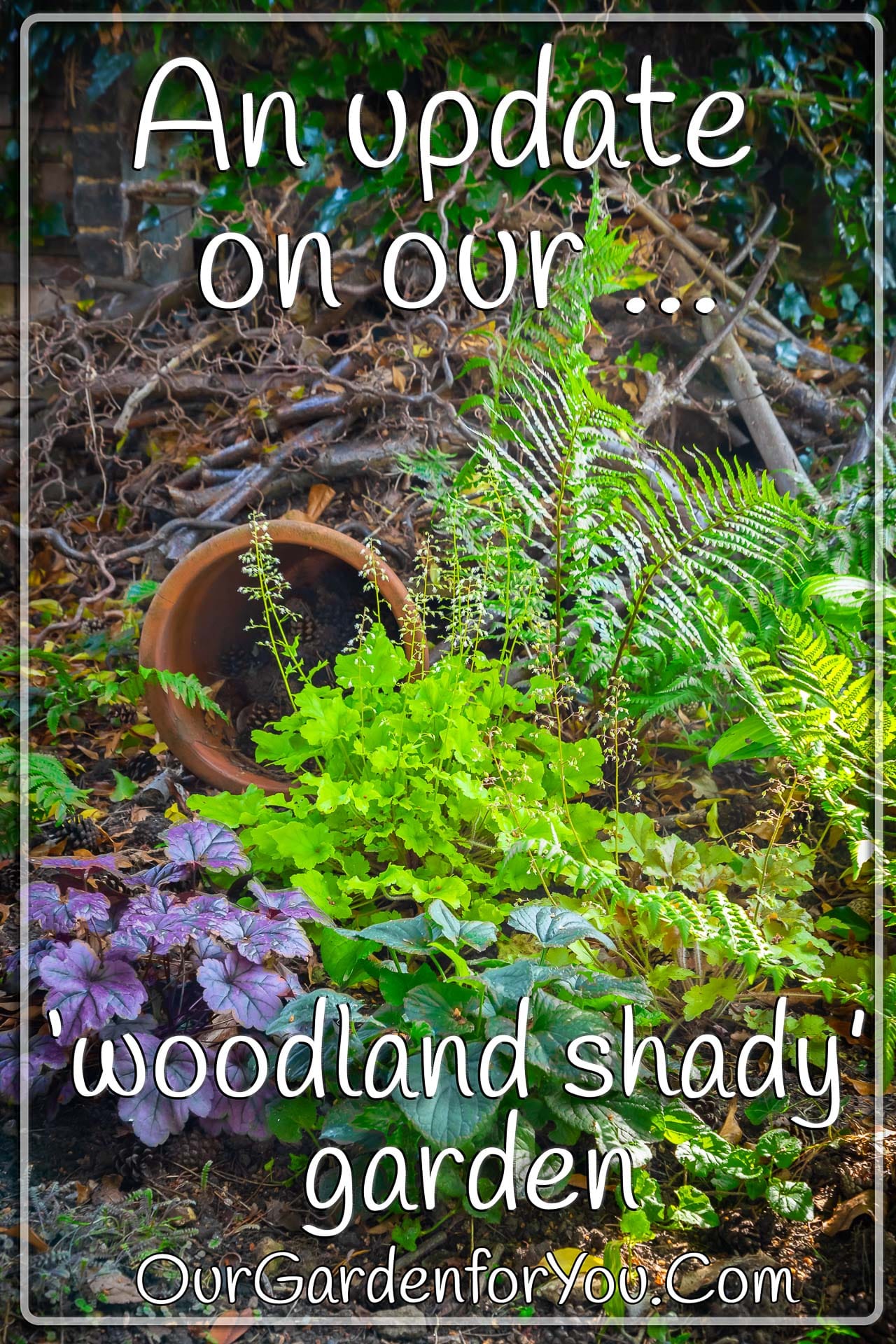 Why not Pin it for later?
Introducing 'woodland shady'
Just a little TLC
As mentioned above, not only had the woodland shady section become a bit of a log store it also has a rambling mahonia. To be honest, the mahonia certainly isn't out of place, as it acts as a picturesque barrier from the bed and the lawn; it just needs pruning and keeping under control.
Our 'Woodland Shady' back in early 2022
Other than the mahonia and primroses, the only other plant in the 'woodland shady' garden was a flourishing fern which came back year after year with little maintenance from us.

Therefore, our first obvious choice of plants was ferns.
It's all about the ferns
Divide and conquer
The one and only fern we had in the bed just so happened to be near the path's edge and infringed when it was in full flourish. We then researched dividing the rhizomes of the fern to not only maintain it but also to give us two more plants.
Dryopteris erythrosora 'Brilliance'
The fern had three very healthy rhizomes, so when we split two away, we replanted them within the 'woodland shady' bed. By doing this, we have given all three plants a new lease of life, and they are extremely healthy and unfurling their fronds like never before.
So, we were heading to the fern and shady sections during our next jaunt to the local nurseries.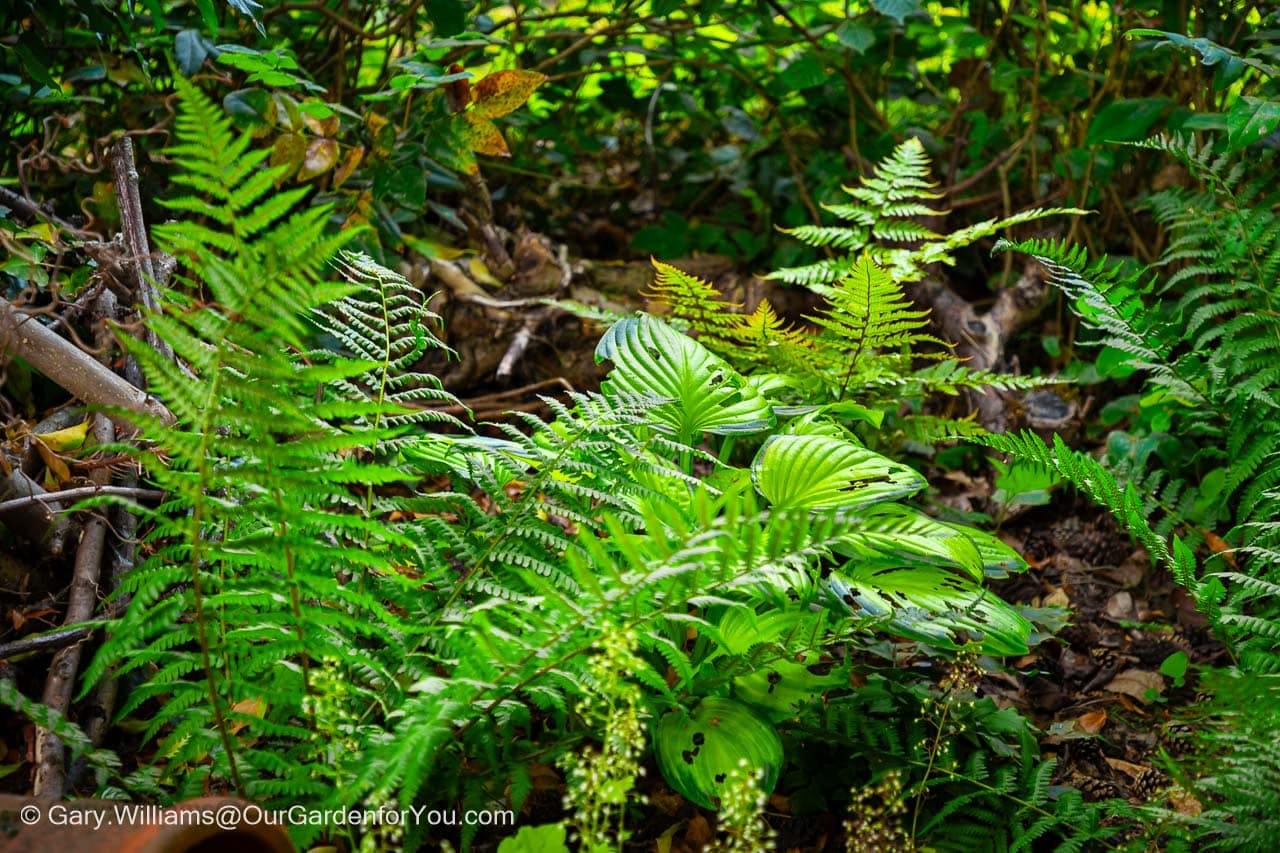 Ferns in the Woodland Shady section
We picked up another four ferns to join our collection. We chose a Dryopteris Atrata with delicate vivid green fronds and a Cyrtomium Fortunei Clivicola with bold dark glossy green leathery leaves. Then two Dryopteris Erythrosora; the first was a 'Brilliance', which produces coppery-orange feathery strands, and the second has coppery-pink triangular fronds, turning light green when mature.
Hostas, hostas and more hostas
You can never have too many
We really love hostas, even though the slugs love them too. Although, to be perfectly honest (fingers crossed), we don't seem to be having such an issue this year, as our spikey friends, the local hedgehogs, appear to be keeping them more or less under control.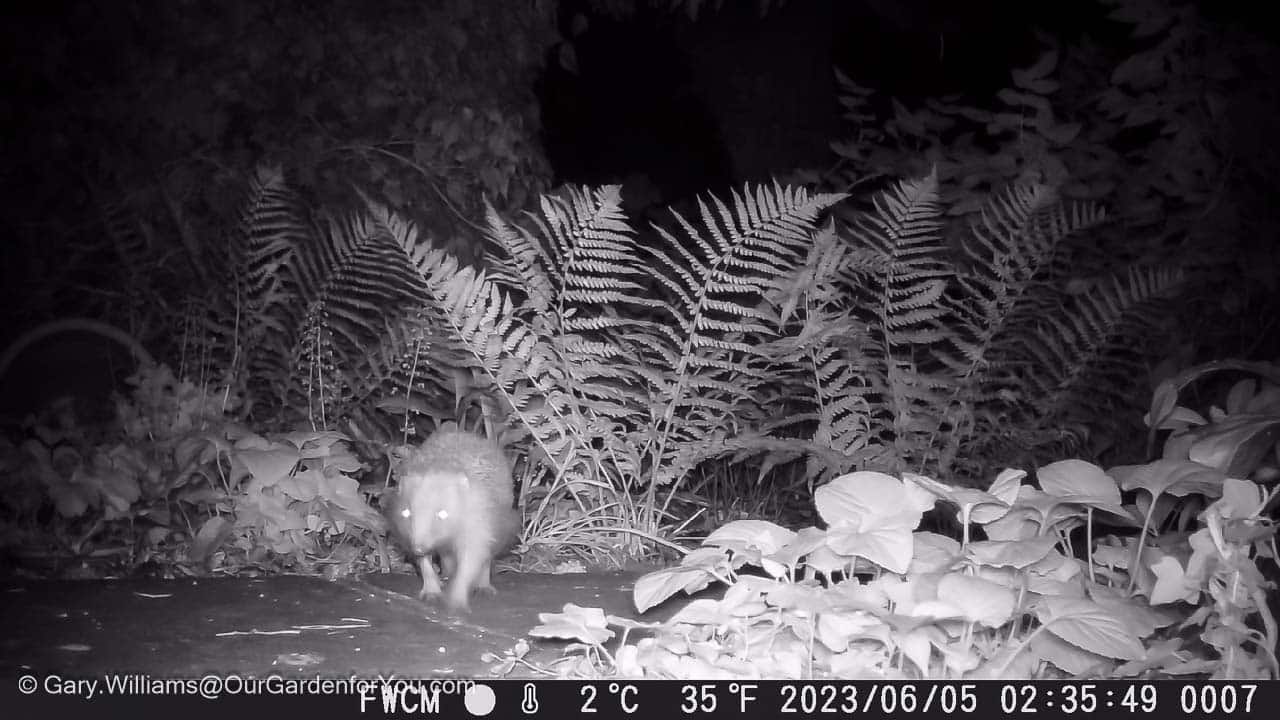 Our solution to a slug problem
We have a VANBAR Trailcam that we've been placing out across the garden each evening, and we've caught the delightful creatures on video.
So, in a shady garden, hostas are a perfect accompaniment to ferns. Our first purchase was a Hosta Guacamole with large golden-green and yellow leaves with dark green streaks reminiscent of an avocado.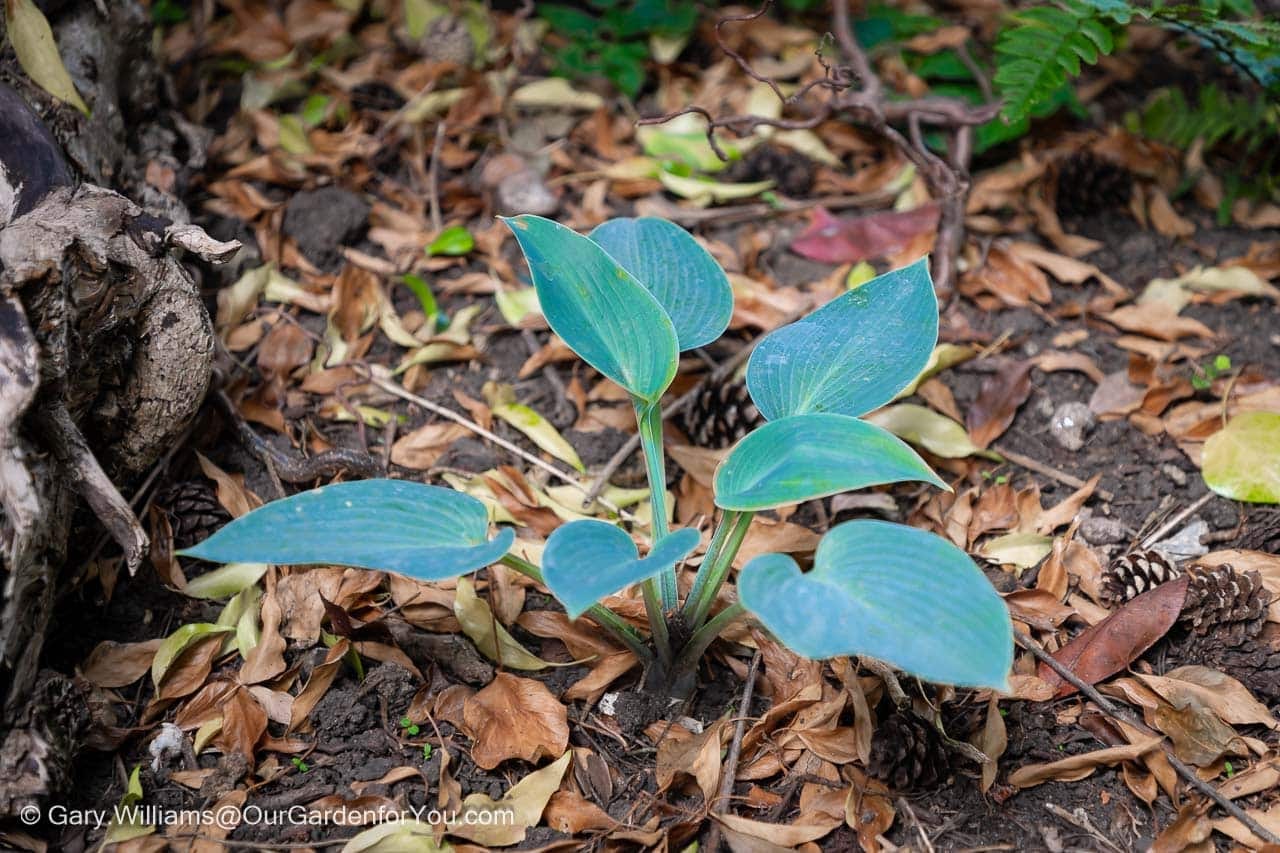 Hosta 'Halcyon'
Our second two Hosta purchases were from our visit to Nymans, a National Trust site in West Sussex. These two little hostas were delightful and so reasonably priced. We picked up a Hosta 'Halcyon' with beautiful blue leathery leaves and a 'Blue Mouse Ears', which I thought was so cute and formed into a neat little clump with lavender-blue flowers.
We'll research how to divide the hostas in two or three years time, and we'll have even more plants.
Our three Heucheras
And ground cover Leptinella 'Platt's Black'
Other additions to our woodland shady section are three Heucheras. The first of which is a 'Lime Marmalade' with bright lime green ruffled leaves and although clump forming is quite vigorous. The second is an 'Orangeberry' with beautiful burnt-orange crumpled foliage and creamy-pink flowers.

And last but by no-means least is a Heuchera 'Wildberry', this delightful plant has deep purple scalloped leaves and produces delicate white flowers.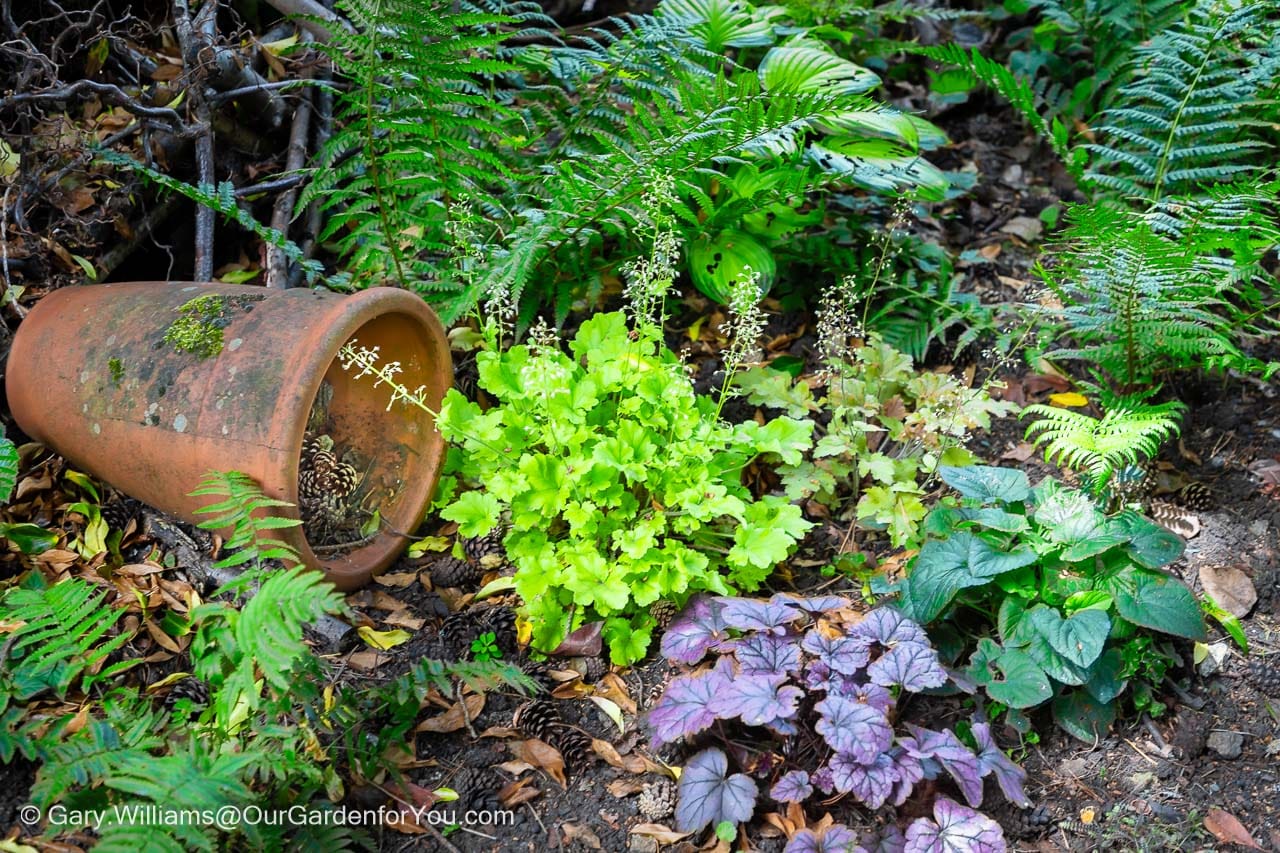 Our three Heucheras in the Woodland Shady section
Our recent addition, although this little plant has been split and separated from the Lawn Shady section of our garden and that's a perennial Leptinella 'Platt's Black'. This unusual feathery plant is for ground cover and has bronze-black foliage with green tips. If kept in full sun, it will go jet black or in full shade will turn green.
The Leptinella 'Platt's Black' only grows to 10 cm in height and 50cm spread, so it is ideal along the border of our 'woodland shady' garden.
As an Amazon Associate we earn from qualifying purchases.
As an Amazon Associate we earn from qualifying purchases.
* This post may contain links to affiliated sites where we earn a small commission at no additional charge to you.