by Janis on 28th July 2023 / 0 comments
Enjoying our blooming patio pots
Finally, we've had some rain in the southeast of the UK, it has been weeks since we had seen any, and I was concerned about our cottage garden. There is only so much you can do with a watering can.
Although, as I have previously mentioned, we fitted a pressurised drip-feed irrigation system onto our patio last year, it has meant that our pots and containers have continued to bloom. We currently have a hosepipe ban, and this type of irrigation system is exempt from the ban, which is fantastic.
I love this time of year when the dahlias begin flowering; they are such delightful plants and continue to add colour for months. We planted four earlier in the year, which should bloom in shades of purple, they haven't started flowering yet, and I can't wait.
Why not Pin it for later?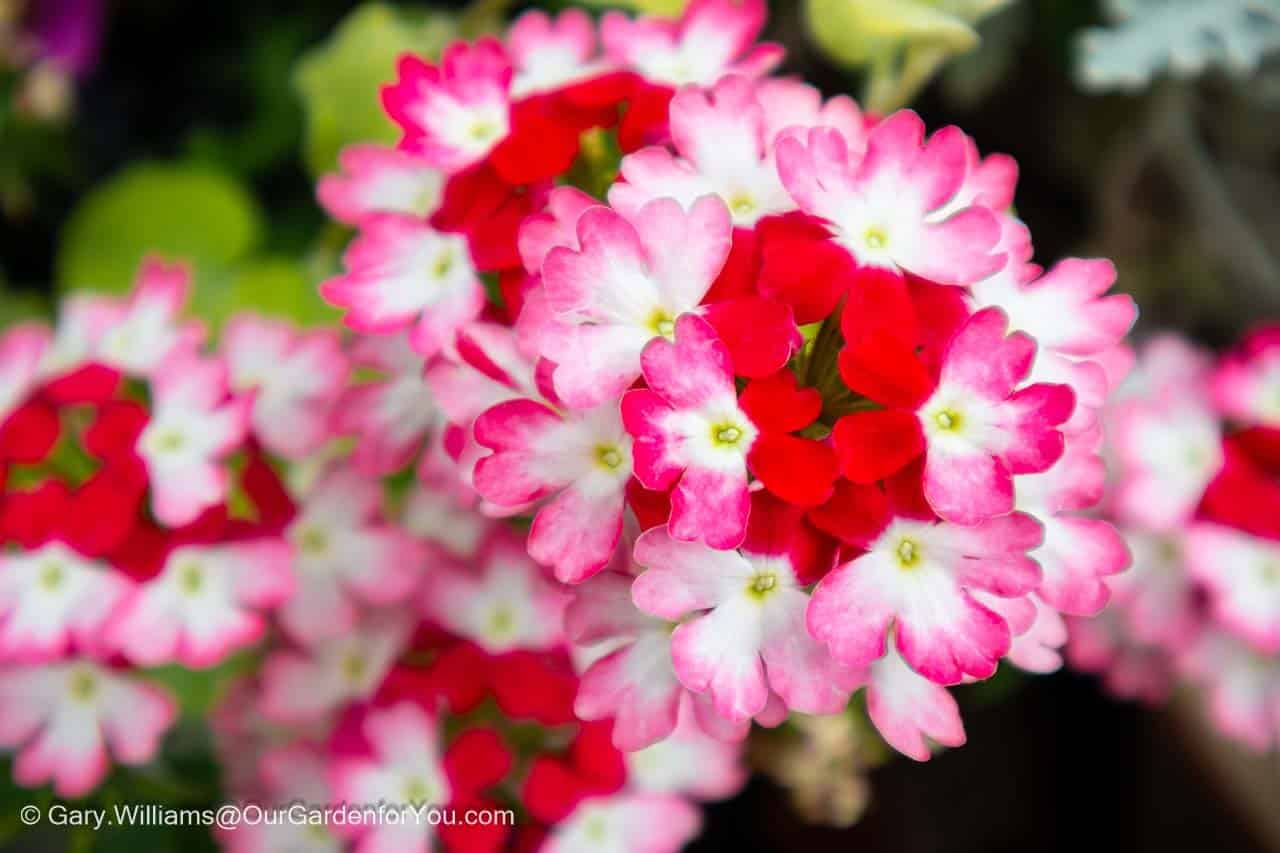 Warming patio colour
We have a couple on the patio in pots, and I've just purchased another, so fingers crossed they will all flourish.
A hedgehog drinking on our patio
We've still been placing our VANBAR Trailcam around various spots in our garden and catching sight of the fox and the hedgehogs. I love seeing the hedgehogs feeding from our water trays.
We appear to have a mature hedgehog which almost looks like it's wearing a tutu, and a younger one, which just scurries everywhere. We haven't seen them together, so we assume they are from different families.
What we've been up to in July
In the garden and on the website
Our patio pots and containers look lovely, especially the fuchsias; they are always a winner. We have two in our butler sinks, and they return year after year. I've taken some soft cuttings, so we'll see if they fair ok; if not, I'll take some more.

Last year I took some soft cuttings from our Salvia 'Hot Lips' and our Spirea 'Bridal Wreath'; they took the first time. I have planted a few of the Hot Lips and Spirea in our front garden, so I'm looking forward to watching them grow in the future.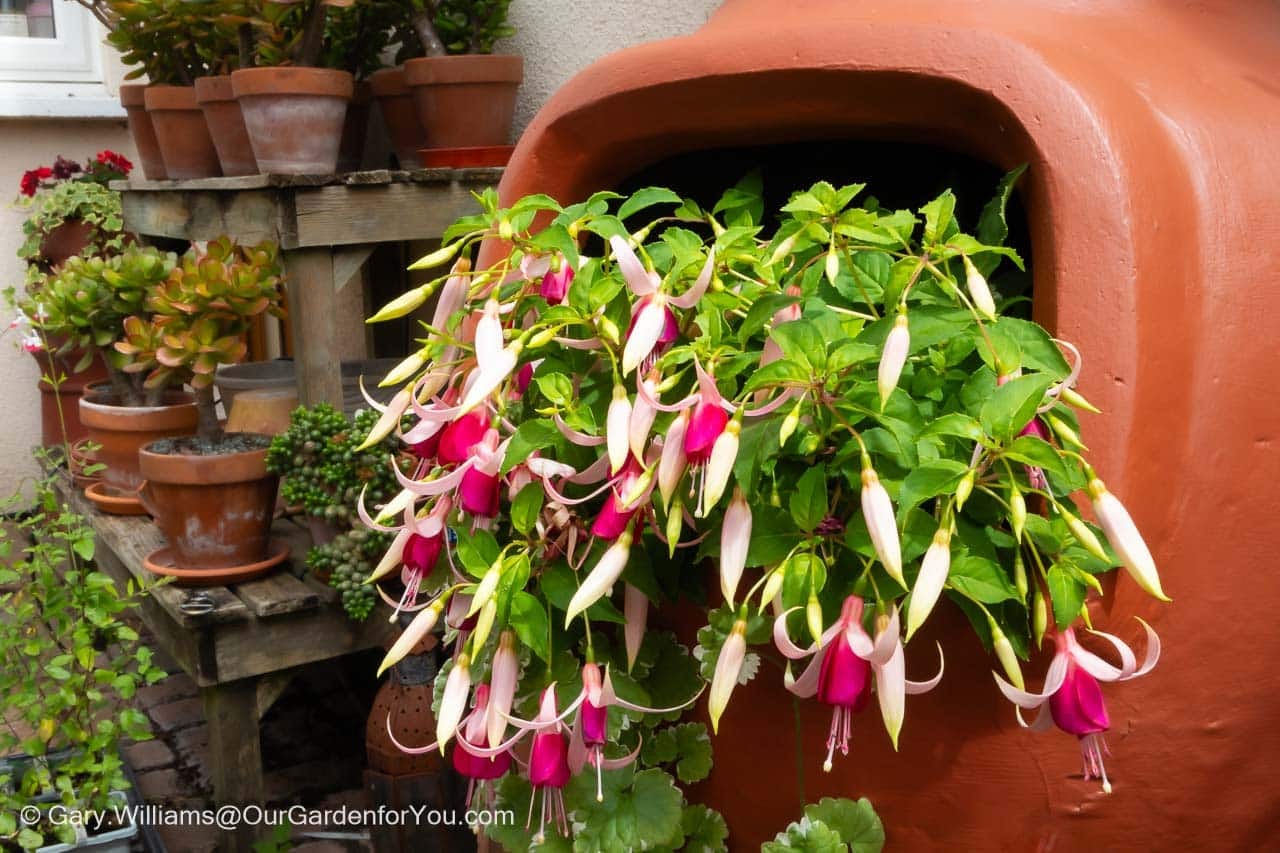 Tumbling fuchsia
Our eight tomato plants are still doing well, and recently I've noticed that there are signs on the fruit just beginning to turn red; fantastic. This year was the first time I used grow bags and tried Monty Don's method of supporting our tomatoes, and so far, so good.
Another winner is our chilli plants, especially the Hungarian Hot Wax variety; they already look amazing and produce huge chillies. Our Cayenne chillies are a little further behind, but I can see the sign of tiny pepper already.
Take a peek at our update on our 2023 seedlings.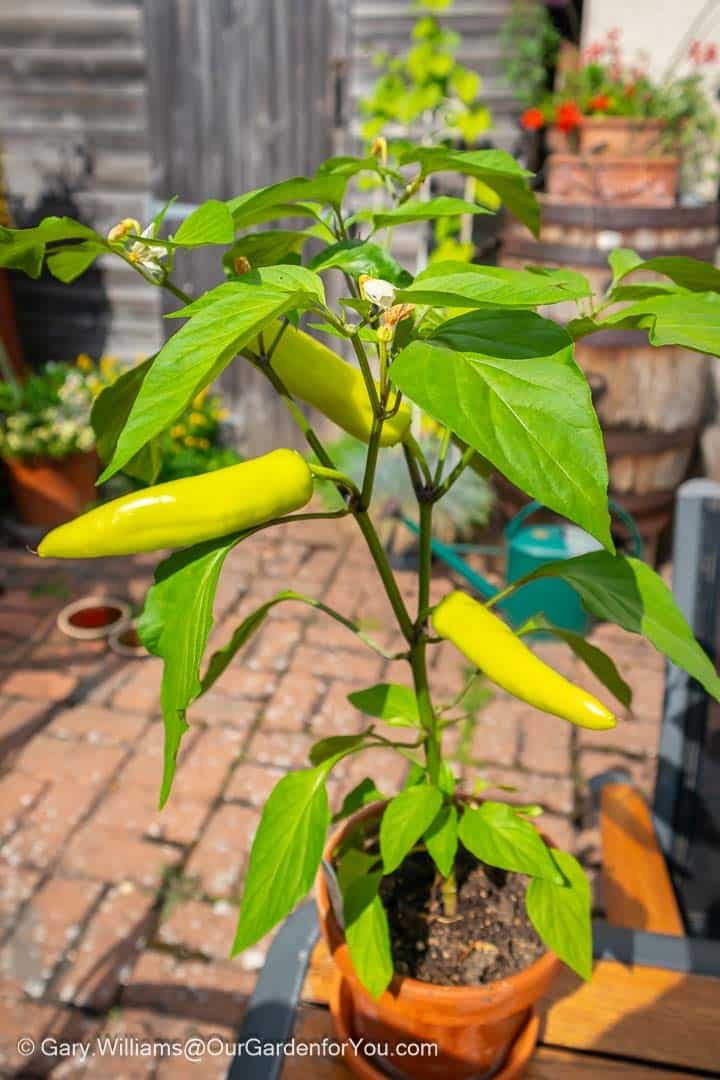 Hungarian 'Hot Wax' chilli
Last month I mentioned that I received a free packet of cornflower seeds from Gardeners' World in 2022, which I scattered throughout the cottage garden, and they came up a treat.

So, we thought, why not scatter the excess of seeds we had this year? I'm not sure we'll see the fruits of our labour this year; however, I have high hopes for 2024.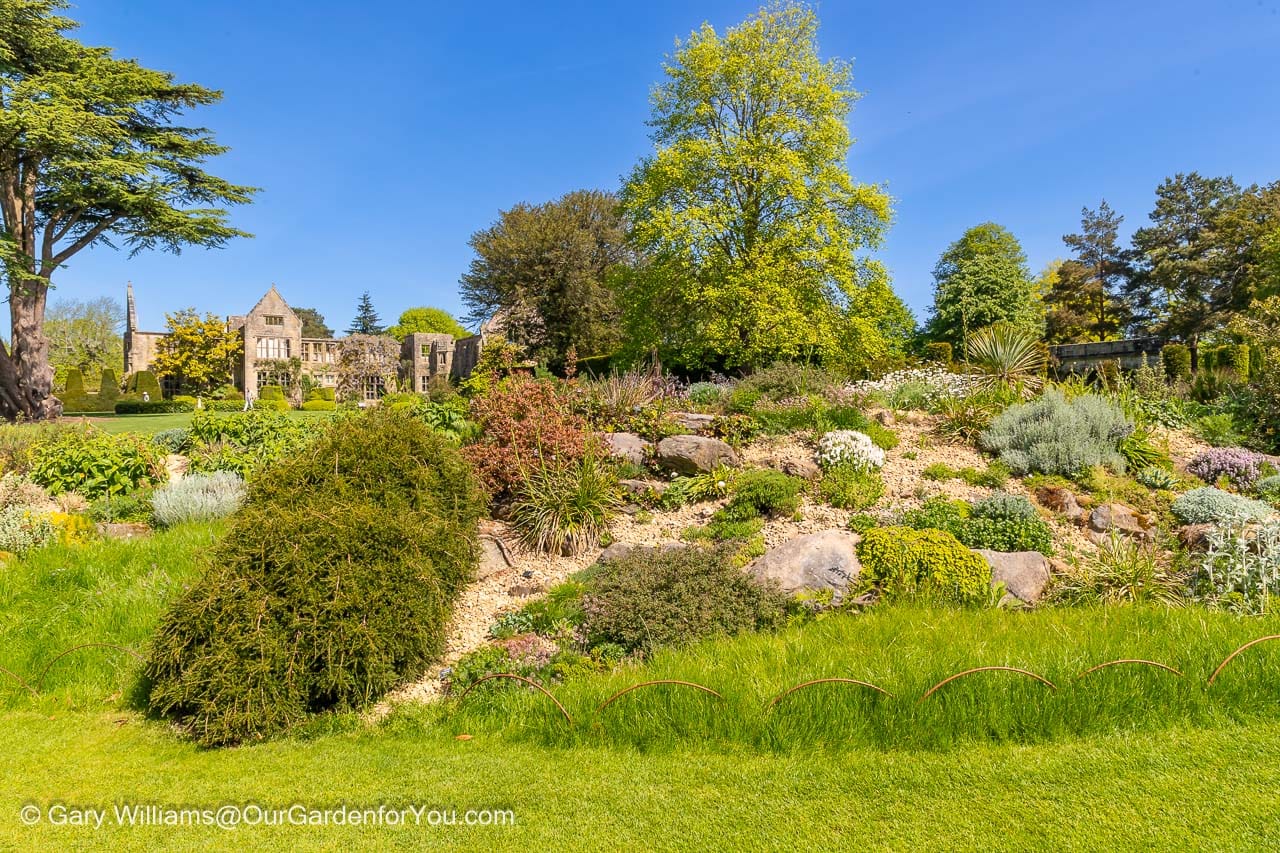 Nymans gardens
Gary and I have been out and about with our National Trust membership cards and visited the magnificent gardens and house at Nymans. The house is part ruins and part family home, and I must say the gardens are exceptional.
The other beautiful home and garden we visited in West Sussex was Standen House, a stunning example of an Arts and Crafts home full of furnishings and embroideries by Morris & Co.
As an Amazon Associate we earn from qualifying purchases.
As an Amazon Associate we earn from qualifying purchases.
Achievements for July
Let's keep ticking those boxes
July has been a mixed month in the garden. Early in the month, the ground was pretty dry due to our lack of rain and hosepipe ban. We've had a few deluges and have been trying to keep on top of the weeds and pruning.

Ok, so I'm never satisfied; ideally, if it rained during the night and sunny through the day, I would be very happy.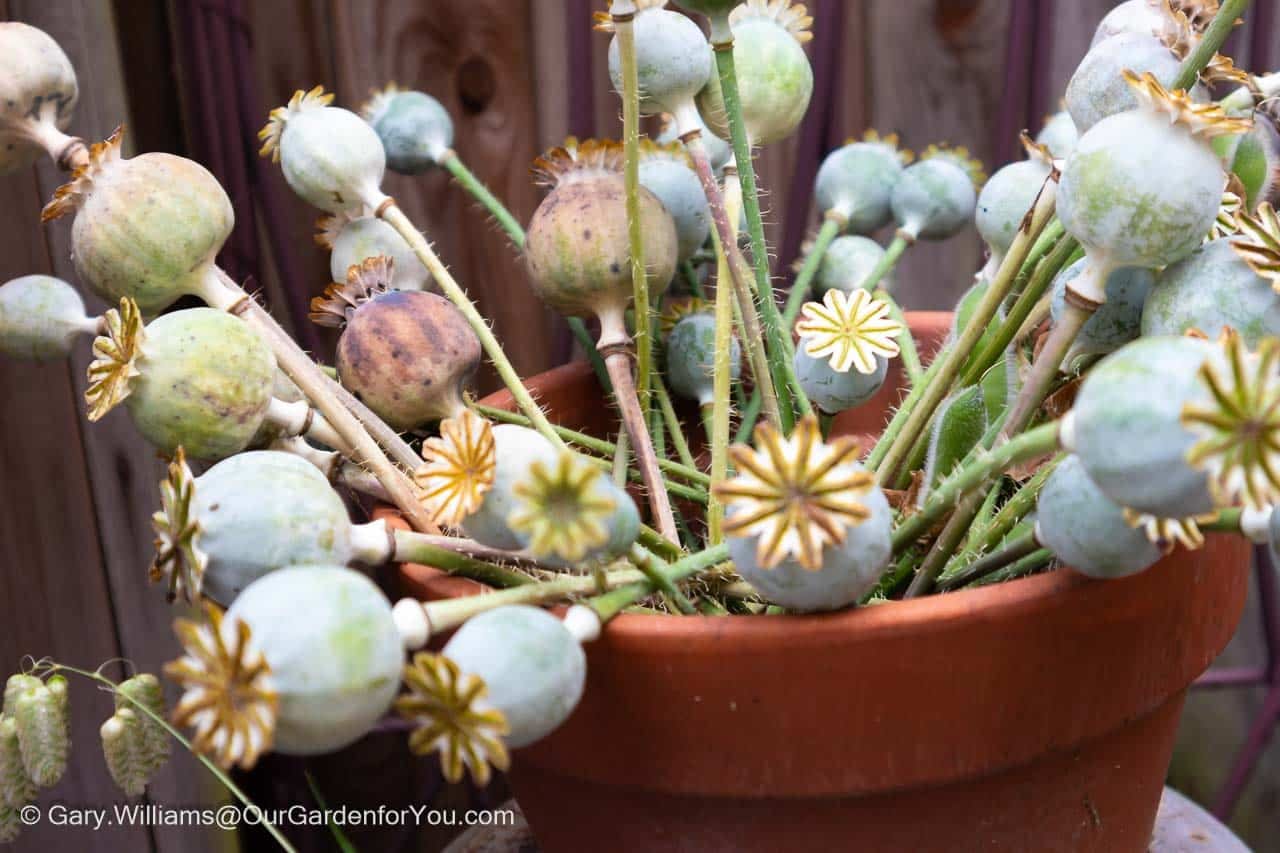 Decorative poppy seed heads
So, let's see what we've managed to tick off for July.
Planted out a few of my established soft cutting, which I grew last year.
---
Tidy up the front garden and removed some of the old Buxus.
---
Pruned our holly and bay trees.
---
Be a little ruthless in pruning our old climbing rose.
---
Weeding many of the beds.
---
Continued clearing the Secret Garden.
---
Lessons learnt & mistakes made
You live and learn
Once again, my sunflowers are too short. Last year I bought some sunflower seeds, which I thought grew to one metre tall; however, the packet actually said one foot tall; yes, my mistake.

So, this year I thought I would ensure they would have a bit more height. I opted for ones that grow to around four feet but are still too small; they look pretty, and the bees love them; however, they are not four feet. I'm going to have to reconsider my approach next year.
Sunflowers and lavender
Do you know any varieties that grow to around four feet?
Our plans for the coming month
What's on your to-do list?
Continue to maintain the weeds in the Cottage Garden bed.
---
Manage our overgrown and unruly shrubs in the Secret Garden.
---
Clear the old tool store and replace it with a new one.
---
Take more soft cuttings, particularly fuchsias.
---
Continue clearing the four raised bed and plan a new rock garden.
---
Plant out the remaining home-grown Salvia 'Hot Lips' and Spirea 'Bridal Wreath'.
---
Please let us know what you have planned in your garden this month; we'd love to know.
* This post may contain links to affiliated sites where we earn a small commission at no additional charge to you.