by Janis on 31st March 2023 / 0 comments
Spring has arrived, and the hyacinths are blooming
I love this time of year when you spot new shoots appearing on dormant stems; it gives you encouragement and promise for the months to come.
Our Spring flowering bulbs are flourishing and blooming in our beds. The hyacinths I planted in pots on the patio smell exquisite; the fragrance is hypnotising.
Sadly, our dainty dwarf iris and crocus have finished for the season; they just don't last long enough for my liking as they bring a smile to my face.
If you love exploring vibrant and colourful gardens, I urge you to visit Keukenhof Gardens in the Netherlands; their displays are magnificent.
I don't know about you, but I long for brighter days to see sunlight beaming across the garden. It has been hit-and-miss here in the southeast of the UK. We appear to have one sunny day, and the following four or five are overcast.
Fingers crossed, we are in for a beautiful spring.
Why not Pin it for later?
What we've been up to this month
In the garden and on the website
In March, we have been clearing and pruning a few of our overgrown shrubs in our secret garden section. This has undoubtedly meant that our garden waste bin has not been left empty.
Dwarf iris looking splendid
We've managed to make some headway into the unruly geranium problem that we've had in our cottage garden. However, as time passes and the soil begins to warm up, quite a few of the new plants I purchased last year are peering through the earth.

So, even though we're on our hands and knees tackling this job, it's still quite a delicate process, as we don't want to remove the lovely flowers, we nurtured last year.

I'm really hoping our cottage garden looks fuller in 2023.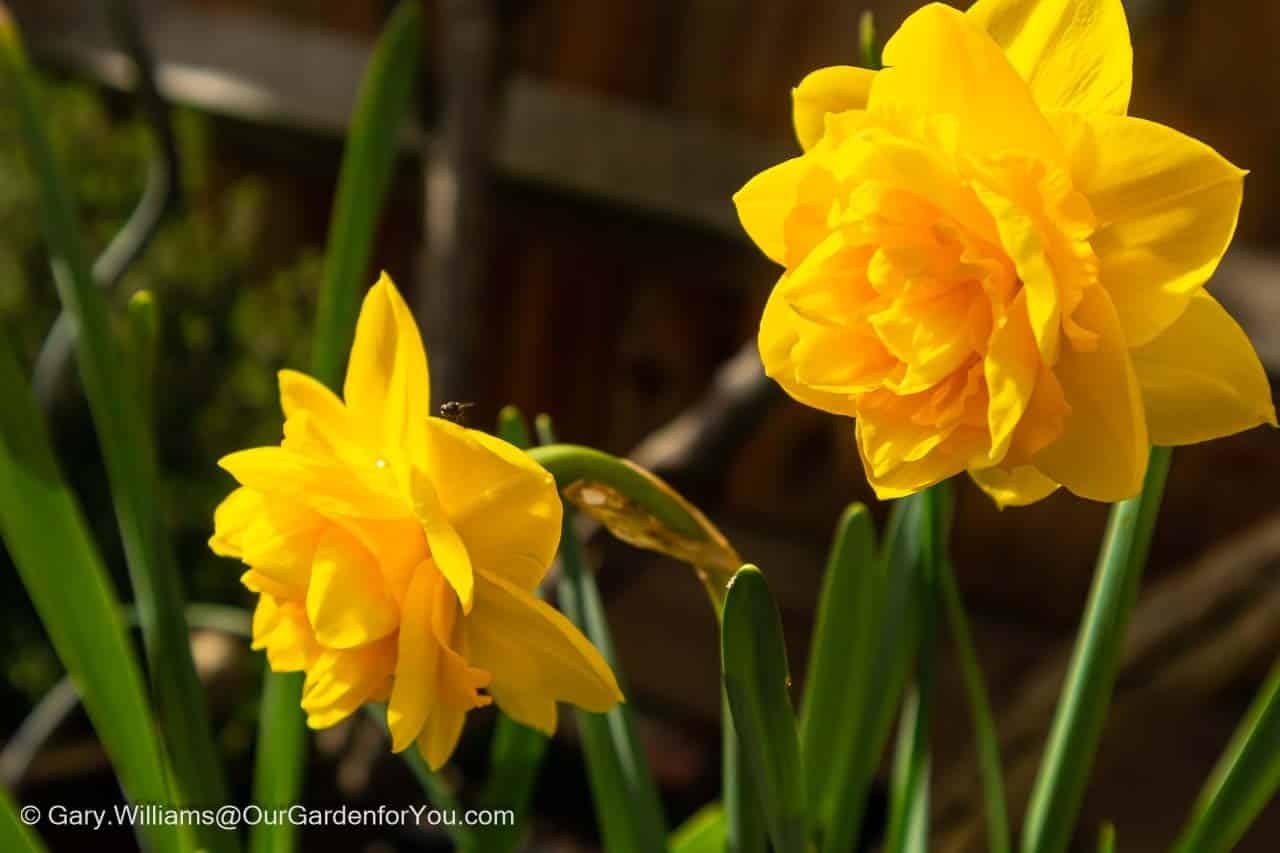 Daffodils in bloom
I've purchased some more seeds and dahlia bulbs, so I'm being kept busy.

Did you catch our latest post on selecting the perfect gardening book? Go on take a peek.
As an Amazon Associate we earn from qualifying purchases.
As an Amazon Associate we earn from qualifying purchases.
Achievements for March
Let's keep ticking those boxes
March has been a mixed month in the garden as it has been pretty chilly some days, and I do like it when the weather is dry and bright. Although weeding certainly builds up your strength and warms the cockles of your heart.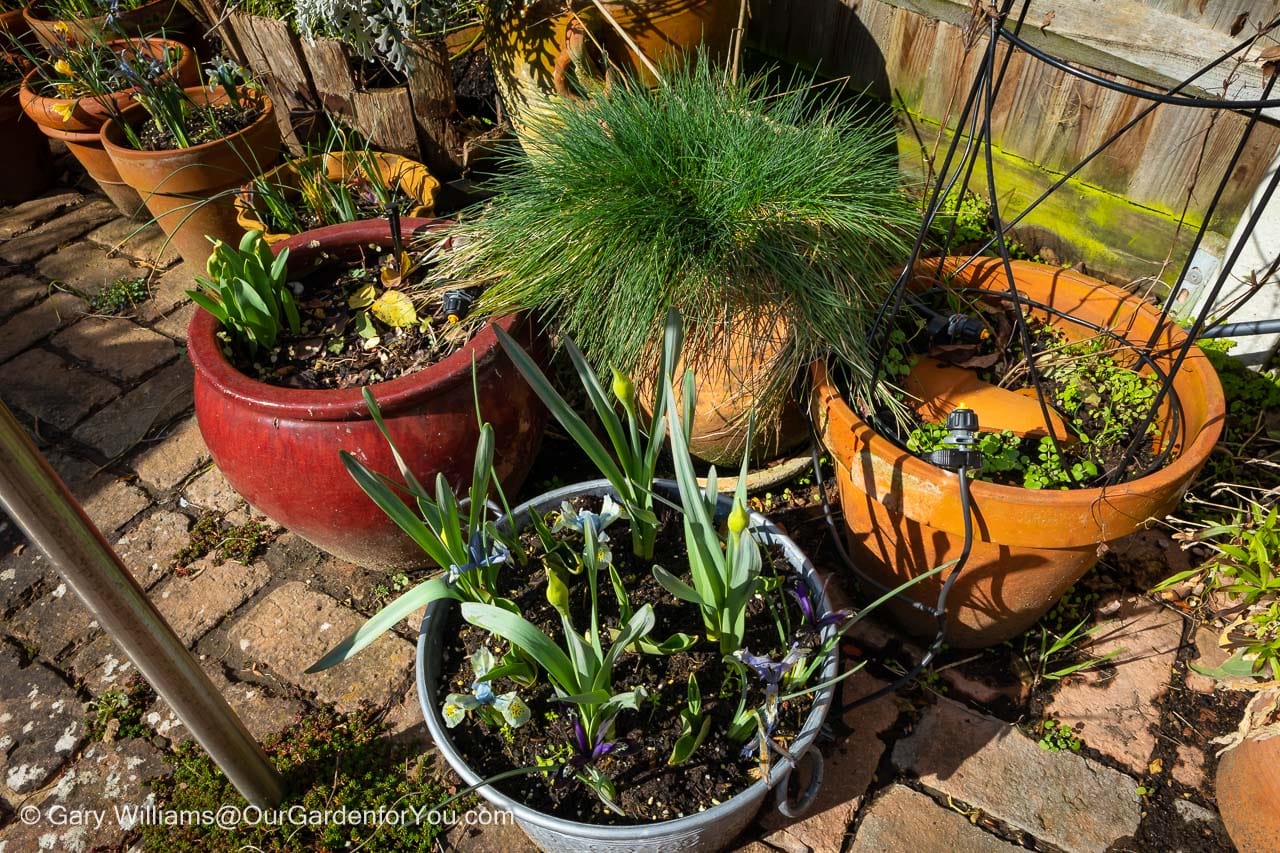 The pots are filling out
So, let's see what we've managed to tick off for March.
Continued to weed the geraniums from the Cottage Garden bed.
---
Clear the ivy to create more space in our working area.
---
Prune unruly shrubs in the secret garden.
---
Turnover and top up the composters.
---
Maintain the height of the shrubs in the woodland section.
---
Tidy and clear some pots on the patio.
---
Lessons learnt & mistakes made
You live and learn
I really should have started to sow my seeds by now, so this is a job for the weekend; one day, I'll learn.
Our plans for the coming month
What's on your to-do list?
Continue to maintain the weeds in the Cottage Garden bed.
---
Manage our overgrown and unruly shrubs in the Secret Garden.
---
Review our seed packets and decide which new plants I want to propagate for the coming year.
---
Start to sow seeds in the potting shed.
---
Our delphiniums are starting to appear, so I'll ensure the frame provides enough support.
---
Tidy up the front garden.
---
Cut the lawn and think about a plan of action for the moss and weeds.
---
Please let us know what you have planned in your garden this month; we'd love to know.
* This post may contain links to affiliated sites where we earn a small commission at no additional charge to you.