by Janis on 29th April 2022 / 0 comments
We're beginning to see the fruits of our labour
Yay, spring is well and truly here in the southeast of England. No sooner than I have weeded one section of the garden, I turn my back, and more pesky little green shoots appear, but hey, that's gardening for you.

I must say that considering we've only been tending to the garden a couple of days a week since mid-March, areas of our little oasis are looking so much better. It really gives you the drive and motivation to keep going; it also works wonders for your personal wellbeing.

Our garden is reasonably large and relatively high maintenance. We have found that the best way to tackle the garden is to break it down into sections or mini gardens; it makes it so much more achievable and less overwhelming.

I appreciate that there is so much more to be done in the garden and that some sections won't get our full attention until later in the year or even until 2023. Still, it's moving in the right direction. One spring evening the other day, I was still pruning until 6:30pm; it was so calming.
Why not Pin it for later?
What we've been up to this month
In the garden and on the website
With the weather remaining reasonably dry, we've tried to get out in the garden as much as possible. Although, it does become a bit of a juggling act between gardening, writing posts for the 'Our Garden for You' website, and continuing to manage the 'Our World for You' website. But hey, we're getting there.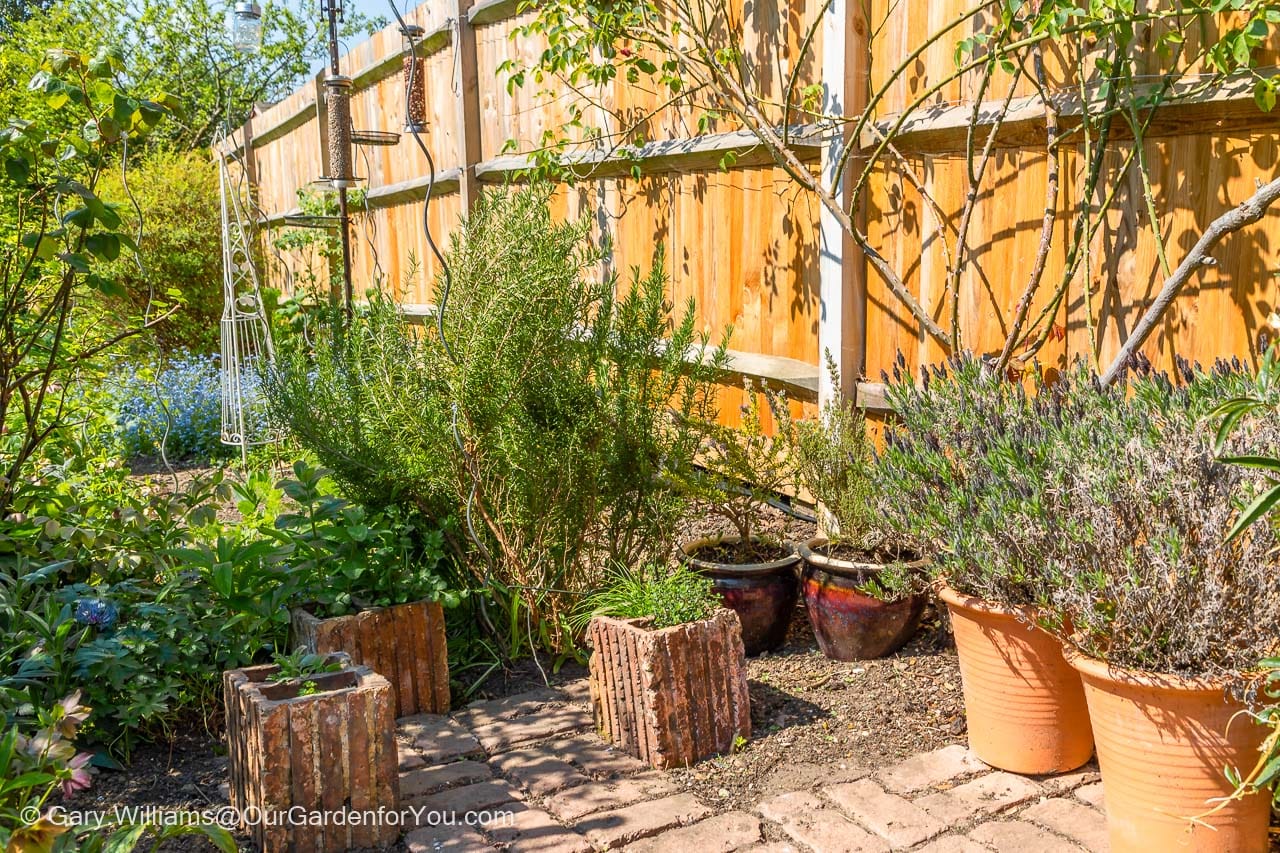 The start of the Herb Garden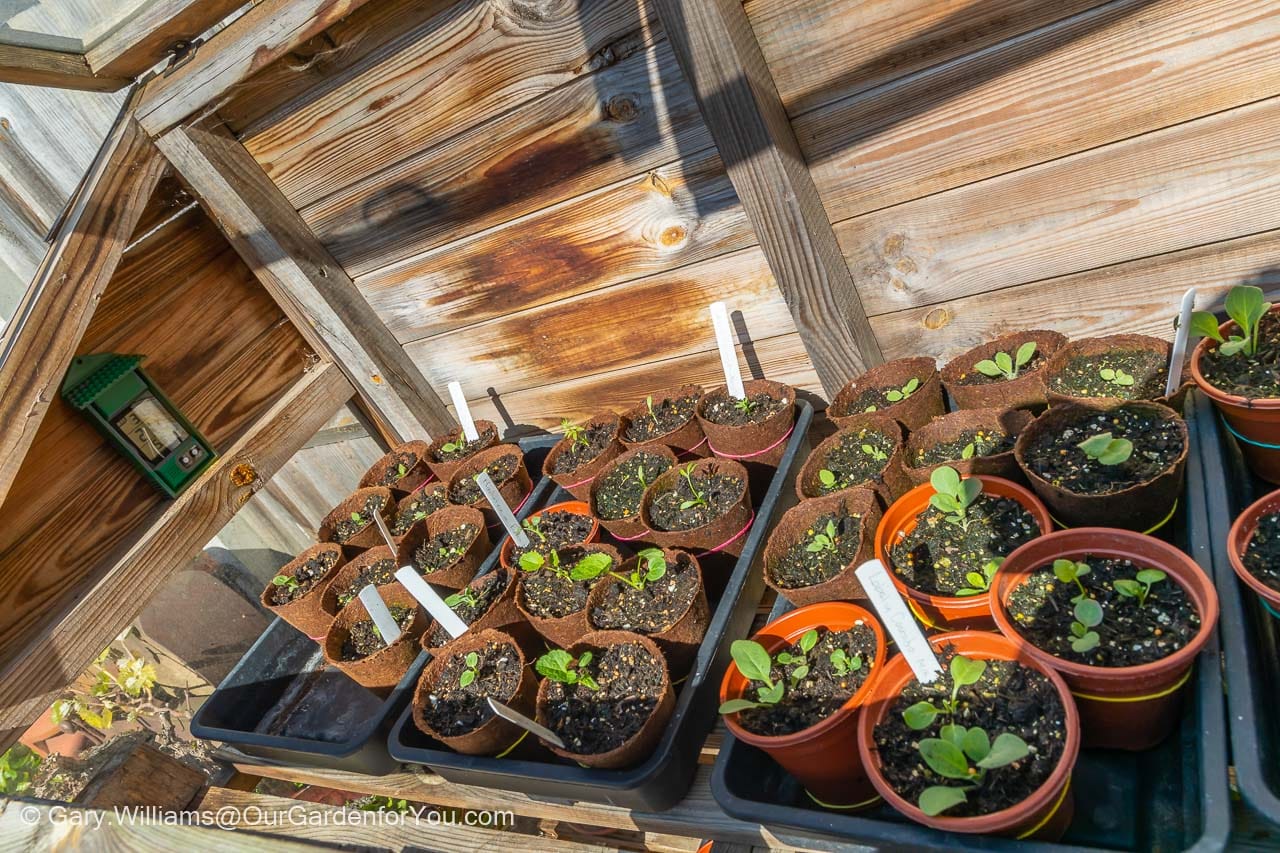 Inside the cold frame
Luckily, as the weather is getting warmer and we've more or less passed the final threat of frosts, we've been moving our seedlings from the conservatory to the cold frame and onto the outer staging. I'm still singing to our tomato and chilli seeds as I'm willing them on to germinate.
Achievements for April
Let's keep ticking those boxes
Well, it's been another busy month in the garden. I wonder if we've accomplished everything, we set out to achieve for April. My back certainly feels like it has.
Pot-on the majority of our seedlings, although some are still too small.
---
Clear out the old lavender bed of encroaching plants and weeds and rehome where necessary. Prepare and plant our
homage to Provence
with six fragrant globes of Lavender 'Munstead'', we purchased from
Wood Cottage Nursery
.
---
Start to rationalise the large cottage garden border. There are a lot of plants here to keep, rehome and clear. Some plants just take over and smother others. This back-breaking task is well underway but certainly not finished.
---
We haven't upcycled our old chimenea yet, which will move into May.
---
Continue to plan the different sections of the garden and understand what we want to ultimately achieve, but not go too gung-ho at first and regret our decisions.
---
Tidy our courtyard patio. Dismantle and remove one of our old planters and re-arrange pots and obelisks to ensure it is a delightful place to relax.
---
Other jobs that we've achieved:
Sanding down the patio table and chairs and re-oiling them.
Sowing more seeds, I'm not too sure why as I have far too many already.
Clearing some patio pots and replanting a few.
Pruning numerous shrubs and digging out many unwanted tree saplings.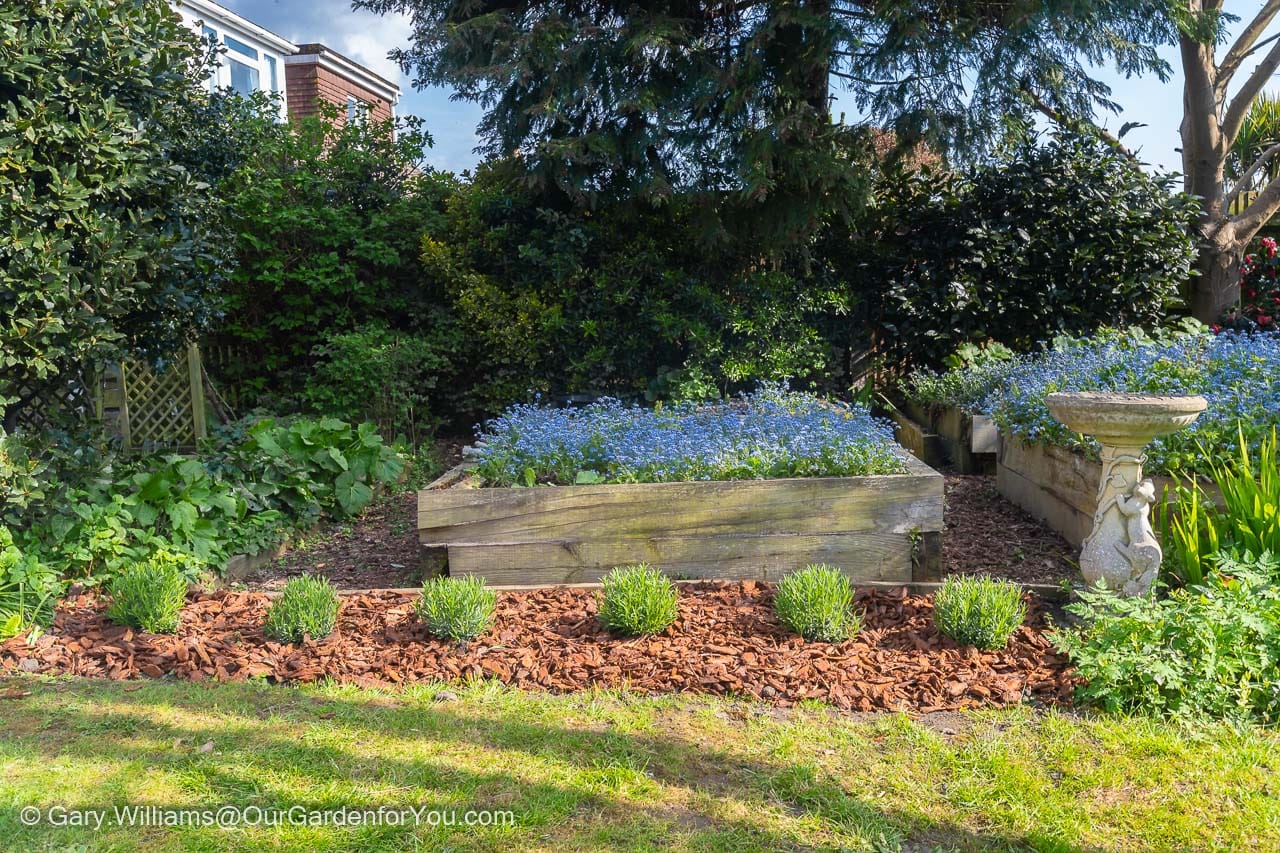 The lavender bed after top dressing
Lessons learnt & mistakes made
You live and learn
One lesson learnt for us is that if your packets of seeds are out of date, then I would save myself some time and buy some new seeds.

Although, in my defence, I wanted to give it a go; otherwise, you'll never know. A couple of times each day, I would check on them, but to no avail. I had missed their germination window.

I'm not saying it's a waste of time, but certainly, have a backup plan. I'm now playing the waiting game and willing on my new tomato and chilli seeds.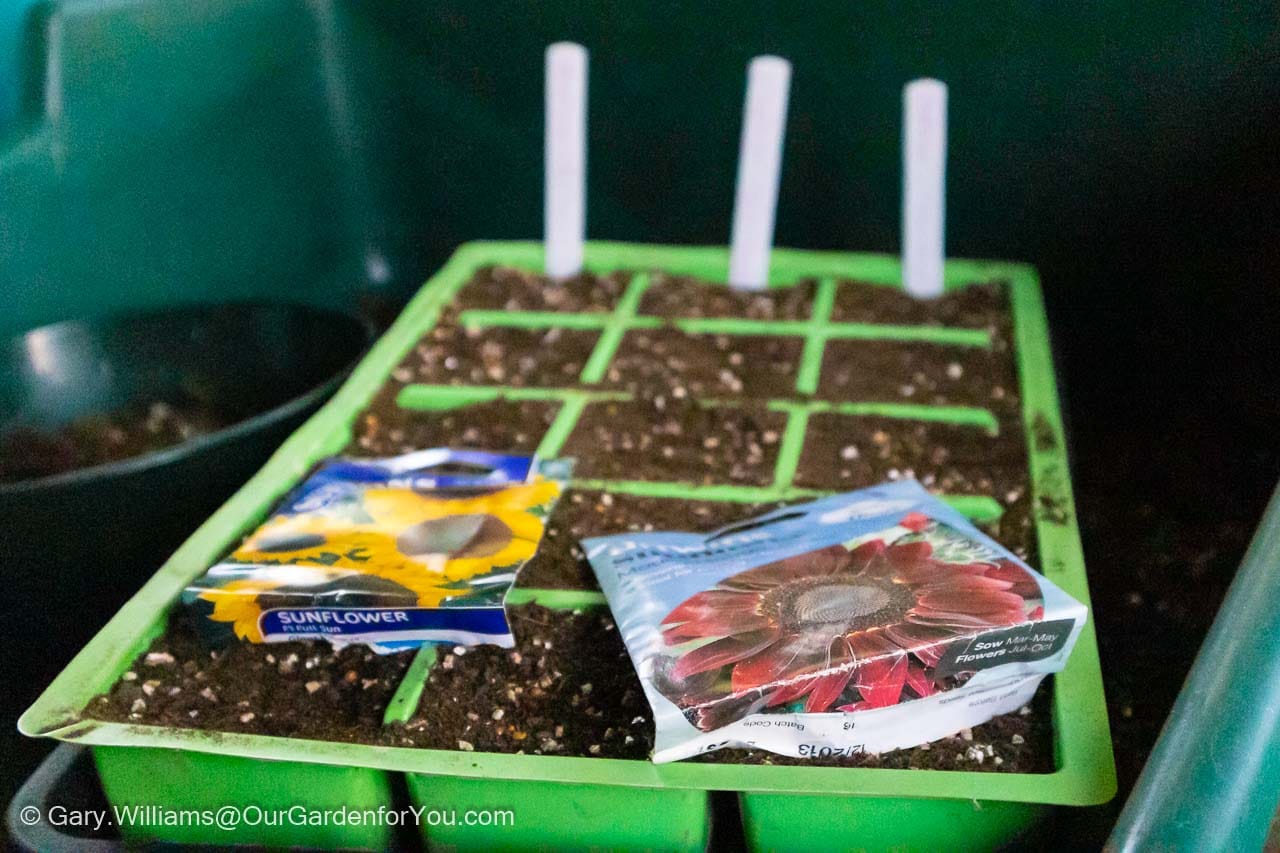 These sadly came to nothing
Another lesson that we learned was to shop around. I appreciate that this can be time-consuming, but larger chain stores or garden centres can often be more expensive. Believe me, it can soon mount up just on a few items.
Our plans for the coming month
What's on your to-do list?
Continue to clear and rehome some plants and shrubs in our large cottage garden border. This is a big task, but we can start to see the benefits already.
---
Upcycle our old chimenea, which we didn't manage to squeeze in for April. We're going to repaint the chimenea or sand it down and use it as a planter.
---
Progress with planning the different garden sections and understand the likes and dislikes of our plants.
---
Prune and tidy the jasmine and rose arch down the back of the garden.
---
Bring more colour to our patio planters and pots by adding homegrown and purchased bedding plants.  We're also going to visit our newfound garden centre
Rumwood Nurseries
.
---
Weed drive and generally tidy it up.
---
Pot-on my tomato and chilli seedlings.
---
Weeding, weeding and more weeding.
---
Tackle our working area and head off on a couple of tip runs.
---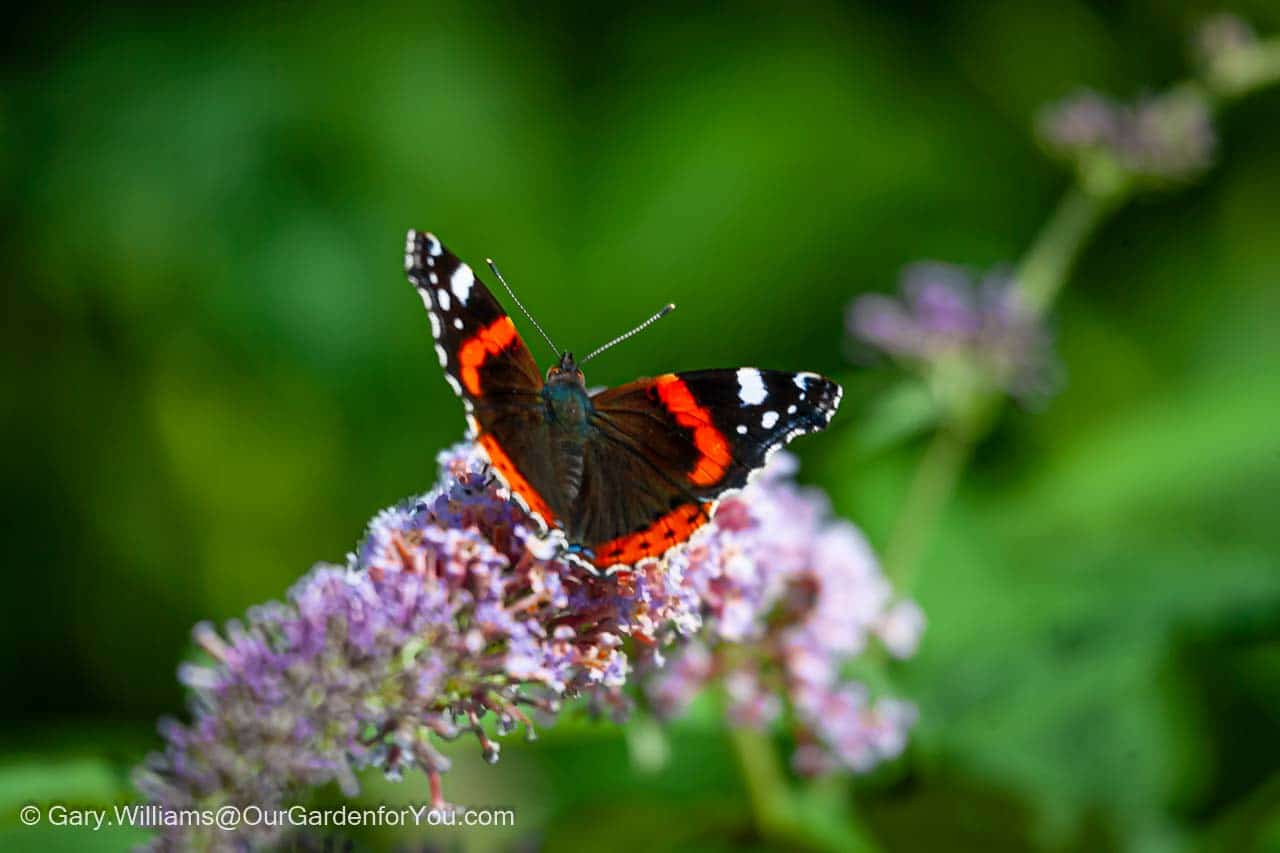 A red admiral butterfly
Well, it looks like we've got a busy month ahead. Please let us know what you have planned in your garden this month; we'd love to know.
* This post may contain links to affiliated sites where we earn a small commission at no additional charge to you.